Her på Skagen Fuglestations blog bringes korte nyheder i dagbogsformat om hændelser på fuglestationen.

Se indlæg fra år: 2020 (249)2019 (304)2018 (261)2017 (247)2016 (2)(se alle)


Record ringing day!
lørdag 10. oktober 2020
We had a record day for birds at Kabeltromlen with a total of 239 new birds and 35 recaptures! Michael was also busy ringing at Jennes Sø - together with his new captures, our total for today is a whopping 299 birds. Now that calls for a celebration!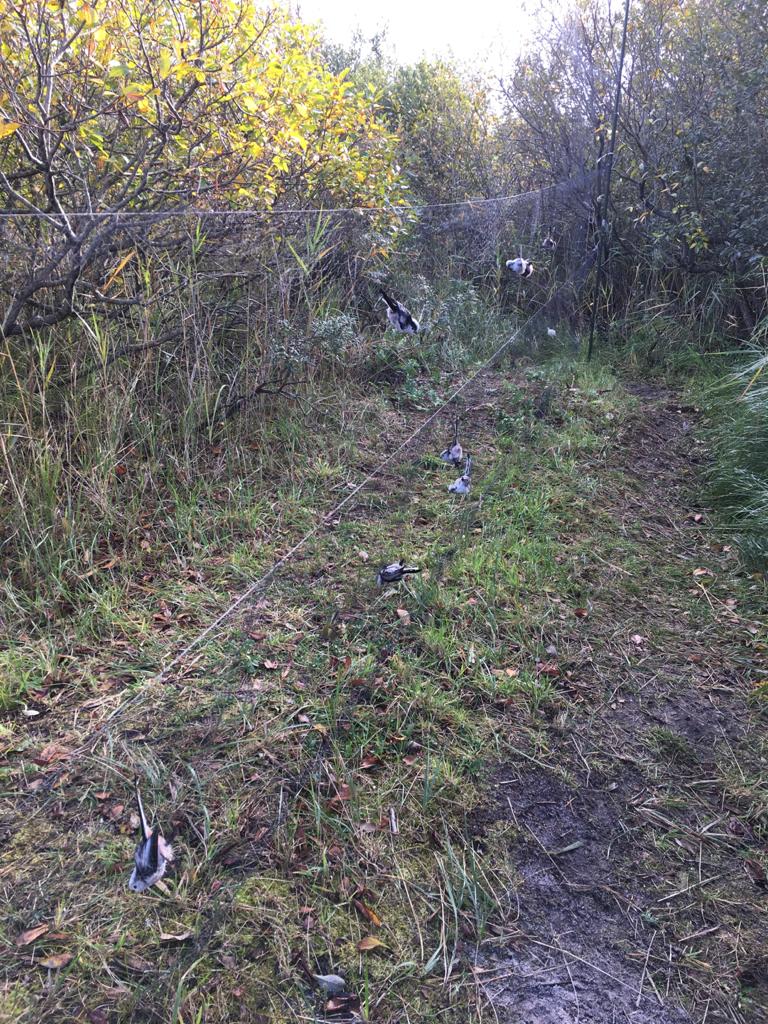 We were very glad to have Kirsten there, as well as Rie, Gunnar, Erik and Jørgen who provided ringing/data entry support all morning. Jørgen also brought us a bag with delicious pastries from the bakery, which kept our engines running and our spirits high. It was great fun, and the day just flew by in no time!
A highlight of the day was a flock of Long-tailed tits (Halemejse), which are just the cutest bird species out there (in my opinion).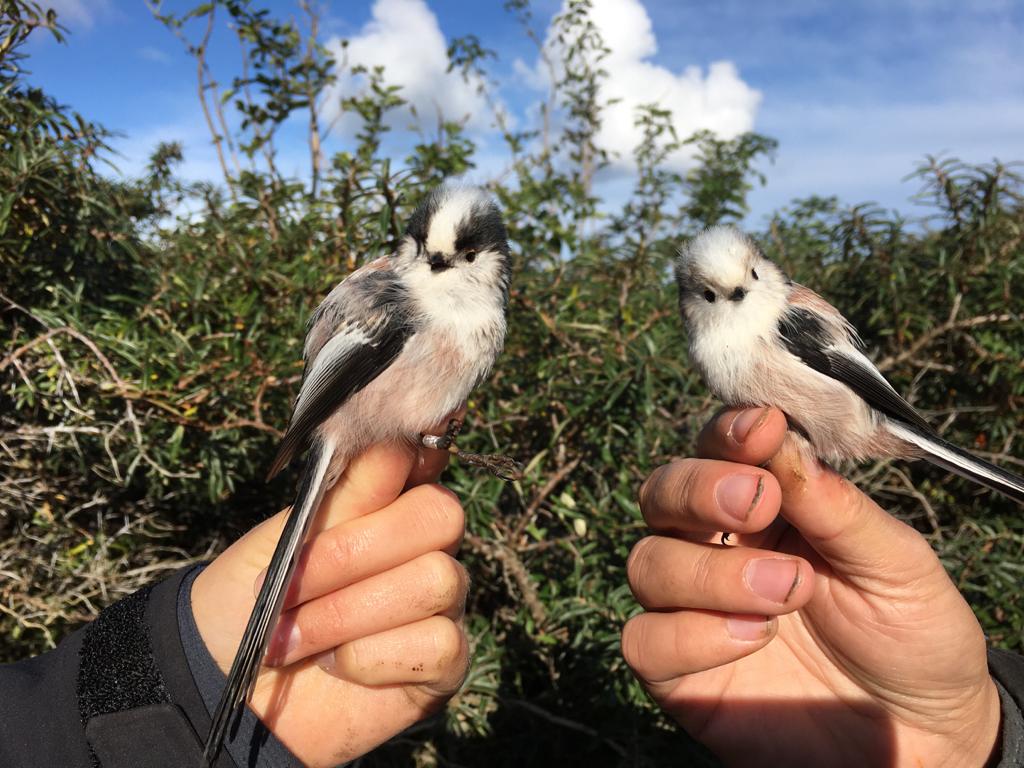 The two Long-tailed tits (Halemejse) shown here belong to two groups: On the left is Aegithalos caudatus europeaus (Sydlig Halemejse), which can be identified by the black and white head and occurs in western and southern Europe, north-east China, and Japan. The bird on the right has a white head, which tells us that it partly belongs to the northern subspecies Aegithalos caudatus caudatus.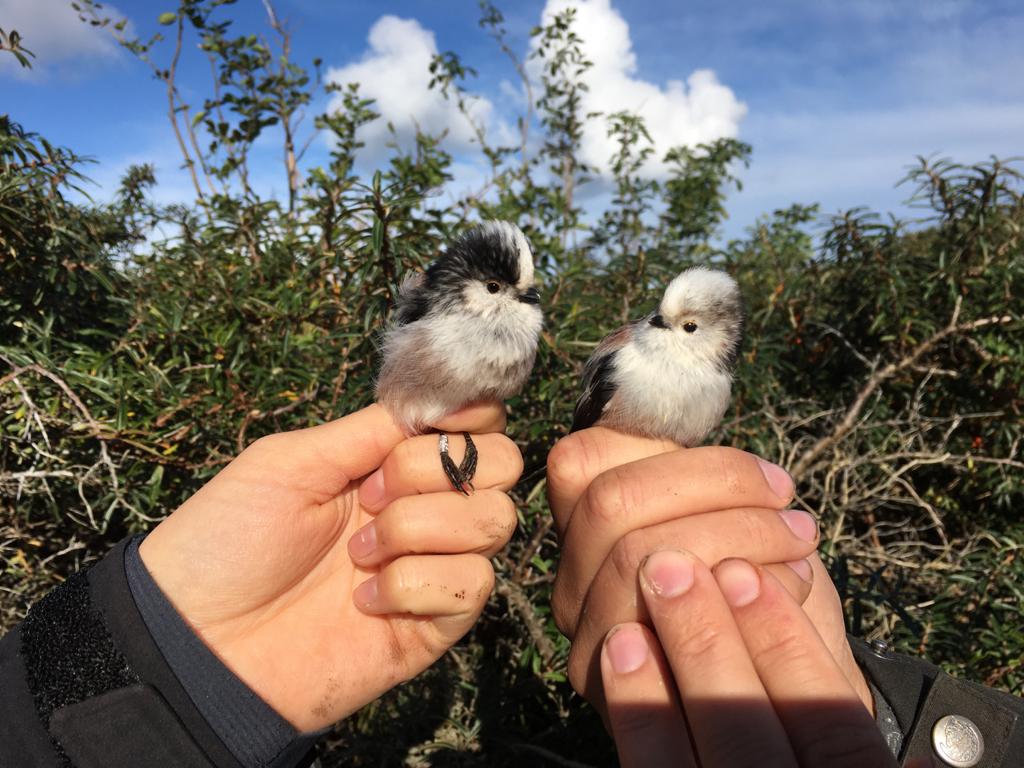 I mean, what's not to like about their button-eyes, tiny faces, and melodious call? Even if they quarrel a bit ...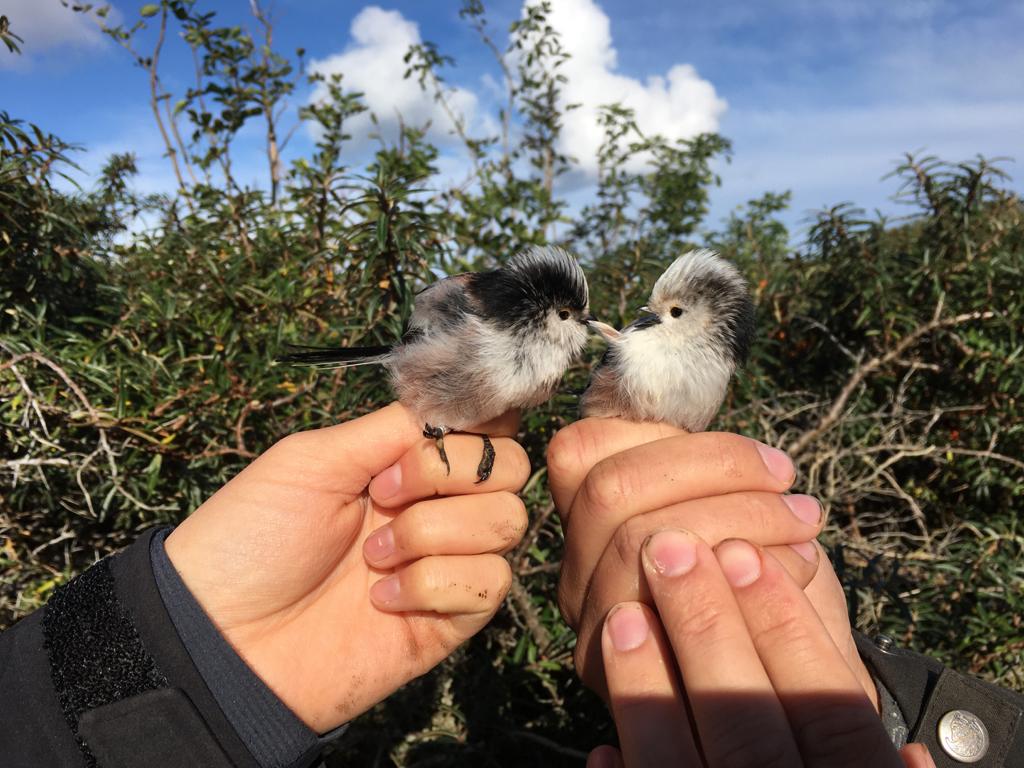 Incidentally, it is also Amelie's 22nd birthday today – her family and friends sent her gifts from Germany, which she opened with great enthusiasm this afternoon: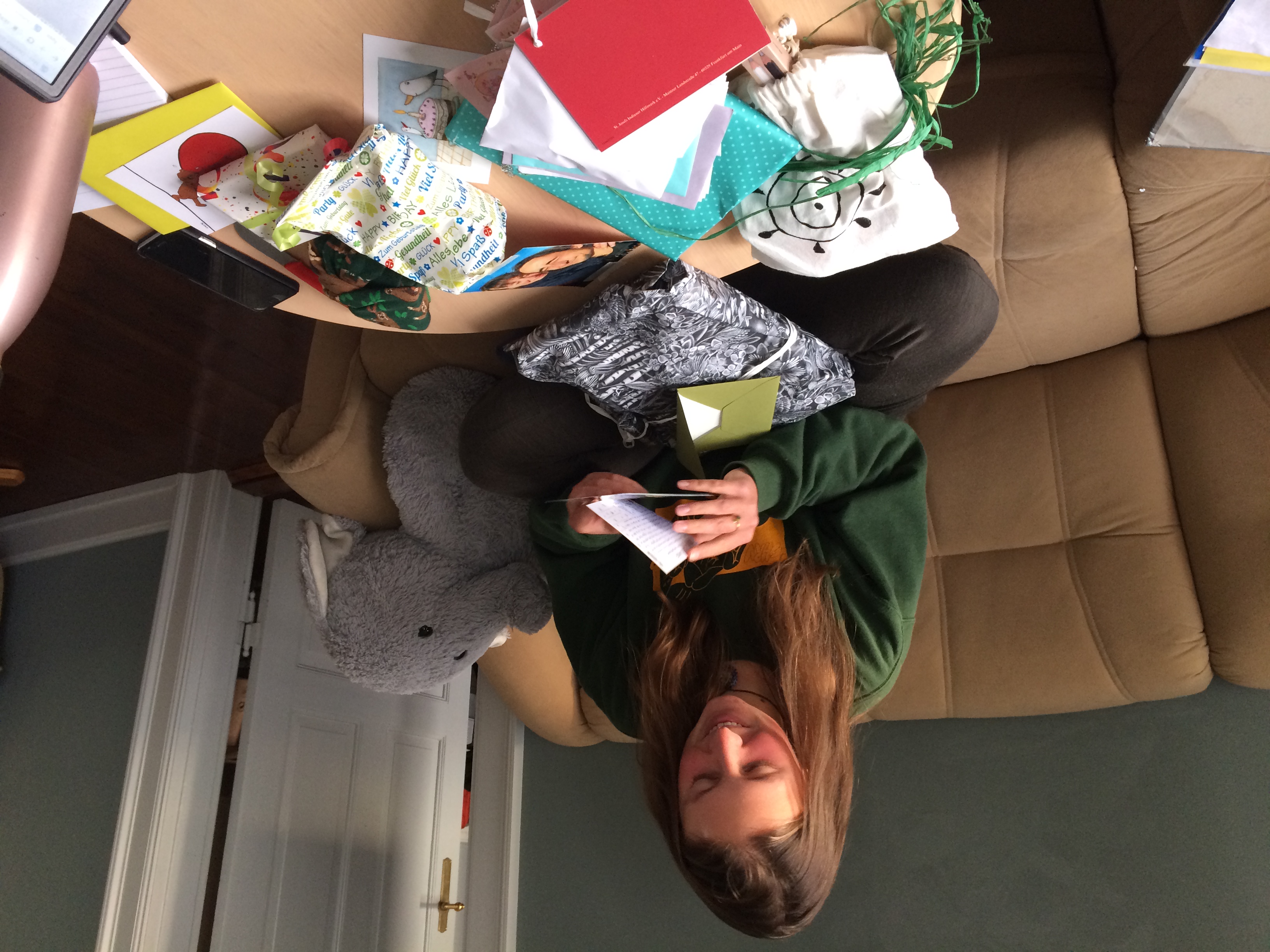 Kirsten made us a delicious salmon dinner tonight, and it was a delight having her here this week. We are sad to have to say goodbye to her tomorrow already. She chose a good week to come to Skagen Fuglestation because we ringed about 1000 birds during her stay! We look forward to welcoming her back here next spring when she returns to practice her bird-handling and ringing skills.
Ringmærkning (Kabeltromlen):
Fuglekonge - Goldcrest: 75
Gransanger - Common chiffchaff: 15
Halemejse - Long-tailed tit: 8
Gæ­rdesmutte - Wren: 25
Rødhals - Robin: 24
Rødstjert - Redstart: 1
Jernspurv - Dunnock: 6
Lille Gråsisken - Lesser redpoll: 18
Sortmejse - Coal tit: 1
Lille Dompap - Western European Bullfinch: 2
Dompap - Bullfinch: 1
Rørspurv - Reed Bunting: 21
Munk - Blackcap: 14
Bogfinke - Chaffinch: 4
Kvækerfinke - Brambling: 2
Blåmejse - Blue tit: 4
Grønirisk - Greenfinch: 1
Musvit - Great tit: 4
Sangdrossel - Songthrush: 11
Vindrossel - Redwing: 1
Total KAB: 239
Ringmærkning (Jennes Sø):
Gæ­rdesmutte - Wren: 5
Jernspurv - Dunnock: 2
Rødhals - Robin: 6
Munk - Blackcap: 6
Fuglekonge - Goldcrest: 14
Blåmejse - Blue tit: 9
Musvit - Great tit: 8
Skovspurv - Tree sparrow: 1
Bogfinke - Chaffinch: 1
Lille Gråsisken - Lesser redpoll: 5
Rørspurv - Reed Bunting: 3
Total Jennes Sø: 60
Total new captures KAB + Jennes Sø: 299
Klik her for at se dagens observationer indtastet i Dofbasen af observatører i området
People: Amelie Zeller, Simon S. Christiansen, Christina Stinn, Martin Grienenberger, Kirsten, Gunnar Simonsen, Erik Christophersen, Jørgen Kabel, Rie Voermann, Knud Pedersen, Michael Ancher