Her på Skagen Fuglestations blog bringes korte nyheder i dagbogsformat om hændelser på fuglestationen.

Se indlæg fra år: 2019 (245)2018 (261)2017 (247)2016 (2)(se alle)


Ringing for all of us
søndag 13. oktober 2019
Today we were many people in the ringing. The whole crew and our two visitors (Chris's sister Inga and a former volunteer Lisa) went out to Kabeltrommelkrattet. So, we were still enough people to do the ringing and checking the nets while Simon and Chris had a guided tour about the ringing. The tour was well visited with around 10 visitors. One of them was Simon's aunt Birthe and another one a student from Aalborg University College who is doing a small project about the bird observatory. Simon showed them also around the observatory and Lighthouse afterwards. All of the participants were very interested in our work. They got the opportunity to watch us handling the birds, got an introduction in our daily work and the research-background of the ringing.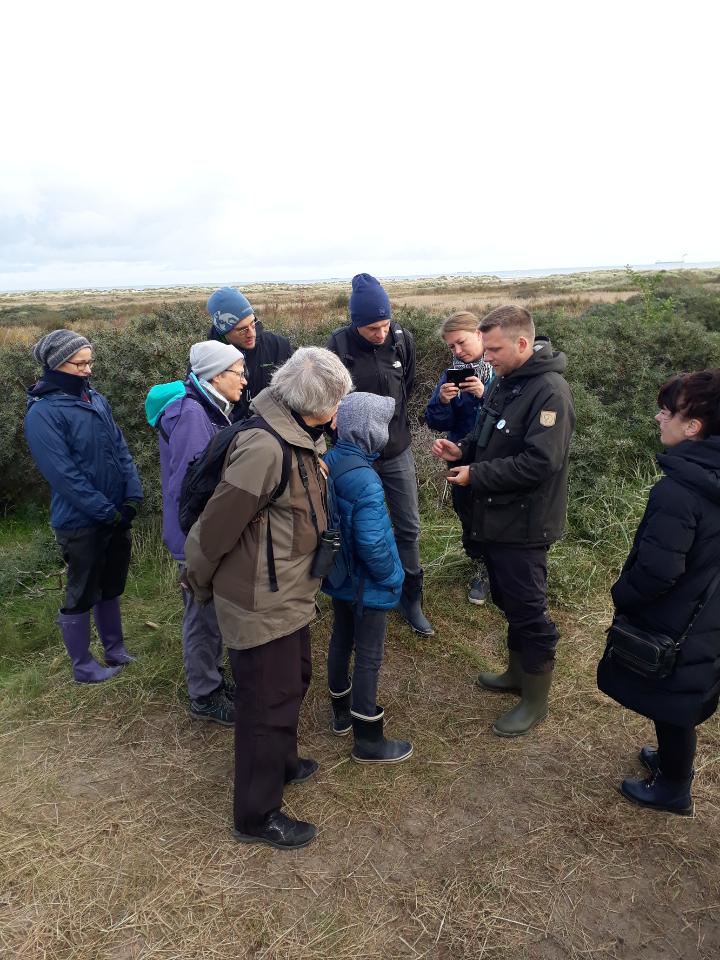 We ringed the first Northern Bullfinch ssp. pyrrhula (Stor Dompap) for this autumn and had a very late Garden Warbler (Havesanger)! Most of this species already reached Africa where they stay over winter. And Koen spotted a Richards Pipit (Storpiber) while we did a round. Nice to find such a rarity! For Inga it was the first time to see ringing and she really enjoyed it. Especially, that Lisa showed her so much and explained everything was very nice!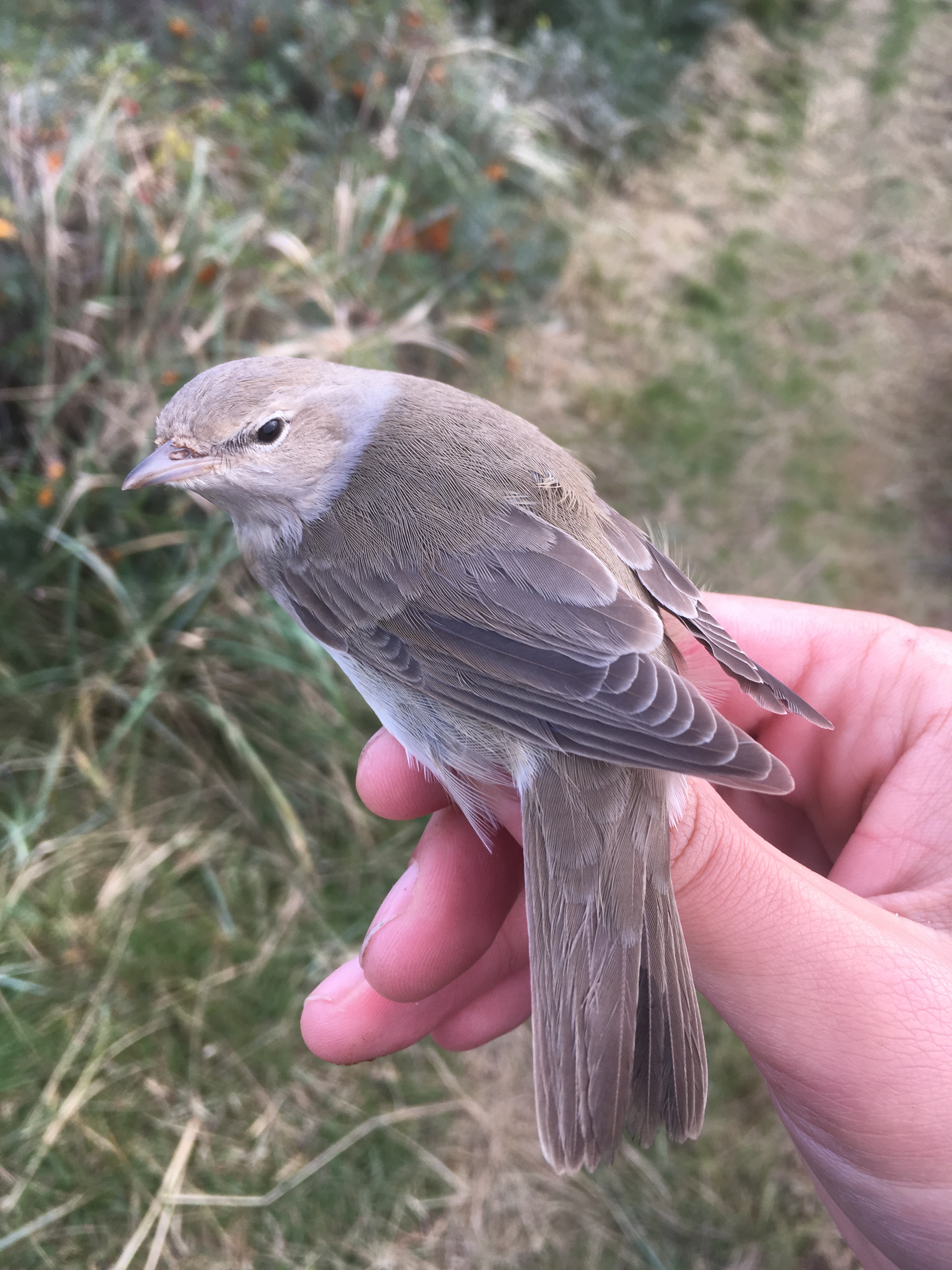 Garden Warbler (Havesanger)
At Jennes Sø Michael is continuering ringing good numbers of Lesser Redpolls (Lille Gråsisken) - almost hundred of those today! And some gems in form of 6 Bearded Tits (Skægmejse) also reached the net!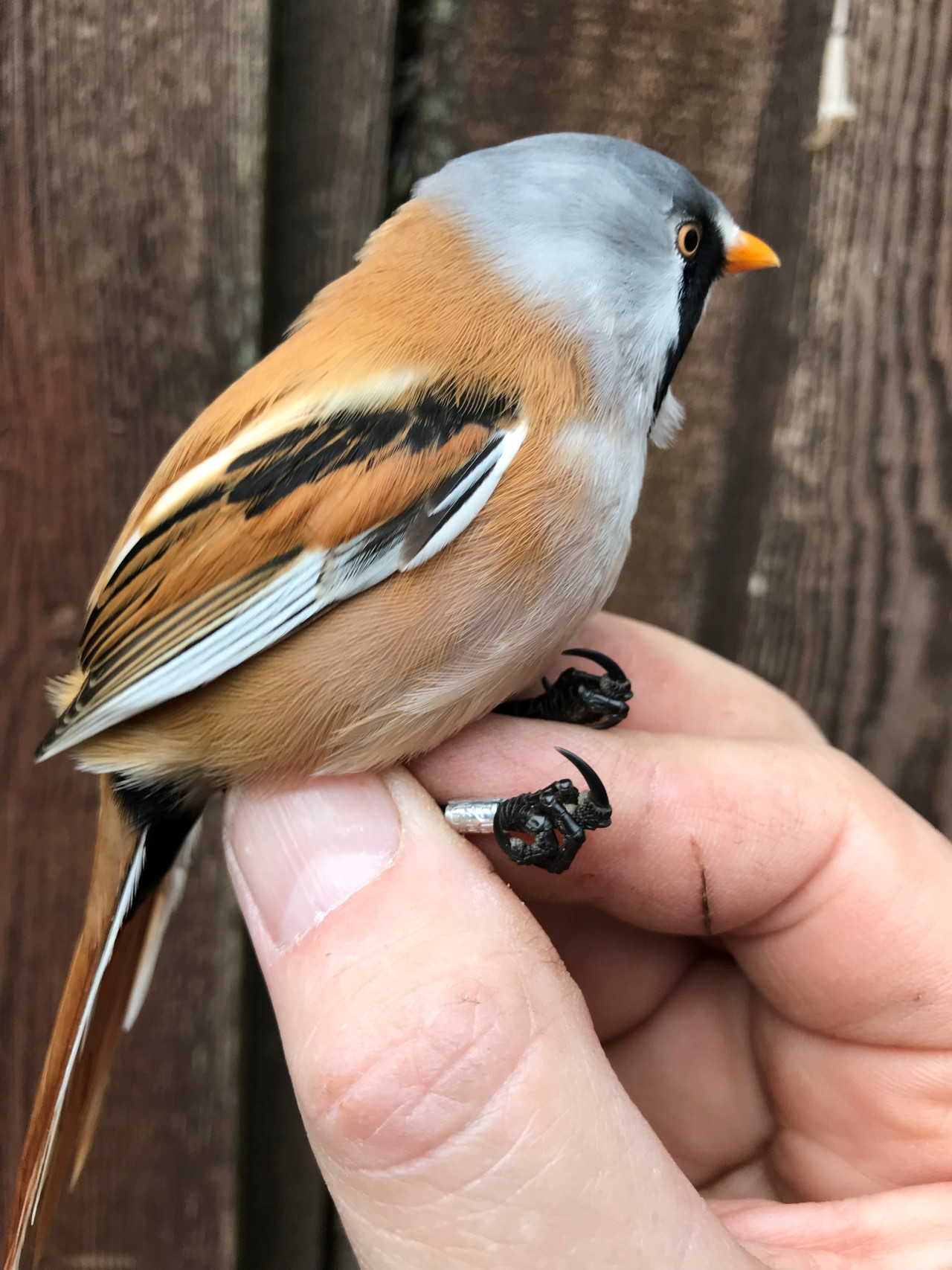 Skægmejse - Bearded Tit (Photo: Michael Ancher).
There are autumn-holidays in Denmark at the time, so we will have some special events this week for all the visitors. Tomorrow evening is a night-tour, on Wednesday evening is a talk and of course we are also present at Birders Club and in the yard to talk to the tourists and visitors that are around. Today, it was Koen's task and he spend his afternoon down in Birders Club and also managed to do some interesting readings in books from our library when no people were here.
In the meantime, Chris and I went swimming into the sea. While we warm up with some exercises and did our swim Laia put her feet into the cold water and found some plastic rubbish between the rocks and on the beach and did a short clean-up of the beach. I am pretty sure that the birds, fish,... are very thankful about that.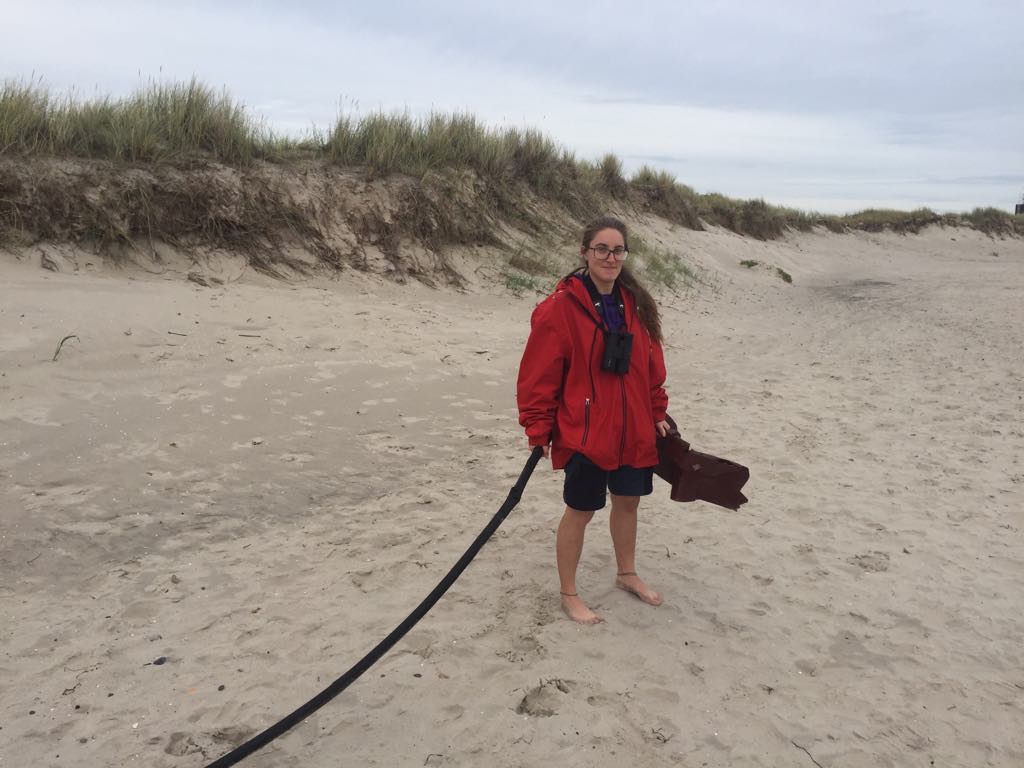 The guests in the apartment changed today. Jens and Gull-Maj travelled back home and our new guests Lotte and Britta arrived. They are from Roskilde and Odense and are already looking forward to this week, having time to do some birding and spending time out in the nature.
In the evening Chris and Inga prepared a, how they called it, 'glorious dinner', and I would say they were right! Now we have a cosy evening in the living room with some games :)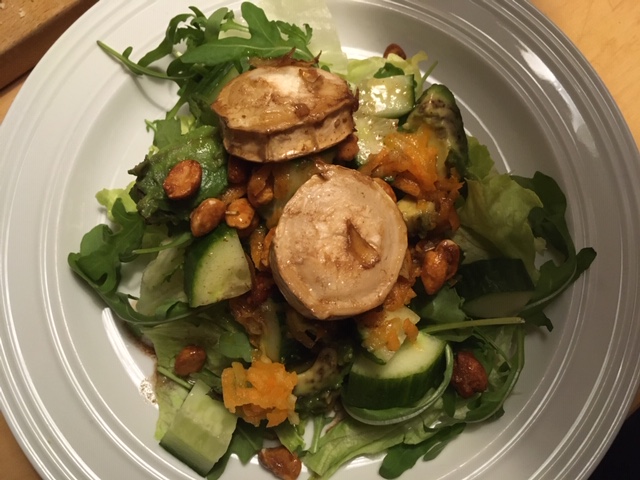 Starter of our dinner tonight
Ringing (Kabeltrommelkrattet + Jennes Sø):
Wren – Gærdesmutte – 10
Robin – Rødhals – 10
Songtrush – Sangdrossel – 1
Garden warbler – Havesanger – 1
Blackcap – Munk – 2
Chiffchaff – Gransanger – 3
Goldcrest – Fuglekonge – 7
Great Tit – Musvit – 2
Bullfinch ssp. pyrrhula – Stor Dompap - 1
Bullfinch ssp. europaea – Lille Dompap – 1
Reed Bunting – Rørspurv – 2
Bearded Tit – Skægmejse – 6
Crested Tit – Topmejse – 1
Blue Tit – Blåmejse – 2
Sisken – Grønsisken – 4
Redpoll – Lille Gråsisken - 98
Total: 151
People: Michael Ancher, Simon S. Christiansen, Christian Stolz, Judith Kloibhofer, Laia Soler Iglesias, Koen Stork, Lisa Vergin, Inga Stolz, Henning Hvid Ettrup, Birthe Christiansen, Britta & Lotte, Knud Pedersen.