Her på Skagen Fuglestations blog bringes korte nyheder i dagbogsformat om hændelser på fuglestationen.

Se indlæg fra år: 2020 (249)2019 (304)2018 (261)2017 (247)2016 (2)(se alle)


Purple Sandpiper (Sortgrå Ryle) caught at night
lørdag 17. oktober 2020
Today it was the first time for Chris and Aurora to ring in Denmark and they enjoyed comparing the different ways of ringing in Spain, the UK, Canada and Denmark. Aurora was happy to ring her first ever Twite (Bjergiririsk) and Lesser Redpoll (Lille Gråsisken).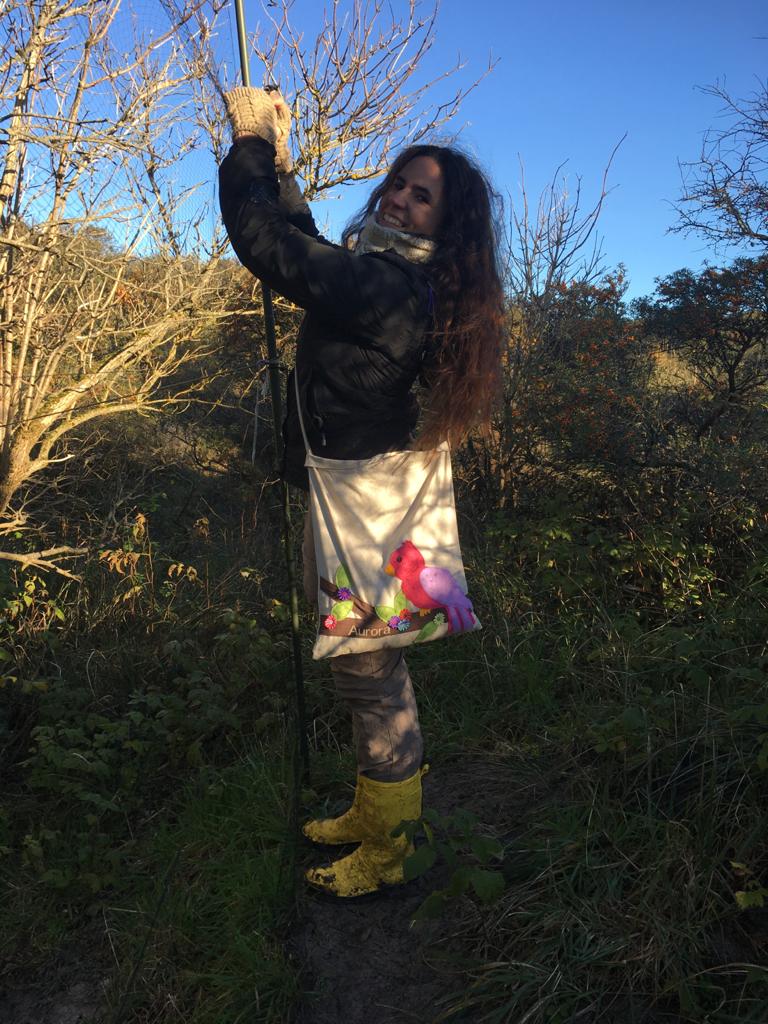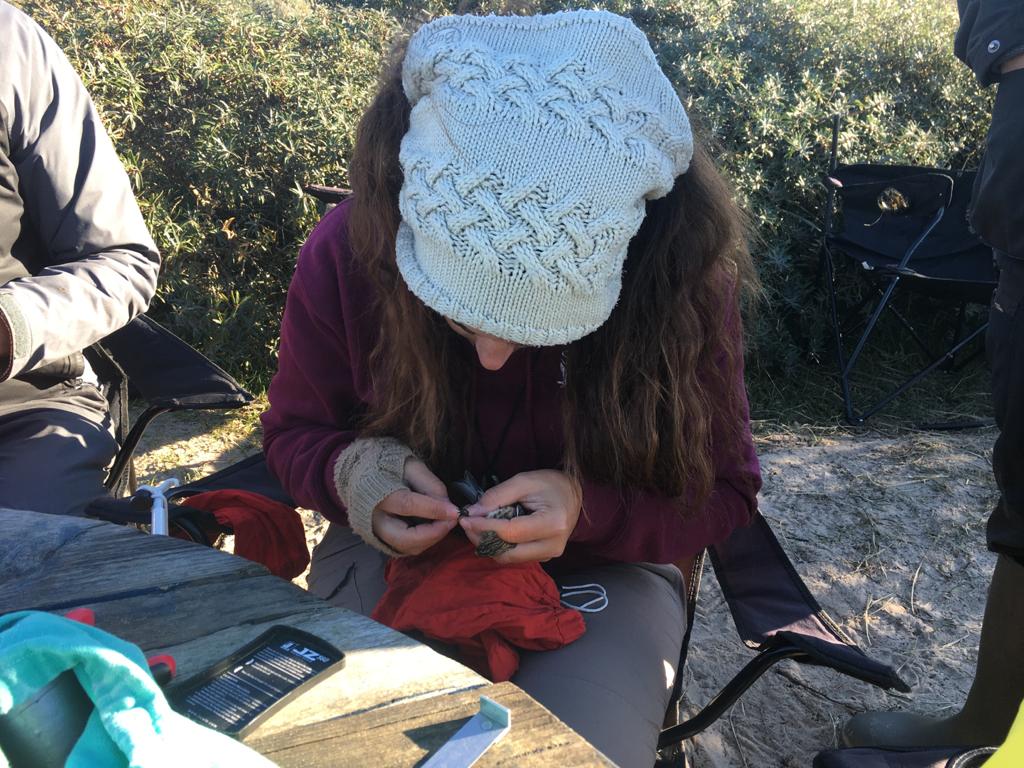 Chris also gets a lot of new species here, because he hasn't ringed in Europe yet. He was especially happy about a couple of Bullfinches (Dompap) and a Brambling (Kvækerfinke).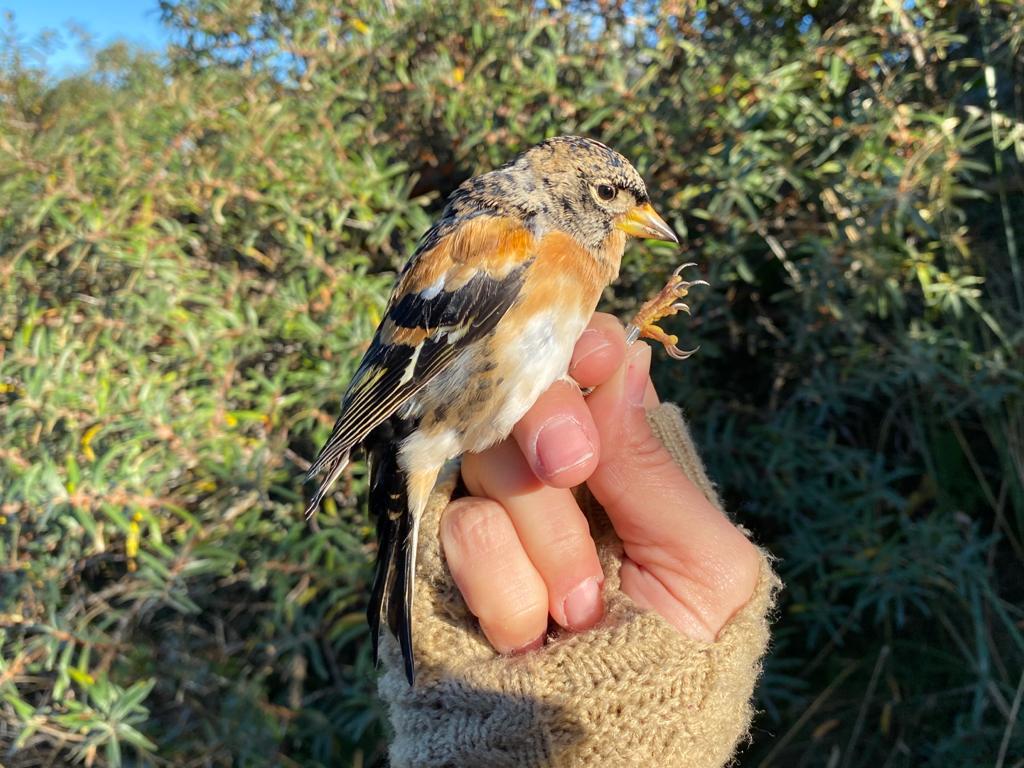 We also had some guests at the ringing station today. As usual, Jørgen, Igor and Erik were there, but they left quite early in the morning to look for a Spotted Sandpiper (Plettet Mudderklire) that has been seen at Lønstrup today.
Jeppe also had a very exciting day, because he extracted and ringed his first birds. His first one ever ringed is this Goldcrest (Fuglekonge):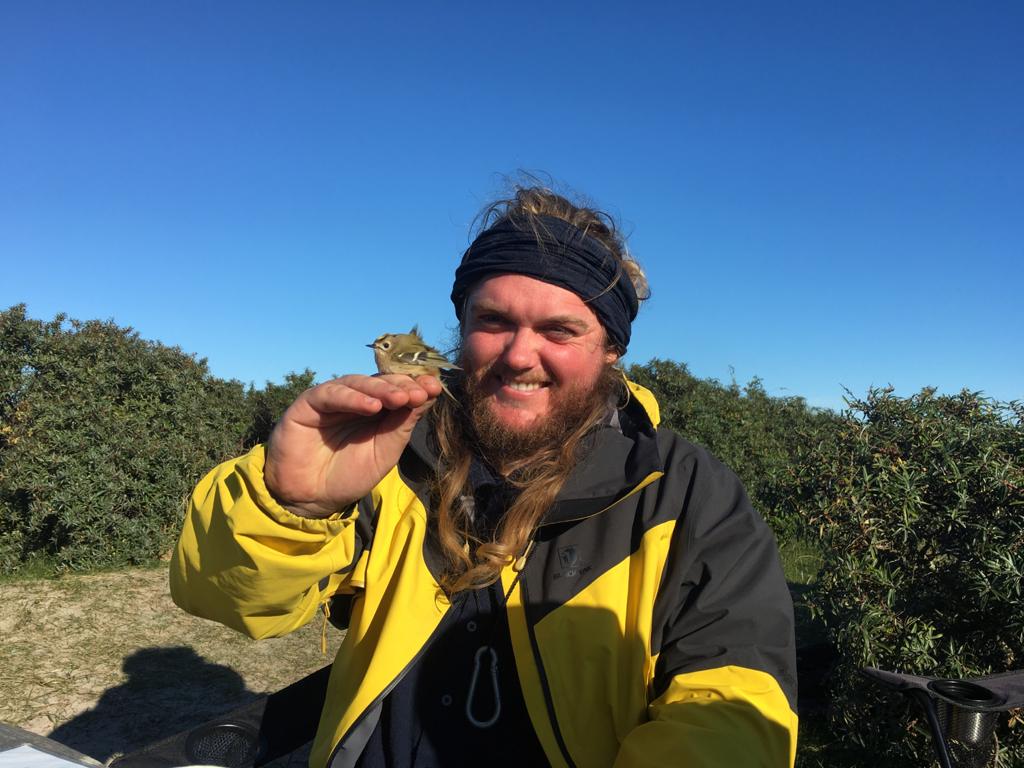 The net closing round was then very successful. A group of Longtailed Tits (Halemejse) flew into a semi-closed net. They then attracted more and more birds by their calls, which made us very happy. As they are very social birds, we released them all together, which is always nice to watch.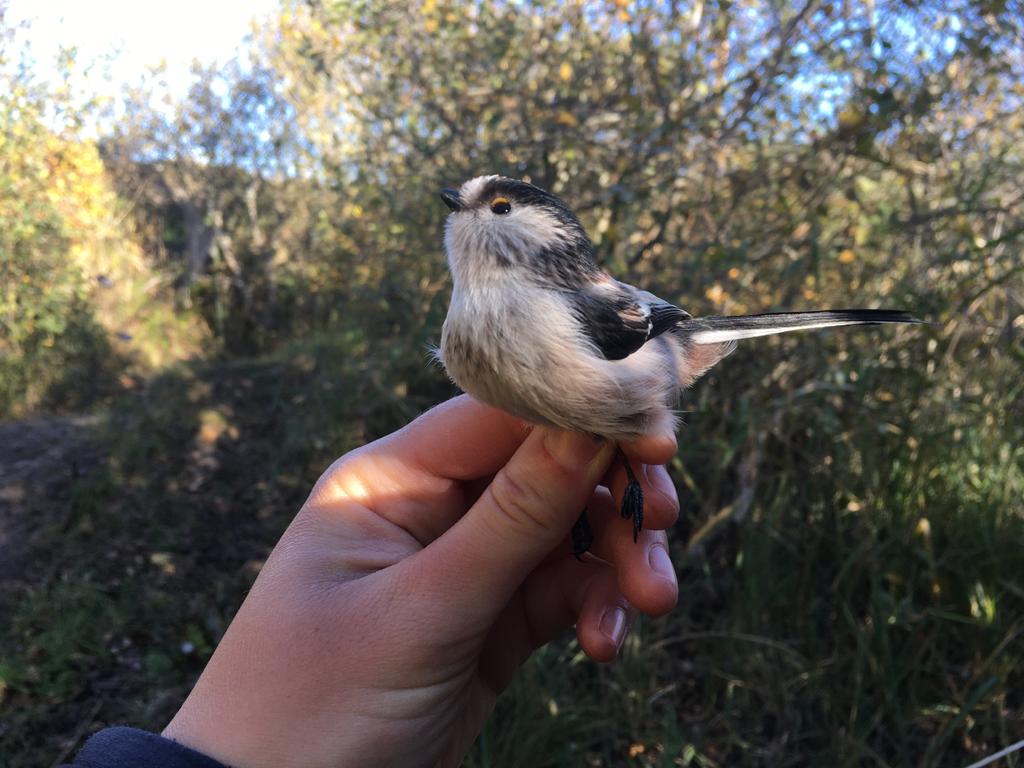 In one of the last nets we closed there were 7 Starlings (Stær)! That was a pretty cool catch, because they usually don't fly into the nets. For these we took a long time to age and sex them and afterwards we took pictures of all the birds, so we can check again at home.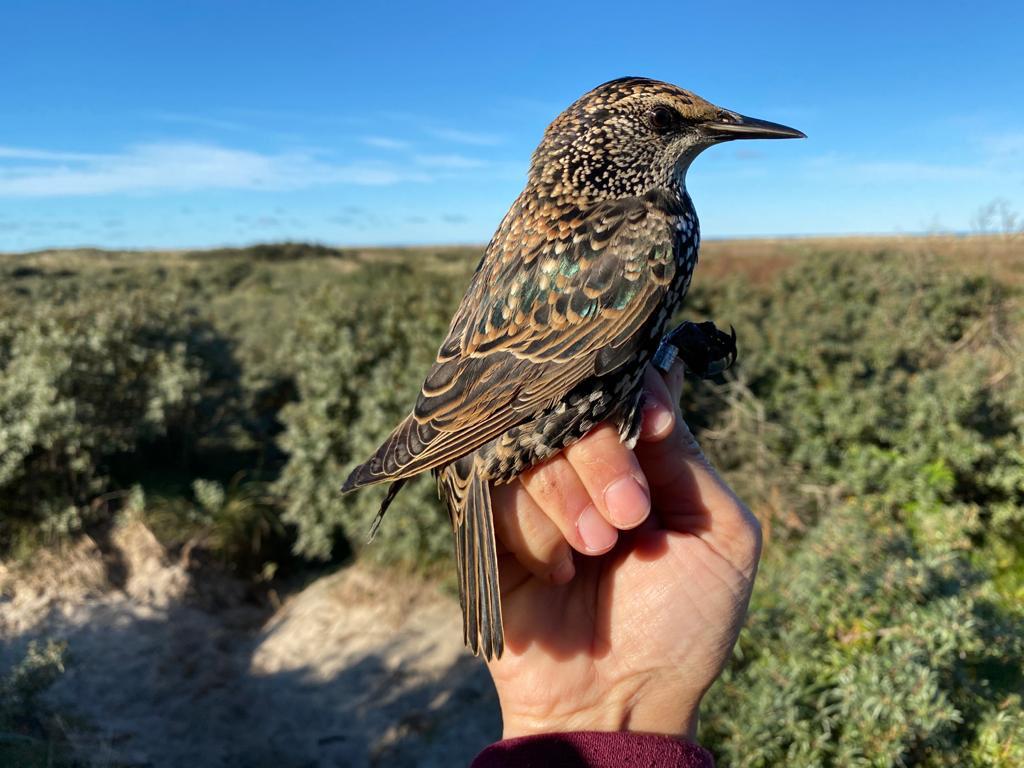 The ringing team came home at 3 and Simon then gave us a great session on different moult strategies. We also recorded it and shared the video with other bird stations.
Later in the afternoon, Martin also came back home, who is now, after a few days of rest, fit again for the many upcoming counting and ringing days. Esben is also back for the weekend, which makes us all very happy, because we always have a lot of fun together. In the evening Esben, Aurora, Chris and I were going out nightcatching together and were lucky on our way back: We caught a Purple Sandpiper (Sortgrå Ryle) :)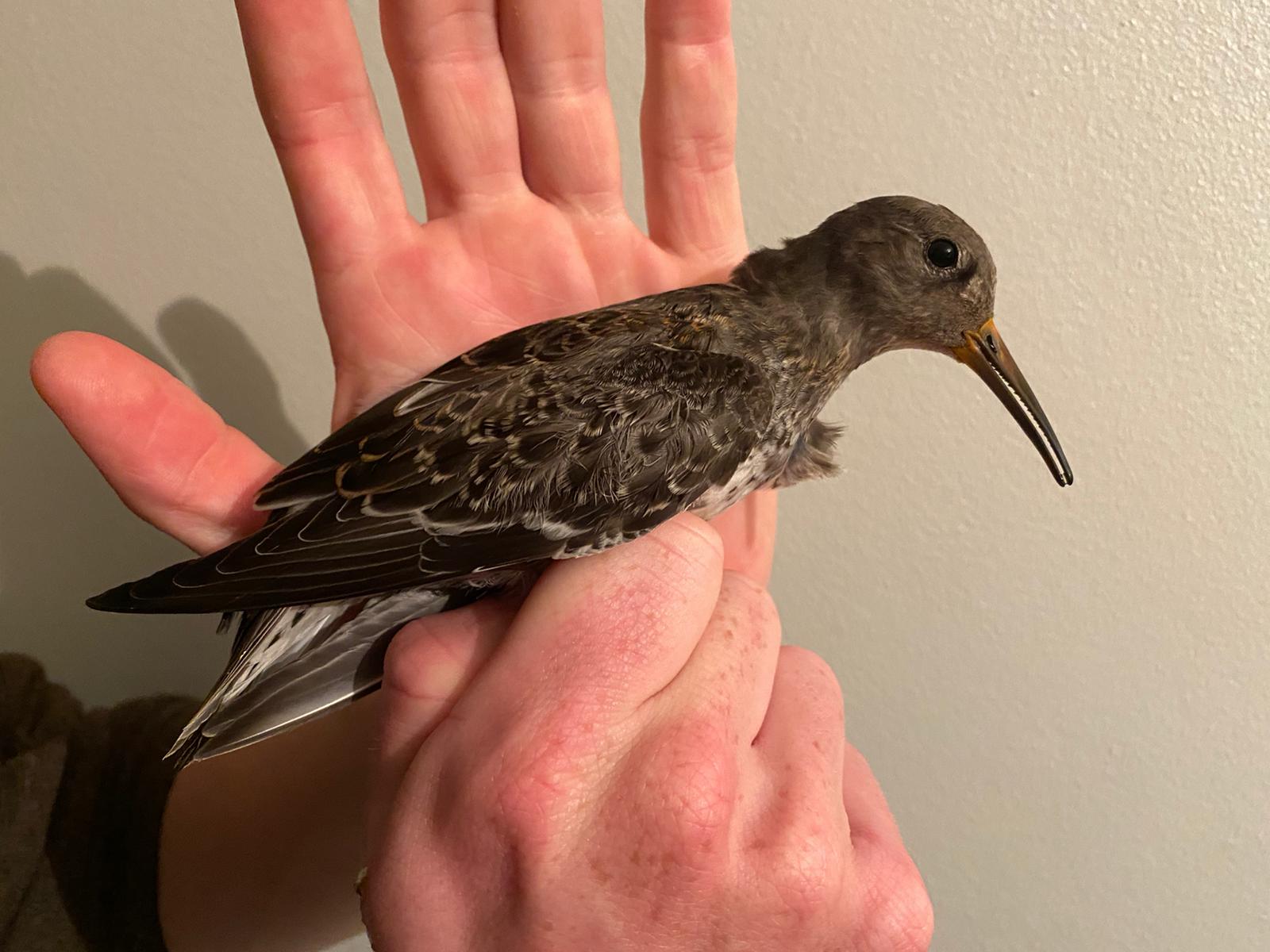 Ringmærkning (Kabeltromlen):
Gærdesmutte – Wren – 4
Halemejse – Longtailed Tit – 6
Halemejse, Sydlig – Longtailed Tit - 3
Gråsisken, Lille – Lesser Redpoll - 1
Rødhals – Robin - 1
Sangdrossel – Songthrush – 2
Sortmejse – Coal Tit – 4
Stær – Starling – 7
Træløber – Treecreeper – 1
Vindrossel – Redwing - 1
Munk – Blackcap - 2
Blåmejse - Blue tit - 6
Kvækerfinke – Brambling - 2
Bjergirisk – Twite - 2
Dompap, Lille - Western European Bullfinch - 6
Rørspurv - Reed Bunting – 3
Fugelkonge – Goldcrest - 22
Total: 73
Ringmærkning (Nightcatching):
Sortgrå Ryle – Purple Sandpiper – 1
Ringmærkning (Jennes Sø):
Dompap, Stor – Bullfinch - 1
Gærdesmutte – Wren - 4
Rødhals – Robin - 2
Fuglekonge – Goldcrest - 14
Topmejse – Crested Tit -1
Blåmejse - Blue tit - 1
Musvit - Great tit - 1
Sortmejse – Coal Tit - 2
Gråsisken, Nordlig – Common Redpoll - 10
Gråsisken, Lille – Lesser Redpoll - 15
Total: 51
Grand total: 125
Klik her for at se dagens observationer indtastet i Dofbasen af observatører i området
People: Simon S. Christiansen, Christina Stinn, Martin Grienenberger, Jeppe Overgaard, Aurora Gonzalo-Tarodo, Chris Ketola, Esben E. Hansen, Kristina Sønderkjær, Britta & Lotte, Michael Ancher, Knud Pedersen, Amelie Zeller