Her på Skagen Fuglestations blog bringes korte nyheder i dagbogsformat om hændelser på fuglestationen.

Se indlæg fra år: 2021 (42)2020 (282)2019 (304)2018 (261)2017 (247)2016 (2)(se alle)


Topskarv, Mallemuk, new photolab and ageing studies.
onsdag 7. april 2021
Hi folks :)
I hope you all had a lovely first half of the week!
After a couple of windy days, we were finally able to open the nets today and activate the reed trap. Daniel and Laima went ringing, and were able to test their brand new, homemade photo lab which worked wonders!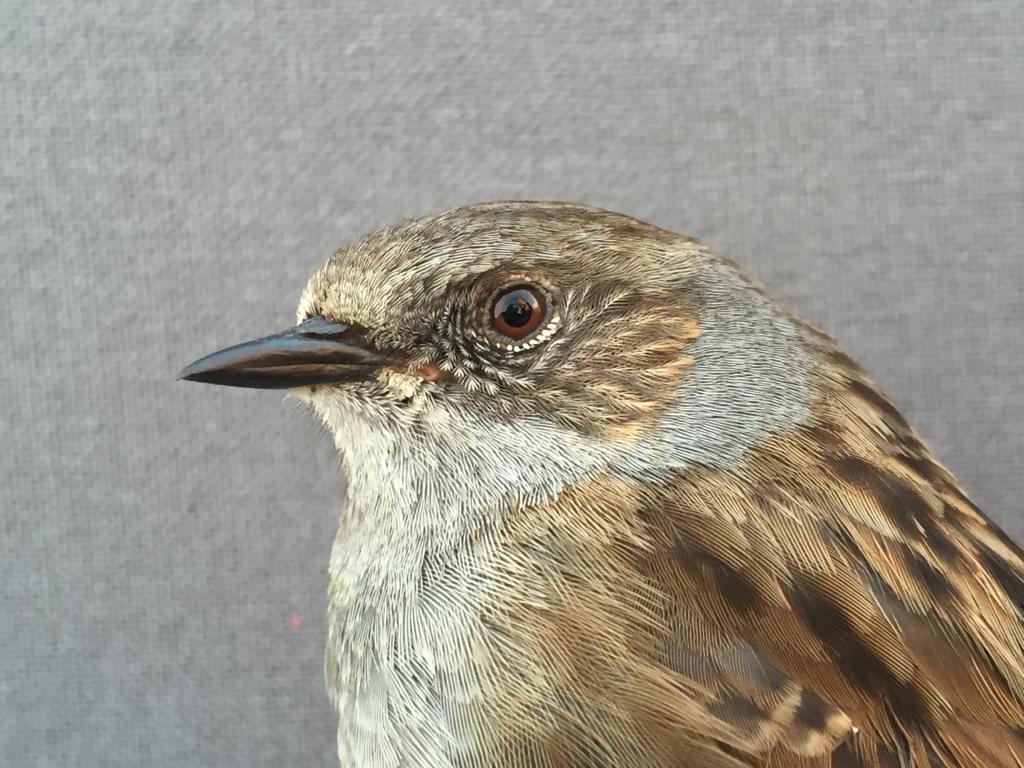 Dunnock (Jernspurv), with the really cool photolab background!
Something quite unexpected happened, and while you are all hoping for some cool bird stories, I apologise as this isn't one. It is, though, one of our many "living with Daniel" stories. For some unknown reason, Laima realised that Daniel had blood on his hands, on his waders, on his binoculars, on his jacket, and on the new photo lab. No harm here, he just had the tiniest unnoticeable cut on his little finger that resulted in more laughter than scare in the end. :)
Aside from that, they ringed 8 birds including Blackcaps (Munk) and Dunnocks (Jernspurv). They also caught an unusual-looking Great Tit (Musvit) that was very pale looking but with a lot of rusty wash. Unfortunately, it escaped from the weighing tube so we have no picture. Hoping we can catch it again to show it to you!
Laima and Daniel also witnessed a Water Rail (Vandrikse) walking right under the net... Such a shame hahaha.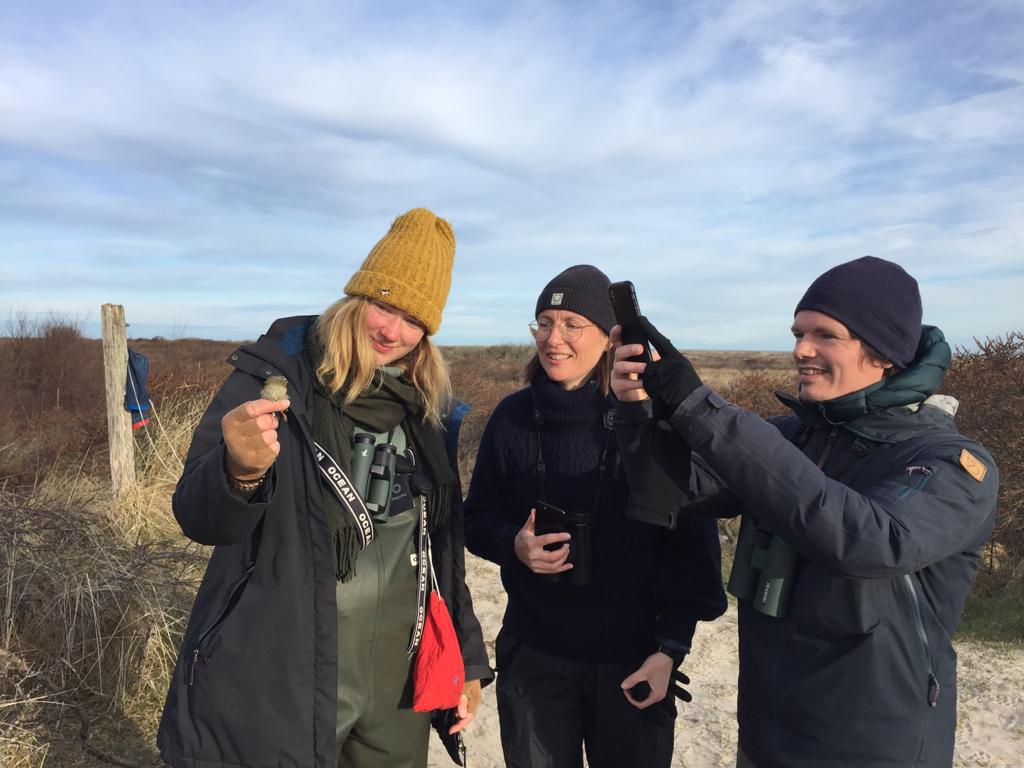 Laima, Kristine and Martin, with a Goldcrest (Fuglekonge)
In the meantime, Jonas and I went observing and Verdens Ende 3 with Kristine and Martin. The sunrise was wonderful, it was less windy than expected, and as we set up on the dune, I saw two cormorant-like birds that I pointed out to Jonas. "They're probably just Cormorants (Skarv)", I said. Jonas nearly gave up in trying to look for them. Good thing he didn't, as they were our only Shags (Topskarv) for the day! It was a great day for Gannets (Sule), and we saw a Black Guillemot (Tejst), a Black-throated Diver (Sortstrubet lom), a Northern Fulmar (Mallemuk), and a resting Merlin (Dværgfalk) right in front of us. Halfway in, our guests went to see the ringing and were super grateful to see birds up close! They came back for the last 10 minutes of observations and we then looked for the Great grey Shrike (Stor tornskade).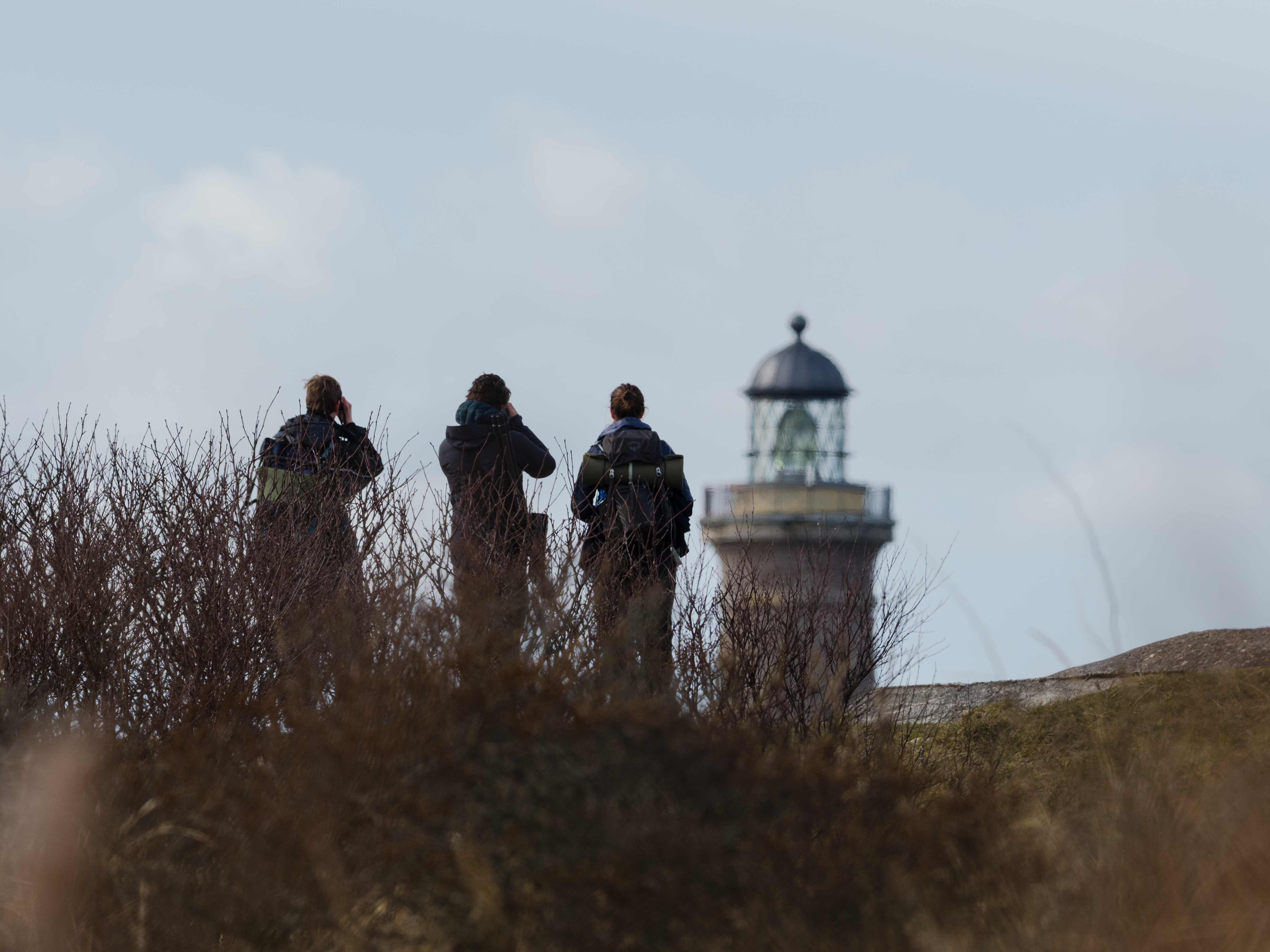 Jonas, Kristine and Martin, looking for the Great grey Shrike (Stor tornskade)
Laima and Daniel opened nets in the garden and set the whoosh net up in the hope of catching Magpies (Husskade), without success yet. Simon, who had lots of meeting today, was very sad that he wasn't able to come out with any of us.
After having had some lunch, our guests, Kristine and Martin, went shopping and went to the new harbour to try and see the Glaucous Gull (Gråmåge), some of us took a nap, Daniel studied for his marine mammal exam for next week, and Laima finished working on her presentation on ageing Blackcaps (Munk) and Dunnocks (Jernspurv) that she gave us at 3 pm. Blackcaps are actually harder to age than I imagined!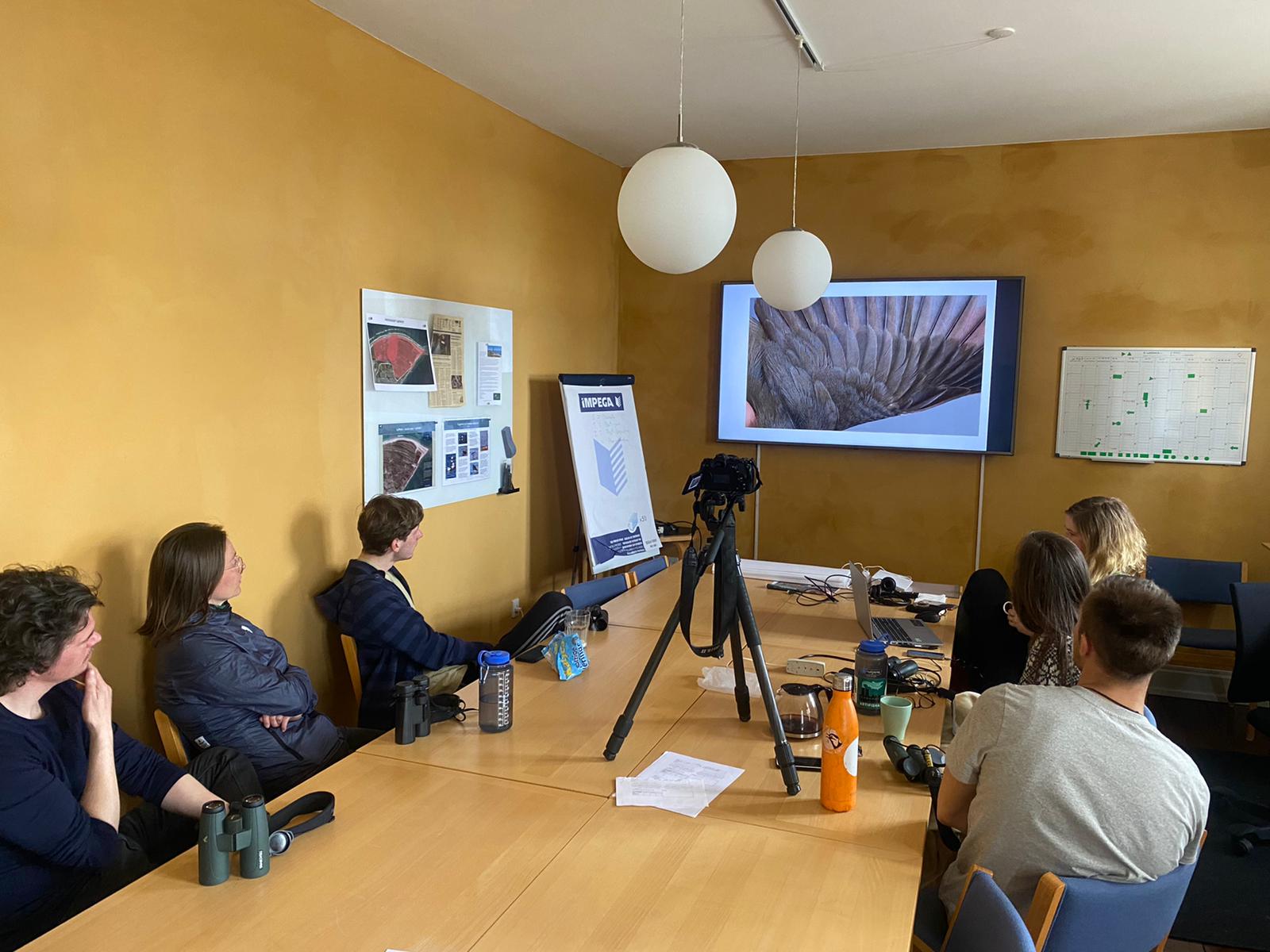 Laima teaching us about Blackcap (Munk) ageing
Kristine and Martin are now preparing us a curry that already smells incredible, and we will probably all fall asleep soon after.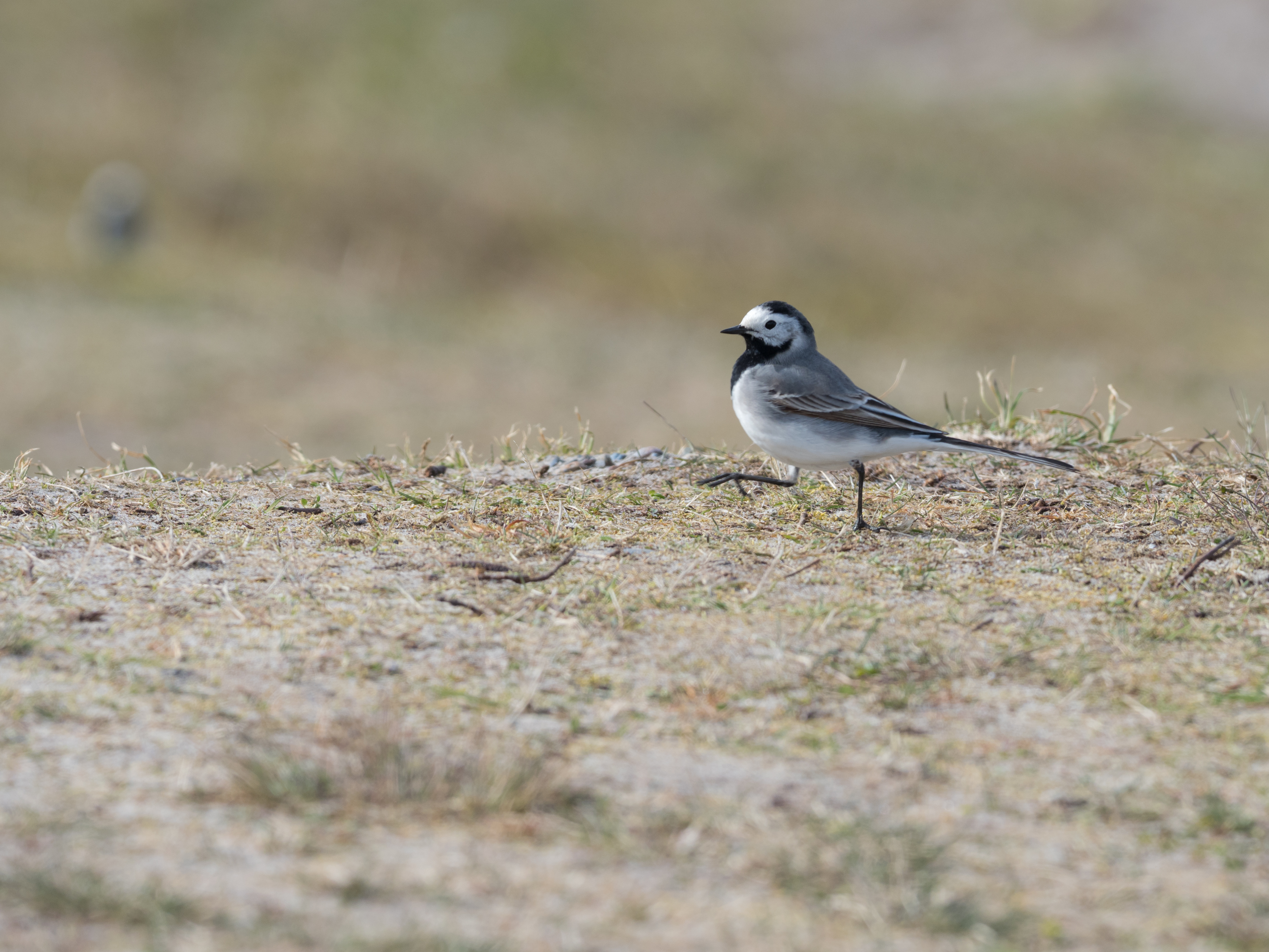 White wagtail (Hvid vipstjert) feeding, on the way back from observation this morning
Wishing you all a good night, and talk to you soon! ?
Ringing (Kabeltromlen):
Musvit - 1
Rødhals - 1
Jernspurv - 2
Gærdesmutte - 1
Bogfinke - 1
Gransanger - 1
Fuglekonge - 1
Sum = 8
Folk: Simon S. Christiansen, Kristine Rasmussen, Martin Bjerre Nielsen, Daniel Bloche, Laima Bagdonaite, Jonas Pedersen, and Michaëla Berdougo