Her på Skagen Fuglestations blog bringes korte nyheder i dagbogsformat om hændelser på fuglestationen.

Se indlæg fra år: 2021 (71)2020 (282)2019 (304)2018 (261)2017 (247)2016 (2)(se alle)


Gulnæbbet Glente, Broget fluesnapper, and Israeli re-recapture
mandag 3. maj 2021
Hi folks!!
Hope you had a great weekend :)
I will be starting by telling you about all the excitement that happened at the station yesterday, and across the Danish birding community.
I went out for a walk in the afternoon with the camera, and a kettle of raptors was just above the west side of Ellekrattet, where I was looking for passerines. As I had never identified a Black Kite (Sort Glente) myself, I was very excited to finally find one but the light was bad, so I decided to take pictures of every individual to study them later on. After that, I ran to Kap Gadagung and sat on one of the closest hills as a Buzzard (Musvåge) was resting in a bush. I observed Roe Deers eating, some more raptors flying over, and then a Black Kite (Sort Glente) again just soaring above me. I took pictures of it, and Simon called me at the same time to ask me to come back for the evening meeting. I excitedly told him that I was looking at what I think is a Black Kite (Sort Glente). I stayed a few minutes and head back. We all had dinner, I got ready for bed and started looking at my pictures when Jonas came to sit next to me, and got quiet when I asked if I correctly identified it. "Don't tell me it's a rare bird please", I joked. "I just have to make sure", he said. We looked at the pictures of the Yellow-billed Kite (Gulnæbbet Glente) seen in the Netherlands and found it weirdly similar. We focused on the tail wear, and how the 5th rectrice is prominent on the right side as the outer one is very worn out, and the broken outer rectrice on the other side. He sent the pictures to a fair amount of birder friends, and I cannot tell you his excitement while all of this was happening. One of his friends, Frederik Johansen, replied that it was the same individual as the 8th right primary (3rd from the outer wing) was broken!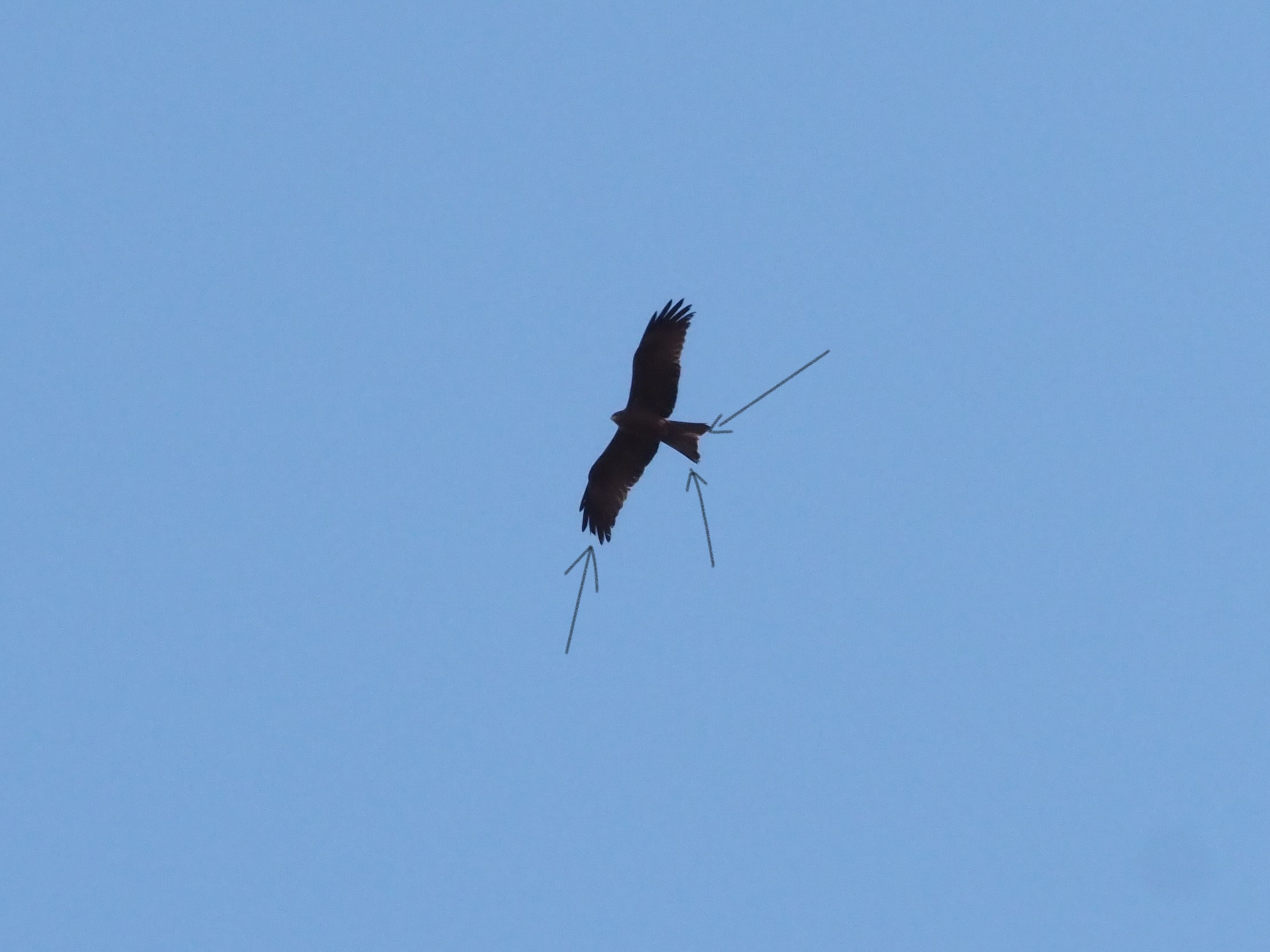 So many shouts and happy screams and calling everyone in the room, and as everything was in Danish I wasn't really sure of what was said except swearwords, and I could see astonished faces and sooooo much excitement, lots of phone calls, and I had to get out as it was slightly overwhelming. I have only been birding in Europe for a few months and I don't think I realised how big that was. An African kite species. A freaking new species for Denmark. Holy shit!
After hugs and high fives and thumbs up, Jonas and I continued to look through my pictures of deers, buzzards (Musvåge), and then found the ones I took at Ellekrattet when the kettle of raptors was above me. DOUBLE EXCITEMENT, I'D SEEN IT TWICE. Once returning with others, and once going out on its own about 30 minutes afterward. We then got messages from other birders, saying that they had pictures of the same bird from around the same time frame, but because it was so far up it was hard to properly see. They did notice the feather wear though which was the best indicator! Jonas was so excited that he had a hard time falling asleep but had all the energy in the world from yesterday when waking up this morning.
Ian, our guest for the week, left the lighthouse at 6 am for Nordstrand; Jonas and Anders opened nets today and were joined by Laima and Simon for the first round, while Mikkel and Rasmus went to Verdens Ende 1 for observations. Observations were very slow on both sites, the clouds were very threatening but no rain on the forecast. Or that we thought! It slowly started raining, so the ringers decided to close after having had few birds, but still a sparrowhawk and the Israeli Lesser Whitethroat (Gærdesanger). While closing, they caught the first Pied Flycatcher (Broget Fluesnapper) of the season! A nice young male. :)
They finished ringing in the tent and waited for the rain to slow down, which it did not.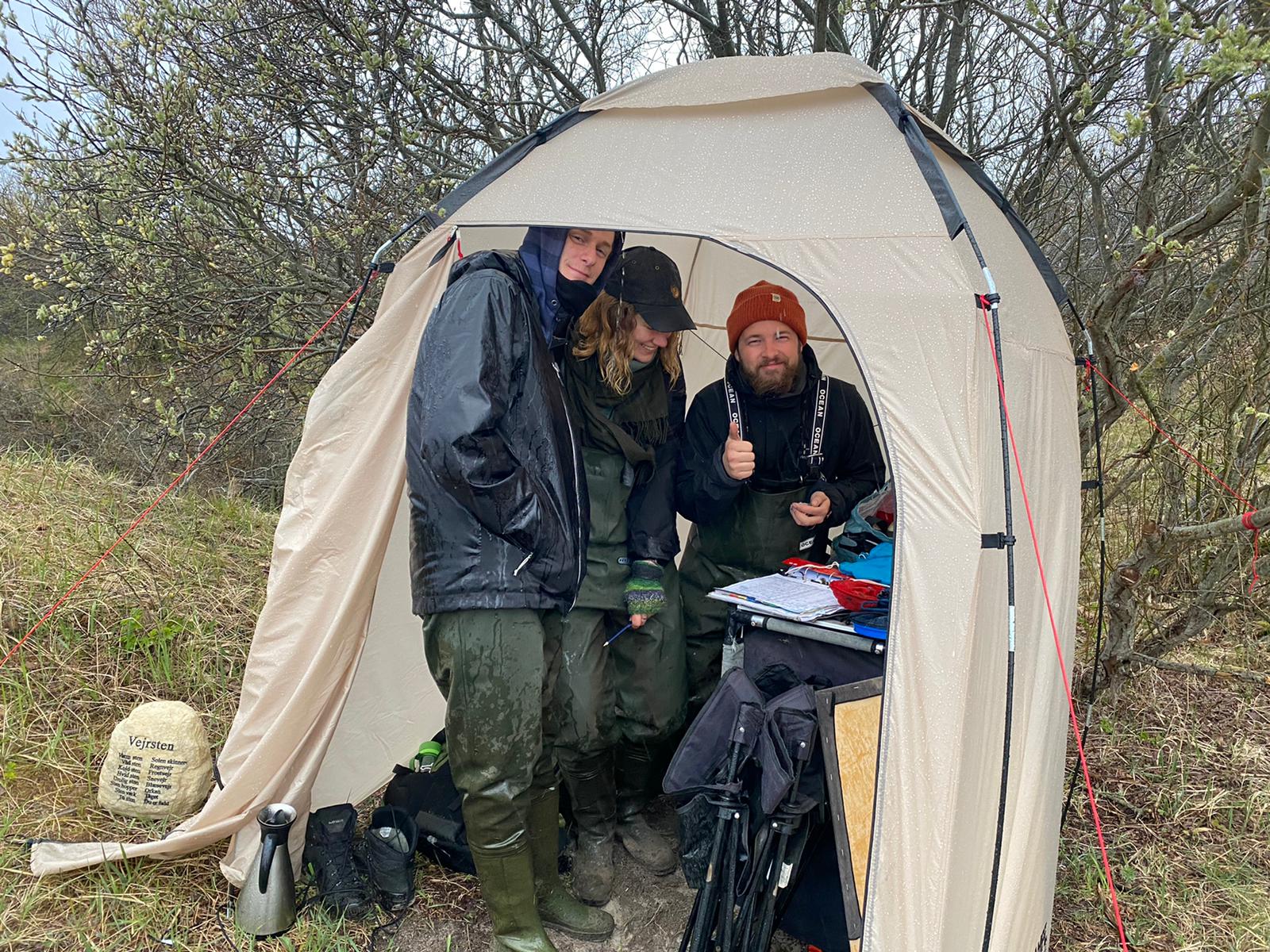 Jonas, Laima and Anders hiding from the rain in our new tent
They came back to pancakes, as I stayed home to apply for student housing for university.
After breakfast, everyone had a quick nap and we got a call that 3 black kites had been seen in town and were going NE. Predictions were that the Yellow-billed Kite (Gulnæbbet Glente) returned yesterday, so Rasmus woke Mikkel, Anders, and Laima up, we grabbed Esben from the lab who was studying and all went to Kap Gadagung. We managed to see the Yellow-billed Kite (Gulnæbbet Glente) very nicely from there, and are all super excited about it. We came back to the obs after watching it fly 5km out and decided to head back home after a winning selfie.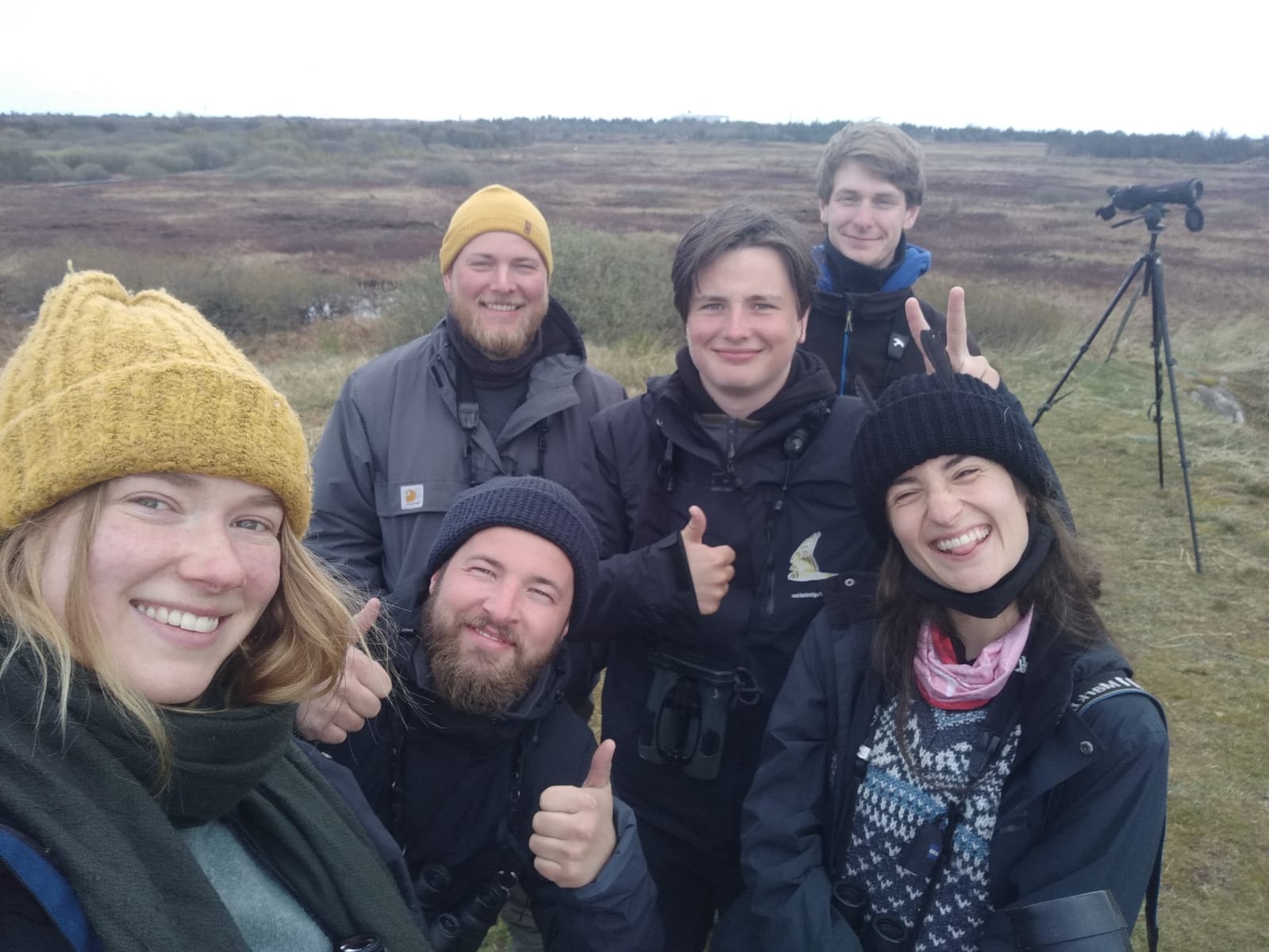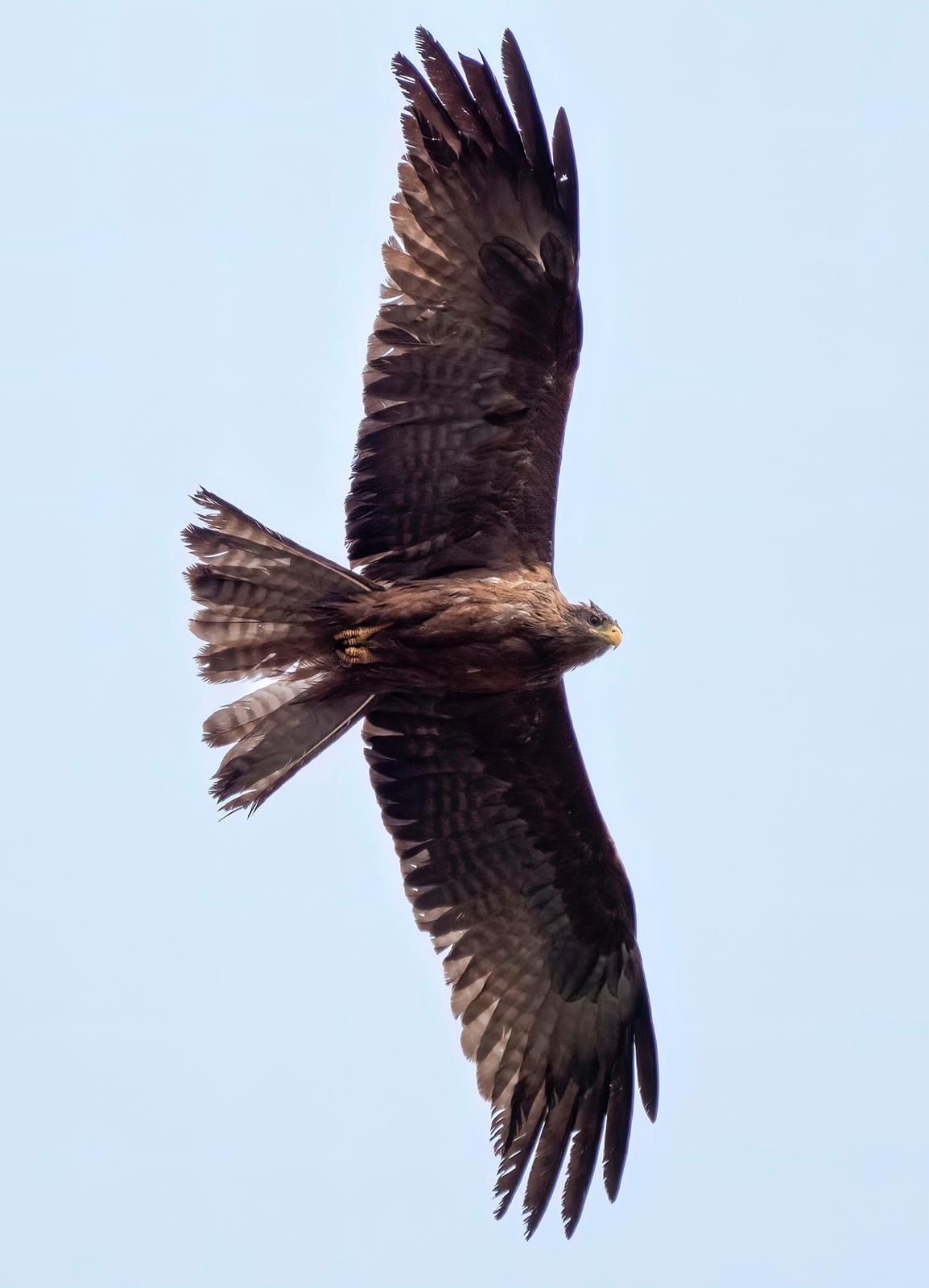 Gulnæbbet Glente this morning. Photo: Jørgen Kabel
Mikkel met with Peter, the head of DOFnordjylland, to talk about reactivating the receivers for radiotelemetry. The rest of us had a nap and split up for the rest of the day. Esben and Anders left us ( how dare you :( ); Mikkel had a quiet one, fixed his tripod, and did some data entry; Laima also did data entry and crocheted fingerless gloves; Rasmus went to Netto, took a total of 3 naps, and cooked dinner with Laima; Jonas and I went to Skarvsøen to check up on the Cormorant (Skarv) colony. The number of nests is definitely increasing every time, and most of them have incubating individuals. We do not have a good enough view to see any eggs, but hopefully, we can see some young ones soon and see parenting behaviour!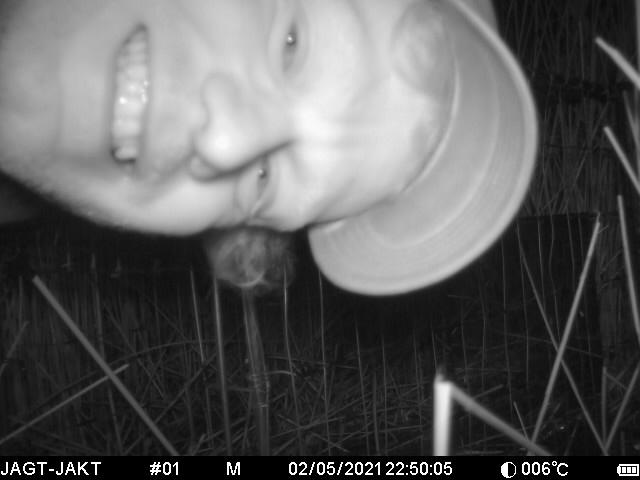 Esben trying the wildlife camera out :)
The rest of the evening will be pretty chill with some indoor tasks, and we will be able to sleep in tomorrow as it will be raining.
Ringing (Kabeltromlen):
Broget Fluesnapper 1
Gærdesmutte 5
Gransanger 2
Munk 1
Rødhals 3
Rørspruv 3
Sangdrossel 1
Spurvehøg 1
Vindrossel 1
Sum = 18
Klik her for at se dagens observationer af fugle i Skagen
Klik her for at se dagens observationer af rovfugle i Skagen
Folk: Simon S. Christiansen, Laima Bagdonaite, Mikkel Friborg Mortensen, Jonas Pedersen, Rasmus Matthiesen-Juhl, Anders Brinkmann, Esben E. Hansen, Jørgen Kabel, Ian og Michaëla Berdougo