Her på Skagen Fuglestations blog bringes korte nyheder i dagbogsformat om hændelser på fuglestationen.

Se indlæg fra år: 2021 (108)2020 (282)2019 (304)2018 (261)2017 (247)2016 (2)(se alle)


How do you react when a Hætteværling lands in the bush you're all looking at?
søndag 6. juni 2021
Obviously, you call it out on Zello.
Hi folks!

This weekend has been by far one of the best there has been. Hopefully, you all got to see the Griffon Vulture (Gåsegrib), the multiple Rosy starlings (Rosenstær), the probable three Lesser Spotted Eagle (Lille Skrigeørn), the Black Stork (Sort Stork), the late Atlantic Puffin (Lunde) and the three Little Terns (Dværgterne)! Yesterday only I added 5 new species to my life list! :D
Today started very well, too. Jonas and I opened nets and were soon joined by Kurt, Jonas' dad. Mikkel stayed home to work on his project, and Rasmus and Anders, his dad, went to Verdens Ende 1 to observe. Oluf, Lisa and Simon joined the ringing, and while on a round, Rasmus called a Black-headed bunting (Hætteværling) out on Zello! A beautiful male, actually. While they were all looking at a Brambling (Kvækerfinke) and filming it, it soon flew away only to be replaced by the Black-headed Bunting, landing in the same spot! All 6-7 people got to see it at the same time and I cannot even imagine the screams of joy going around. :D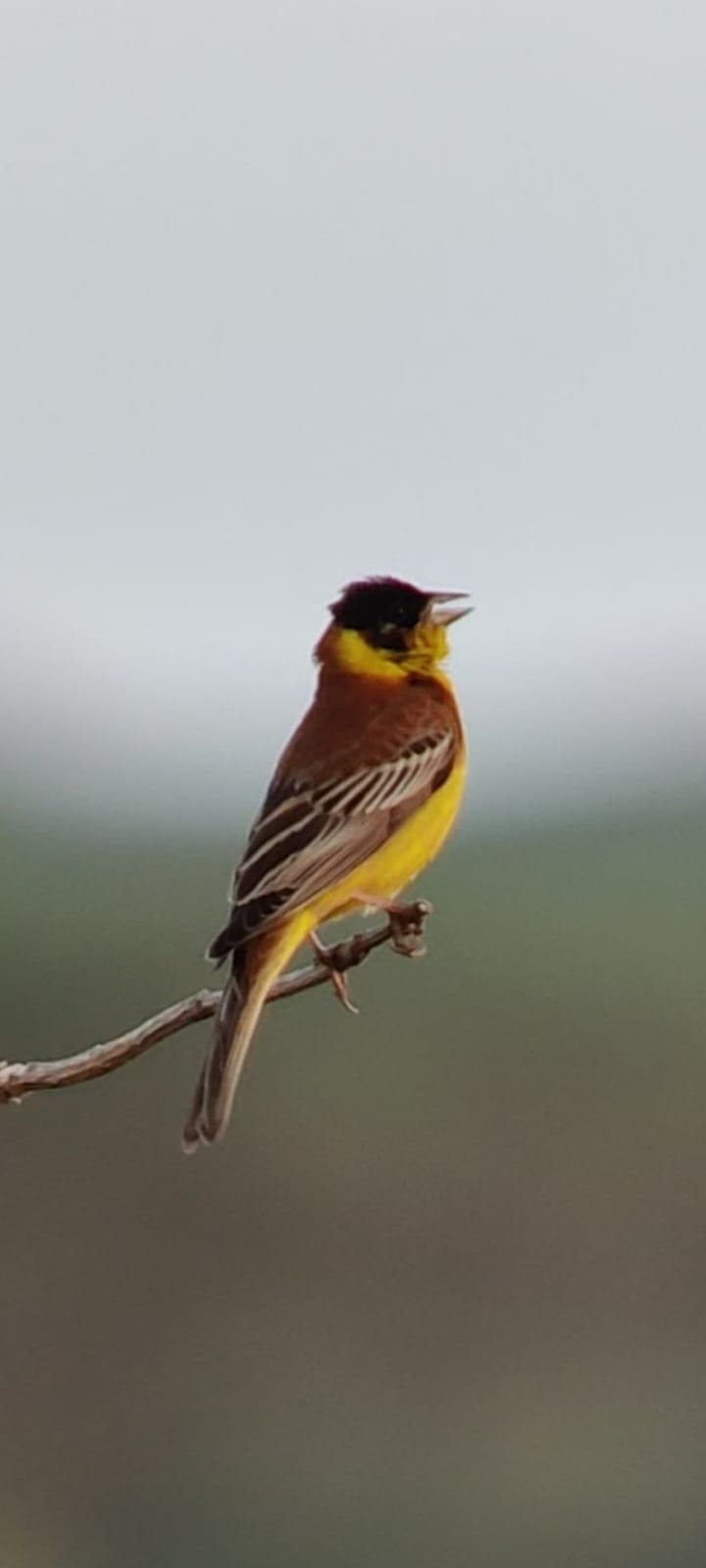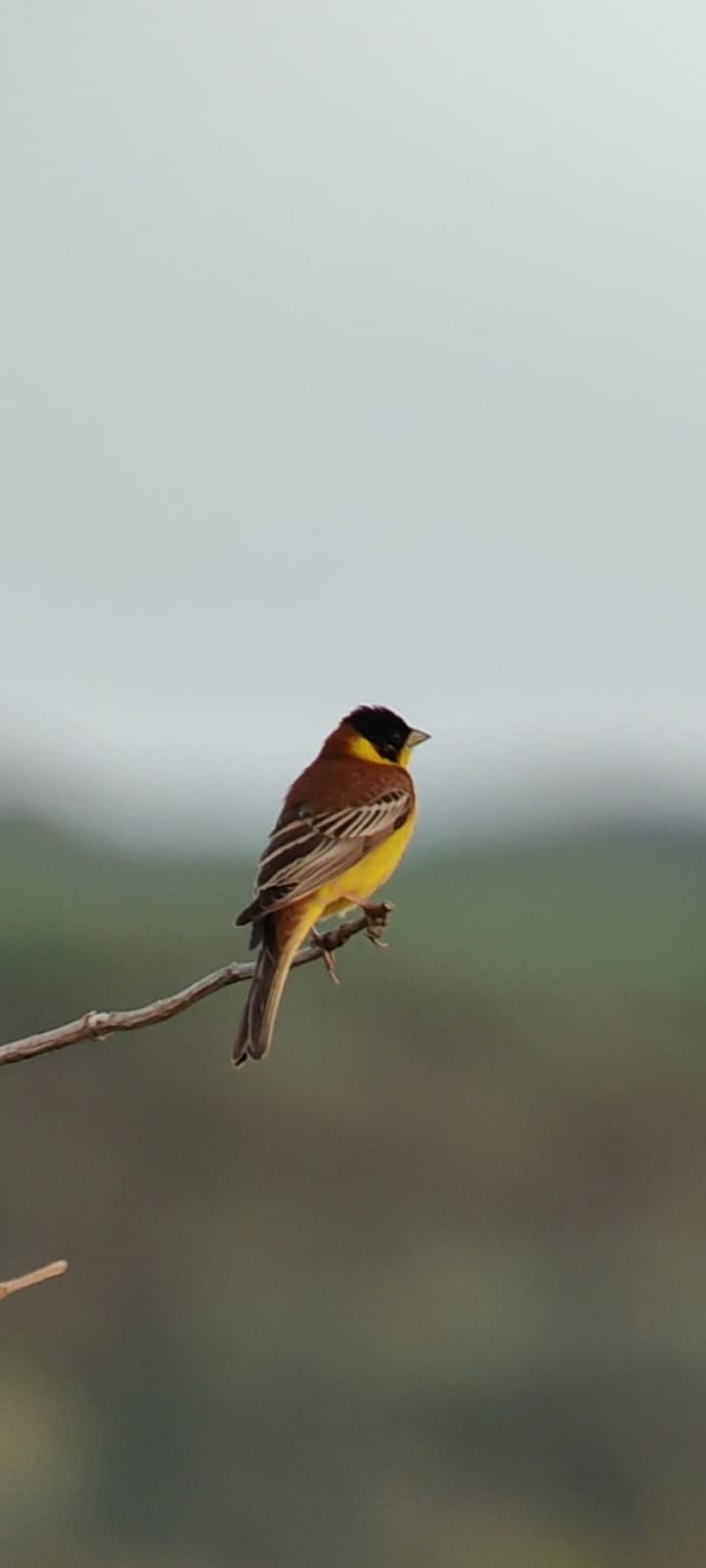 Hætteværling male
Rasmus also found an adult male Pallid Harrier (Steppehøg han) migrating, which is actually very late for them.
Soon after that, we caught a beautiful male Red-backed Shrike (Rødrygget Tornskade), and the rounds were fairly constant with 5-10 birds. Jørgen and Igor came early on, and Anders Nielsen arrived a bit later. We also had a nice visit from Anders Østerby and Dorte who came to Nordjylland for the weekend. :)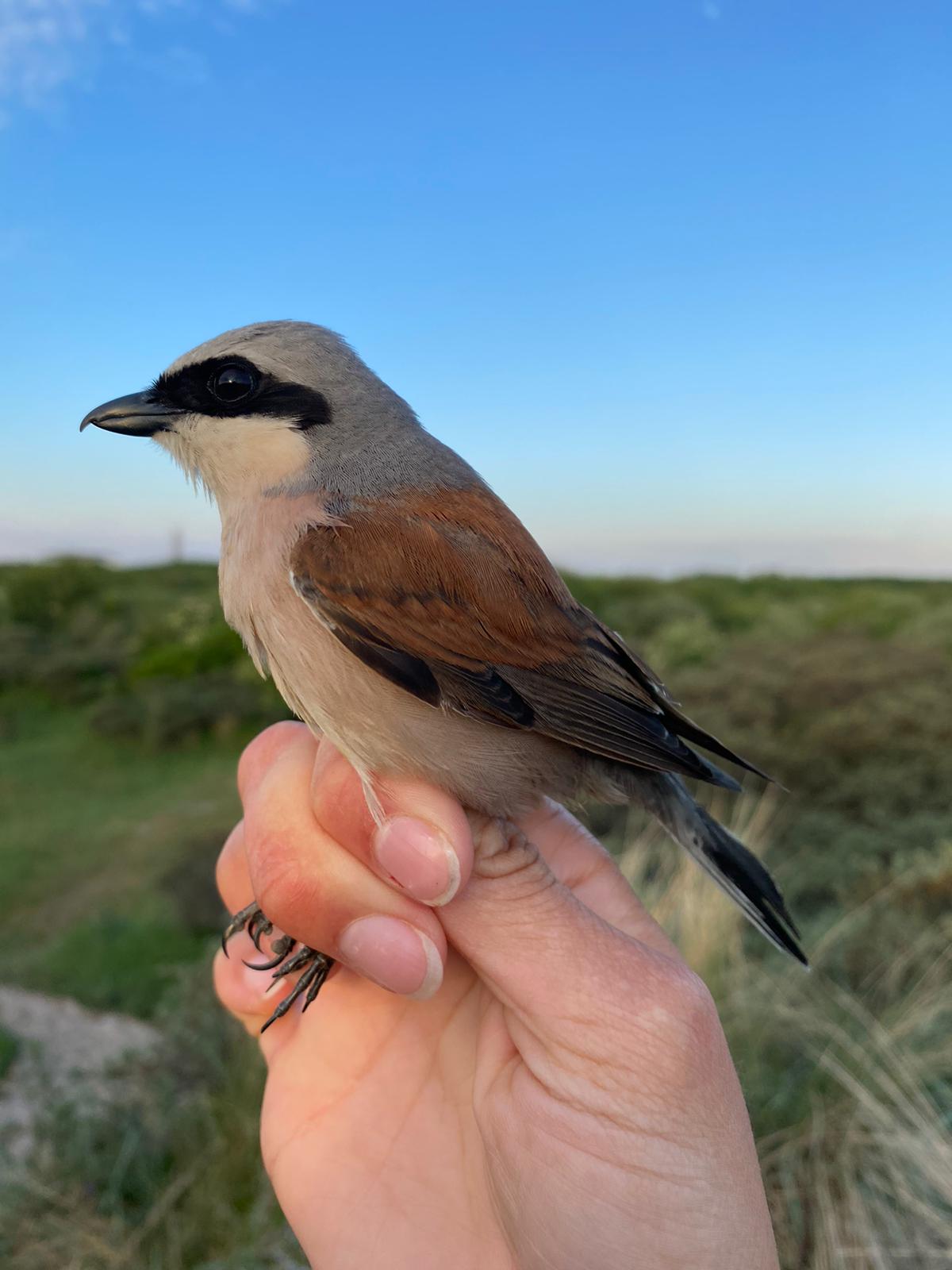 Male Rødrygget Tornskade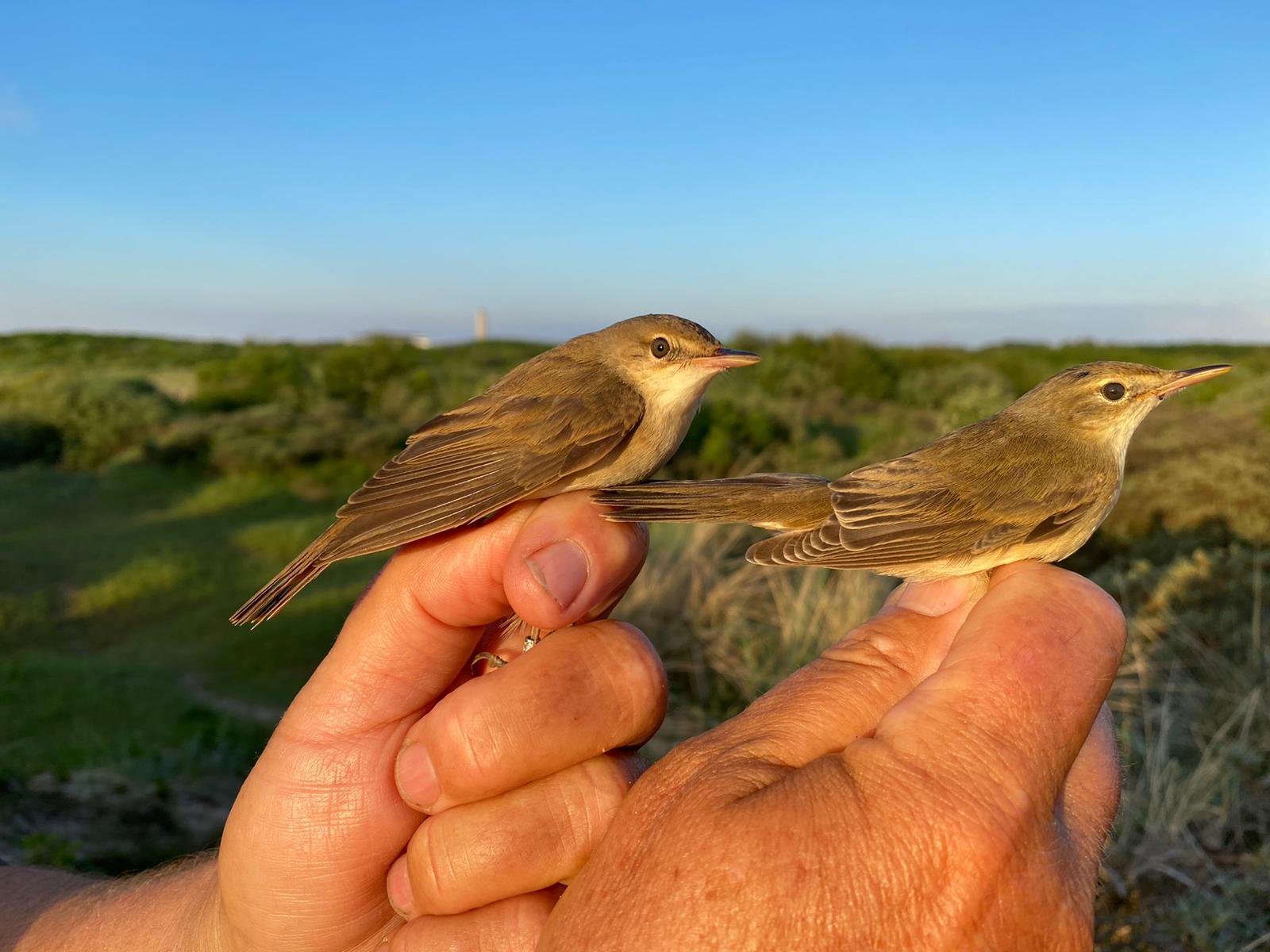 Reed Warbler (Rørsanger) & Marsh Warbler (Kærsanger). Can you tell which is which? :D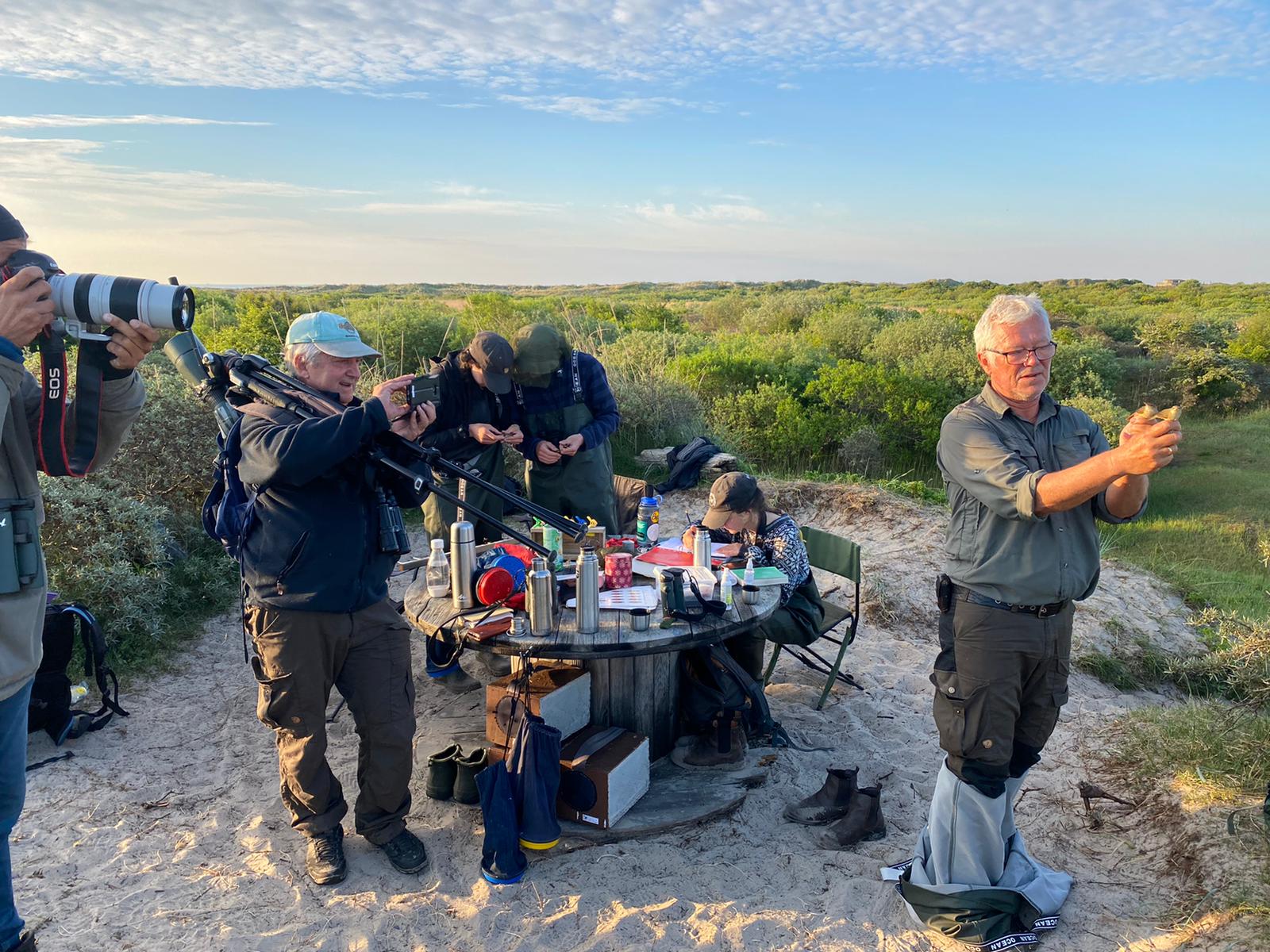 Ringing this morning
It got hot really quickly, and with the warmth came the raptors, including the Griffon Vulture (Gåsegrib) along with some White-tailed Eagles (Havørn), Honey Buzzards (Hvepsevåge), and a Black Stork (Sort Stork).
Some of the highlights of ringing were a Sparrowhawk (Spurvehøg), a Tree Pipit (Skovpiber) that was Jonas' first in hand, and some Lesser Redpolls (Lille Gråsisken). On the round to the last one, we caught our first Siskin (Grønsisken) of the season! A beautiful second-year male. :D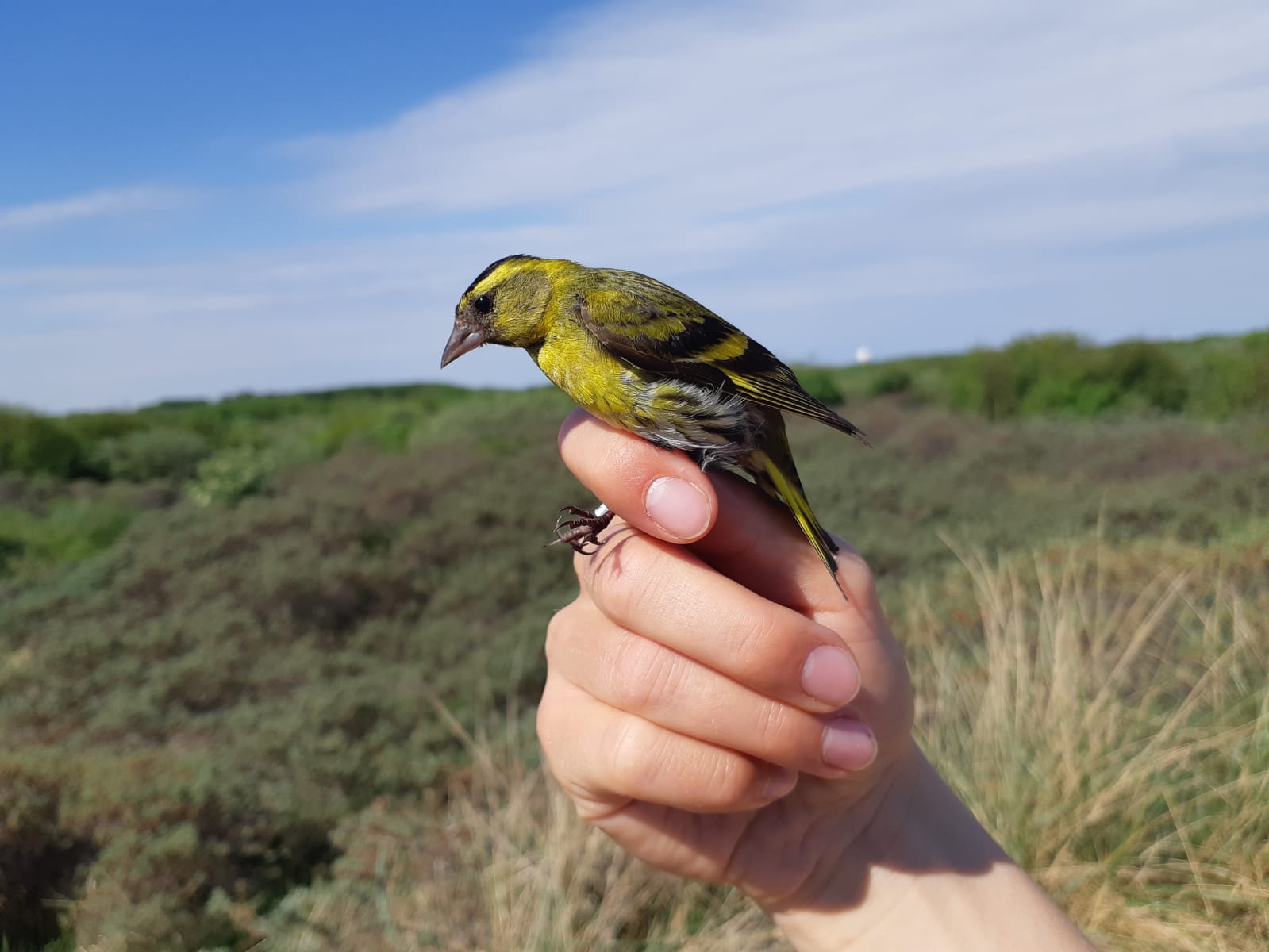 Mikkel, even though he stayed in, set up nicely in the lab with his scope out and observed some of the exciting birds we've had, including the Sort Stork which was his first ever!! He is now nearly done with his project, with only the introduction and discussion to write.
Charlotte, our lovely guest, left for Sønderjylland and offered us chocolate and a lovely little note. We had a great time with you and are really happy to share those twitching moments with you!!
Our new guests have now arrived, Stig and Grethe, and we've had a lovely dinner made by Mikkel.
Ringmærkning
Spurvehøg - 1
Skovpiber - 1
Gærdesmutte - 2
Solsort - 1
Kærsanger - 6
Rørsanger - 7
Gulbug - 1
Gærdesanger - 3
Tornsanger - 3
Havesanger - 5
Munk - 3
Gransanger - 6
Løvsanger - 1
Rødrygget tornskade -1
Bogfinke - 8
Grønsisken - 1
lille Gråsisken - 4
Rørspurv - 1
Sum - 51
Klik her for at se dagens observationer fra dofbasen af fugle i Skagen.
Folk: Simon S. Christiansen, Lisa Vergin, Oluf Lou, Charlotte, Jørgen Kabel og Igor, Anders og Dorte, Anders Nielsen, Stig og Grethe, Jonas Pedersen, Kurt Willumsen, Rasmus Matthiesen-Juhl, Anders Rasmussen, Mikkel Friborg Mortensen, og Michaëla Berdougo.