Her på Skagen Fuglestations blog bringes korte nyheder i dagbogsformat om hændelser på fuglestationen.

Se indlæg fra år: 2021 (154)2020 (282)2019 (304)2018 (261)2017 (247)2016 (2)(se alle)


An imperial visit to Skagen
onsdag 16. juni 2021
Hi folks! :)
Sorry for the late blog post, we went to catch Nightjars - Natravn last night! It will be explained in the next blog post.
I hope you had a great week!
Today we opened the nets a bit later, as we planned on going out to Sandmilen for the whole night. All of us went ringing as yesterday was the last observation day. We had a guided tour with 6th graders, where Jonas learned from Simon how to present what we do. Ringing was slow with around 10 birds, but it was really nice weather.
After having lunch, we all took a nap to prepare for the night that was coming. A potential Eastern Imperial Eagle - Kejserørn was called out from Flagbakken going south, flying really low. We weren't really sure if biking after it would be worth it, but while Taiama and Mikkel went grocery shopping with Jan and Kristine, Jonas and I decided to go to Store Klit, hoping it would come back up north. Not much happened in the two hours we were there, except that I had my first proper fox sighting! As we decided to leave, I spotted a big raptor flying in the plantation. As I took my binoculars, I had a feeling that could be it. "Jonas there's an Eagle!" - "Where?!" - I don't know I don't see it anymore. It was going left, it's behind those trees. Fuck."... "Right there! Going right!" And it was it. IT WAS THE IMPERIAL EAGLE. Holy shit!! If you haven't done so, listen to Jonas' Zello calls. You can feel all the excitement that happened afterward, except you can't see all the dance moves and screams of joy. :P We had incredible sightings of the bird which turned out to be an immature bird. As no one else reported it on Zello, we thought no one else got to see it. Fortunately, Jørgen Kabel and Oluf Lou did and took pictures of it!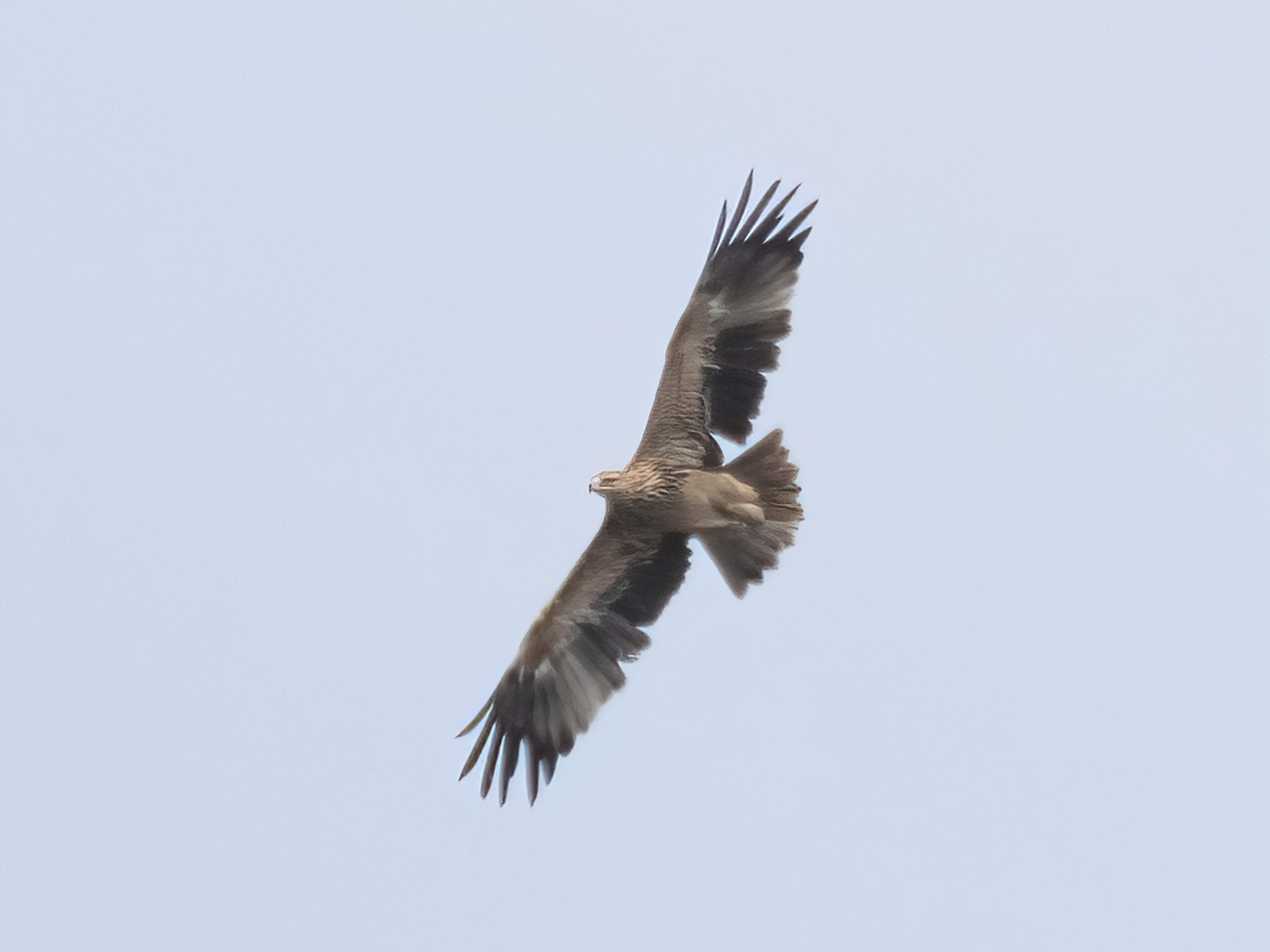 Photo: Jørgen Kabel from the 17th of June, 2021
It went down towards Sandmilen, so Mikkel, Taïma, and Jan drove to try and find it, unfortunately without success. It has not been seen again today.
Our new volunteer Frank, freshly arrived from the UK, got picked up by Simon at the train station and joined us for a lovely dinner prepared by Jan and Kristine. Simon and Lisa joined us, too. We tried to nap again before going out with Lars Bo Jacobson to try and catch Nightjars - Natravn, but that turned out to be unsuccessful for all of us.
I will leave Frank to write about our fun night out in the next blog post, and hope you enjoy this one in the meantime!
Ringing (Kabeltromlen):
Rødhals 1
Kærsanger 1
Rørsanger 2
Gærdesanger 4
Tornsanger 1
Munk 2
Bogfinke 3
Klik her for at se dagens observationer på dofbasen af fugle i Skagen
Klik her for at se dagens observationer på dofbasen af Rovfugle i Skagen
Folk: Simon S. Christiansen, Lisa Vergin, Lars Bo Jacobson, Jan Hjort, Kristine, Taïma Lorentzen, Jonas Pedersen, Mikkel Friborg Mortensen, Frank Osterberg og Michaëla Berdougo.