Her på Skagen Fuglestations blog bringes korte nyheder i dagbogsformat om hændelser på fuglestationen.

Se indlæg fra år: 2021 (154)2020 (282)2019 (304)2018 (261)2017 (247)2016 (2)(se alle)


woodpecker & eagle
torsdag 22. juli 2021
Today started with a slightly later wake up call as we are approaching autumn and the days are getting shorter. Like the last few days, we set off ringing at Kabeltromlen but with one less. Frank was occupied leading a birding tour around Grenen.
At Kabeltromlen, the day was quiet with a minimum of a couple birds each round. The highlight came around 7 when a greater spotted woodpecker (Stor Flagspætte) was found in one of the northern side nets. The feisty and loud juvenile did not make the extracting easy, pecking viciously at the fingers. The rest of the birds were similar to previous ringing session with a majority of common whitethroats (tornsanger) but a surprising high number of chiffchaff (gransanger). Two blackbird (solsort) were also ringed which had been a while.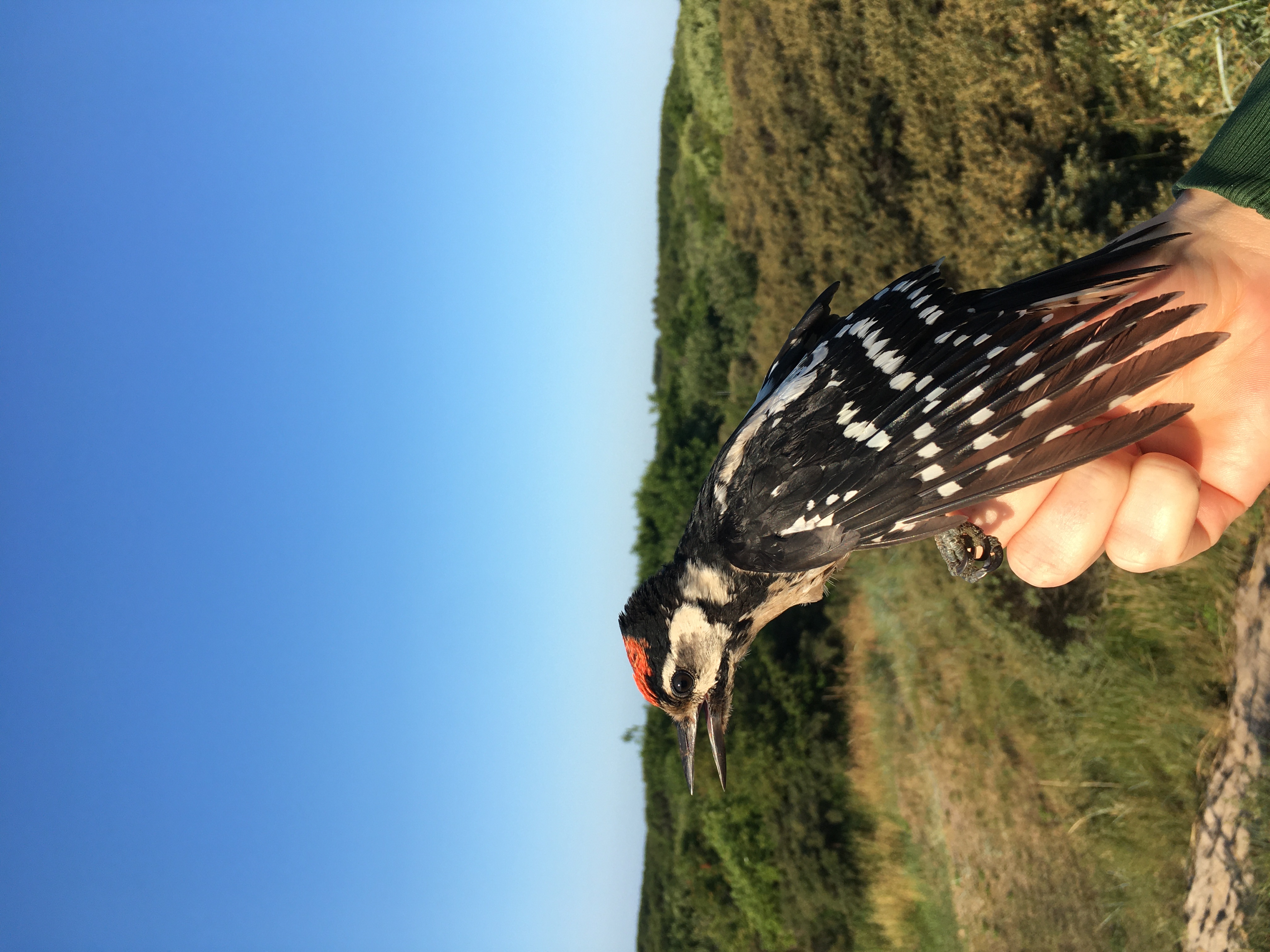 Meanwhile Frank looked at the results of the night's moth trap, a lot a o common and already caught moth. Once the visitors arrived he set off along the tractor track popping in at Kabeltromlen to show them how ringing worked, and continued to the point and back down the beach to the observatory. He spotted a white-tailed eagle (havørn).
The afternoon was lounging and admin. Frank went out to Skagen to do a small shop, Esben caught up on his sleep and I finally made it up the lighthouse and a second swim. In the evening the lighthouse garden nets were opened with 2 great tits (musvit) so far.
Ringmærkning:
Stor Flagspætte 1
Tornsanger 11
Gærdesanger 1
Gransanger 7
Solsort 2
Grønsiskin 2
Rørsanger 2
Kærsanger 1
Havesanger
Musvit 2
Total: 30
Folk på stationen: Esben Hansen, Mathilde Ducroz, Frank Osterberg og Simon S Christiansen
Klik her for at se dagens observationer fra Dofbasen af fugle i Skagen