Her på Skagen Fuglestations blog bringes korte nyheder i dagbogsformat om hændelser på fuglestationen.

Se indlæg fra år: 2021 (202)2020 (282)2019 (304)2018 (261)2017 (247)2016 (2)(se alle)


Wind and more wind
søndag 12. september 2021
After no ringing yesterday we were back out today. Unfortunately, the nice weather seems to have gone and has been replaced with strong winds. Perhaps it was this wind that kept the birds away today as the nets were quite empty. We did manage to catch a Brambling (Kvækerfinke), that formerly has been ringed by Michael at Jennes Sø.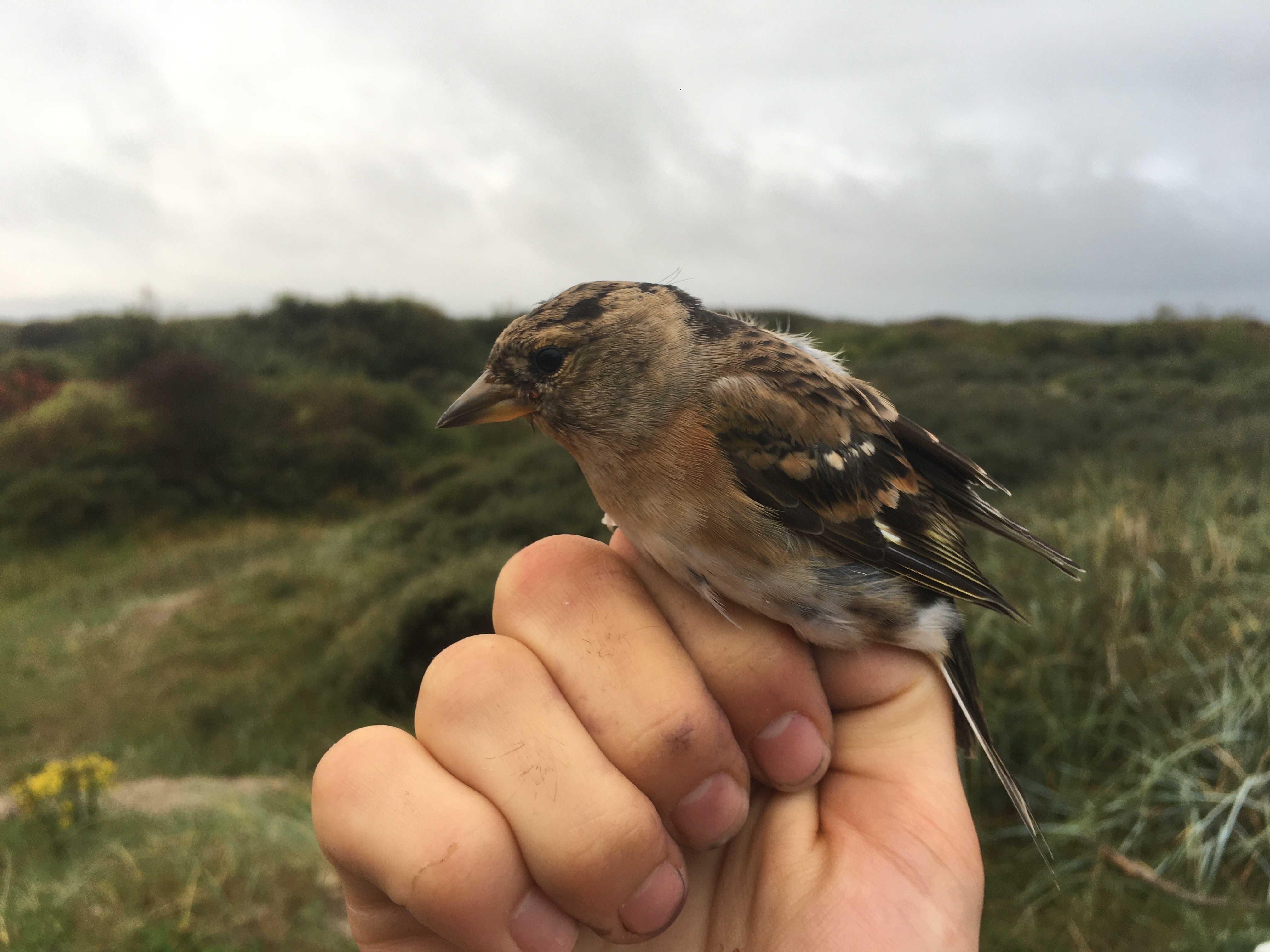 While Rosa and Augustine were out ringing this morning, I (Robbie) was out observing at the World's End with local birder Knud. There was certainly a lot of Sandwich Tern (Splitterne) migration activity today with 58 being seen in one hour alone and 117 being seen in total. There were a couple of noteworthy birds, with a Merlin (Dværgfalk) being spotted far out at sea, and a 1st year Caspian gull (Levantmåge) showing well on the beach. A few Guillemots (Lomvie) and a single Razorbill (Alk) were seen on migration today but we are yet to see any high numbers.
A big thanks to Esben who was helping out with ringing the past few days, we hope to see you again soon.
As we say goodbye to another week, we look forward to seeing more spectacular birds over the coming days and weeks as migration continues to ramp up.

Ringmærkning (Kabeltromlen)
Gransanger – 1
Tornsanger – 2
Munk – 5
Jernspurv – 3
Rørsanger – 2
Rødstjert – 1
Ringmærkning (Jennes Sø)
Jernspurv – 2
Gransanger – 1
Broget Fluesnapper – 1
Lille Gråsisken – 2
Total – 20
Folk på stationen: Simon S. Christiansen, Augustin Sticksel, Rosalina Sø Leth-Nissen, Robbie Lawler, Esben Hansen, Michael Ancher og Dorte.
Klik her for at se dagens observationer fra Dofbasen af fugle i Skagen