Her på Skagen Fuglestations blog bringes korte nyheder i dagbogsformat om hændelser på fuglestationen.

Se indlæg fra år: 2021 (229)2020 (282)2019 (304)2018 (261)2017 (247)2016 (2)(se alle)


Moult sessions and observations
lørdag 25. september 2021
Due to the rise of a strong wind we had to cancel the ringing today but that allowed me and Augustin to get some extra sleep and join the observation team later, welcomed by a bright and shining sun... and of course a lot of nice birds!
Robbie and Justine could enjoy the view since early morning, together with Knud, Erik, Thomas, and Paul. They were rewarded by some Great skuas (Storkjove), Kittiwakes (Ride), Fulmars (Mallemuk) and a Mediterranean gull (Sorthovedet måge), but Justine was particularly happy because she saw some harbor seals for the first time. Thanks to the high visibility the observations lasted 5 hours today, after which we all gathered back here at the station to enjoy a nice meal together, while Rosalina did some watercolors at the beach during her day off.
During the afternoon we had the pleasure to attend Simon´s class about moult strategies which was very informative and interesting and helped us clarifying some doubts. Two German colleagues – Leona and Ingo – were there as well, and teamed up with us for the exercise with the moult charts.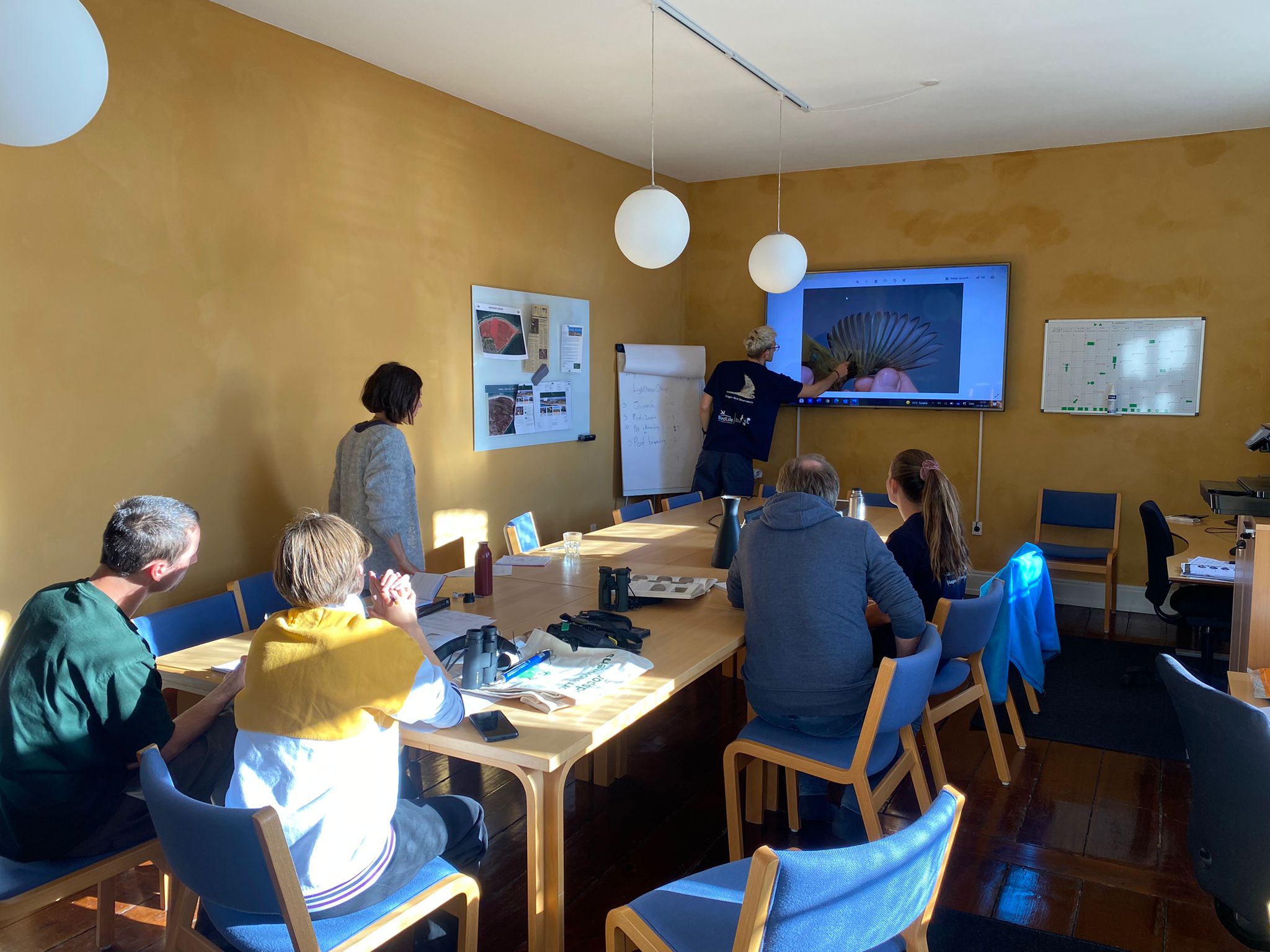 But the day is not over yet because we set up the nests hoping to catch some owls and storm petrels by means of sound playing. Fingers crossed for us! Hopefully tomorrow we can share with you some really nice pictures.
Folk på stationen: Simon S. Christiansen, Augustin Sticksel, Rosalina Sø Leth-Nissen, Robbie Lawler Angela Di Pumpo, Justine Costa, Bjarne, Edle, Marianne, Knud Pedersen, Erik Christophersen, Thomas Hillelund Andersen and Paul B. Jørgersen, Leona Gottschalkson og Ingo Ludwichowski
Klik her for at se dagens observationer fra Dofbasen af fugle i Skagen