Her på Skagen Fuglestations blog bringes korte nyheder i dagbogsformat om hændelser på fuglestationen.

Se indlæg fra år: 2021 (274)2020 (282)2019 (304)2018 (261)2017 (247)2016 (2)(se alle)


Art and rock pipit
torsdag 18. november 2021
When the sun becomes shy for a few days and the sky is dressed in its grey colour, you must find alternatives and creative ways to bring light into your day. This is part of the reason why Justine, Rosalina and I headed to the art gallery (Skagen Kunsthal) next to the harbour this morning, where we were welcomed by the curator Gorm Spaabæk. We spent a delightful time with him, who very kind and humble to show us his art pieces but also a vaste collection of less known Danish and international artists who drew and painted the most diverse landscapes and subjects. Needless to say, we genuinely had a lovely time and most of all we learned a lot. I can only suggest to our readers to pop by and pay him a visit if and when they will come back to Skagen.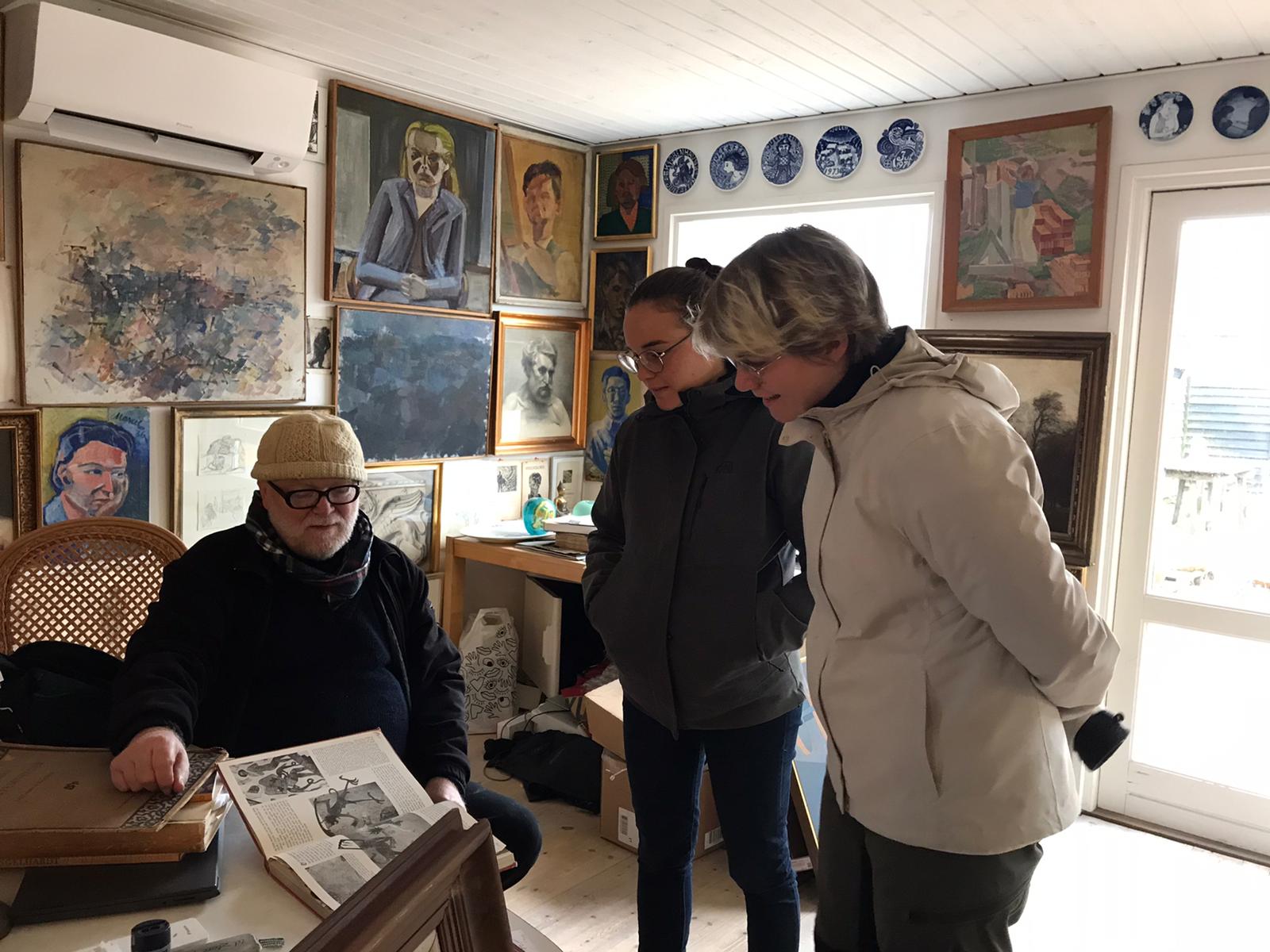 Meanwhile, back at the station Simon was receiving William Aarrestrup, who is the oldest active ringer in Danemark, and his friend Peter Jørgensen, who is a taxidermist (for people like me who didn't know, the taxidermist is the person whose skill is to preserve animal body through stuffing). This was definitely the best day for them to be here since in the afternoon we caught a rock pipit (Skærpiber) by using our traps and a recording of its call and William was very enthusiastic because for him it was a new species in hand.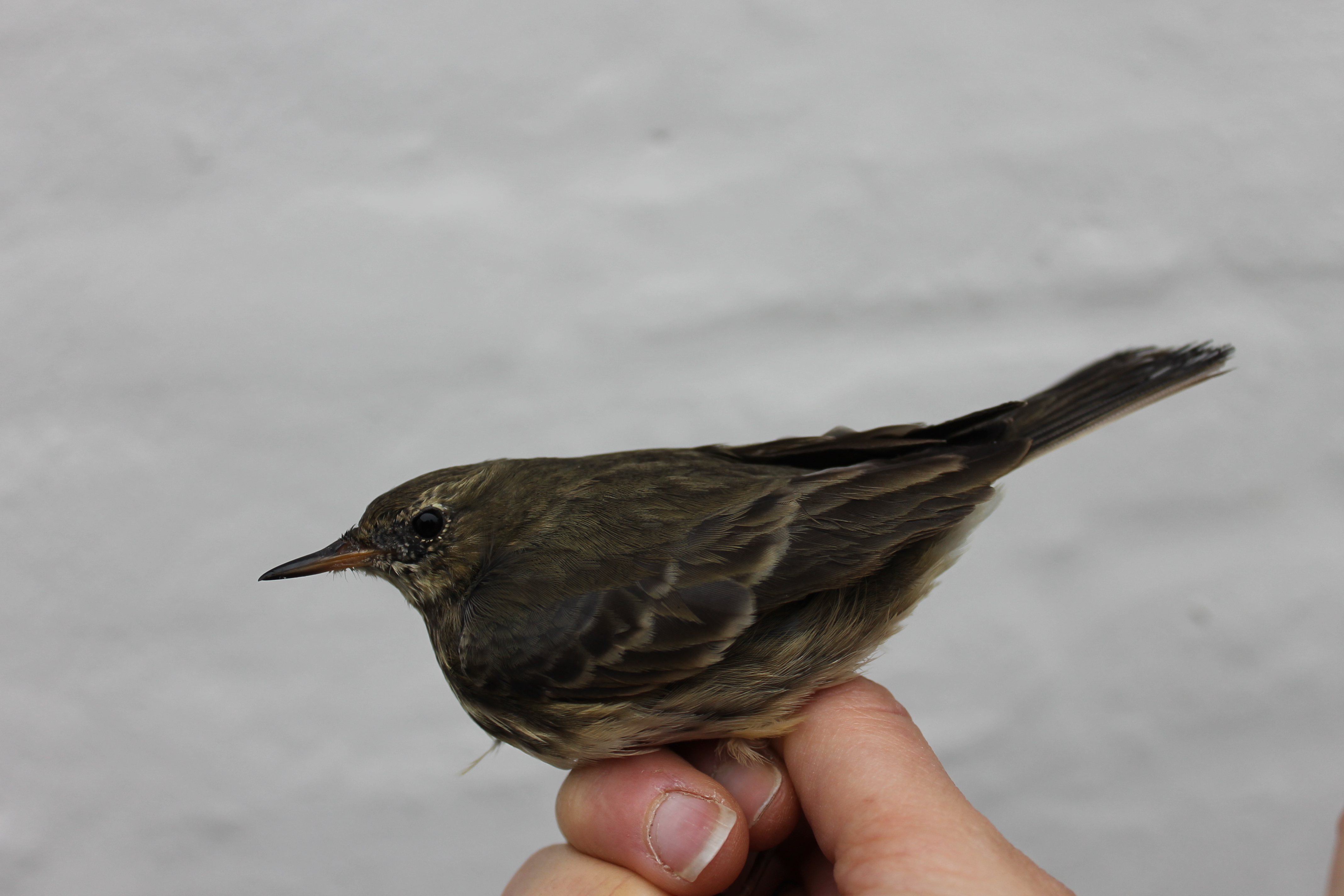 We also openend the nets in the lighthouse garden trying to catch more birds but the flocks of yellow hammers (gulspurv) and bramblings (kvækerfinke) that were seen didn´t unfortunately come close enough.
While on a short birdwatching walk Robbie and Amandine saw also two red-brestaed merganser (toppet skallesluger) who apparently have been hanging around the lighthouse for some days now and, in anticipation of the bad storm who will hit us in the next days, they also took down the tent at Kabeltromlen and brought back all the ringing material that was left there.
The rest of the day, otherwise, went by with usual admin tasks like checking sheets, entering data and sewing nets.
But the night had another surprise for us! Robbie and Amandine went nightcatching and they caught a Jack snipe, which is the fifth of the autumn. Well done!
Ringmærknings Fyr
Skærpiber 1
Ringmærknings Grenen
Enkeltbekassin 1
Folk på stationen: Simon S. Christiansen, Rosalina Sø Leth-Nissen, Robbie Lawler, Angela Di Pumpo, Justine Costa, Amandine Dore, William Aarrestrup, Peter Jørgensen.
Klik her for at se dagens observationer fra DOF basen af fugle i Skagen