Her på Skagen Fuglestations blog bringes korte nyheder i dagbogsformat om hændelser på fuglestationen.

Se indlæg fra år: 2022 (97)2021 (279)2020 (282)2019 (304)2018 (261)2017 (247)2016 (2)(se alle)


With the beak wide open
mandag 9. maj 2022
After not being in Skagen for a few days, Manuel was even more looking forward to the observations on Nordstrand this morning. Beautiful sunny weather somewhat concealed the fact that ice was still visible on the bicycle saddle in the early morning.
Together with Knud and later Robbe, the keen birders enjoyed the just arrived and intensely singing Common Whitetroats Tornsanger in the dunes at Nordstrand. The migration was slow, but at least there were two Great Northern Divers Islom to marvel at. They are on the move to their breeding grounds in Island (and maybe North America?). It is really strange to see this large divers migrate with their beaks wide open. A phenomenon you rarely see in the similar Black-throated Divers Sortstrubet Lom and almost never in Red-throated Divers Rødstrubet Lom.
As the morning wore on, the raptors took off, especially Common Buzzards Musvåge and some Red Kites Rød Glente soaring high. There were already hopes as to whether a rare guest might mingle with the common species today. A somewhat atypical 2. CY Hobby Lærkefalk briefly put us all into some excitement already as it's a good time for Red-footed Falcon Aftonfalk...
Meanwhile, Leona and Hanelie opened the nets around Kabeltromlen at dawn. Together with Oluv and Alice they were able to get a Sparrowhawk Spurvehøg out of the net as one of the first birds. Very exciting. Otherwise it went well too and the nets stayed open all morning. At the end of the session they got no less then 85 birds out of the nets, a really good number. Among them no extraordinary rarities but Redstart Rødstjert, some Flycatchers Grå Fluesnapper and Wheatear Stenpikker are not daily catches and beautiful to watch them from close.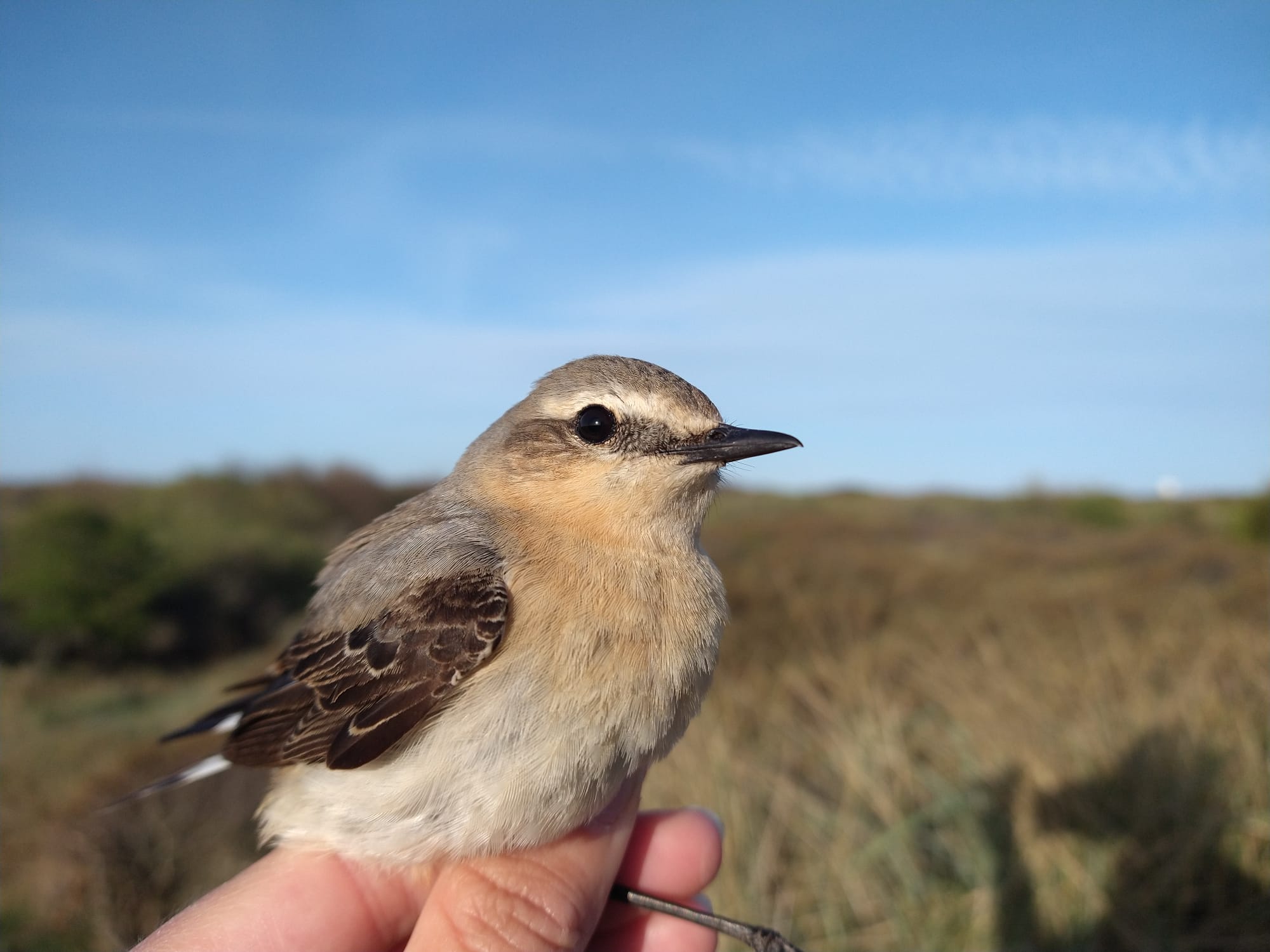 While we were preparing lunch, the rumour of the morning became reality: an immature Steppe Eagle Steppeørn was on its way towards the tip. A great species and a lifer for most of us. We sped off in all directions, Hanelie and Robbe had excellent views of the bird at Saftevandsbakken together with many other birdwatchers; Leona, Alice and Manuel managed to connect with the bird briefly afterwards. At least a short sighting. In the afternoon the bird hasn't been relocated, probably went southwards again. Maybe we will see it back with the next migration attempt the upcoming days?! This bird counts as the 11th record for Skagen!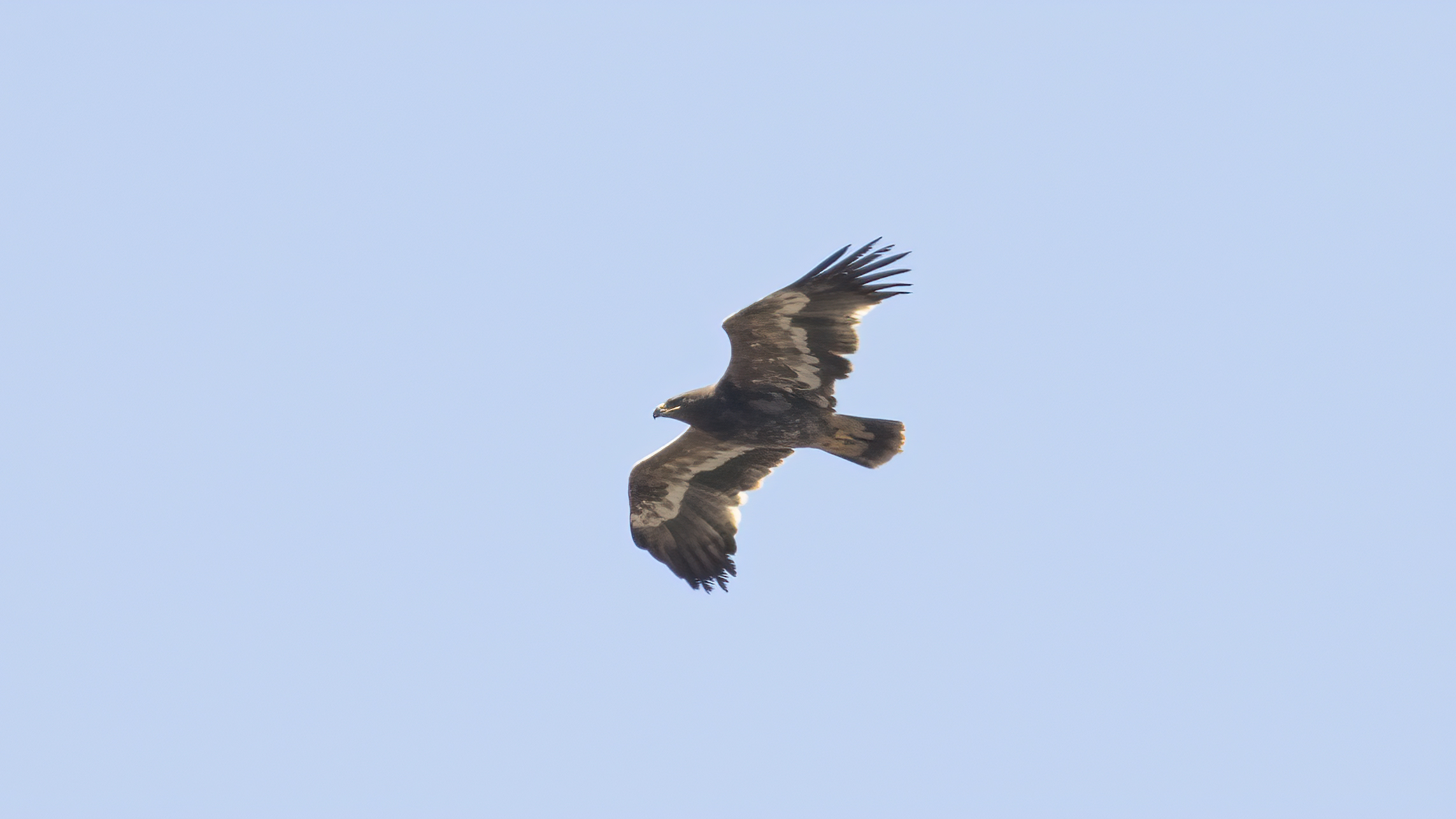 Picture: Knud Pedersen
Skagen continues to live up to its reputation as a paradise for rarities (and their followers ;-)
Klik her for at se dagens observationer indtastet i DOFbasen af observatører i området (Today's observations in DOFbasen from observers in the area)
Sum of the raptors in the area based on observations typed into DOFbasen the same day
Ringmærket fugle ved Kabeltromlen (Today's ringed birds at Kabeltromlen):
Spurvehøg 1
Sangdrossel 1
Solsort 1
Stenpikker 1
Bogfinke 2
Munk 7
Jernspurv 1
Tornsanger 2
Rørspurv 4
Gransanger 5
Broget Fluesnapper 1
Rødstjert 4
Rødhals 5
Løvsanger 22
Gærdesmutte 1
Gærdesanger 18
Total: 85
People: Hanelie Sidhu, Alice Scalzo, Robbe Cool, Leona Gottschalkson, Jørgen Hulbæk Christiansen, Knud Pedersen, Oluv Lou, Lisbeth Drassech, Vilhelm Michelsen