Her på Skagen Fuglestations blog bringes korte nyheder i dagbogsformat om hændelser på fuglestationen.

Se indlæg fra år: 2022 (131)2021 (279)2020 (282)2019 (304)2018 (261)2017 (247)2016 (2)(se alle)


Colourful Diversity
søndag 22. maj 2022
Today startet off with another beautiful sunrise. The number of birds was really low with only 12 birds in the nets but we had a nice pair of Bullfinches and a Reed Warbler. Because it was so slow we decided to close the nets around 9.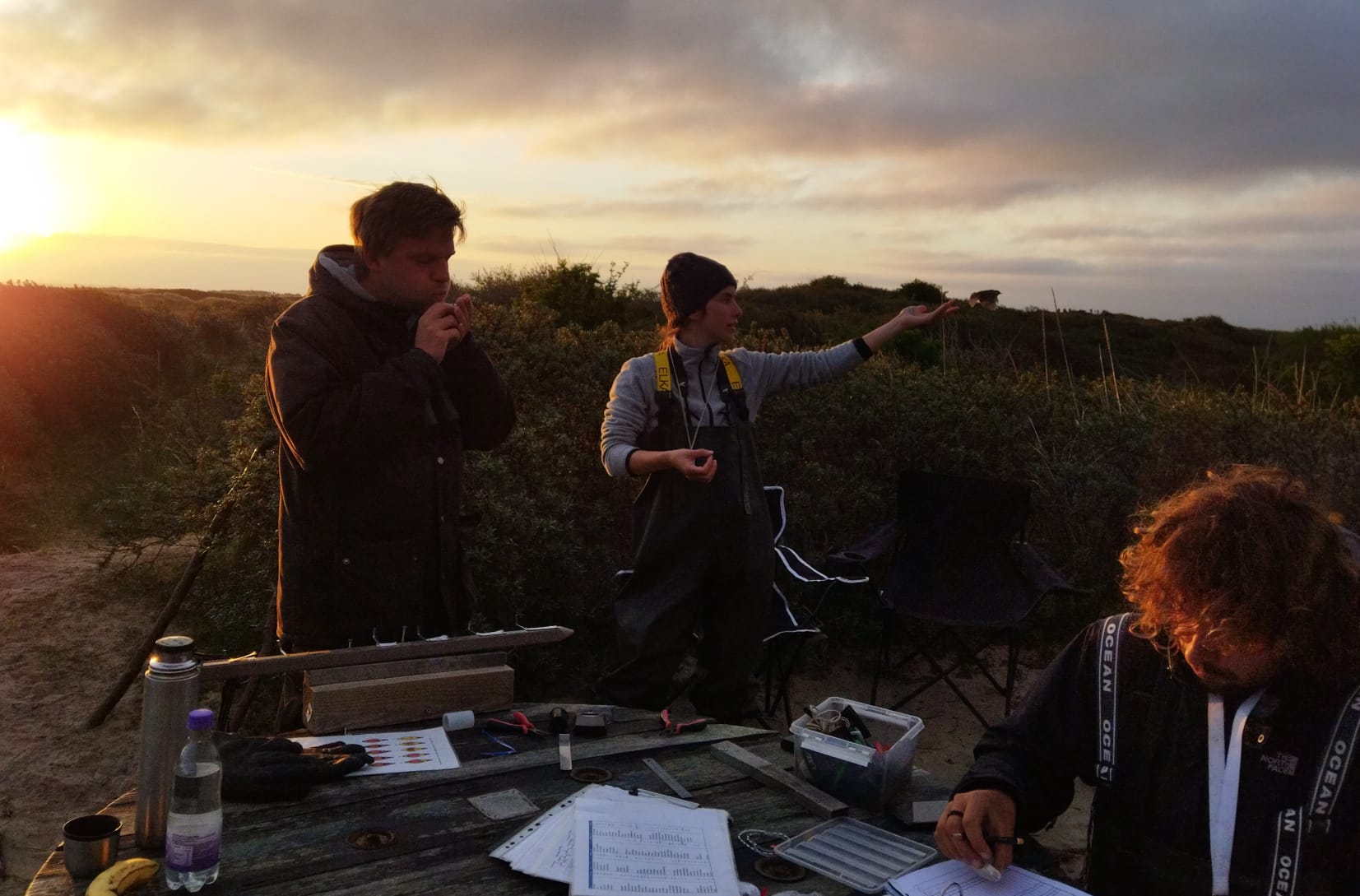 Sunrise over Kabletromle
On the seawatch Manuel and Hanelie were able to see a Nightjar coming from the sea, 2 Great Northern Divers, a Black-throated Diver and a Fulmar coming quite close.
After we quit the ringing at Kabletromle Simon, Alice and Hanelie decided to put up a net to try to catch Stonechats. They managed to catch a Common Whitethroat with it. Meanwhile I was in Skagen to look at an impressionist art exhibition with my parents which arrived yesterday. They will stay some days to visit me and have a look around the area.
Around 2 in the afternoon we had planned a butterfly excursion with Jørgen, which was interrupted by a Zello call, "Lille skrigeørn". A Lesser Spotted Eagle! So we ran to the cars and chased it down of course to get a good look at it. And we did!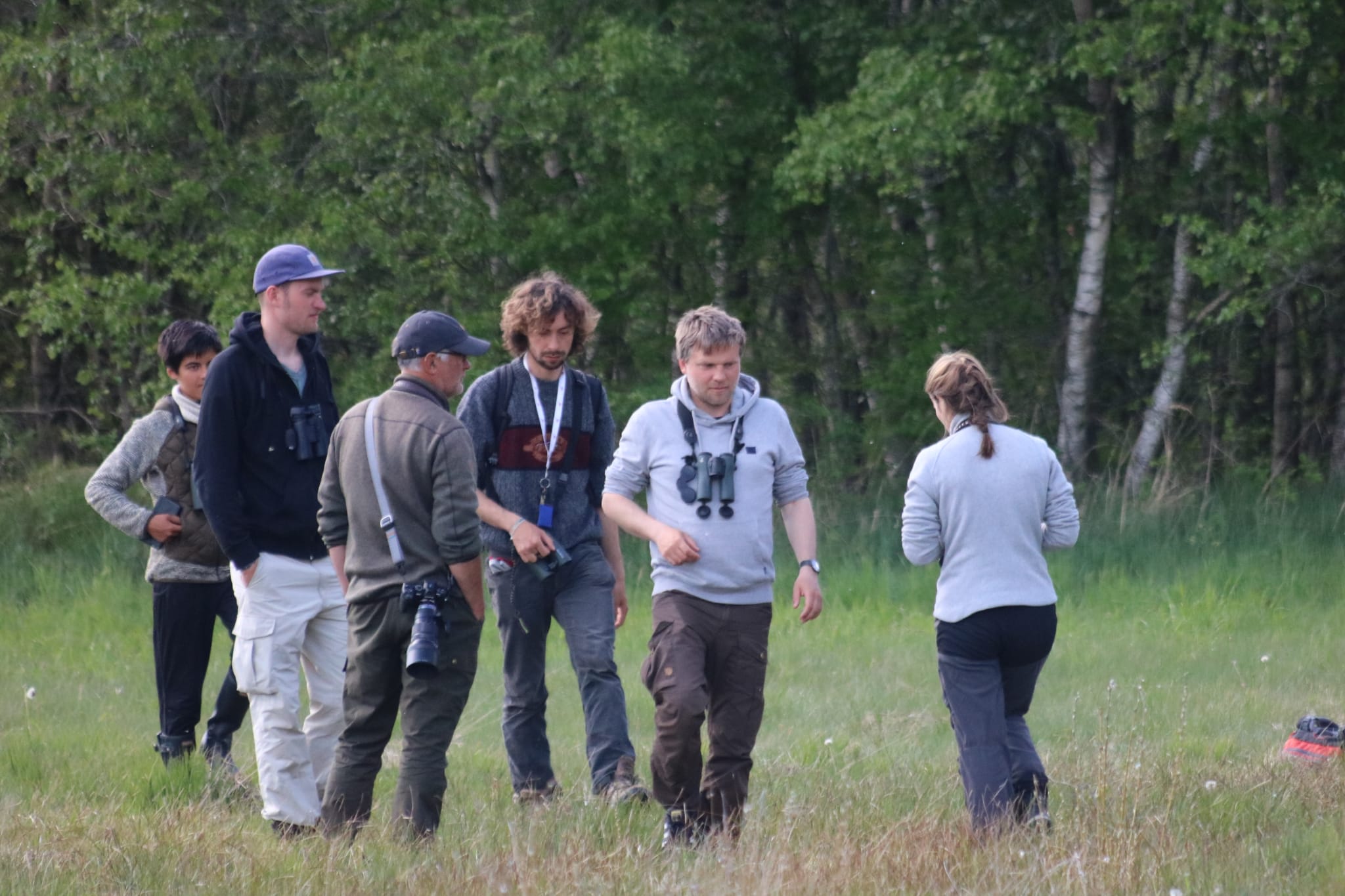 Beginning of the excursion, Photo taken by Leona Gottschalkson
After we saw it nicely we continued our excursion and went south of Skagen to a Marsh Area. We were especially looking for the Marsh Fritillary (Hedepletvinge) which can only be seen in the period from end of May until the end of June. We spent a few minutes searching it and sure enough we found it, so we went on looking for more species and were rewarded!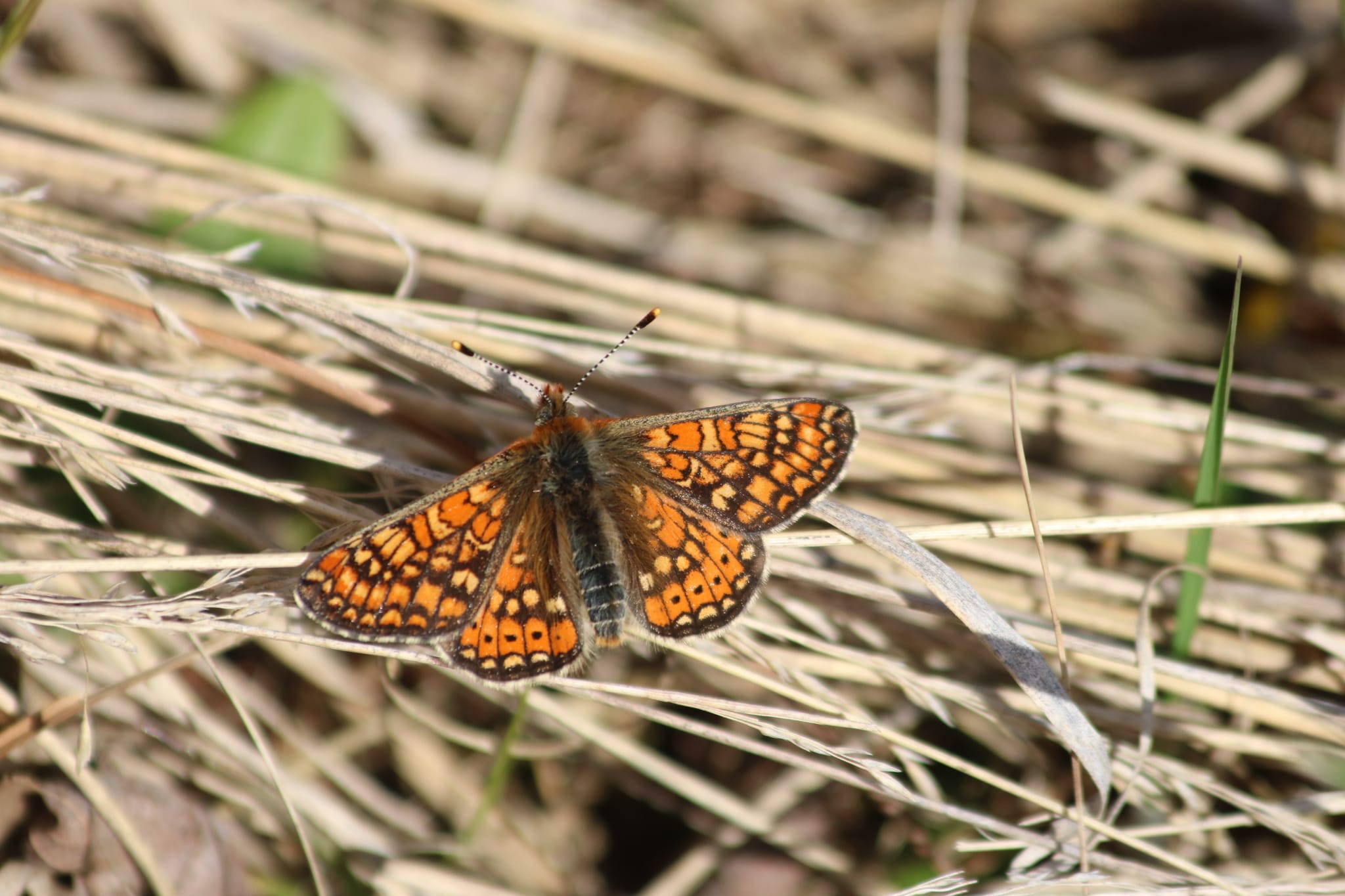 The Marsh Fritillary - Hedepletvinge, Photo taken by Leona Gottschalkson
We found more than 5 additional species. One of them being the Narrow-bordered bee hawk-moth (Smalrandet Humlebisværmer), it looks like a Bumblebee but is a moth.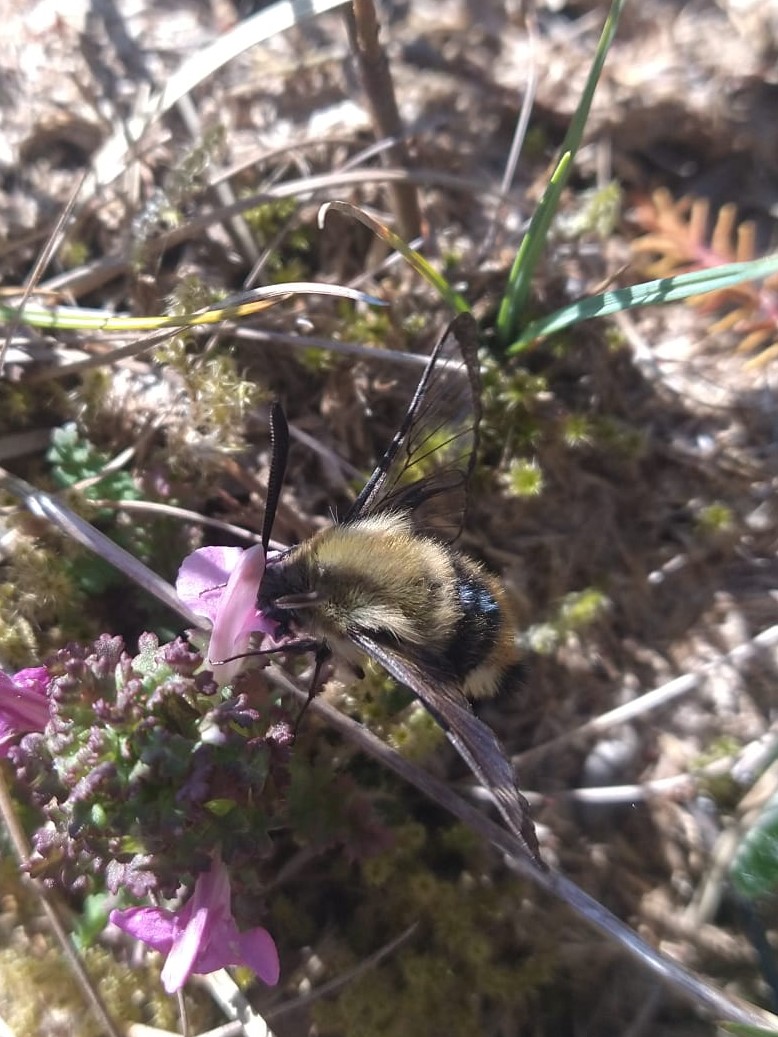 The Narrow-bordered bee hawk-moth - Smalrandet Humlebisværmer, Photo taken by Alice Scalzo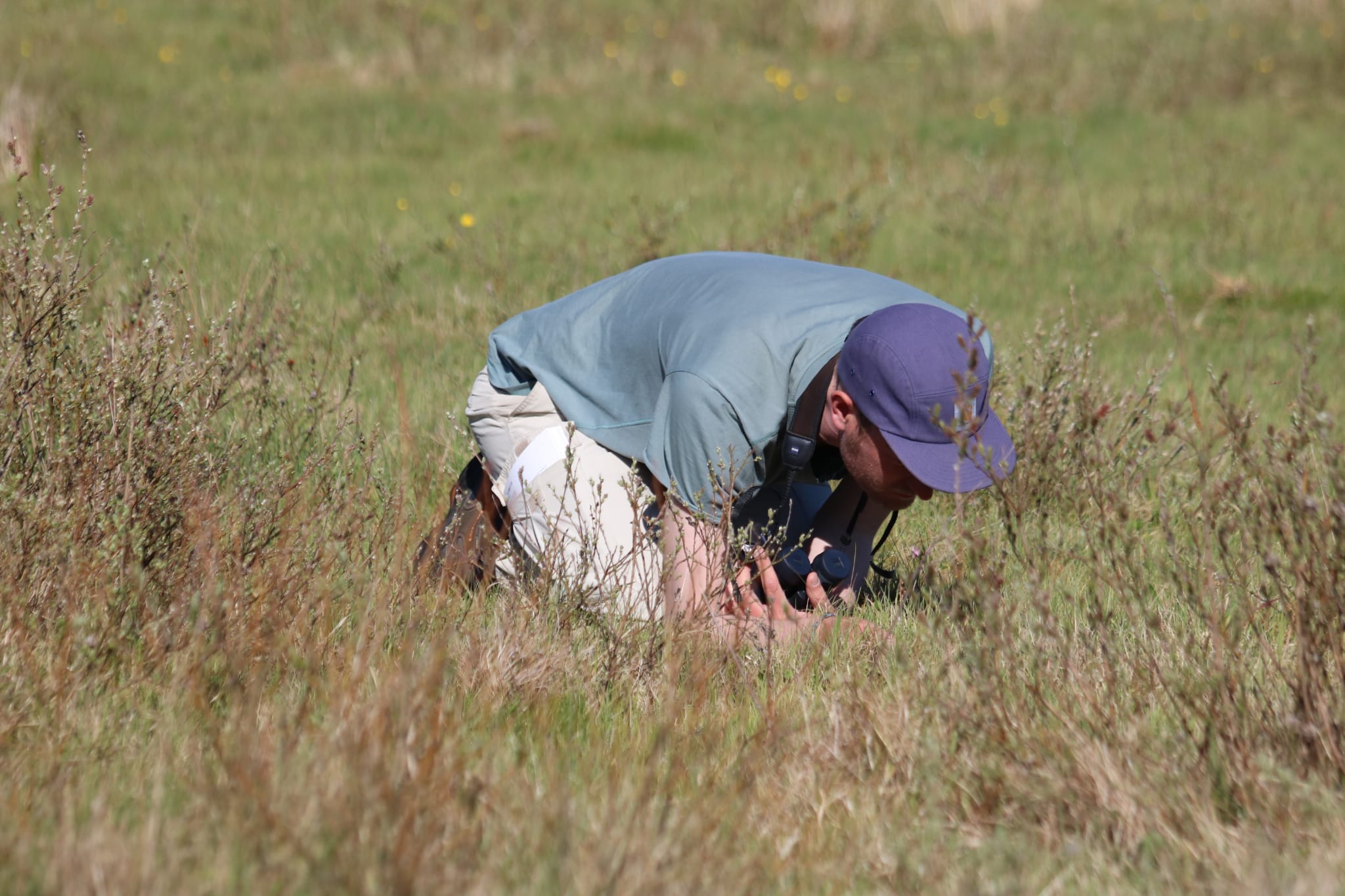 Manuel looking at the Details of a plant , Photo taken by Leona
Happy Dance, Photo Taken by Simon S. Christiansen
The Day ended peacefully with our new guests arriving and us having a nice meal talking about all the new species of butterflies we've seen.
Have a nice Day,
Leona
Ringing(Kabletromle):
Gransanger: 3
Lille Dompap: 2
Rørsanger: 1
Gærdesmutte: 1
Gærdesanger: 1
Løvsanger: 4
Total: 12
People: Simon S. Christiansen, Jørgen Kabel, Hanelie Sidhu, Alice Scalzo, Manuel Tacke, Leona Gottschalkson, Robbe Cool, Søren Leth-Nissen and Karen Marie Leth-Nissen.