Her på Skagen Fuglestations blog bringes korte nyheder i dagbogsformat om hændelser på fuglestationen.

Se indlæg fra år: 2022 (174)2021 (279)2020 (282)2019 (304)2018 (261)2017 (247)2016 (2)(se alle)


Luck from the shore
søndag 31. juli 2022
Last night Martina was on duty to check the nets every now and then while we were sleeping soundly. I remember being suddenly awake at 01:55 in the night by the sound of her voice saying "if you want to see a Storm Petrel (Lille Stormsval) it's now". Luck was on our side ! It was only one bird, but it was the bird we were all hoping for. A few birders also came to see it. We were all so happy about our catch that it was hard to go back to sleep afterwards.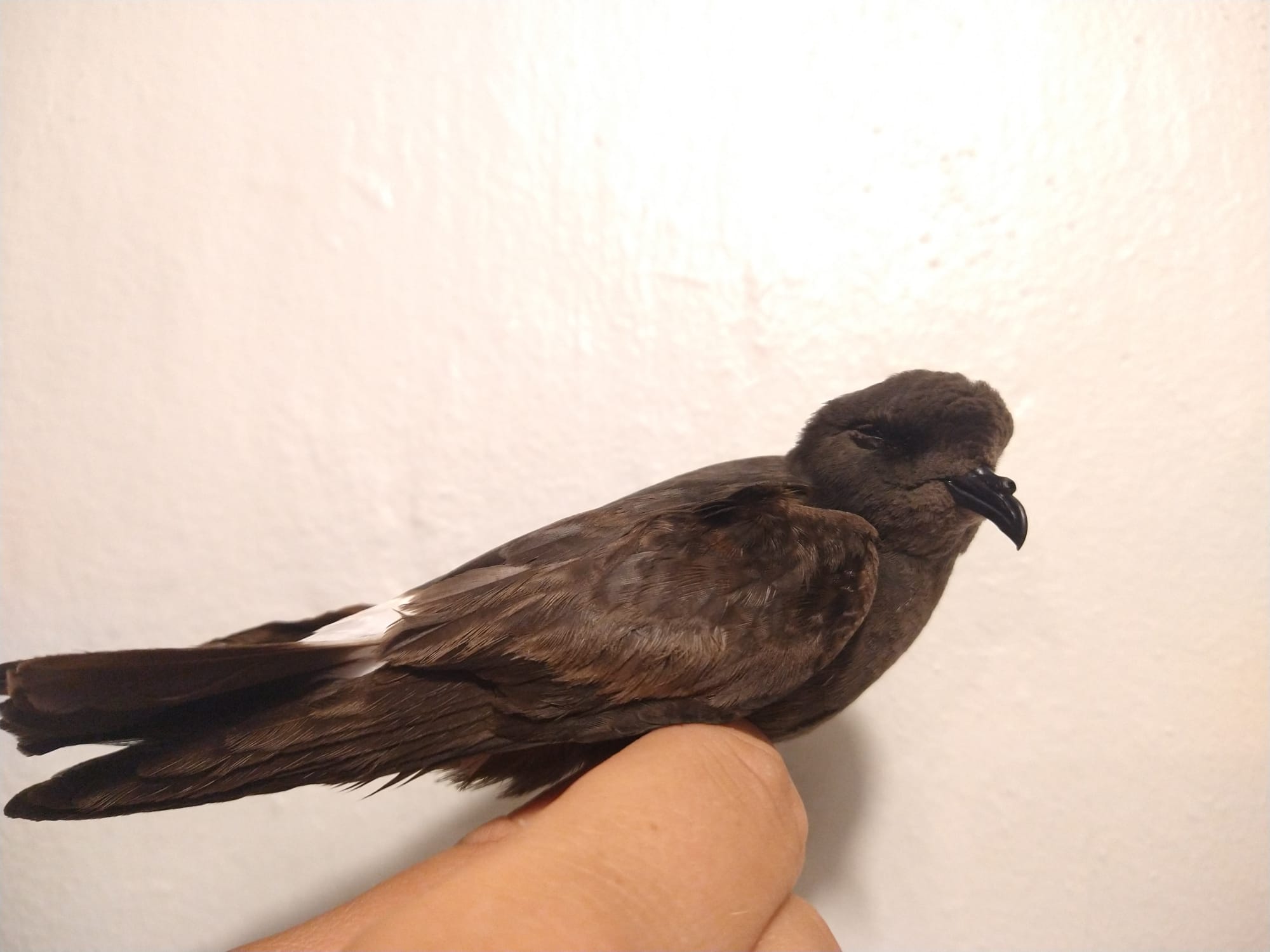 This morning was less eventful. I was on sea watch while Nathan and Max went ringing with Simon, Lisa, and two Swedish friends. The hours passed slowly as there was very few birds migrating, only the last hour brought some waders migrating and a resting Black tern (Sortterne) on the beach.
At the ringing there was a little more birds than usual. And they were happy to get a Redwing (Vindrossel).
Martina went out later to read some gull rings and cut the grass at Kabeltromlen.
In the late afternoon I got the chance to join a boat tour. I hoped on the "Oberon skagen" with Simon and Lisa, and a couple more birders. We saw some Whimbrels (Småspove), a juvenile Caspian gull (Kaspisk måge), and a Fulmar (Mallemuk). The sea was very nice and we could enjoy the view of Skagen from the sea while the sun was slowly setting.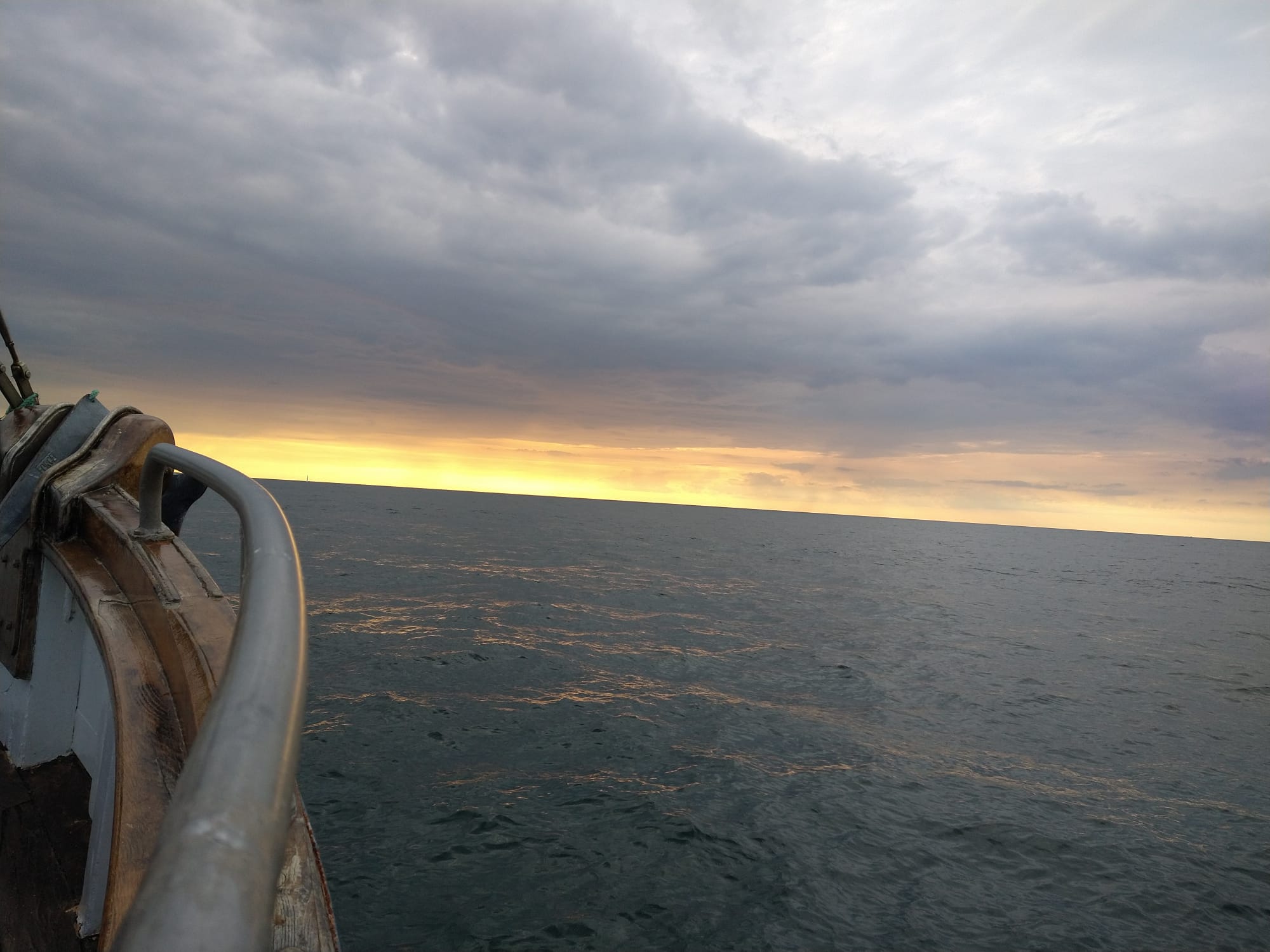 We also got news from a color ringed Greater Black-backed gull (
Svartbag
) who was ringed in Hirsholmene in 2010. We saw it a few days ago at the beach, which makes it 12 years old gull, and funny thing is that he was spotted a few years ago in a town where I lived in France !
Rita left the station in the morning. It is always sad to see someone leave, we were all very happy to have her here ! Best of luck for her travels, studies and other plans !!!
Have a good evening,
Alice.
Ringing (Kabeltromlen + Grenen):
Lille Stormsvale (European Stormpetrel) 1
Gærdesmutte (Wren) 1
Kærsanger (Marsh warbler) 2
Rørsanger (Reed warbler) 1
Løvsanger (Willow warbler) 2
Gærdesanger (Lesser withethroat) 3
Tornsanger (Comon withethroat) 11
Munk (Blackcap) 4
Gransanger (Chiffchaff) 1
Lille Gråsisken (Lesser redpol) 1
Total 27
People: Rita DeLucco, Alice Scalzo, Nathan Delmas, Max Laubstein, Martina Hillbrand, Simon S. Christiansen, Lisa Vergin, Per Österman, Johanna and our guests Margit and Jesper.