Her på Skagen Fuglestations blog bringes korte nyheder i dagbogsformat om hændelser på fuglestationen.

Se indlæg fra år: 2022 (174)2021 (279)2020 (282)2019 (304)2018 (261)2017 (247)2016 (2)(se alle)


Skua Score, a Mawing Magpie, and Motus Maintenance
onsdag 3. august 2022
Hi everyone!
The events of today's blog began as the clock struck midnight, while Robbie and I scanned the beaches of Grenen in the dark in an attempt to find (and capture) roosting shorebirds. While our attempts were in vain, we did manage to see several of the common ringed-plover chicks (stor praestekrave) which we ringed several weeks ago roaming the beach in the dark.
A short few hours after our return to the lighthouse, the sun began its ascent towards the horizon, and Alice and Robbie left to open the nets for a morning of ringing, and Nathan left for World's End 3 to conduct a seawatch, where he was joined by Benjamin. Undoubtedly, the highlight of the morning's field work was a long-tailed skua (lille kjove) spotted by Benjamin and Nathan! This makes the second sighting of this uncommon species here at Skagen in the past few weeks. Long-tailed skuas breed in the high Arctic and spend the non-breeding portion of the year in the open oceans of the Southern hemisphere. They typically don't pass through Denmark as they make the autumn journey South, so this is quite a noteable observation. Large numbers of long-tailed skuas were observed in Skagen one autumn in the late 1980's, putatively attributed to poor productivity on the breeding grounds. As for our two sightings so far this year, whether they can be explained by some systematic phenomenon further North, or simply randomness, is yet to be determined; we'll keep an eye out for more!
After the morning's fieldwork, we received a call from Lisa that she had captured a magpie (huskkade), which she brought to the fuglestation so it could be ringed. It was a treat to inspect the incredible irridescence of the magpie up close, and it put that classically snarky magpie persona on display by constantly biting its handler.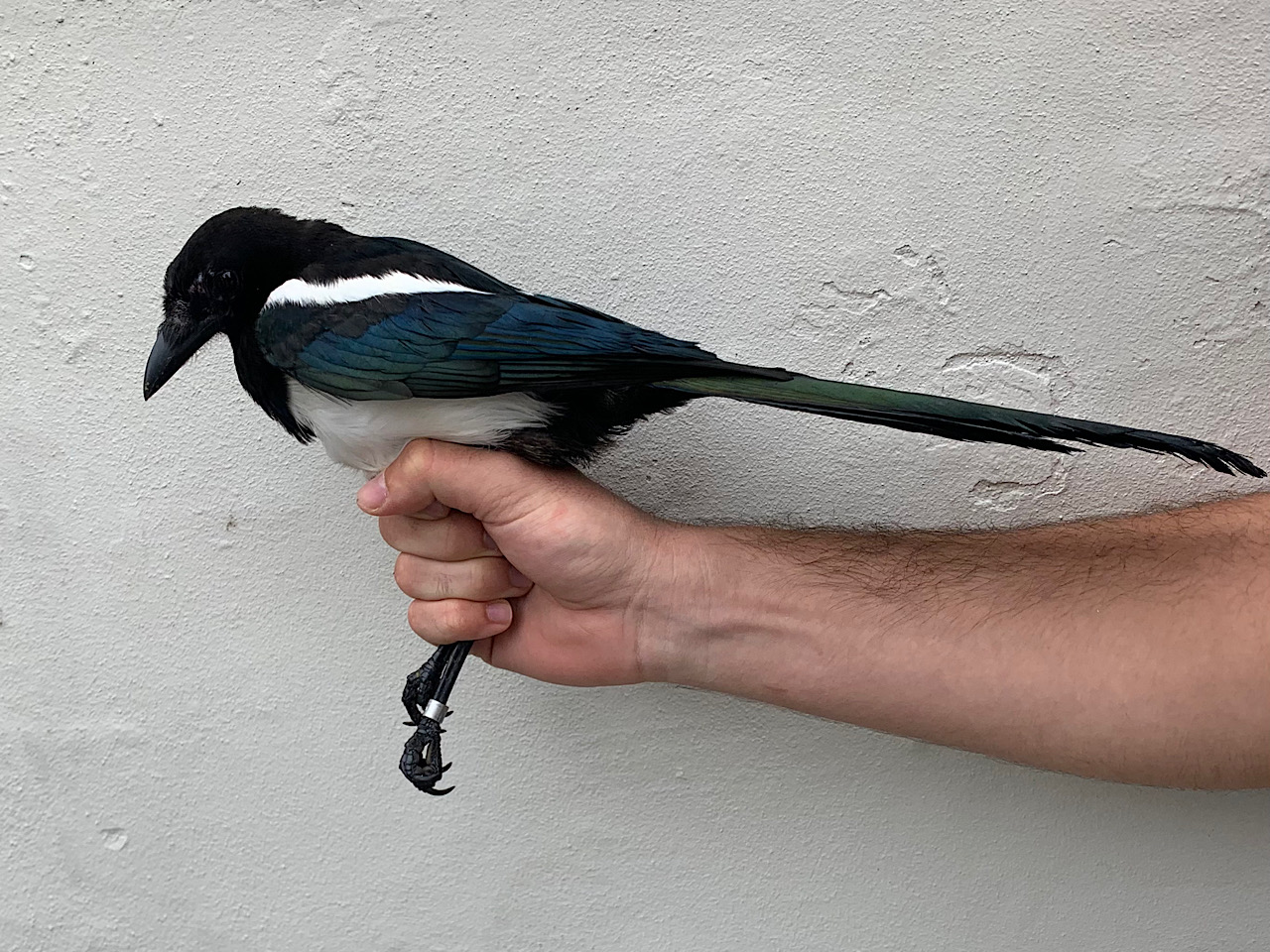 Peter Kristensen then joined Simon, Nathan, and I on a visit to get our local Motus tower back in working order. Motus is an international network of radio telemetry towers that can detect birds carrying transmitters as they migrate by. Today, we installed an extra transmitter on the tower (and a solar panel to power it) so that data collected at the tower can be wirelessly sent to us at the fuglestation for analysis. Projects like Motus generate incredibly valuable data for understanding where, when, and how birds migrate, which can correspondingly be used to predict the impacts of anthropogenic environmental changes on migration, and advance theories in migration ecology, among other things.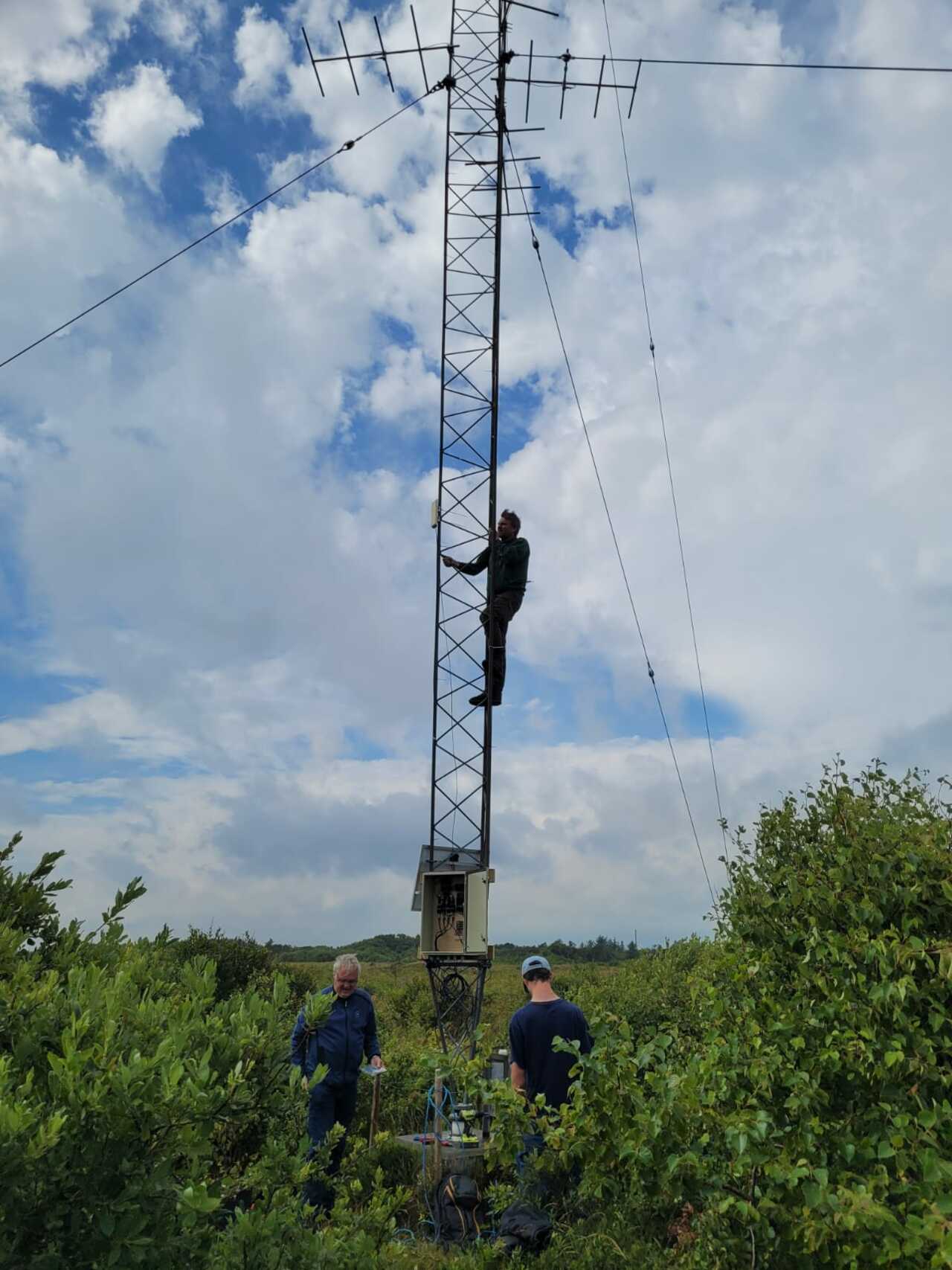 The Motus tower (Photo: Nathan)
Overall, it was quite a productive day!
Cheers,
Max
Birds ringed at Kabeltromeln
Garden warbler (Havesanger): 2
Common whitethroat (Tornsanger): 2
Eurasian blackcap (Munk): 1
Total: 5
Birds ringed at Fyrhaven
Eurasian magpie (Huskkade): 1
Today's observations in DOFBasen from observers in the area
People: Alice Scalzo, Robert Lawler, Nathan Delmas, Max Laubstein, Simon S. Christiansen, Benjamin Bech, Peter Kristensen, Lisa Vergin, and our guests Margit and Jesper.