Her på Skagen Fuglestations blog bringes korte nyheder i dagbogsformat om hændelser på fuglestationen.

Se indlæg fra år: 2022 (223)2021 (279)2020 (282)2019 (304)2018 (261)2017 (247)2016 (2)(se alle)


Landsvale Luck
mandag 8. august 2022
Greetings, birdfolk
Today Robbie, myself, and Manuel (who arrived last night) split up for the day's field work. Robbie and I left for Kabeltromeln to ring at 4:15 am, while Manuel made it to World's End 3 by sunrise at 5:25 for a seawatch. The ringing this morning was quite productive, a high proportion of migrants amongst the regular assortment of local breeders. Unquestionably, highlights were a fieldfare (sjagger), barn swallow (landsvale), and 2 first year common redstarts (rødstjert). While barn swallow is among the most commonly-seen species in the area (and across the world, for that matter), they don't often swoop low enough to be caught in the mist nets, making today's capture special.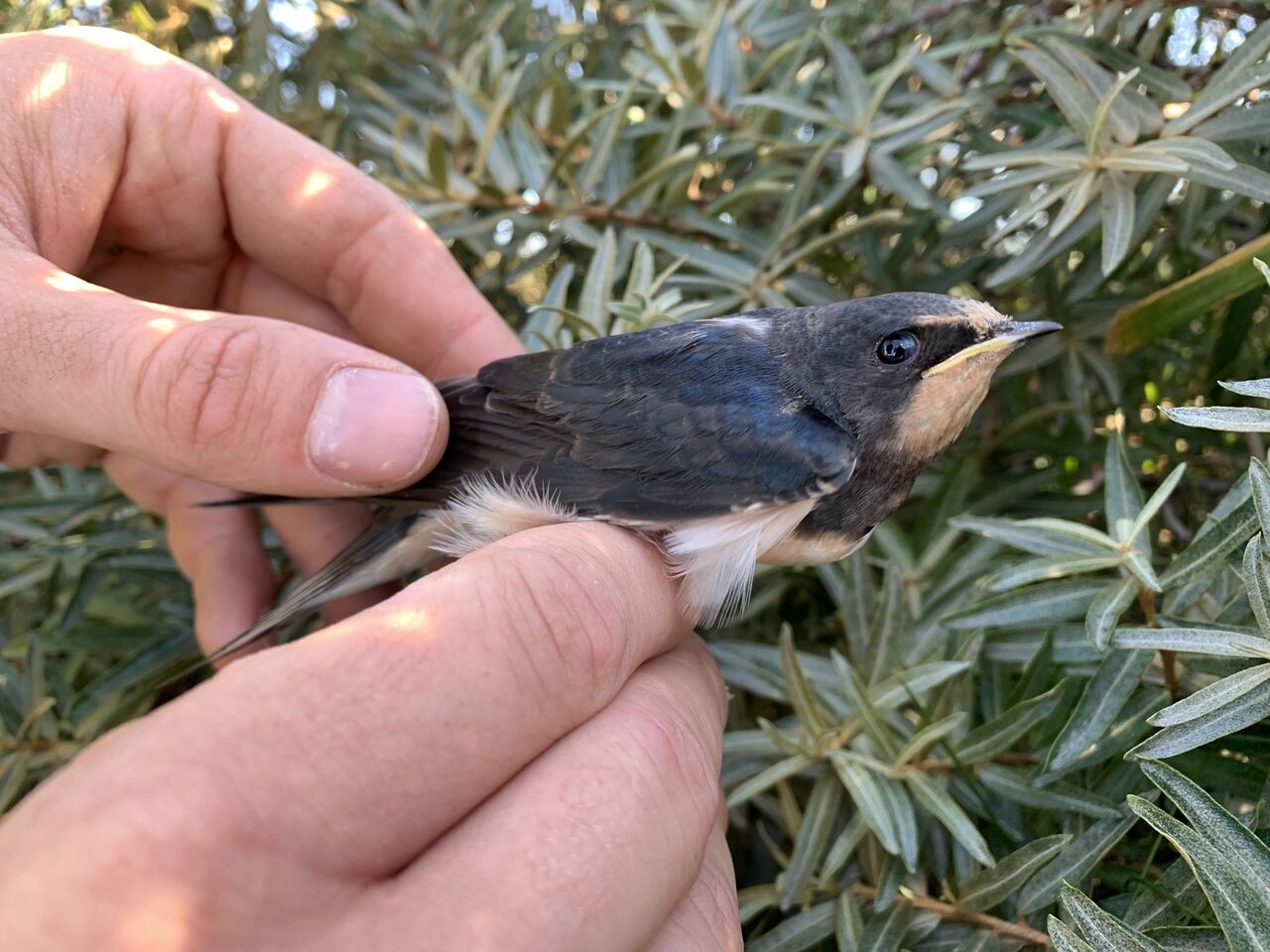 Barn Swallow (Landsvale)
Fieldfare is a species that primarily breeds further north in Norway, Sweden, Finland, etc. Over the past 2 centuries their range has undergone many expansions throughout Europe however, and they were first recorded breeding in Denmark in 1960. Today's first year bird was most likely hatched elsewhere, making its way to wintering grounds here in Denmark or further south in Europe.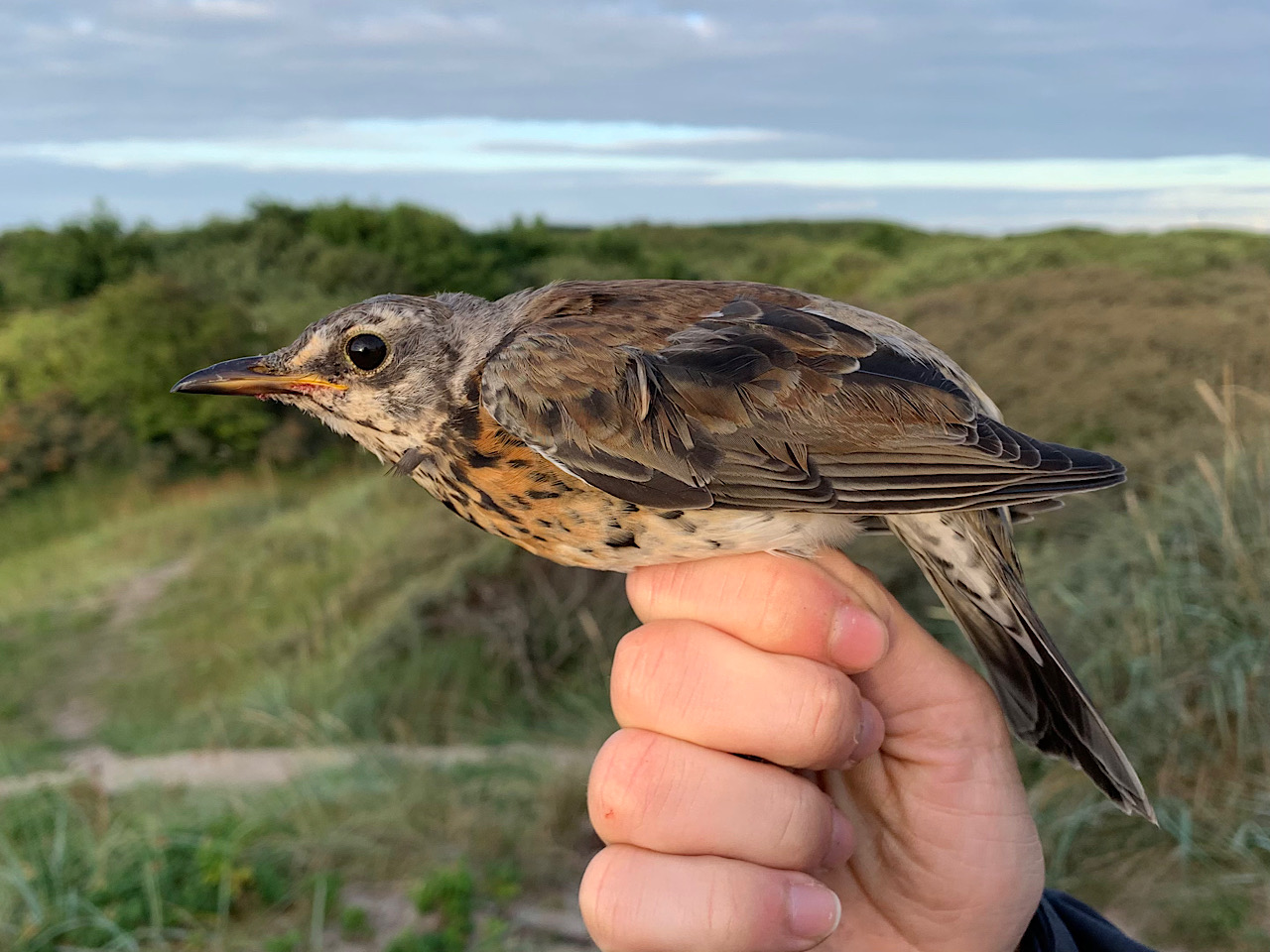 Fieldfare (Sjagger)
Common Redstart is a species that does breed nearby, but given we haven't caught any juveniles at KAB this season, and that autumn migration has begun, it's very likely our 2 birds today were migrants. The nominate phoenicurus subspecies of common redstart which breeds here in Europe, NW Africa, and Siberia, is a long-distance migrant, spending the non-breeding season in the northern hemispheric Afrotropics. We wish these two the best of luck on their journey south.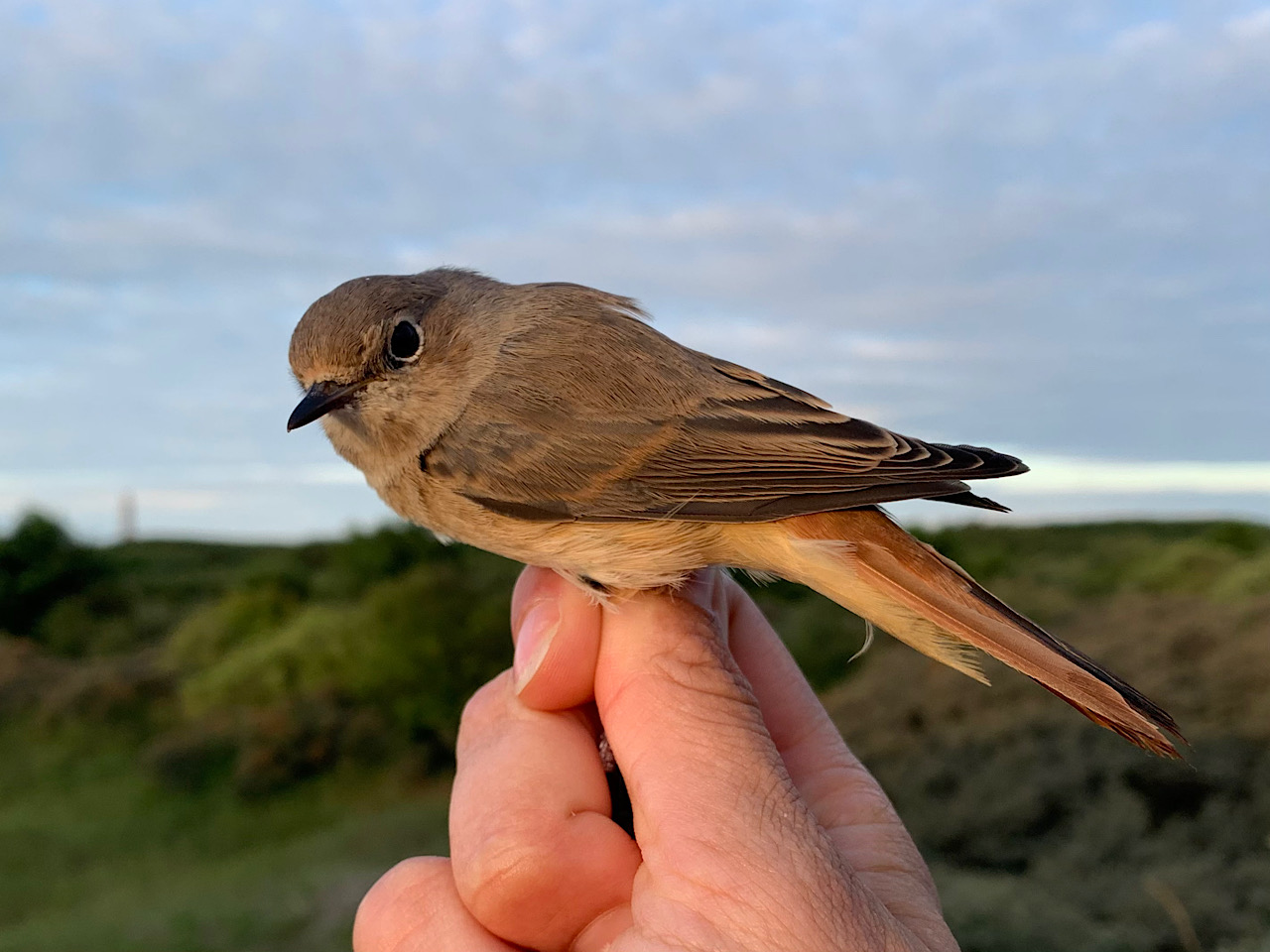 First year female common redstart.
Additionally, the male redstart showed a great example of a postjuvenile or formative molt limit, which is something that we will look for a lot further into autumn and before the next breeding season in order to age young birds a few months after they've hatched. For many birds, there's significant selective pressure for juveniles to grow their first set of feathers at once and rapidly, in order to leave the nest as soon as possible and avoid predation in the nest. Similarly, with a shorter need for parental care, there's a greater chance adults can produce a second brood. The tradeoff for a rapid, complete, and simultaneous prejuvenile molt is poor feather quality; juvenile feathers are often more susceptible to wear than adult feathers. So, many species have a partial molt as juveniles, called a postjuvenile or preformative molt to replace some of the poor quality juvenile feathers with more resilient adult-like feathers. In the photo below, you can see the young male redstart has done just this, with the replaced inner greater covert (and many body feathers) being newer, fresher, and grey in coloration, as opposed to the juvenile brown.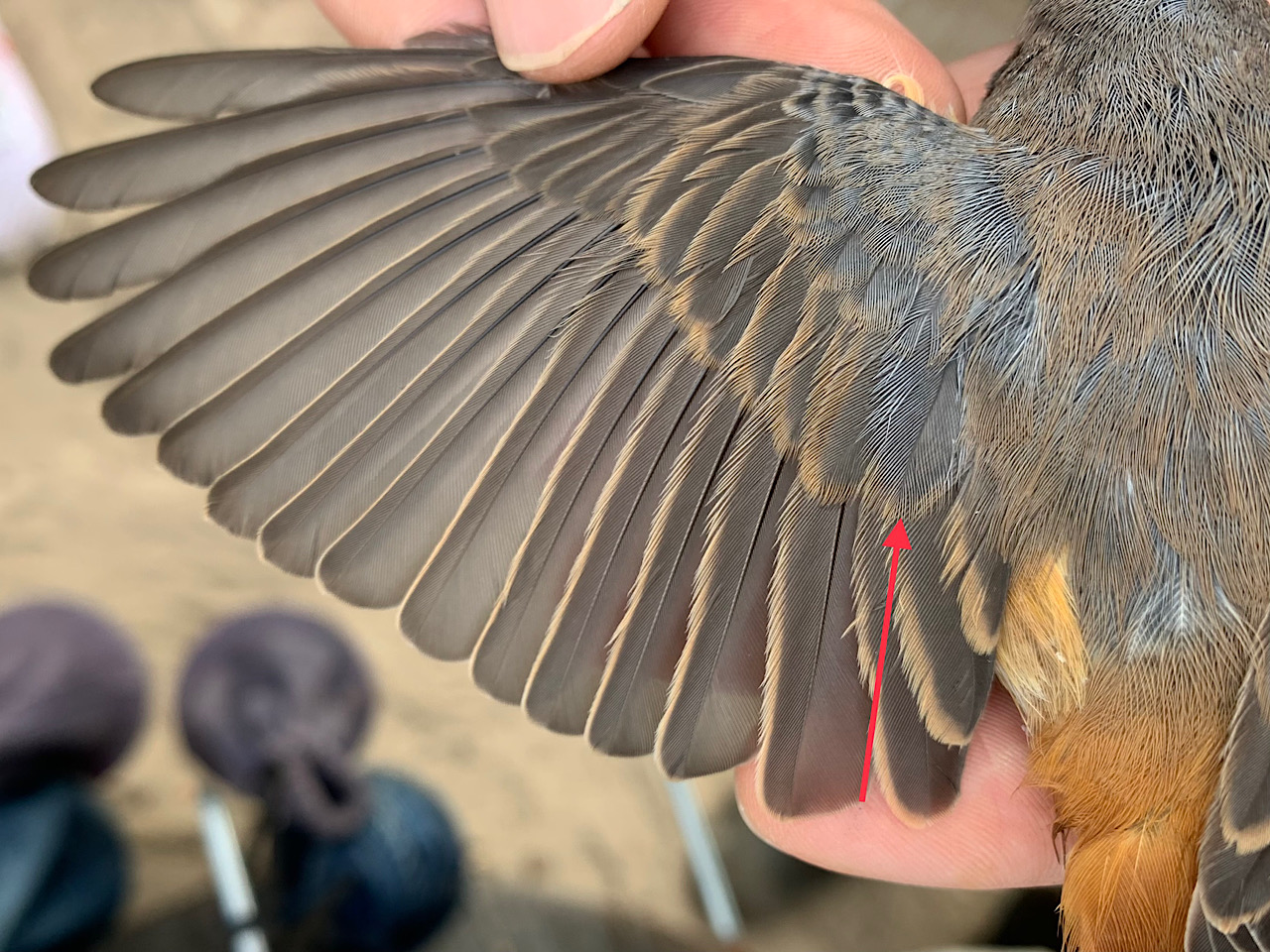 Meanwhile, Manuel over at World's End 3 had a decent day at the seawatch, with highlights being 2 dark morph Arctic skuas (almindelig kjove) chasing down terns together over the beach at Grenen, a great skua (storkjove) offshore, as well as some northern fulmars (mallemuk) migrating in the distance.
Tonight, we will attempt to catch some European storm-petrels (lille stormsvale) on the beach near the lighthouse. Wish us luck! We will post tomorrow if we are successful.
Peace,
Max
Ringing totals at Kabeltromeln:
Gransanger (Common Chiffchaff): 3
Lille Dompap (Eurasian Bullfinch): 1
Tornsanger (Common Whitethroat): 5
Munk (Eurasian Blackcap): 2
Landsvale (Barn Swallow): 1
Jernspurv (Dunnock): 1
Lille Gråsisken (Lesser Redpoll): 1
Musvit (Great Tit): 1
Sjagger (Fieldfare): 1
Gærdesanger (Lesser Whitethroat): 7
Kærsanger (Marsh Warbler): 2
Rørsanger (Eurasian Reed Warbler): 1
Rødstjert (Common Redstart): 2
Løvsanger (Willow Warbler): 14
Total: 42
Today's observations in DOFBasen from observers in the area
People: Max Laubstein, Robbie Lawler, Manuel Tacke, Lisa Vergin, Simon Christiansen, Dorothea Engert, Lina Kotschi, Joel Münch