Her på Skagen Fuglestations blog bringes korte nyheder i dagbogsformat om hændelser på fuglestationen.

Se indlæg fra år: 2022 (223)2021 (279)2020 (282)2019 (304)2018 (261)2017 (247)2016 (2)(se alle)


Gannets everywhere !
onsdag 14. september 2022
I will first leave the keypad to Emma, one of the students visiting us :
"Today was our third day at the Skagen Fuglestation and my group's turn to go birdwatching. We left for the beach in the north, where the North Sea and the Baltic Sea meet, and kept an eye out for certain types of birds whilst the sun rose : gannets Sule, lesser black-backed gulls Sildemåge, common scoters Sortand and barn swallows Landsvale – although we only managed to see 3 of those, way less than in the previous days.
At the beach we were confronted with multiple weather factors that had taken influence on the number and types of birds we were able to see. On this particular morning, there were more waves than the last few days, which for one attracted gannets Sule, but also flooded the beach more, which lead to the gulls having less space to rest. There were also stronger winds, making the tip of the beach less attractive for resting common scoters Sortand, so we saw fewer of these too. We were however able to see a great number of sanderlings Sanløber, up to a few meters close to us! A special and exciting experience we dauntingly embraced.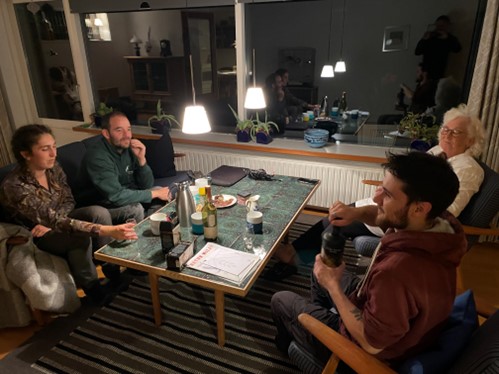 All in all, Skagen is a fantastic location to learn about bird migration; we shared many unique first impression of bird migration, either on the sand bank between the two seas or between the dunes with Diana and Hanelie, also keeping an eye out for birds from inland."
Because of the wind, today has also been a very slow day for ringing ; only 11 birds of 4 different species have been visiting our nets, forcing us to close only 3 hours after the start. Frank and I therefore had a lot of time to discuss ringing with the students.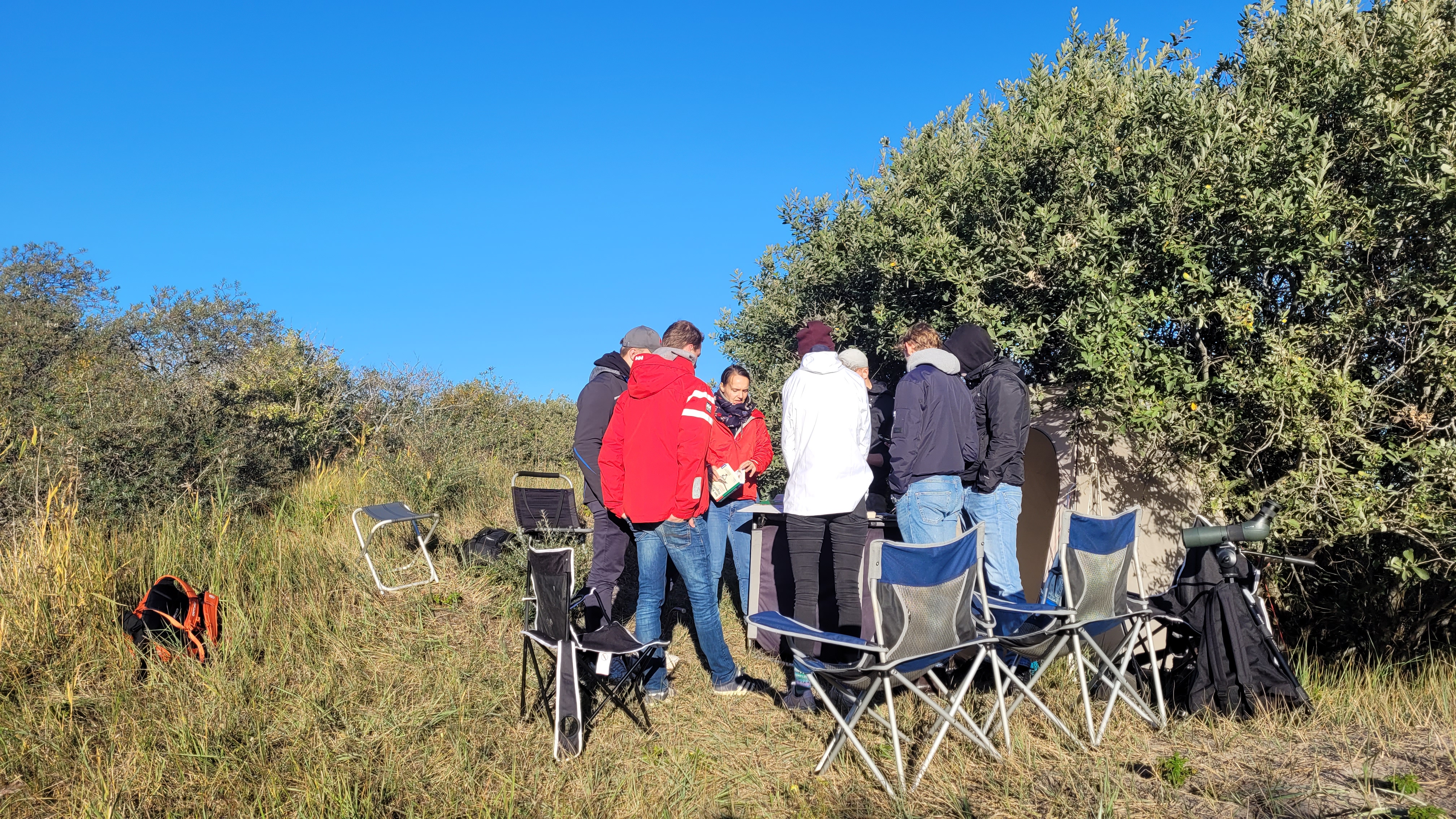 After we entered the data with the students this afternoon, and cleaned the optic equipment that was exposed to sand these last windy days, Frank worked on his presentation while I read more about bird migration and Hanelie showed Diana how to analyse nocturnal migration recordings. Diana and I have a great deal to learn about migrating bird calls !
Simon took a glance at bat diversity around Skagen lighthouse, thanks to nocturnal bat recordings from the garden ; hereafter is an example of a soprano pipistrelle Dværgflagermus, recognizable by the high frequency of its calls (above 57 kHz), recorded in the night from the 1st to the 2nd of September.

We also said goodbye to our two guests Kristin and Carl, pictured below with our volunteers ; thank you for visiting us, we hope you had a great time !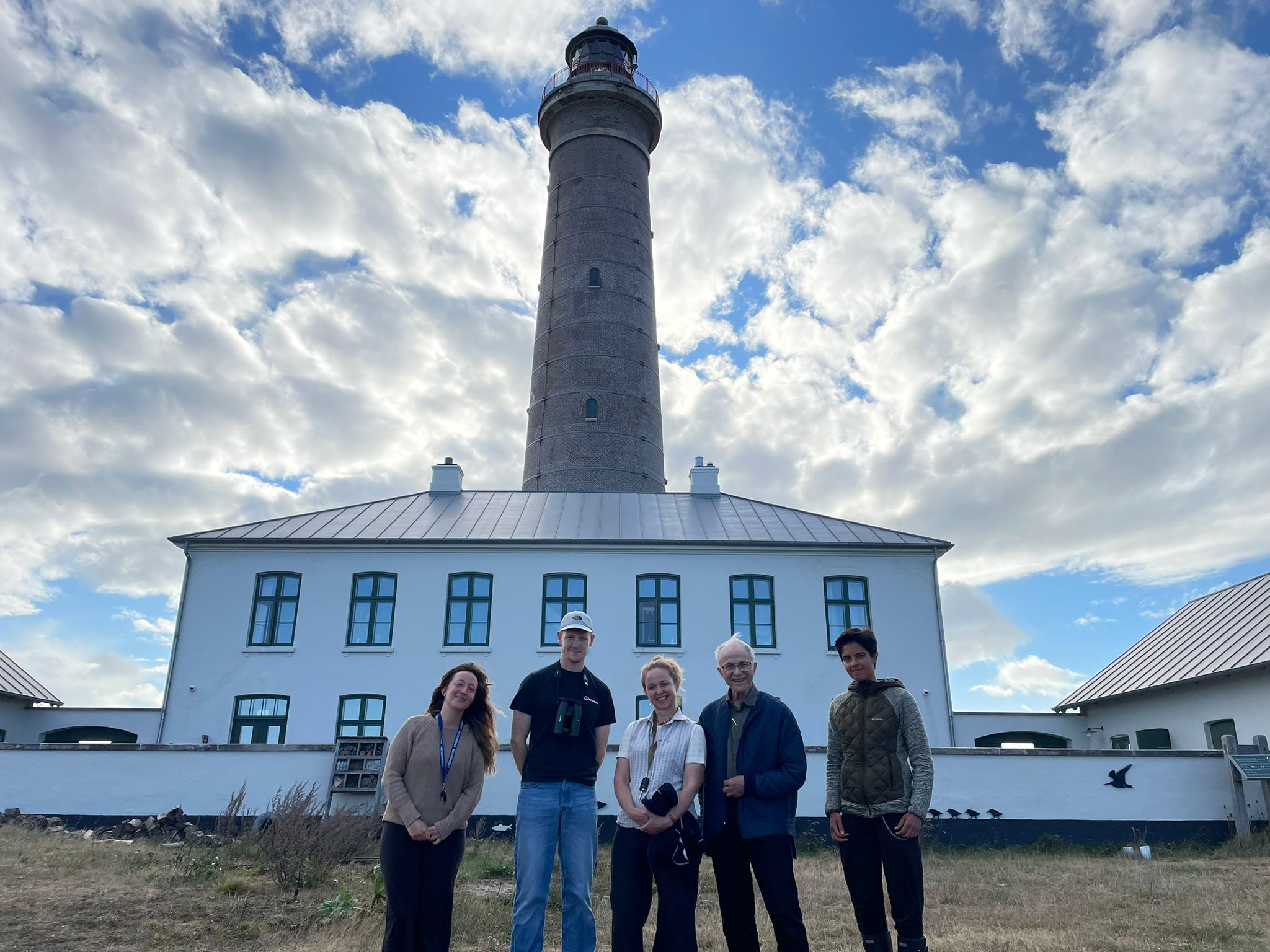 People at the Station: Solenn Boucher, Frank Ostenberg, Diana Sciandra, Hanelie Sidhu, Simon Christiansen, Lisa Vergin, Martina Hillbrand and her students, and our guests Kristin and Carl.
Ringing (Kabeltromlen)
Goldcrest / Fuglekonge : 1
Robin / Rødhals : 4
Blackcap / Munk : 3
Garden Warbler / Havesanger : 1