Her på Skagen Fuglestations blog bringes korte nyheder i dagbogsformat om hændelser på fuglestationen.

Se indlæg fra år: 2022 (223)2021 (279)2020 (282)2019 (304)2018 (261)2017 (247)2016 (2)(se alle)


Wader Sexing and Ageing by Mr. Osterberg!
torsdag 15. september 2022
Hi everyone!
Today was the last day that we had company from Martina and her school class. But although they had to pack down their tents in the morning, they visited the different groups visited us at Kabletromle and at Verdens Ende 1. Frank and Solenn were Ringing today and Lisa joined them for a while. Unfortunately, she left before the Great Sptted Woodpecker in the last round which was the highlight of todays ringing. Solenn was very happy to ring it although it pecked her fingers quite hard. Diana and I went to Verdens Ende 3.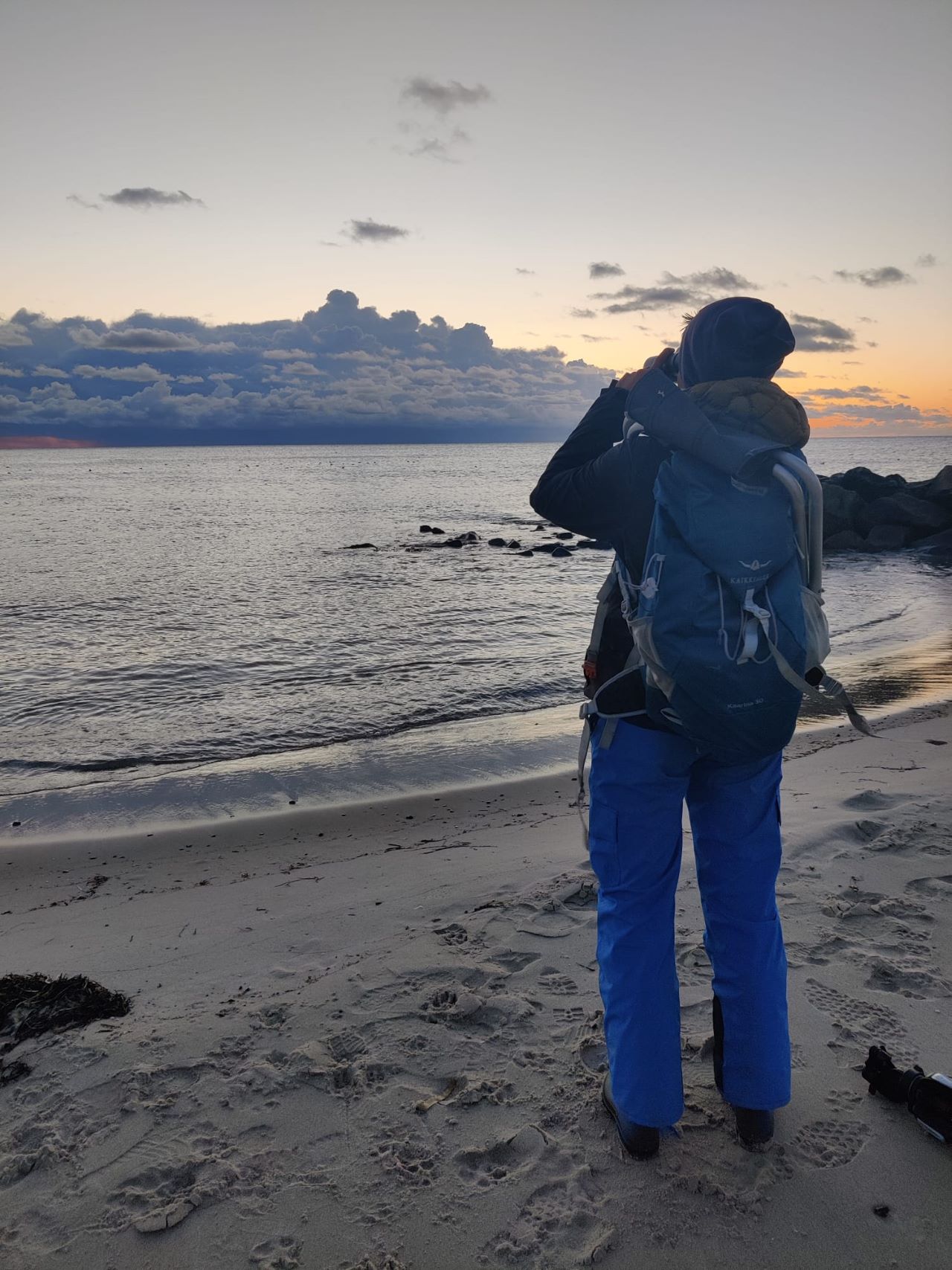 Right when we arrived, there was a Bar-tailed Godwit " Lille Kobbersneppe" restig at the tip which was a nice start for the morning. In the first hour we also had a Fulmar "Mallemuk" which was the highlight of the observations for Diana as it was her first Fulmar "Mallemuk"! In the secound and third hour Martina and a group of students joined us. They were looking at the Scoters "Sortand", Gannets "Sule", of which there were also many again today as well as the waders resting on the beach: Sanderlings "Sandløber", Dunlin "Almindelig Ryle", Red Knot "Islandik Ryle", Little Stint "Dværgryle".
Diana also went to read some rings in the last hour of the observations. Then we went back, entered the data and had lunch. And it was finally time to say goodby to our guests from Hamburg and to take a last group picture in the yard. We hope they had a safe travel home.
In the afternoon we all had a nap apart from Frank, who was still preparing his presentation about Shorebird ageing and sexing. At four, the session finally started, now we are all a bit smarter and hope we can also use our new skills in the field. Mange tak, Frank!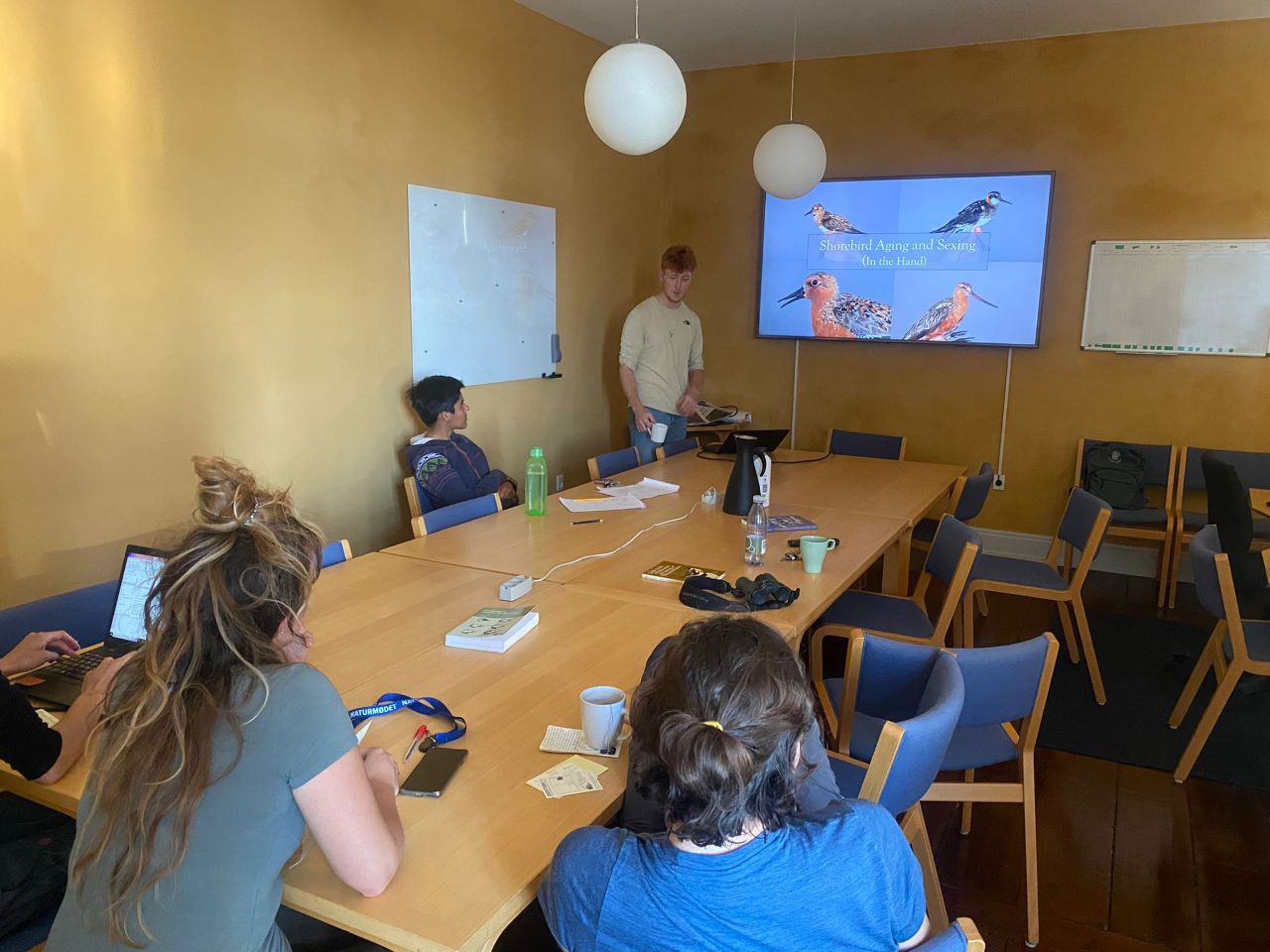 After the evening meeting Frank, Solenn and I went to the cormorant lake to check how manz waders were there. There were not many but a Grey Plover "Strandhjejle" and two Garganeys "Atlingand" were nice. On the way back Frank went to Ellekrattet and Solenn and me went to Batteriskoven but we just heard some Goldcrests "Fuglekonge". When we came back, Frank was waiting for some German Tourists who found a injured Gull on the beach. The gull turned out to be a Fulmar "Mallemuk" but it was in a very condition and died a few minutes after it was brought to the bird observatory. Diana had cooked dinner today, Simon and Lisa joined also.
Tomorrow we´ll be out again, see you in the field! Take care, Hanelie
Observations of the day in DOFbasn from observers in the area
Ringing totals at Kabeltromle:
Fuglekonge: 6
Gransanger: 4
Rødhals: 4
Lille Gråsisken: 1
Jernspurv: 1
Rørsanger: 1
Munk: 2
Tornsanger: 1
Musvit: 1
Stor Flagspætte: 1
Totals: 22
People at the Station: Frank Osterberg, Solenn Boucher, Diana Sciandra, Simon Christiansen, Lisa Vergin, Hanelie Sidhu, Martina Hillbrand