Her på Skagen Fuglestations blog bringes korte nyheder i dagbogsformat om hændelser på fuglestationen.

Se indlæg fra år: 2022 (288)2021 (279)2020 (282)2019 (304)2018 (261)2017 (247)2016 (2)(se alle)


Hunting Bunting part 3
lørdag 19. november 2022
Hello!
Yesterday night we tried to have a tour around the area of Ellekrattet, with thermal camera and it was really interesting: at least 11 Woodcocks (Skovsneppe) were spotted! The highlight of the night was a blackbird-looking bird: a beautiful Ring Ouzel (Ringdrossel), a not-very common species here in autumn, unluckily it was not caught but we will try again tonight.
This morning Louis and, later, Jeppe, went observing at Nordstrand: it was a really cold day and the wind was blowing exactly in our direction. They saw a couple of beautiful juvenile Long-tailed duck (Havlit) and still some Velvet Scoters (Flojsand) migrating. Also me, Frank and Prescillia were at Nordstrand, but we arrived later. Our goal was to try again to catch Snow Buntings (Snespurv) but the wind changed direction and intensity compared to yesterday. In general, I think that now we know all the tricks to catch them, we just have to be patient, consistent and to hope that it will come again wind from East (it is easier to set the trap, considering the soil structure and the position of the dunes). Today we added also a new friend to the team: a stuffed Snow Bunting (Snespurv, picture below) that can help us to "attract" the Snow Buntings to come and feed with the seeds that we put near the net. It worked, because the birds were curious about it and they came very close.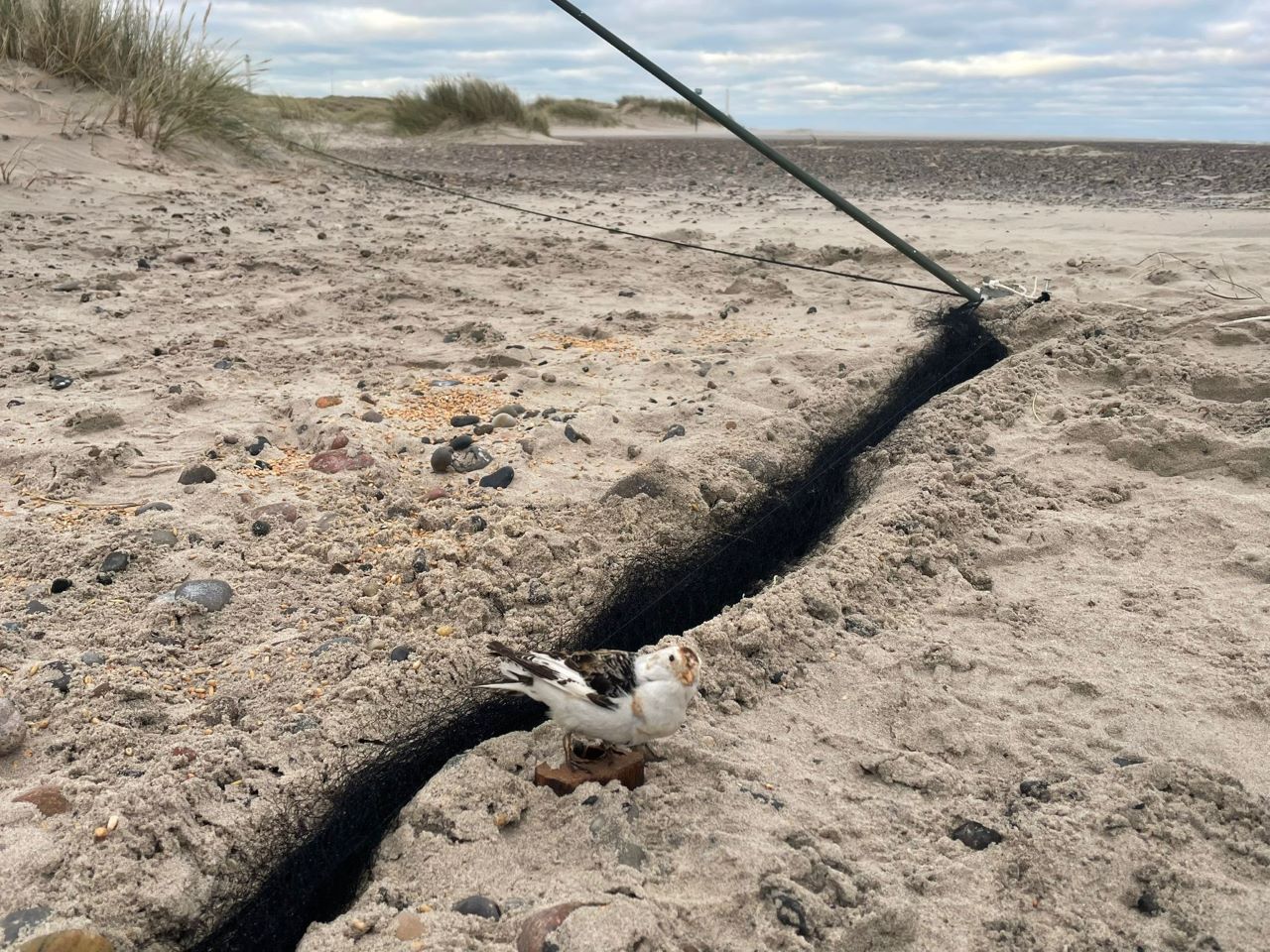 Although I feel that the other volunteers start losing hope I really like to put effort in this kind of activity: for a so unique species a lot of effort is always worth it, I think. I could do this catching method every day, even if the cold is getting stronger and stronger (luckily I am not really a cold person) and the biking to the beach with all the material is really painful when the wind is blowing against us. Unluckily tomorrow it is Sunday and there will be a lot of people around the beach and we also need to fix the last nets at Kabeltormen before putting them down for the winter: that's why I can't be there also tomorrow to trying to catch them. Monday will be definitely the perfect day, if the wind will blow in the right direction!!!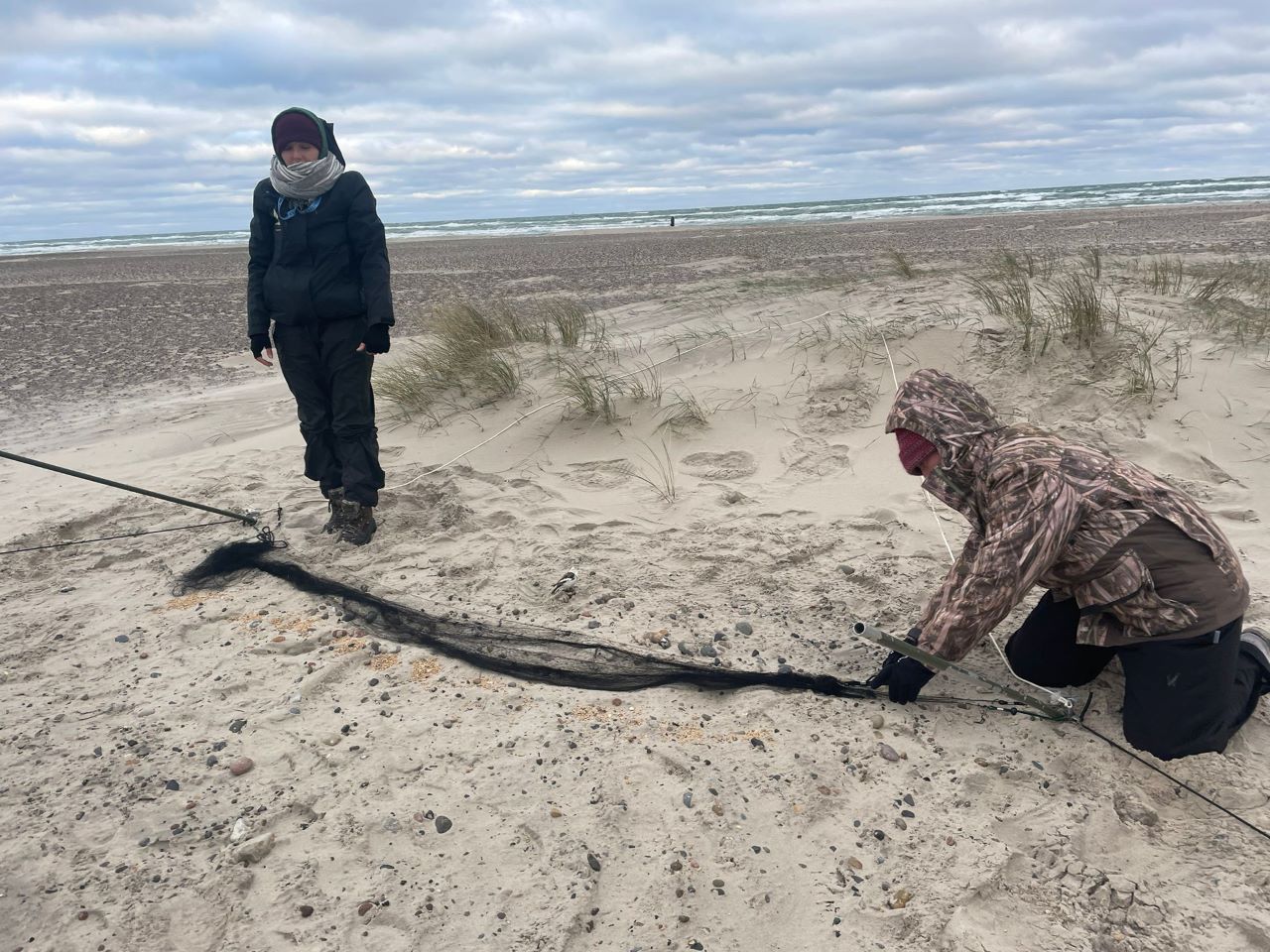 Struggling with the wind and the sand
During the afternoon we cleaned the house and me and Prescillia played Wingspan. I should mention (as agreed with Louis) that I won 3 times against him at table football yesterday, it was fun!
Later, Simon warmed up for all of us some æbleskiver accompanied with some gløgg and it was very nice! We ate them while looking at some pictures of birds and some of the activities in ornithological station that Simon did.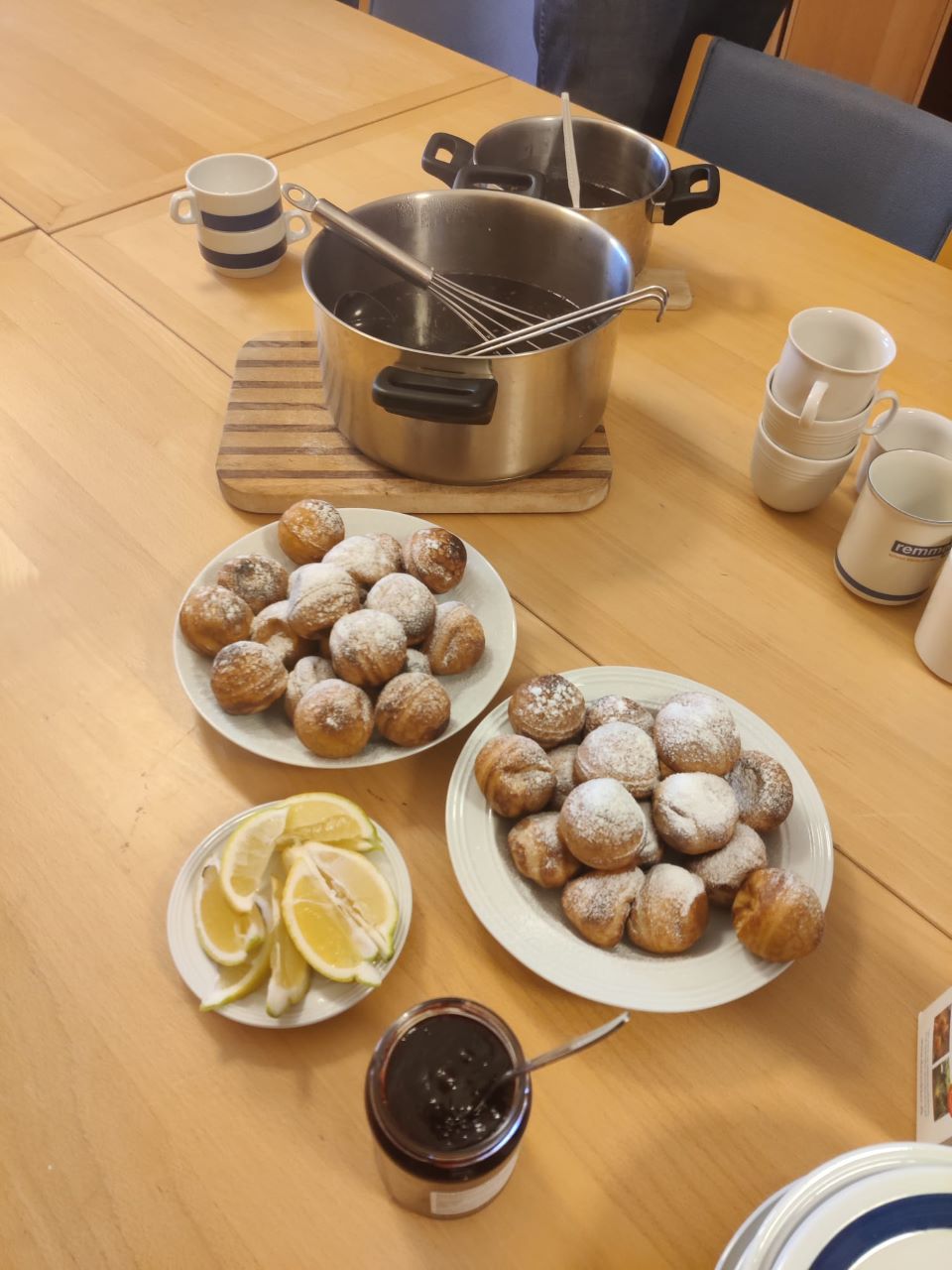 Now we are ready to eat the country-food that Jeppe (so, in this case from Denmark) has prepared for us: later we will try to catch something cool.
Ringmærkning Kabeltromlen:
Fuglekonge: 5
Blåmejse: 5
Total = 10
Ringmærkning Nordstjernevej:
Rødhals: 2
Blåmejse: 13
Musvit: 13
Skovspurv: 7
Bogfinke: 2
Grønirisk: 8
Gulspurv: 1
Total = 46
Dagens observationer kan ses her
Folk på stationen: Simon Christiansen, Louis Kristoffer Poulsen, Diana Sciandra, Prescillia Lemesle, Frank Osterberg, Jeppe Therkildsen Madsen, Michael Anker og vores gæster Lars og Lone.