Her på Skagen Fuglestations blog bringes korte nyheder i dagbogsformat om hændelser på fuglestationen.

Se indlæg fra år: 2023 (1)2022 (292)2021 (279)2020 (282)2019 (304)2018 (261)2017 (247)2016 (2)(se alle)


The end of 2022' season
tirsdag 6. december 2022
Today was the last full day here at the station, for the autumn volunteer team. I started the morning opening the nets, in the same time Louis went observing, just by the Lighthouse. The ringing today was really slow: we caught just two recaptures (a Blackbird - Solsort and a Robin –Rødhals). Luckily the blackbird, and adult female, was caught while there was a visitor passing by: it is always super cool seeing the happy faces that people have seeing the first time a bird in hand. Louis had a quite slow observing day, I popped out at his place between the rounds and I managed to be present in the most interesting moment of the morning, with a Black-Throated diver resting and two adult-male Long-tailed ducks (Havlit) resting too. I saw also my last seal for this year.
Meanwhile, Aksel slept a little bit longer and then had a walk to the tip, took some pictures and saw a flock of 40 Snow buntings (Snespurv) and thousands of Fielfares (Sjagger).
At the end of the morning I closed the nets and I went to the city to buy some presents to my family and friends. Louis in that period managed to spot and to read the Rock pipit (Skærpiber) which has a Plastic yellow ring (which also Aksel spotted some weeks ago, if it was the same individual, and which also Jørgen tried to find): the code was FCL and we discovered it was ringed here in Skagen this spring (2022). While coming home I had the luck to spot Erik while he was working, so we managed to say our goodbyes.
When I arrived home we put off the owl net in the Lighthouse garden and we settled the net for the Storm petrels at the beach: some days ago it was spotted a Leach's storm petrel around, but it was always too windy to try.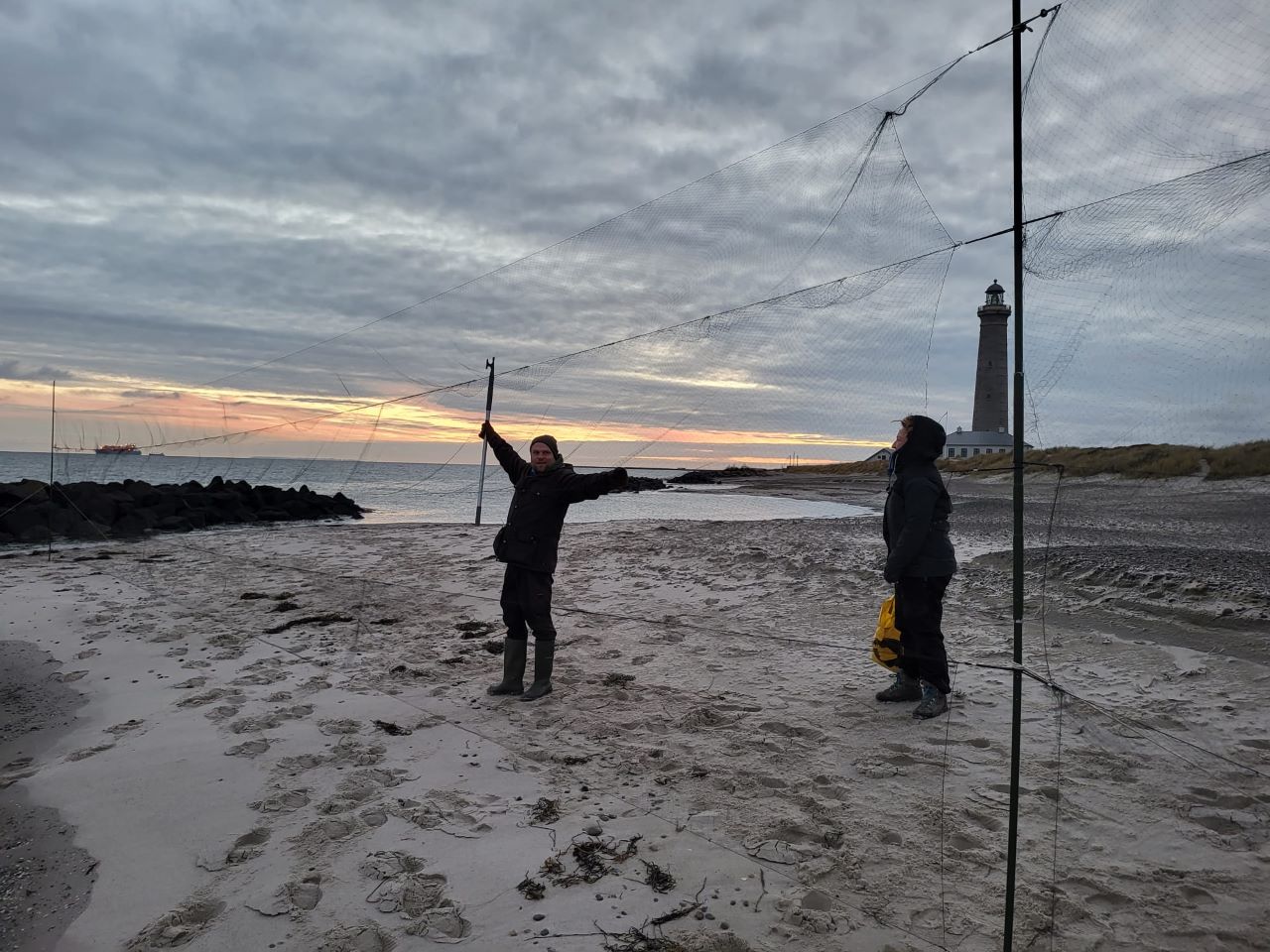 While settling the Storm Petrel net, with just Simon and Louis, we spotted a funny wren on the rocks close to the sea and 14 Purple Sandpiper (Sortgrå Ryle, picture below: Louis and some of them).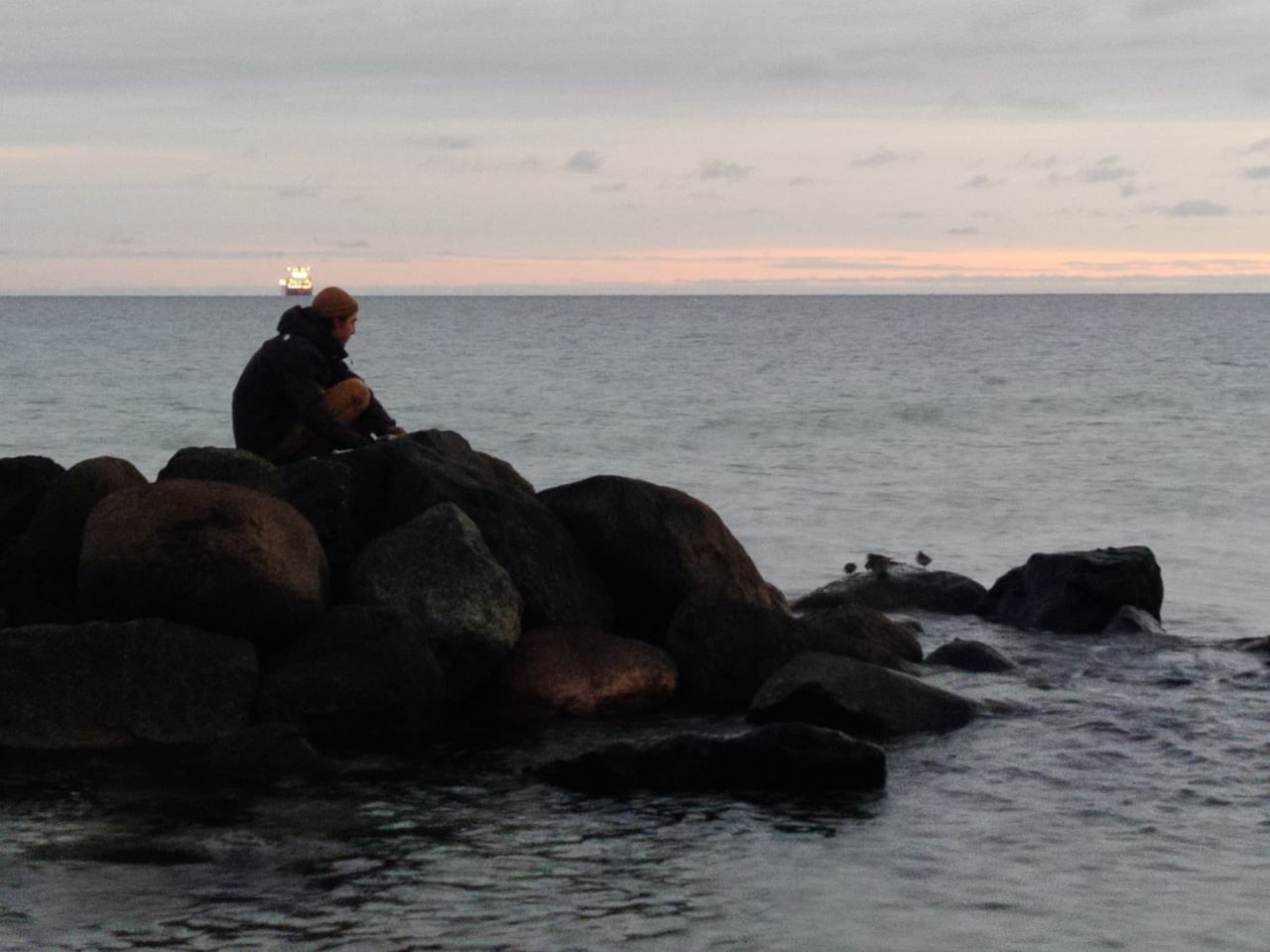 In the afternoon we cleaned all together and we had our final talk with Simon: after a couple of rounds at the storm-petrel net without success and after seeing the match Portugal-Switzerland we had a wonderful final dinner at the city. I enjoyed both the duck and the fish (me and Simon shared).
After dinner we bought some snacks at the shop and me and Louis later were in charge of checking the nets, while Simon and Aksel went out to try to catch Woodcocks (Skovsneppe). We had to call them back home because, unexpectedly I would say, we caught a Common snipe (Dobbeltbekkasin). It has been super cool to end the season with such a beautiful wader, at the beach!
We ringed the bird, we closed the nets and we played some games.
I already wrote some days ago my thanks into the Guestbook at the station, but I guess that many vounteers will not have the occasion (at least, not soon) to read it (just Hanelie will read it very soon). There are many people (mentioned in the guestbook) to thank, but here I just want to publicly being thankful mainly to the Autumn team (Solenn, Aksel, Prescillia and Louis), but also to Frank, Elena and Max! It was super nice to meet also Gustav, Johanna and Jeppe, I hope we will meet all again one day.
I have to say that this period, 3 months, flew really fast, and I lived many wonderful memories here in Skagen, but I have the feeling that many haven't be done yet: probably I will come back one day, to catch one Snow Bunting.
Thank you very much Simon, Lisa, Knud and all the Skagen Fuglestation staff: wonderful team!
If someone of the readers of this blog comes to visit Italy one day and wants to do birdwatching together just contact me!
Just, please, don't break the spaghetti, never.
Ringing at the Fyrhaven:
Dobbeltbekkasin: 1
Dagens observationer kan ses her
Folk på stationen: Simon Christiansen, Louis Kristoffer Poulsen, Diana Sciandra and Aksel Y. Munkholm.