Her på Skagen Fuglestations blog bringes korte nyheder i dagbogsformat om hændelser på fuglestationen.

Se indlæg fra år: 2023 (105)2022 (292)2021 (279)2020 (282)2019 (304)2018 (261)2017 (247)2016 (2)(se alle)


An incredible day!!!
lørdag 25. marts 2023
After the poor conditions of yesterday and more rain overnight, we were all hoping today wouldn't be another write-off. Luckily the rain stopped shortly before sunrise and Dante, and I headed to Verdens Endes for morning observations. And what a morning it was!
There was a good movement of passerines, including 2061 Chaffinches (Bogfinke) and 216 Blue Tits (Blåmejse), as well as 18 Bewick's Swans (Pibesvane) and 23 Tundra Bean Geese (Tundrasædgås). Migrating raptors had clearly also been waiting for a break in the bad weather, resulting in 1 Osprey (Fiskeørn), 9 Red Kite (Rød Glente) and 202 Buzzards (Musvåge).
It all seemed fairly quiet out to sea, until Dante spotted an adult drake King Eider (Kongeederfugl) at 0936 amongst a raft of 1000s of resting Eider (Ederfugl) and Common Scoter (Sortand). The bird drifted closer throughout the morning and was enjoyed by multiple Skagen birders. Later, 2 Shags (Topskarv) flew NW past the tip and a third calendar year Caspian Gull (Kaspisk Måge) lingered on the beach.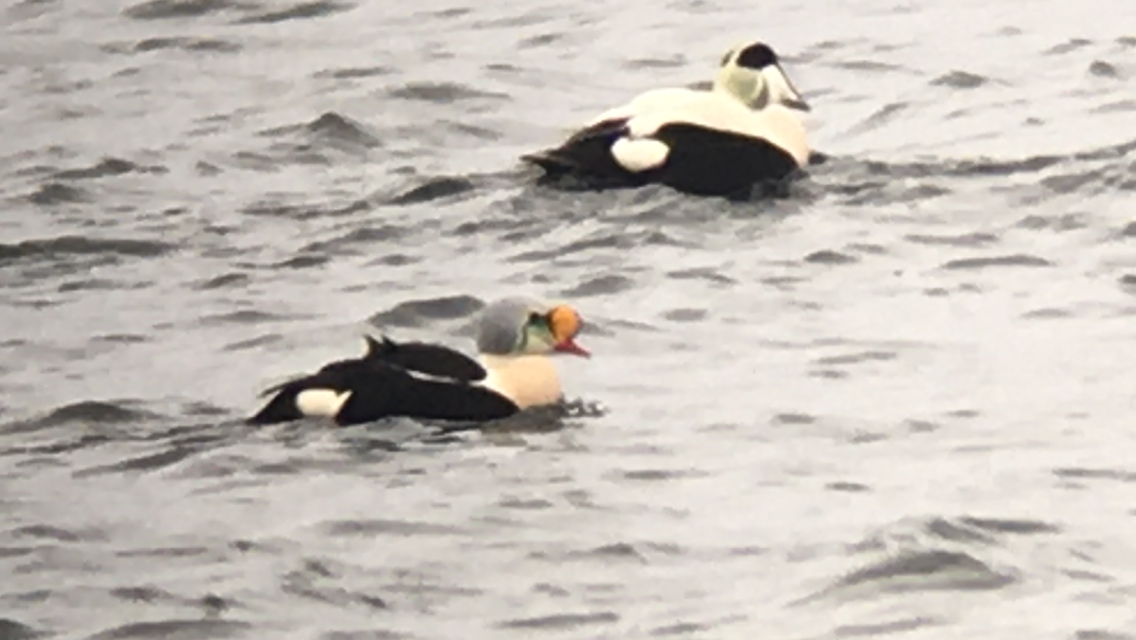 Digiscope of the adult, drake King Eider (Kongeederfugl).
Just as the morning was drawing to a close, Dante and Rolf heard a ticking bunting- highly unusual for this time of year. As the bird circled back, they identified it as a male Rustic Bunting (Pileværling)- the first ever in Denmark to be seen attempting migration!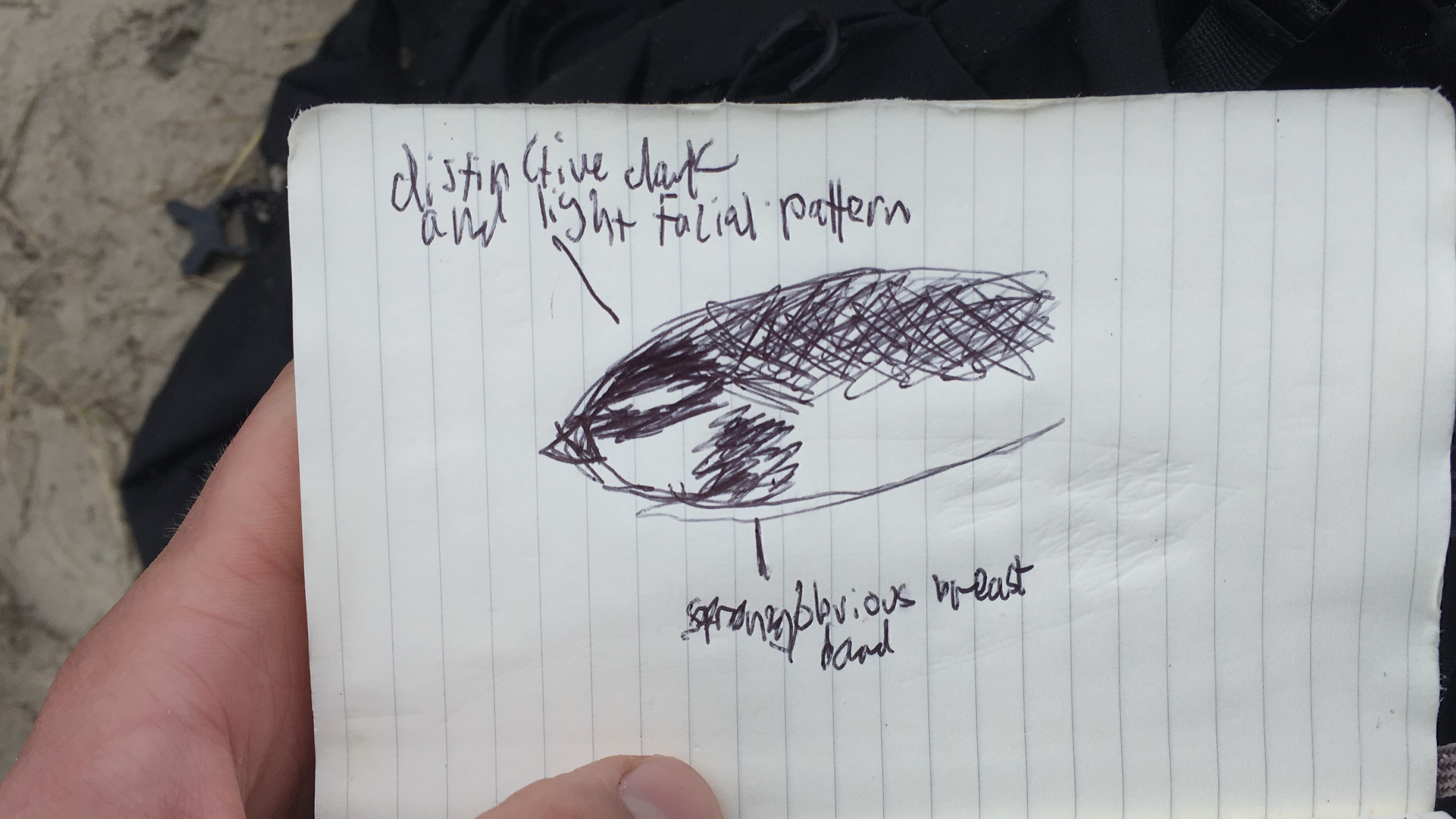 Dante's field sketch of the male Rustic Bunting (Pileværling). Unfortunately, it was not possible to get a photo of the bird in the field.
Finally, as if the birds hadn't been enough, we also saw a Humpback Whale (Pukkelhval) diving and feeding offshore in the Skagerrak- possibly the same individual as a few days ago.
Johanna, Yehonatan and Simon had the nets open at Kabeltromlen. They had a diverse catch of 37 birds, including 7 Chiffchaffs (Gransanger), making us all feel like spring really is on the way.
What an incredible day here at Skagen Fuglestation!
A full list of today's observations can be found here.
Today's raptor summary can be found here.
Skagen Fuglestation: Johanna Veentjer, Yehonatan Ben aroia, Dante Shepherd, Lauren Evans & Britta.
Kabeltromlen Ringing Totals:
Rødhals (Robin)- 7
Dompap (Bullfinch)- 2
Lille Dompap (Bullfinch)- 6
Gransanger (Chiffchaff)- 7
Jernspurv (Dunnock)- 4
Gærdesmutte (Wren)- 4
Bogfinke (Chaffinch)- 1
Blåmejse (Blue Tit)- 2
Munk (Blackcap)- 1
Musvit (Great Tit)- 1
Solsort (Blackbird)- 4
Total: 37