Her på Skagen Fuglestations blog bringes korte nyheder i dagbogsformat om hændelser på fuglestationen.

Se indlæg fra år: 2023 (105)2022 (292)2021 (279)2020 (282)2019 (304)2018 (261)2017 (247)2016 (2)(se alle)


A Super Seabird Day
torsdag 18. maj 2023
Strong north-westerly winds meant there was no ringing at Kabeltromlen and made us doubt how fruitful our morning observations would be. Dante and I headed to World's End at sunrise regardless, while Yehonatan and Michael enjoyed a well-deserved lie-in, and we were pleasantly surprised by how good the morning turned out to be! Lots of birds were moving over the sea and the highlights of the morning included 1 adult Mellemkjove (Pomarine Skua), 3 Storkjove (Great Skua), 1 Almindelig Skråpe (Manx Shearwater) and 1 Islom (Great Northern Diver).
Meanwhile, Simon, Michael and Kirsten joined Ander Østerby and local children on a Bioblitz around the station. The aim of a Bioblitz is to find as many different species as possible and one group even managed to find a rather rare butterfly- a Gråbåndet Bredpande (Dingy Skipper). It was a good day for rare Lepidoptera as later, Ragnar Smith spotted a Svalehale Sommerfugl (Swallowtail Butterfly) down the coast.
Despite the weather, we still managed to get some ringing in! Simon spotted a male Blåhåls (Bluethroat) in the lighthouse garden which quickly found its way into the garden nets. After waiting months to catch one, this is the third individual we have caught in 3 days!!! We also received the recovery information of the Swedish-ringed female Rødstjert (Redstart) which we caught at Kabeltromlen a few weeks ago. This individual was ringed at Ottenby Bird Observatory (Simon's old workplace!) in August 2022.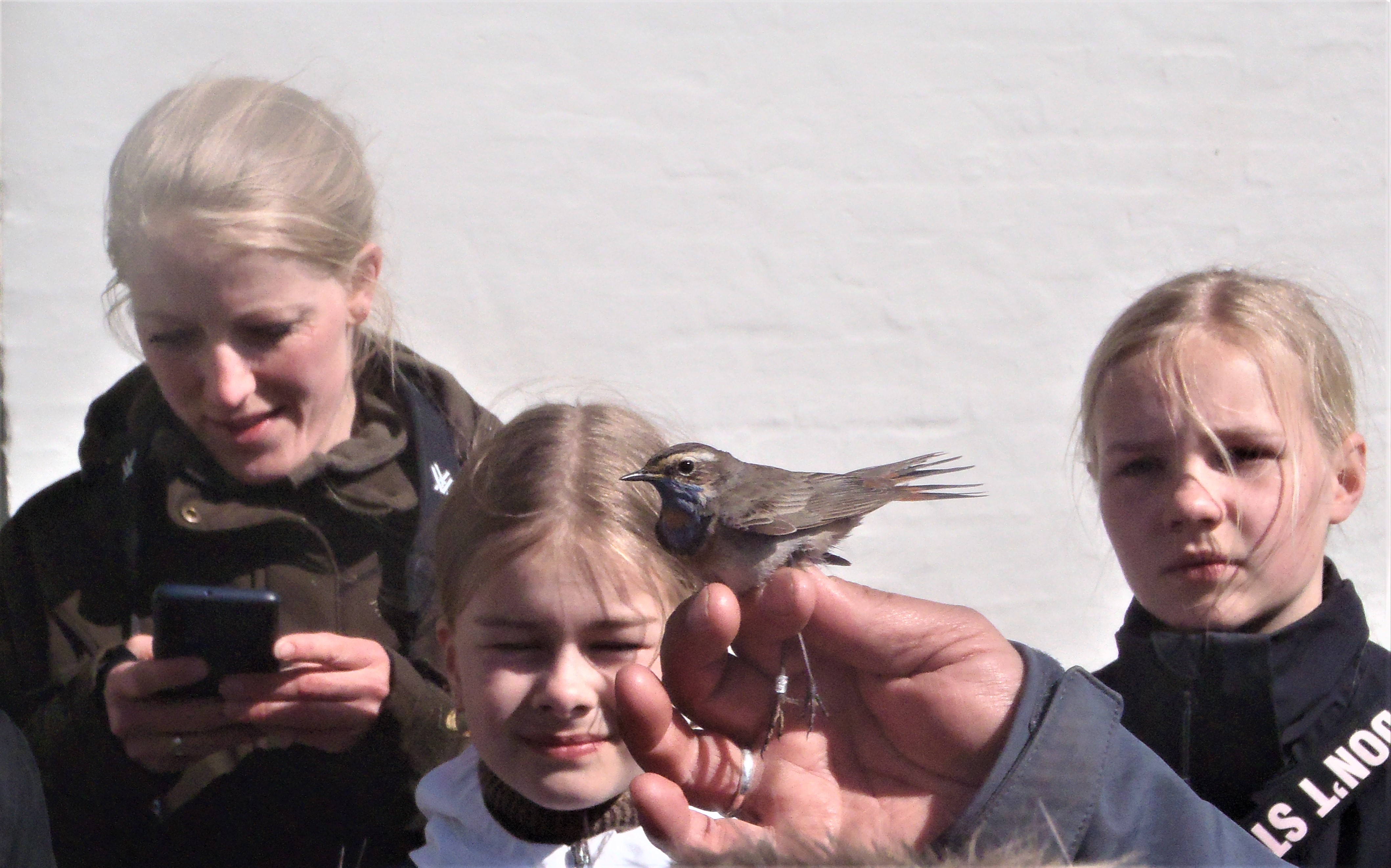 Male Blåhåls (Bluethroat) being enjoyed by the local children. Photo: Ander Østerby.
In the evening, Yehonatan gave us an informative presentation on the blythi and halimondendri subspecies of Lesser Whitethroat as well as ageing in the hand. We also had to have a small party since it was Yehonatan's last evening with us and tomorrow, he heads back to Israel after 3 months at the station.
A full list of today's observations can be found here.
Skagen Fuglestation: Yehonatan Ben Aroia, Michael Colley, Dante Shepherd, Lauren Evans & Kirsten Bregn