Her på Skagen Fuglestations blog bringes korte nyheder i dagbogsformat om hændelser på fuglestationen.

Se indlæg fra år: 2023 (218)2022 (292)2021 (279)2020 (282)2019 (304)2018 (261)2017 (247)2016 (2)(se alle)


Shrike in hand - Warblers in bushes
søndag 4. juni 2023
This morning I headed to World's End to start observations at 04:30. The first hour was pretty quiet - nothing seemed to be happening out to sea and not much was migrating over land, other than a Spotted Flycatcher (Grå Fluesnapper) that flew over heading south. Then as some fairly thick fog rolled in from the southwest a Great Northern Diver (Islom) flew north west and a Hobby did some hunting too. I then decided to leave World's End and relocate to Kabeltromlen and join Michael, Lisa and Esben so that I could watch some of the ringing whilst the fog made visibility poor for observations. I timed it pretty well because the round they did just after I arrived produced a stunning male Red-backed Shrike (Rødrygget Tornskade), which I had the privilege of also being able to hold before it was released. I also had my first attempts at extracting some birds from the nets with the help of Lisa. I also ringed four birds for some more practice durig the slower rounds. Troels also joined us to take some more blood samples testing for West Nile Virus together with Simon.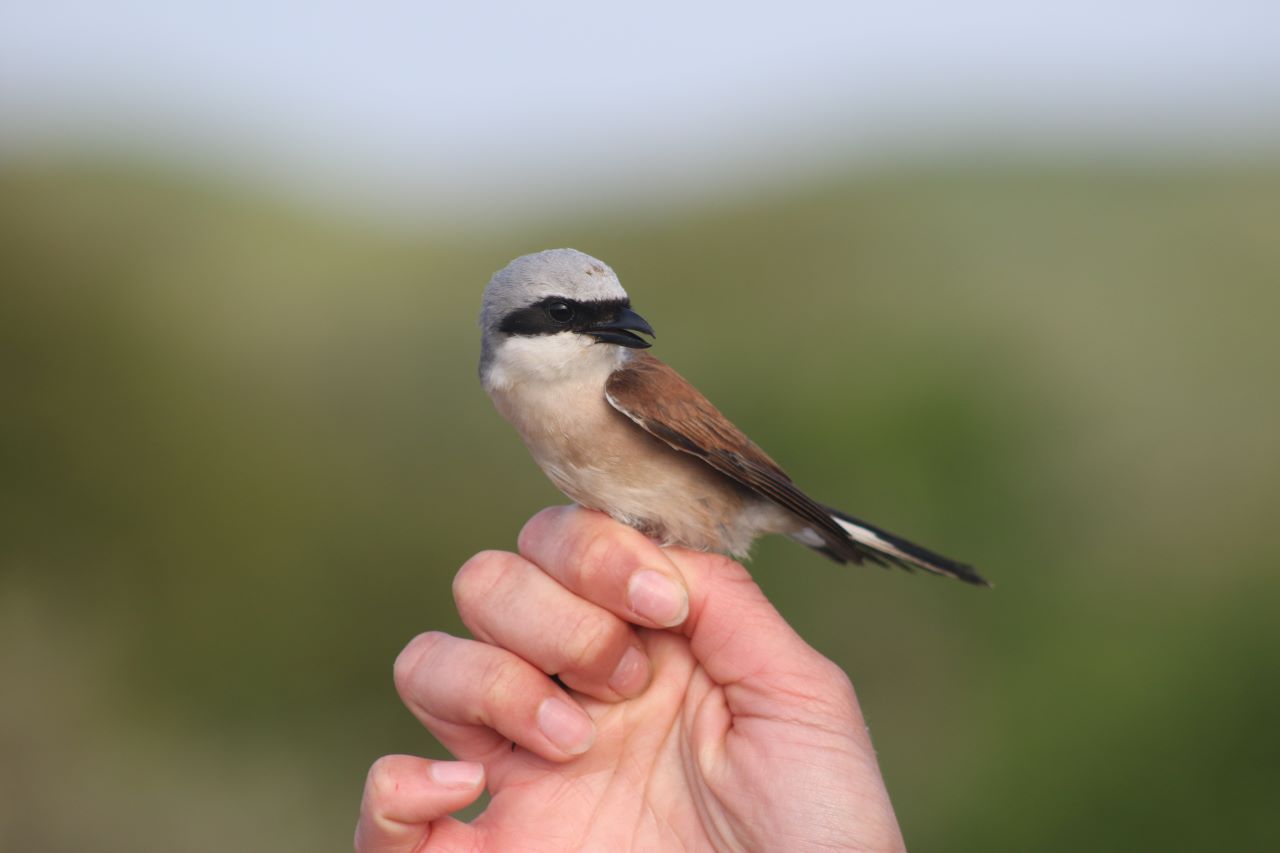 Rødrygget Tornskade (Red-backed Shrike) by Zach Pannifer
Once we had closed all the nets Simon and Lisa took me to listen to a singing Great Reed Warbler (Drosselrørsanger) by the Cormorant Lake. This was my first time checking out the lake and so I also saw my first ever Red-necked Grebes. On the way back to the observatory we took an opportunistic stop for the Blyth's Reed Warbler (Buskrørsanger) that had just been found by Troels. Whilst out Michael cleaned the observatory and then we both enjoyed a much needed nap mid-afternoon.
Highlights from the field:
Islom (Great Northern Diver) - 1
Hvepsevåge (Honey Buzzard) - 3
Lærkefalk (Hobby) - 1
Rødrygget Tornskade (Red-backed Shrike) - 2
Ringdrossel (Ring Ouzel) - 2
Nattergal (Thrush Nightingale) - 1
Drosselrørsanger (Great Reed Warbler) - 1
Buskrørsanger (Blyth's Reed Warbler) - 1
Full list of observations entered in Dofbasen by Observers in the area
Ringing (Kabeltromlen):
Rødrygget Tornskade (Red-backed Shrike) - 1
Grå Fluesnapper (Spotted Flycatcher) - 1
Kærsanger (Marsh Warbler) - 9
Gulbug (Icterine Warbler) - 5
Løvsanger (Willow Warbler) - 6
Lille Gråsisken (Lesser Redpoll) - 2
Gærdesanger (Lesser Whitethroat) - 2
Rødstjert (Redstart) - 1
Munk (Blackcap) - 10
Rørspurv (Reed Bunting) - 1
Bogfinke (Chaffinch) - 4
Tornsanger (Whitethroat) - 1
Havesanger (Garden Warbler) - 2
Total: 45
People: Esben Hansen, Lisa Vergin, Michael Colley, Simon S Christiansen, Troels Eske Ortvad, Zach Pannifer, our guests Jane & Jens Peter Brenøe.