Her på Skagen Fuglestations blog bringes korte nyheder i dagbogsformat om hændelser på fuglestationen.

Se indlæg fra år: 2023 (218)2022 (292)2021 (279)2020 (282)2019 (304)2018 (261)2017 (247)2016 (2)(se alle)


Amerikansk Sortand
onsdag 7. juni 2023
We woke this morning to a heavy blanket of fog which had rolled in off the sea overnight. Michael, Ying, and Lauren (later joined by Simon, Jakob, and Oluf) still headed to Kabeltromlen for ringing but had a very slow morning with only 11 birds, including 4 Kærsanger (Marsh Warblers). After 4.5 hours of few birds and many mosquitoes, the fog still hadn't cleared so they decided to close the nets and head back to the station to get on with other tasks.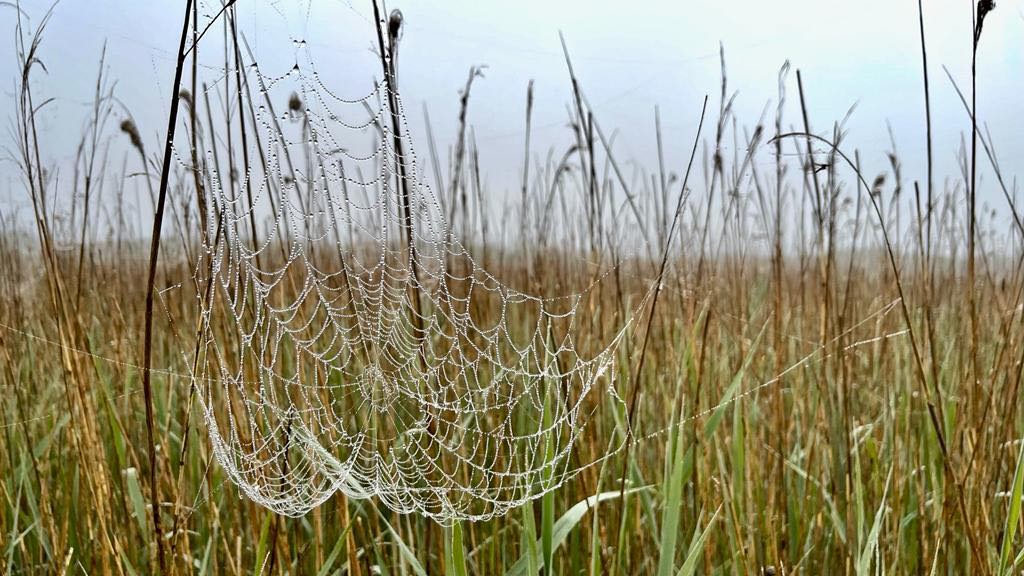 Few birds at the ringing site meant lots of time for artisitc photos of the many spider webs!
Zach attempted to undertake morning observations from Kabeltromlen however the sea fog meant he couldn't see more than a few metres in front of him! I headed out to join Troels at the Aarhus University radar station. On the way, I decided to have a quick scan of the 2000+ Sortand (Common Scoter) resting off the tip and was pleased to pick out a distant Amerikansk Sortand (Black Scoter) in the flock- likely the same bird that was seen c10km down the coast 9 days prior. Migration was rather slow, although there were still a few Hvepsevåge (Honey Buzzards) attempting, and most birds turned back when seeing the fog still lingering on the horizon. In the afternoon, Lauren and I headed out to Skarvsøen to see the Drosselrørsanger (Great Reed Warbler) found a few days ago and we were lucky enough to see it perched high in a bush singing.
A full list of today's observations can be found here.
Skagen Fuglestation: Jakob Bjarkholt, Michael Colley, Simon S Christiansen, Toh Ying Ying, Troels Eske Ortvad, Zach Pannifer, Lauren Evans, Dante Shepherd, Jane & Jens Peter Brenøe
Kabeltromlen Ringing Totals:
Kærsanger (Marsh Warbler)- 4
Munk (Blackcap)- 2
Tornsanger (Common Whitethroat)- 2
Gærdesanger (Lesser Whitethroat)- 1
Gærdesmutte (Wren)- 1
Bogfinke (Chaffinch)- 1
Total: 11