Her på Skagen Fuglestations blog bringes korte nyheder i dagbogsformat om hændelser på fuglestationen.

Se indlæg fra år: 2023 (218)2022 (292)2021 (279)2020 (282)2019 (304)2018 (261)2017 (247)2016 (2)(se alle)


Very windy but we got a lovely Goldcrest to brighten the morn!!
fredag 15. september 2023
This morning was wet and a bit windy, however, me and Hayley still left the station before sunrise to open the nets at Kabeltromlen for another morning of bird ringing. Although, we were not feeling very optimistic about the number of birds we would catch in the nets as it was a bit too windy, and the birds would likely be sheltering amongst the bushes. Throughout the first two to three rounds we caught three to four birds and two recaptures, which included a juvenile Blackbird (Solsort) that was ringed two days ago by Antonia. It was interesting to re-measure this Solsort to discover that it had lost 0.2 g over two days. As the morning went on the weather deteriorated sharply as the wind became stronger blowing all the important ringing data sheets everywhere – good thing some are laminated though!
The last round was the best out of the others as we caught a beautiful female juvenile Goldcrest (Fuglekonge). I have ringed this species before back home, but it was the first one I have ringed here in Skagen so it was a nice surprise when I pulled it out of the bag. The Goldcrest is a very small bird, and I just can't get over how such a small bird can withstand extremely bad weather and still manage to survive most of the time. It was interesting to look at the yellow head as this is how an individual can sex the bird: completely yellow = female; yellow with orange hues = male.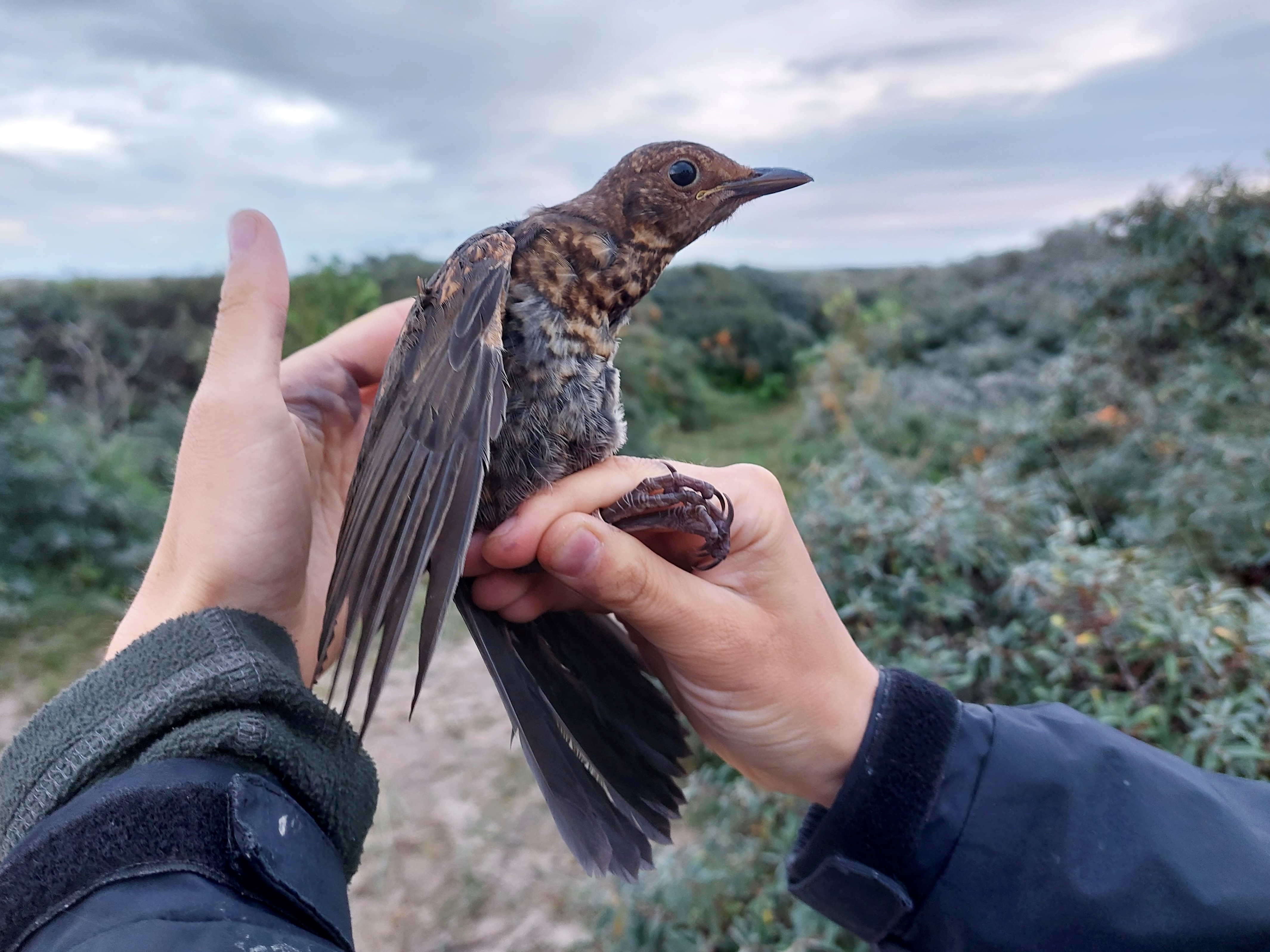 We decided to close the nets around 9am as the rain became very heavy and we weren't catching any more birds. When we returned to the station, we entered the ringing data from the morning.
Whilst we were out ringing this morning, Gustav and Simon were at World's End Three doing the migration count, however it was fairly slow, and the weather was bad so there wasn't great visibility. Although, some species counted included one Fulmar (Mallemuk), seventy-seven Common Scoter (Sortand) and four Eurasian teal (Krikand).
As the weather was bad, we did not do the Cormorant (Skarv) count today, but we will do it tomorrow and on Sunday. The guests also left this afternoon as they are going to visit some friends and therefore had to leave two days earlier, but it was nice to meet them. Michael left after the ringing today and we all enjoyed bird ringing with him. Later in the evening, Esben will join us at the station for the next two days to bird ring with us until Simon returns next week.
The rest of the day was quiet and everyone at the station did their own thing, and Simon K. went to the supermarket to buy ingredients for tonight's dinner.
My time here is going fast and I only have 15 days left!
Ringing (Kabeltromlekrattet):
Blackcap (Munk) - 2
Blackbird (Solsort) - 1
Chiffchaff (Gransanger) - 5
Rødstjert (Redstart) - 1
Rødhals (Robin) - 2
Musvit (Great Tit) - 1
Total = 12
People: Antonia Greil, Hayley Land, Rebecca Cheape, Gustav Nyberg, Simon Kiesé, Michael Fink, Helle and Niels.
A link to today's observations from volunteers and local observers.