Her på Skagen Fuglestations blog bringes korte nyheder i dagbogsformat om hændelser på fuglestationen.

Se indlæg fra år: 2023 (218)2022 (292)2021 (279)2020 (282)2019 (304)2018 (261)2017 (247)2016 (2)(se alle)


Bird Bird Bird
lørdag 16. september 2023
Bird is the word - like every day. With the difference that today was the first day on which "Bird Bird Bird" from the song "Surfin Bird" by The Trashmen also applied when ringing at Kabeltromlen.
Today was the first day with a few more birds. There is still potential for improvement, but we were all very pleased with the number of birds we were able to ring today. Already in the first round things started well and together with Esben we were able to ring especially many Blackcaps (Munk) and Robins (Rødhals). While Grey Wagtail, Peregrine Falcon and some Common Crossbills flew over us, there were rather the expected species in the net and no surprises. No surprises? Nope. Because then there was still a Tree Pipit (Skovpiber). That was really fun in the sunshine.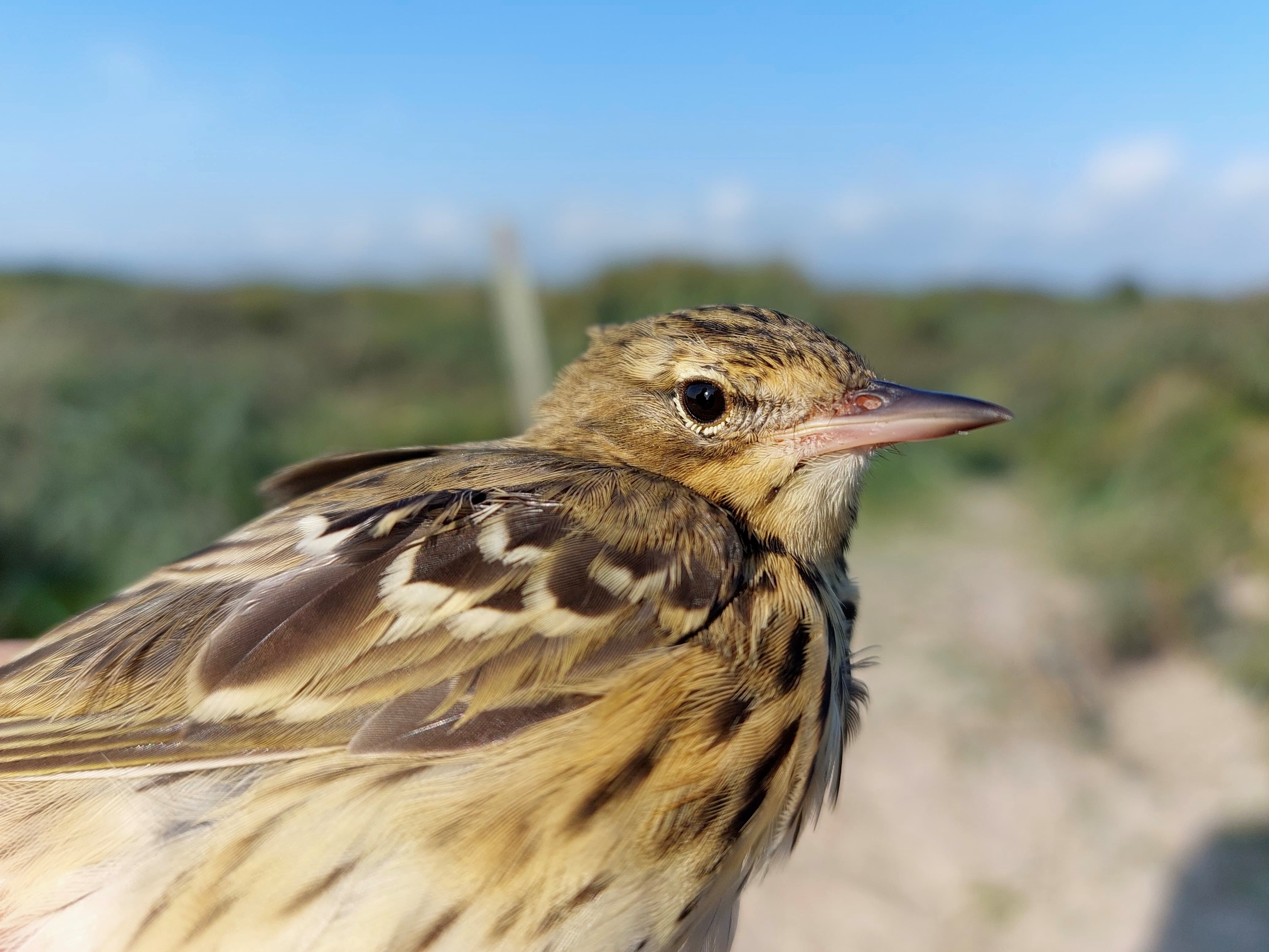 In the meantime Gustav did a guided tour for two families and came with them to see the ringing. The children seemed very interested and already knew a lot about the species. They were also kind enough to bring us an apple pie. Eating this in the sunshine while ringing was a total treat! We were also given a crocheted blackbird, which looks amazingly realistic. Thanks for that! Afterwards, Gustav took the two families to the beach to visit Knud and Rebecca.
This is the perfect segue to the migration count, isn't it? The count today was good and some birds like Goldeneye and Razorbill were seen. But perhaps the highlight was a Caspian Gull (Kaspisk Måge) resting among the many Herring Gulls and Great Black-backed Gulls. Rebecca also told us again how much she could learn from Knud. It's really good to have an experienced local from whom you can learn a lot.

At noon we left for a walk. Unfortunately we couldn't find any Adder, but still the walk in the summer sunshine was very nice! After hearing a Crestet Tit (Topmejse), we were able to see one shortly afterwards. This was Hayley's first observation of this kind. Really cool, congratulations on that. Even though the rare raptors are still missing, we could still see four Common Buzzards (Musvåge) circling up in the thermals. Afterwards Gustav left for the penultimate comrorant count to the harbour.
Ringing (Kabeltromlekrattet):
Tree Pipit (Skovpiber) - 1
Wren (Gærdesmutte) - 1
Dunnock (Jernspurv) - 1
Robin (Rødhals) - 3
Common Whitethroat (Tornsanger) - 1
Blackcap (Munk) - 20
Chiffchaff (Gransanger) - 4
Willow Warbler (Løvsanger) 1
Goldcrest (Fuglekonge) - 1
Blue Tit (Blåmejse) - 1
Reed Bunting (Rørspurv) - 1
Total: 35
People: Antonia Greil, Hayley Land, Rebecca Cheape, Gustav Nyberg, Simon Kiesé, Knud Pedersen, Esben Hansen.
A link to today's observations from volunteers and local observers.