Her på Skagen Fuglestations blog bringes korte nyheder i dagbogsformat om hændelser på fuglestationen.

Se indlæg fra år: 2023 (286)2022 (292)2021 (279)2020 (282)2019 (304)2018 (261)2017 (247)2016 (2)(se alle)


A great migration day
torsdag 21. september 2023
Last night, Gustav and Simon Jr. headed out again after dark to the beach with a hand net and developed their own new technique for wader catching – using two flashlights instead of just one to dazzle the birds. It quickly proved to be a very good technique and they soon caught another Dunlin (Almindelig Ryle). That's now two in two nights! The bird had some covert feathers with buff tips showing that this was another first year bird.
After the night's excitement it was a quieter morning for Antonia, Rebecca and I. It was windy when we arrived at Kabeltromlen, so Antonia and I only opened the more sheltered nets, about half of the total length of nets at the site. Simon Sr. and Rebecca joined us for the first round. It was a steady ringing morning with 18 new birds caught. There was nothing unusual ringed, but highlights included a young Reed Bunting (Rørspurv), two young male Goldcrests (Fuglekonge), and a young male Siskin (Grønsisken).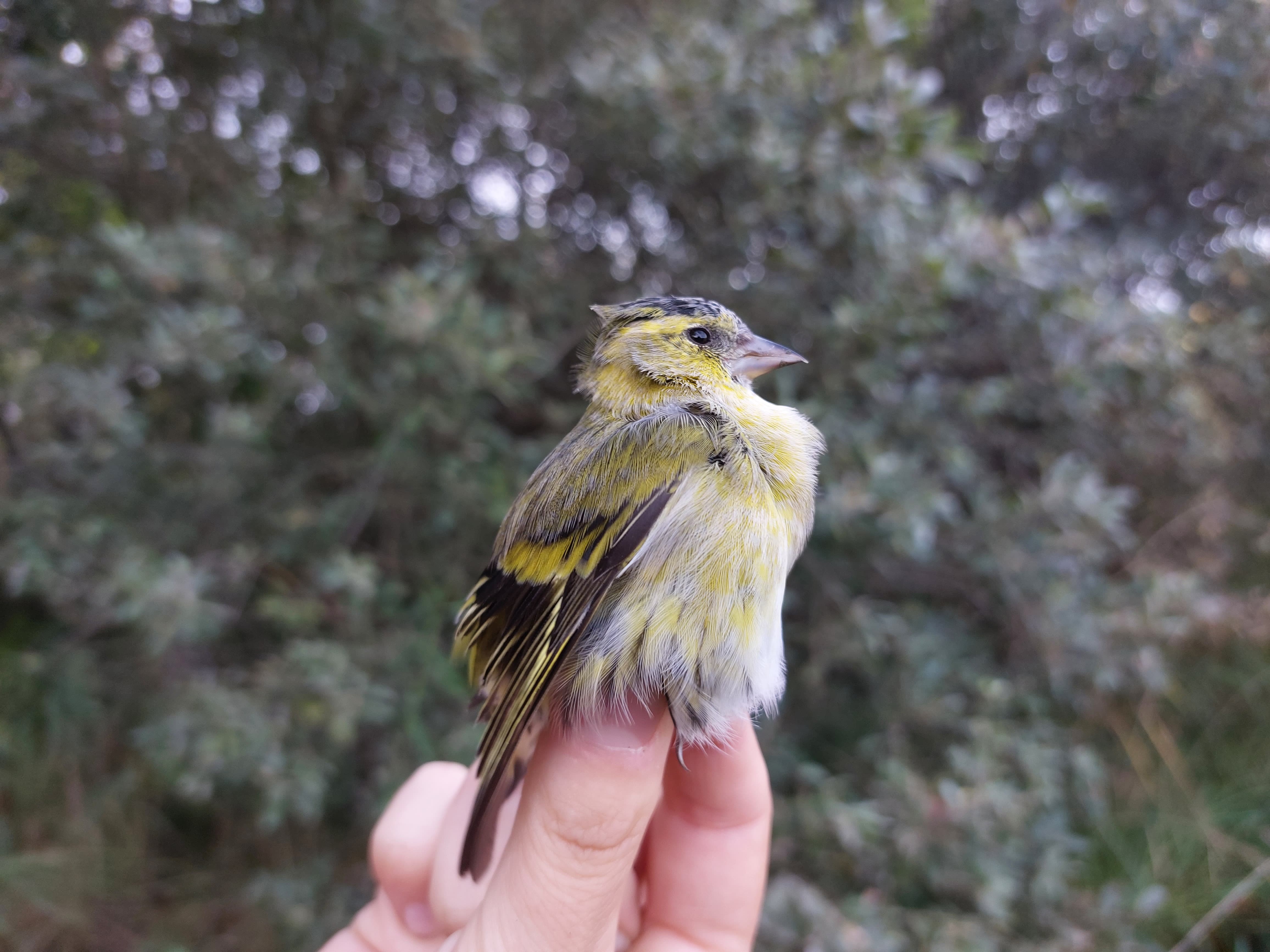 Meanwhile, Gustav and Simon Jr. were out doing the migration count and had a very exciting morning. It was so windy that they took shelter behind the next dune along from the usual spot at World's End 3. It was a very good day for seabirds with Gannets (Sule), Kittiwakes (Ride) and around 50 Razorbill (Alk) all seen migrating. Three Arctic Skuas (Almindelig Kjove), a Great Skua (Stor Kjove) and a Great Northern Diver (Islom) were also spotted. The most exciting sight of the day however was a Cory's Shearwater (Kuhls Skråpe), a rare sighting at Skagen. It is the first record for this year and in 2022 there were only two recorded all year. In the picture below you can see Simon Jr.'s field notes of the sighting.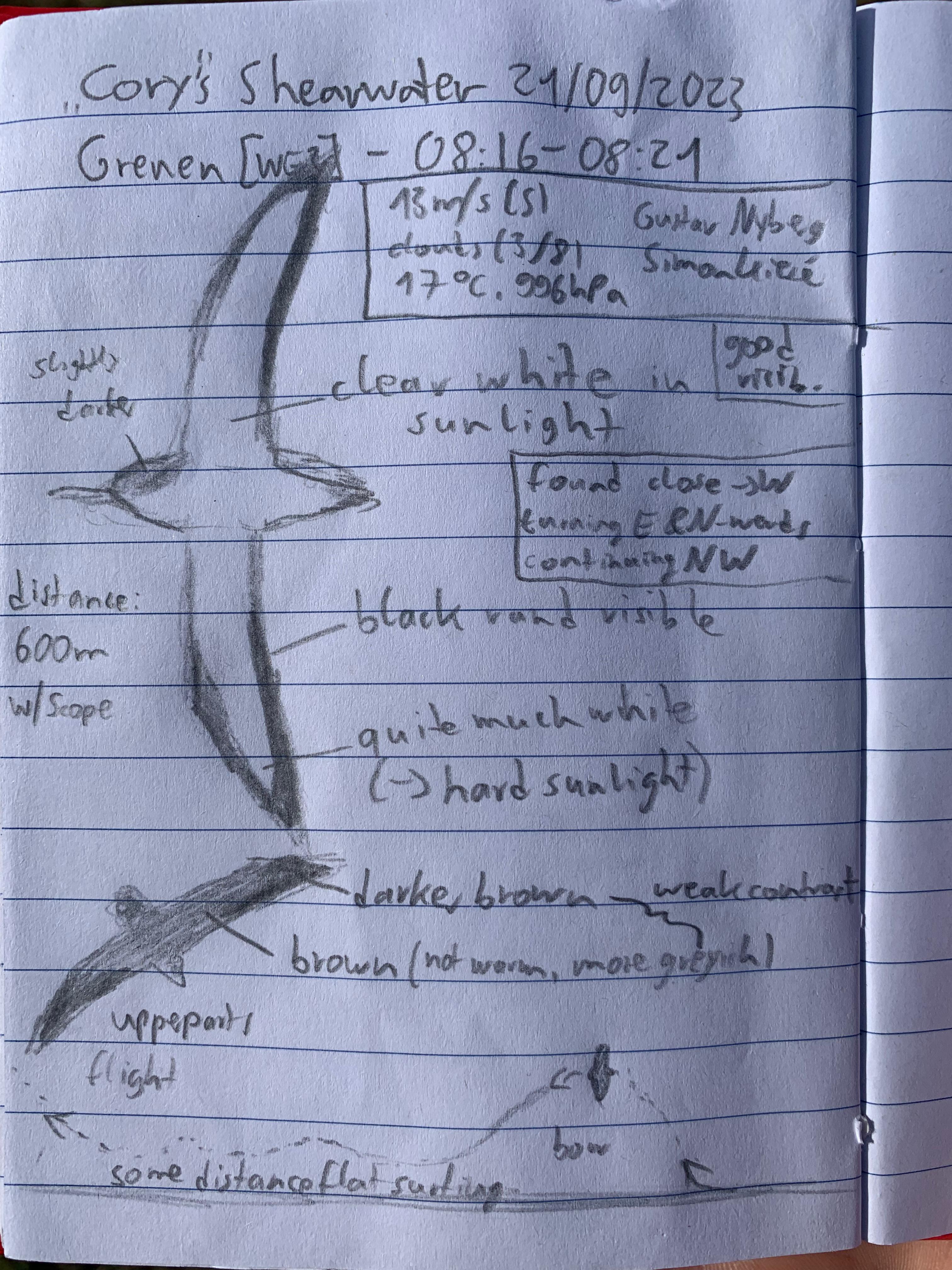 As this species is rarely seen at Skagen, everyone was really happy with the sighting!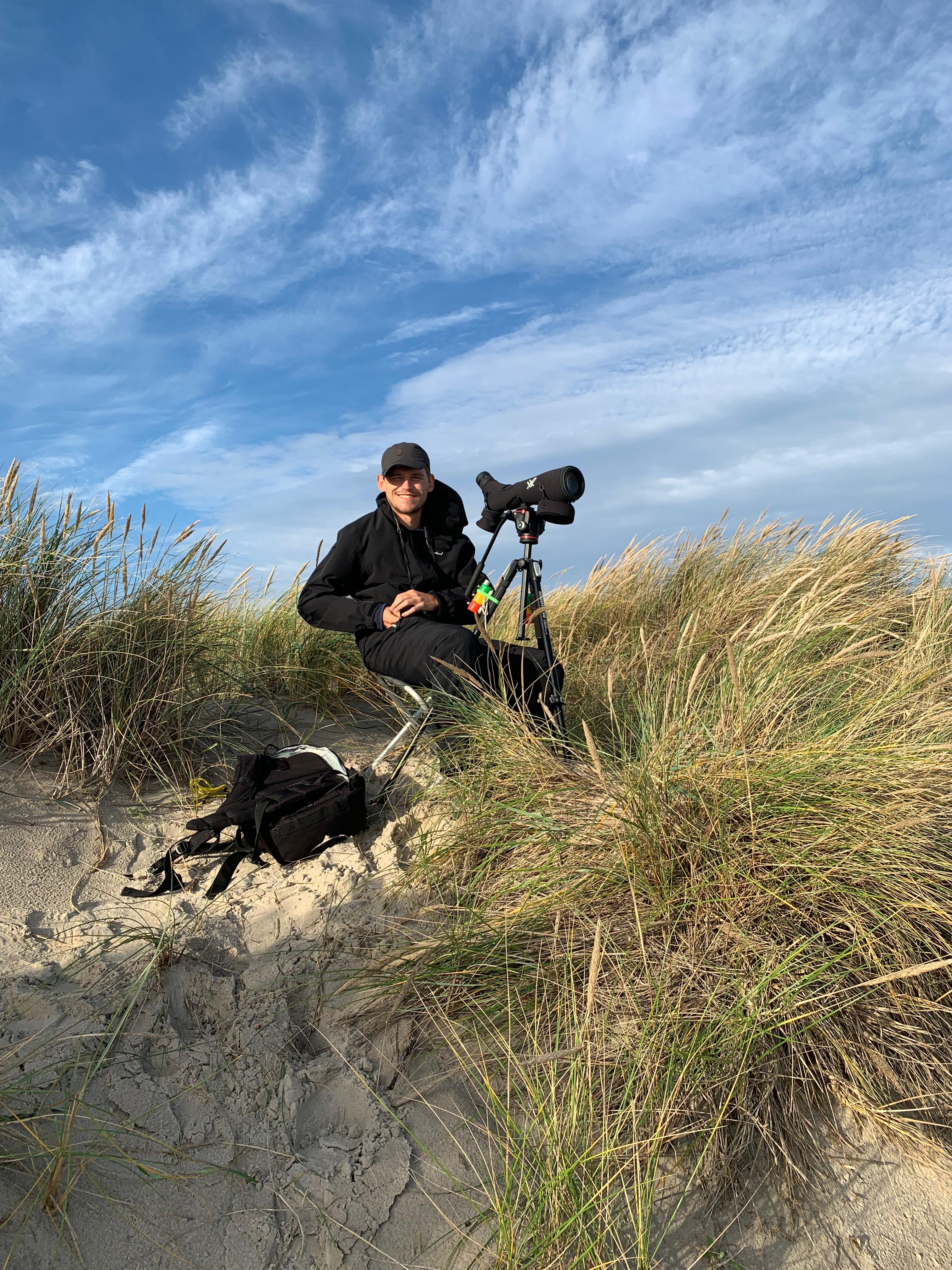 Just after we all returned to the Fuglestation we heard over Zello that an American Black Scoter (Amerikansk Sortand) had been seen at Grenen. So of course we all headed back out again! Annoyingly the chain keeps coming off on Antonia's bike, so she got a lift with Simon Jr. so not to miss the bird.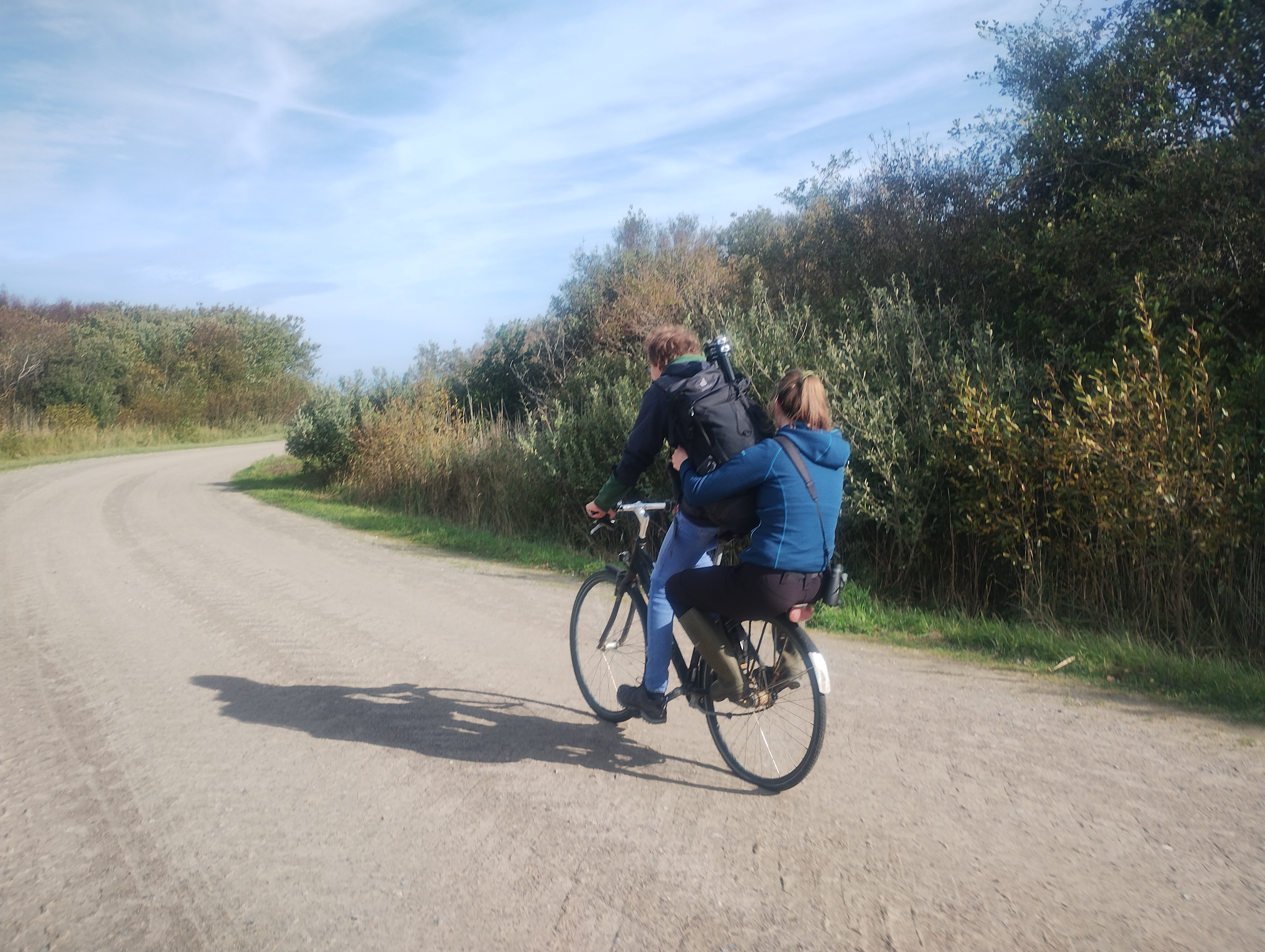 Unfortunately, we didn't see the American Black Scoter (Amerikansk Sortand). The sea was really wavy, so the conditions were against us for spotting it. Still, it was a really nice day to be out and we enjoyed watching some waders, including Bar-tailed Godwit (Lille Kobbersneppe), Little Stint (Dværgryle) and Ruff (Brushane) in the ponds close by.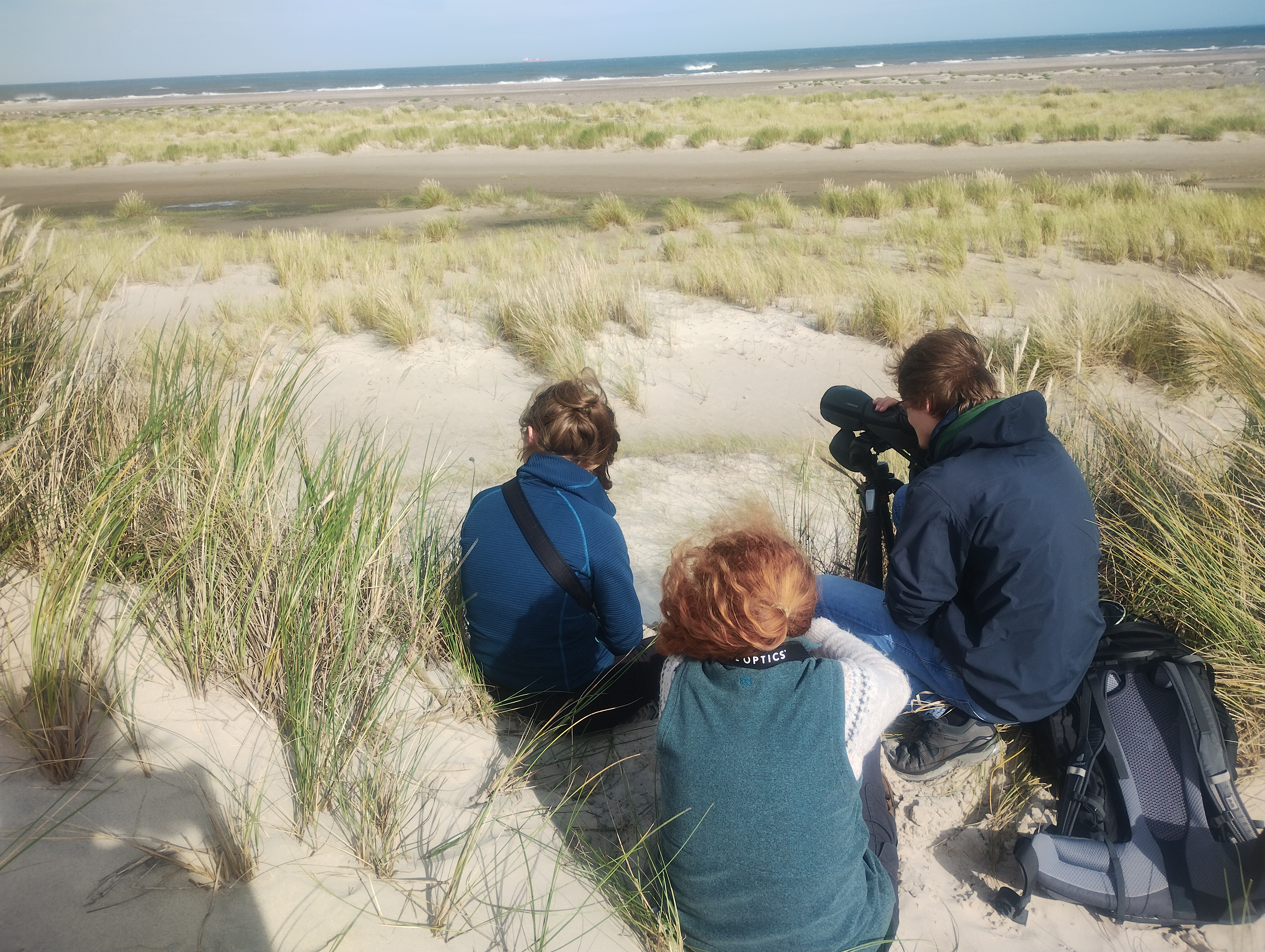 In the afternoon data was entered and we enjoyed more cake from our friends at the lighthouse. Gustav, Simon Jr. and I went for another birding walk in the hope of finding rare raptors. Sadly we had no luck but we did see several Kestrels (Tårnfalk) and lots of Jays (Skovskade). Rebecca also headed out for a walk and, later on, Gustav made preparations for his guided tour tomorrow and Simon Jr. and I went to Jennes Sø to help Michael set up some nets.
Ringing (Kabeltromlekrattet)
Robin (Rødhals) – 6
Lesser Whitethroat (Gærdesanger) – 1
Wren (Gærdesmutte) – 1
Chiffchaff (Gransanger) – 2
Blackcap (Munk) – 4
Goldcrest (Fuglekonge) – 2
Siskin (Grønsisken) – 1
Reed Bunting (Rørspurv) – 1
Total: 18
People: Antonia Greil, Hayley Land, Rebecca Cheape, Gustav Nyberg, Simon Kiesé, Simon S. Christiansen, Lisa Vergin, Michael Anchor, Jette and Anders.
A link to today's observations from volunteers and local observers.