Her på Skagen Fuglestations blog bringes korte nyheder i dagbogsformat om hændelser på fuglestationen.

Se indlæg fra år: 2023 (286)2022 (292)2021 (279)2020 (282)2019 (304)2018 (261)2017 (247)2016 (2)(se alle)


Searching for the Hume's Leaf Warbler
søndag 24. september 2023
This morning me and Antonia got up before sunrise to open the nets for another day of ringing, even though over one hundred birds were ringed yesterday we wanted to see how many we could catch today. It felt like an autumn morning as there was a chill in the air. We both agreed that it was too windy to open some of the nets amongst the reeds and therefore just opened the ones in the sheltered areas. Oluf joined us for ringing again which was nice, however we didn't catch as many birds this morning, so we could spend a little bit more time looking at different moult limits on the birds with him. The highlight species for both me and Antonia today was a lovely bright pink Bullfinch (Lille Dompap), this was Antonia's first time ringing a Bullfinch, so it was a great experience for her.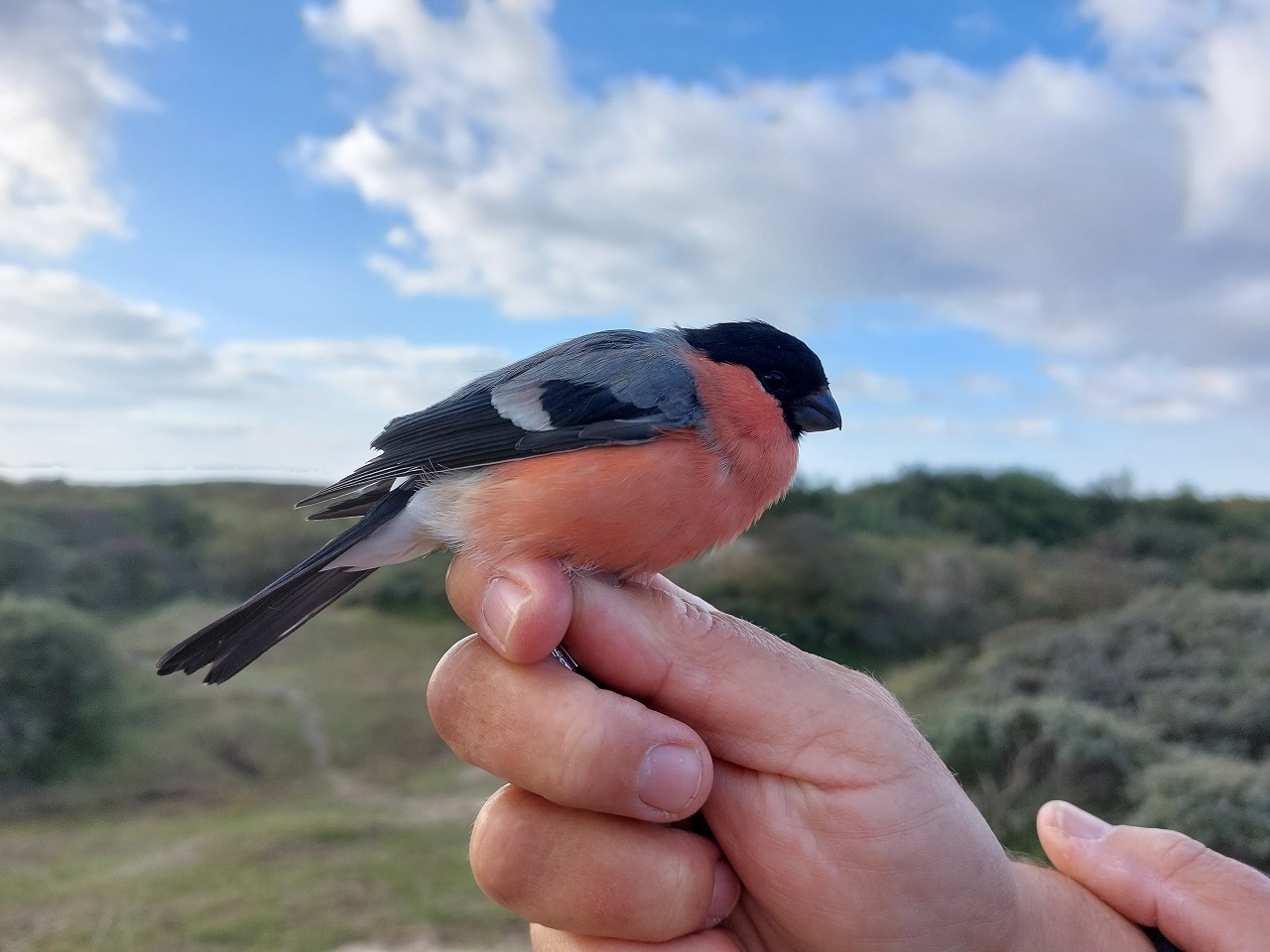 Throughout the morning there were many birders passing through Kabeltromlen on a quest to find the very elusive and rarely seen Hume's Leaf Warbler (Himalayasanger). This Warbler was found yesterday by Rolf Christensen at World's End 1 and is only the third record of this species in Skagen. Additionally, you would not expect this species before end of October usually. It is the earliest autumn record for Denmark! The earliest until now was a record from the 30th September 2010 at Christiansø. Hopefully it will just fly straight into one of the nets someday soon whilst out foraging. That would be a nice surprise. Yesterday the warbler was called out as a Greenish Warbler (Lundsanger) first, since the calls can sound alike and the bird was only seen in short moments, but after checking the soundrecording and the few pictures everybody agreed, that it's really an early Hume's Leaf Warbler. The image below shows a spectrogram of the calls of this Hume's Leaf (middle), compared to another Hume's (left) and a Greenish Warbler (right).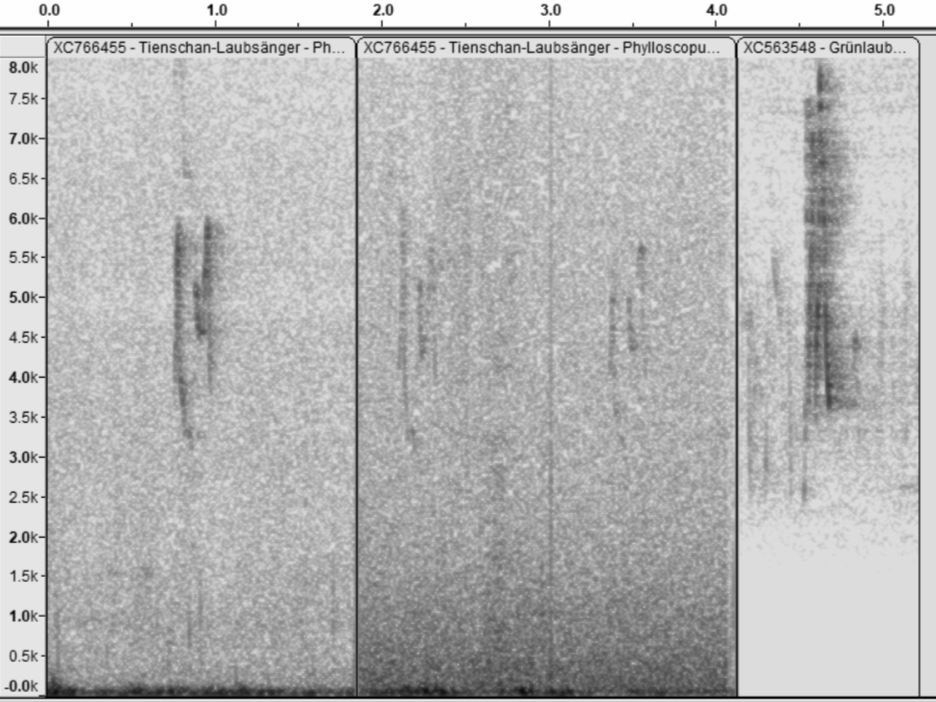 Spectogram: Hume's Leaf Warbler, our Hume's Leaf Warbler, Greenish Warbler
You can hear a recording from today of the Hume's Leaf, recorded by Alex Sand Frich on this link to Dofbasen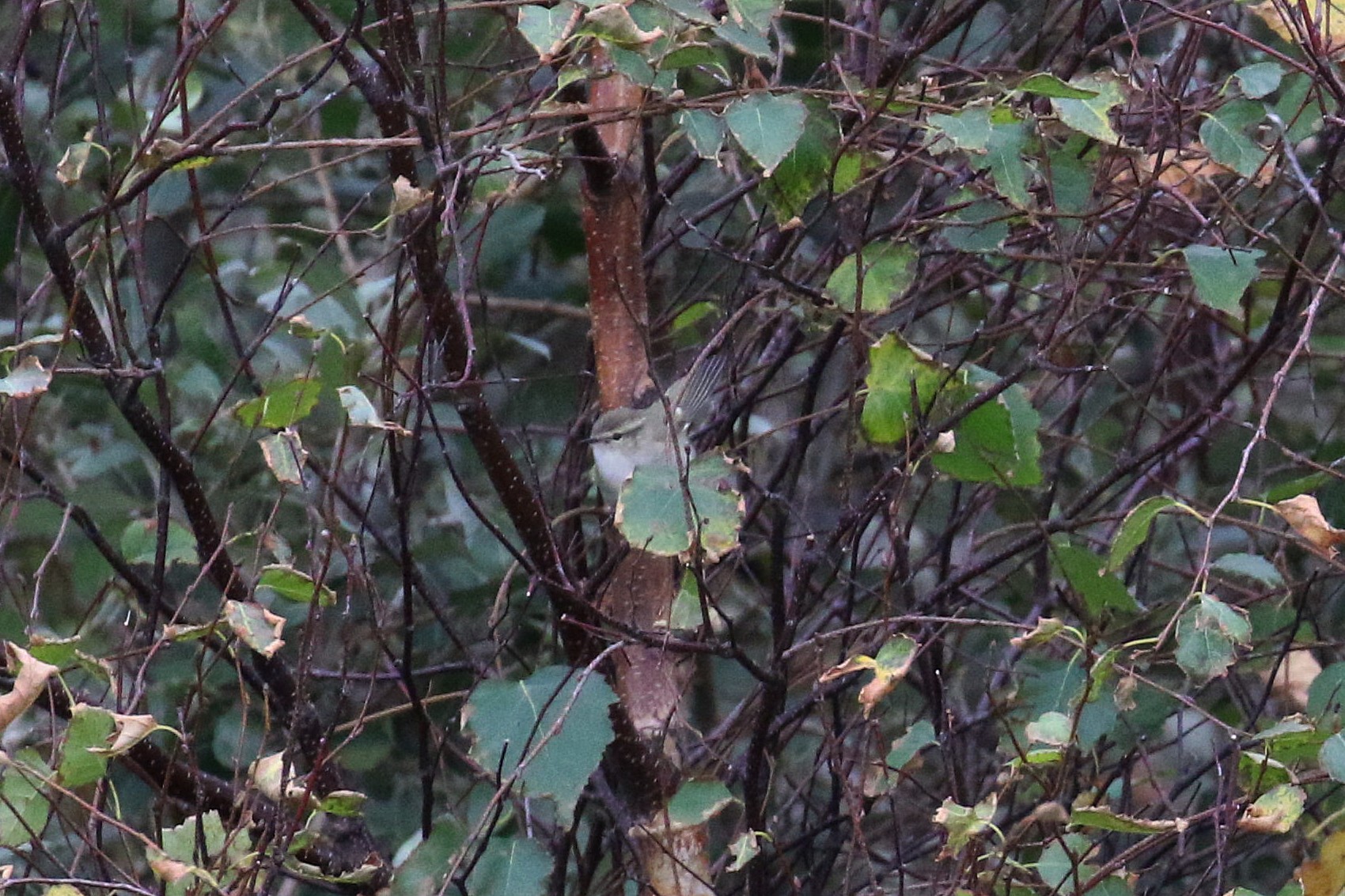 Hume's Leaf Warbler 23/9 by Alex Sand Frich
Whilst we were out ringing, Hayley and Simon Jr. were at World's End 3 with Knud and they counted some very nice species in great numbers which included over 600 Gannets (Sule), 2 Great Skuas (Stor Kjove), 91 Pink-footed goose (Kortnæbbet Gås), 1 Merlin (Dværgfalk) and one amazing new bird species seen for Simon Jr. a Leach's Storm Petrel (Stor Stormsvale) which migrated into northwesterly direction. The past few days have been great for rare birds. I wonder what birds will appear in the next week before I leave the station. While we where out at Grenen Michael Ancher ringed at Jennes Sø. Highlights from here was Crested Tits (Topmejser) and a Long-tailed Tit (Halemejse).
The rest of the day involved data entering (and checking), cleaning and welcoming the new guest. Simon Jr. cooked another delicious dinner, but did so much at the same time that the fuse suddenly blew. After a spark flew at the first attempt to switch the fuse back on, it worked at the second attempt.
Ringing (Kabeltromlekrattet):
Munk (Blackcap) - 6
Fuglekonge (Goldcrest) - 4
Gransanger (Chiffchaff) - 2
Gæerdesmutte (Wren) - 2
Rødhlas (Robin) - 5
Jernspurv (Dunnock) - 3
Lille Dompap (Bullfinch) - 1
Lille Gråsisken (Lesser Redpoll) - 3
Dobbeltbekkasin (Common Snipe) - 1
Blåmejse (Blue Tit) - 7
Total: 34
Ringing (Jennes Sø):
Rødstjert (Redstart) - 1
Munk (Blackcap) - 2
Gransanger (Chiffchaff) - 3
Sydlig Halemejse (Long-tailed Tit) - 1
Topmejse (Crested Tit) - 2
Blåmejse (Blue Tit) - 3
Lille Gråsisken (Lesser Redpoll) - 39
Lille Dompap (Bullfinch) - 1
Total: 52
People: Antonia Greil, Hayley Land, Rebecca Cheape, Gustav Nyberg, Simon Kiesé, Oluf Lou, Knud Petersen, Michael Ancher, Simon S. Christiansen.
A link to today's observations from volunteers and local observers.