Her på Skagen Fuglestations blog bringes korte nyheder i dagbogsformat om hændelser på fuglestationen.

Se indlæg fra år: 2023 (286)2022 (292)2021 (279)2020 (282)2019 (304)2018 (261)2017 (247)2016 (2)(se alle)


The Return of the Blackbird
onsdag 27. september 2023
Hans and Dorothea joined Knud for the migration count at World's End 3 this morning. Although the migration was quiet, they enjoyed watching a Fulmar (Mallemuk) flying close over the land. Other highlights included both Arctic Skua (Almindelig Kjove) and Great Skua (Stor Kjove), and five Caspian Gulls (Kaspisk Måge). Knud also had time to read the rings of 25 gulls!
Meanwhile, Rebecca and I opened the nets at Kabeltromlen and saw another amazing sunrise. However, just as we were opening the long line of nets in the reedbed we were surprised to hear several loud rumbles of thunder and some flashes of lightening. That hadn't been on the weather forecast! Thankfully the storm was to the south of us and blew out to sea, so it didn't affect our ringing plans.
Simon Sr., Oluf, Antonia, Lina and Joel all joined for the first round. It was much quieter than yesterday, but we had several nice birds including a young male Redstart (Rødstjert) and a Reed Bunting (Rørspurv). We also had time for Lina and Joel to do some extracting and release some birds. There were a few short showers of rain but luckily they didn't last too long and we were able to continue without shutting the nets.
As with yesterday, the most caught species was Blue Tit (Blåmejse) with 12 new birds ringed. As we had more time today, we were able to look closely at the plumage colour and Simon Sr. explained the difference between male and female. Males are more brightly coloured blue and females a duller blue on the wing.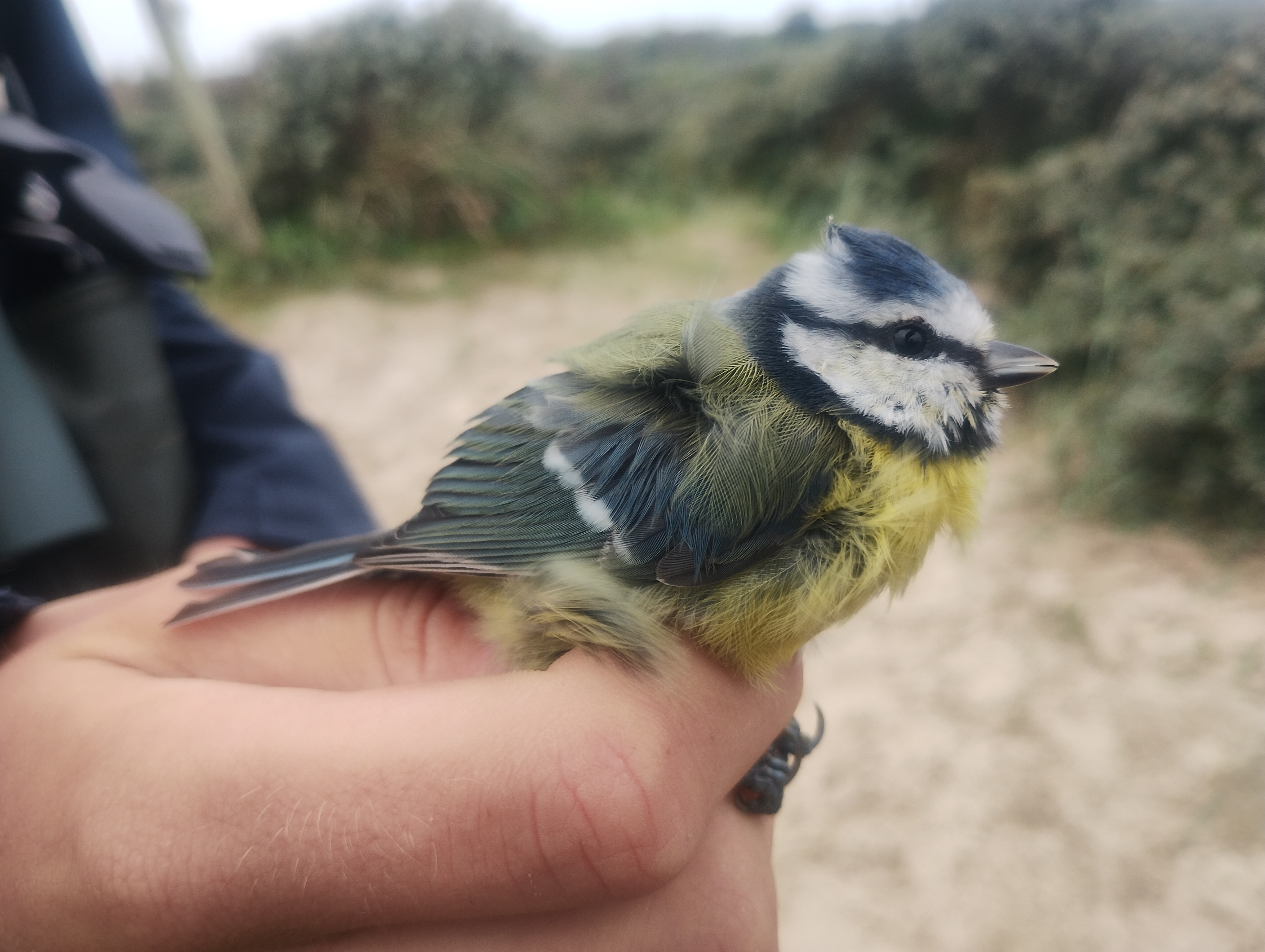 The first Song Thrush (Sangdrossel) of this autumn season was also ringed today and a young Blackbird (Solsort) was caught for the fourth time in two weeks. Interestingly, when looking back at the ringing data we saw that this individual has gained eight grams since we first caught her. Correspondingly, her fat score has also increased from one to four. It was very interesting to see this change and we were all really enjoyed seeing her again!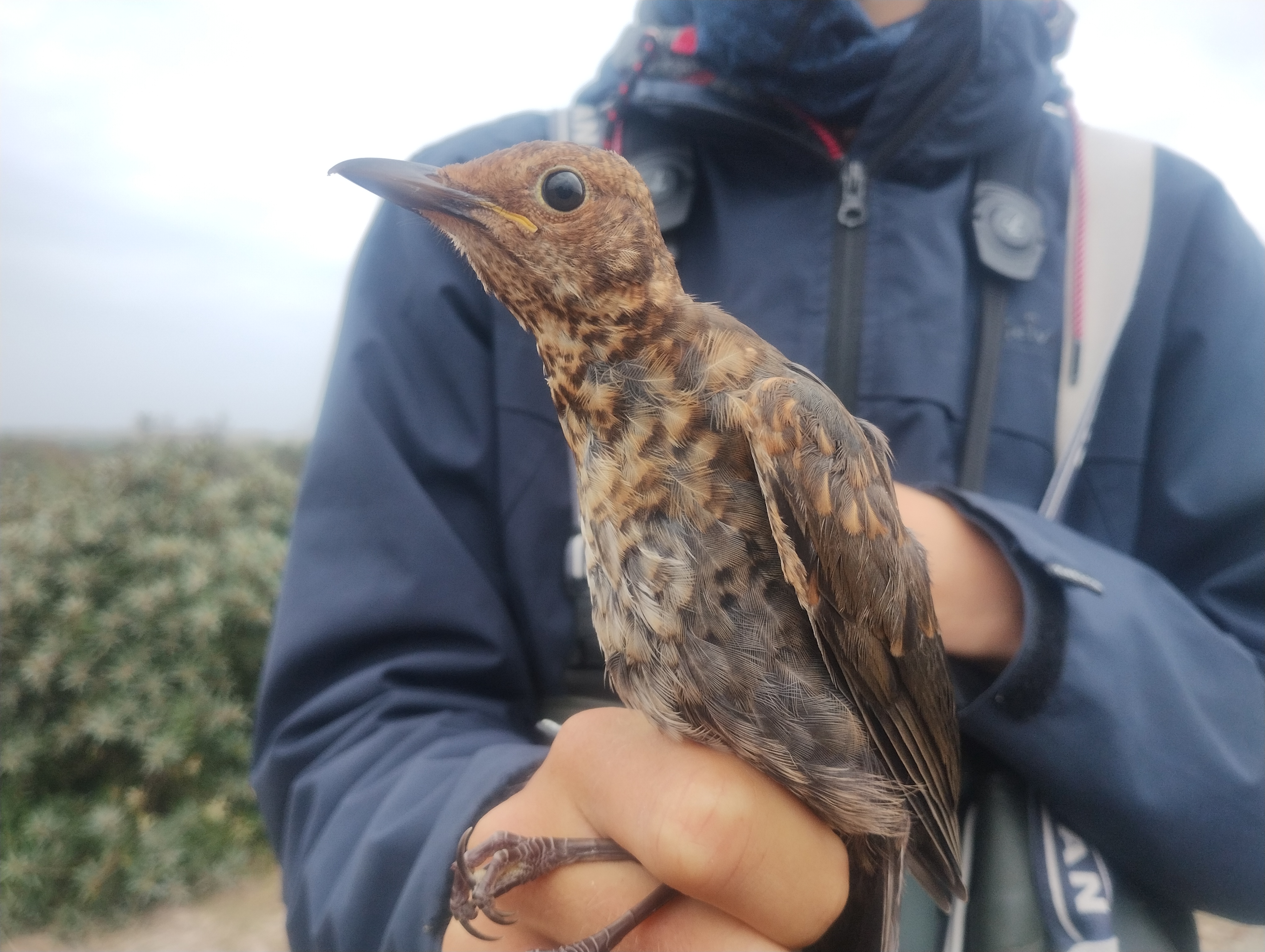 Simon Jr. was also at Kabeltromlen this morning completing a migration count of passerines whilst we were ringing. He counted around 100 Common Crossbill (Lille Korsnæb) flying very high overhead, flocks of Redpoll (Gråsisken) and Siskin (Grønsisken), plus several Greenfinches (Grønirisk) and three Goldfinches (Stillits). A Marsh Harrier (Rørhøg) and a Mute Swan (Knopsvane) were also seen. Simon also helped with extracting birds during the busiest rounds.
Later on, data was inputted and some grocery shopping done. Lina, Dorethea and Joel enjoyed a walk to Skarvsøen and Hans counted 70 Cormorants (Skarv) when he also walked past there. Back at the Fuglestation the picture archive was updated, another social media post made, and some cleaning done in the kitchen. The two nets in the lighthouse garden were opened for a couple of hours but unfortunately we didn't catch anything. A very long Adder (Hugorm) was found though! Simon Sr. led a tour for a school group and later checked sheets with Antonia. We also visited Mette and Magnus in the lighthouse exhibition and discovered the great selection of posters they have there! Bird boxes were fixed and an owl net was set up in the evening with sound playing from a Tengmalm's Owl (Perleugle). Hopefully we'll catch one tonight!
Ringing (Kabeltromlekrattet)
Robin (Rødhals) – 1
Wren (Gærdesmutte) – 3
Chiffchaff (Gransanger) – 4
Blackcap (Munk) – 8
Reed Bunting (Rørspurv) – 1
Blue Tit (Blåmejse) – 12
Song Thrush (Sangdrossel) – 1
Redstart (Rødstjert) – 1
Great Tit (Musvit) – 1
Total: 32
People: Antonia Greil, Hayley Land, Rebecca Cheape, Simon Kiesé, Simon S. Christiansen, Hans Christophersen, Oluf Lou, Knud Pedersen, Lina Kotschi, Dorothea Engert, Joel Münch.
A link to today's observations from volunteers and local observers.