Her på Skagen Fuglestations blog bringes korte nyheder i dagbogsformat om hændelser på fuglestationen.

Se indlæg fra år: 2023 (286)2022 (292)2021 (279)2020 (282)2019 (304)2018 (261)2017 (247)2016 (2)(se alle)


Euro Birdwatch Day and the first Snow Bunting!
lørdag 30. september 2023
Firstly, this is my second last day here at Skagen Bird Observatory as I leave on Monday. My six weeks here have gone by so quickly! I have enjoyed my time here very much and have learnt so many new skills and have gained more confidence in my ringing and bird identification abilities. I have met some nice people and have enjoyed all the fun birding moments together. I don't think there was one day without smiles and happiness with the people at the station so that was great. I would really like to return to Skagen again in the future.
Anyway, back to today… so my day started with walking to World's End Three with Gustav and Simon to do the migration count. It was a bit windy, however, it was a northerly wind so we weren't too exposed and could still enjoy the count. Knud and Hans also joined the count so there were many pairs of eyes scanning the sea for rare species, unfortunately there was no Sooty Shearwater (Sodfarvet Sråpe), but there was a lovely Snow Bunting (Snespurv) directly in front of us which was super nice to see, it was walking around some pebbles for about 10 minutes so we could really appreciate it, this was also my first sighting of this species!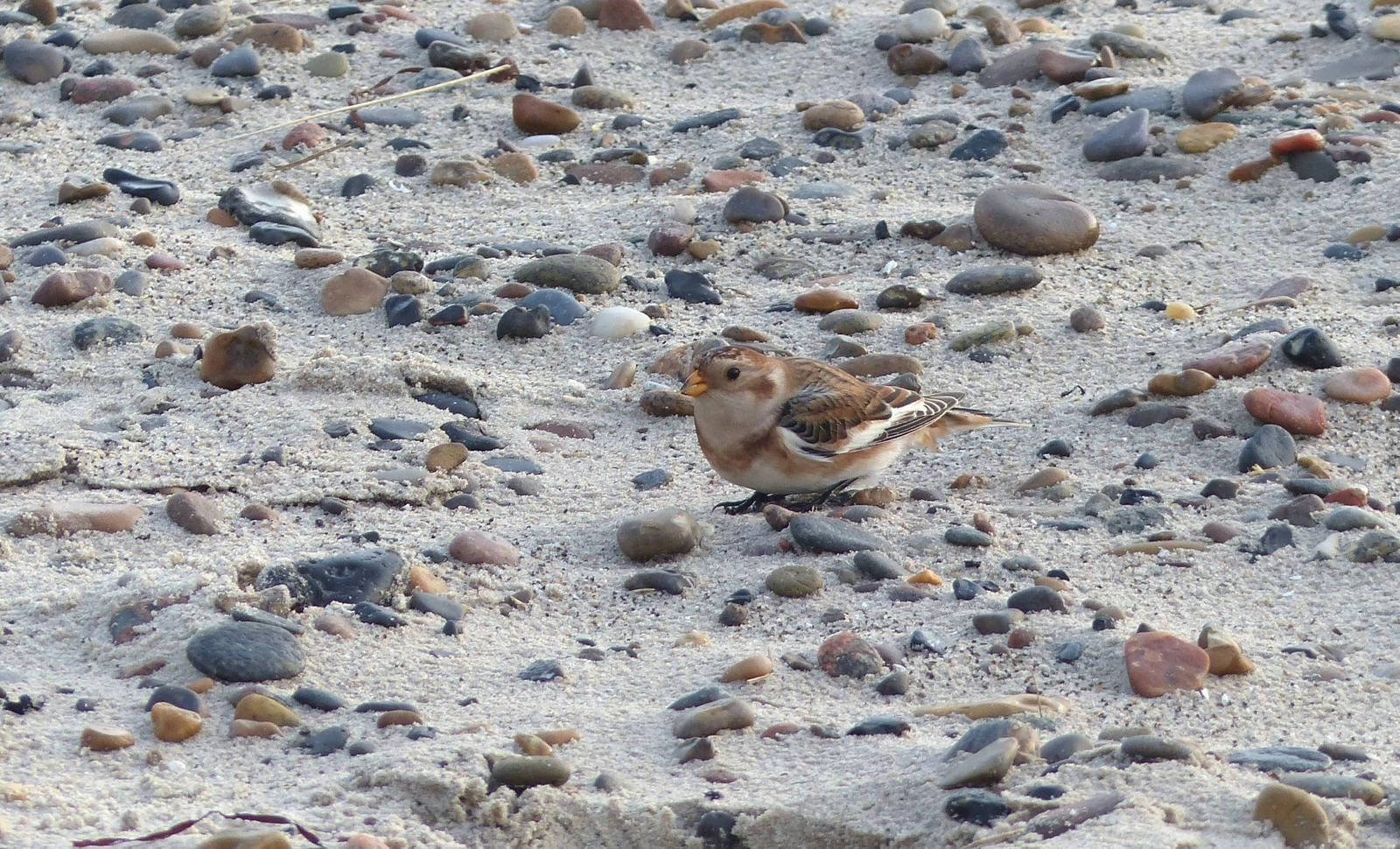 Photo: Hans Christophersen
Other species counted today included 8 Caspian Gulls (Kaspisk måge)which should be a new day record of this species at Grenen! Gustav left the count a bit earlier than the rest of us as he joined a guided tour involving guests arriving to celebrate the The European Birdwatch Day with us.
Update: The Putative Eastern Yellow Wagtail is still in the area and many birders from Copenhagen and other areas visted today and were not disappointed!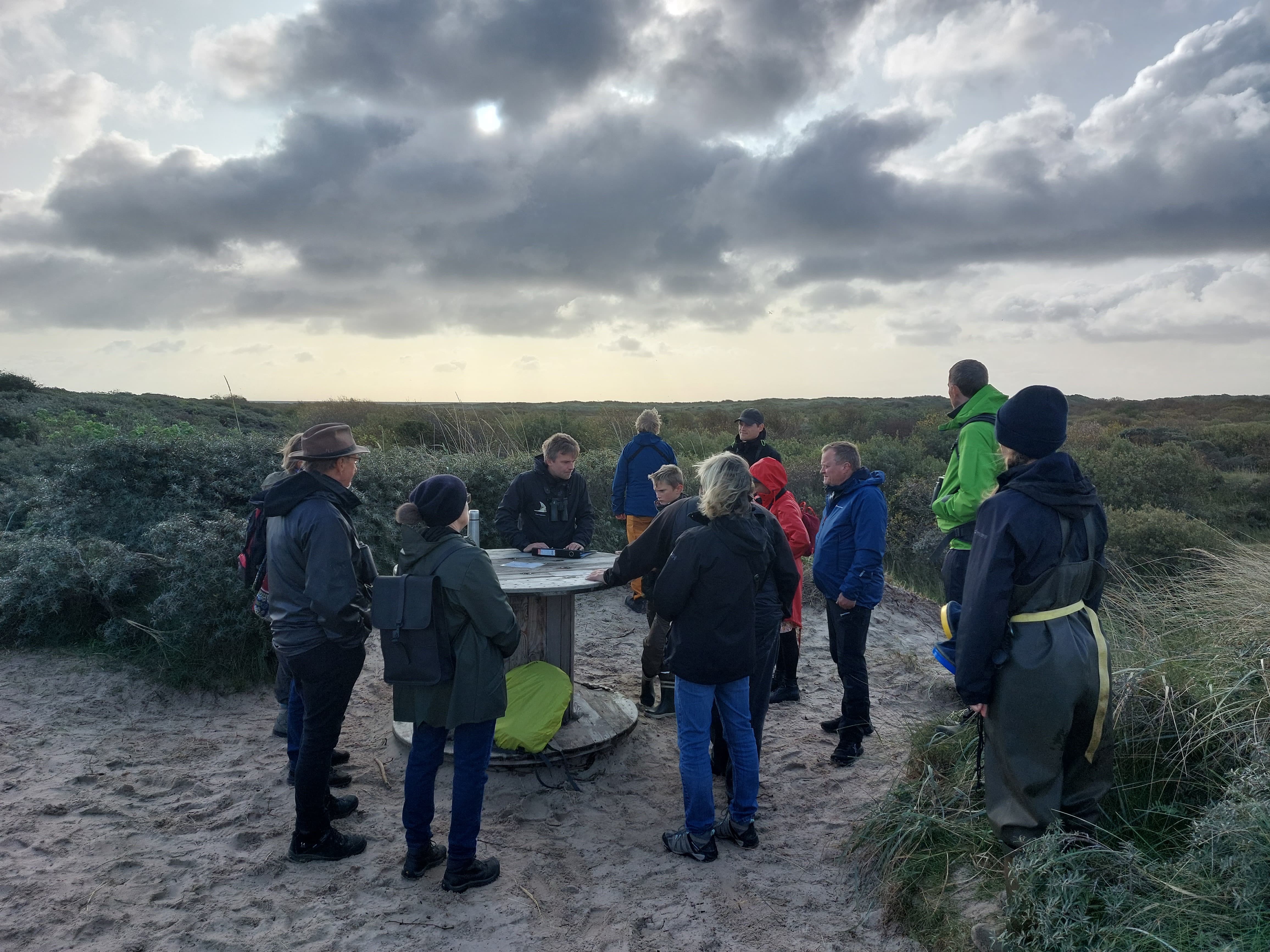 Meanwhile, Hayley and Antonia were out ringing at Kabeltromlekrattet, although not for long as it was stormy and only managed to catch two birds. However, they demonstrated the different aspects of bird ringing for some of the people from the European Bird Watch group. The nets were quickly closed after the demonstration, and they returned to the station to start cleaning up the apartment. Once we returned from the migration count, we also helped to clean up, and made sure all the cobwebs were dusted away as we always forget about them! It is so clean in here now, but let's see how long it lasts or until one of us starts making bread…
The rest of the day involved going out to World's End Three to see if we could find the Snow bunting (Snespurv) again and WE DID! This was also the first time both Hayley and Antonia have encountered this species and were super happy they got to see it. The guests are cooking us dinner this evening which is very kind. Hopefully it won't be so windy tomorrow morning for bird ringing.
Ringing (Kabeltromlekrattet)
Blackcap (Munk): 1
Goldcrest (Fuglekonge): 1
Total: 2
People: Antonia Greil, Hayley Land, Rebecca Cheape, Simon Kiesé, Gustav Nyberg, Simon S. Christiansen, Hans and Birthe Christophersen, Knud Pedersen
A link to today's observations from volunteers and local observers.