Her på Skagen Fuglestations blog bringes korte nyheder i dagbogsformat om hændelser på fuglestationen.

Se indlæg fra år: 2021 (202)2020 (282)2019 (304)2018 (261)2017 (247)2016 (2)(se alle)


Last school visit of the summer.
tirsdag 26. juni 2018
This morning the school of Brovandeskolen arrived for a visit to the observatory, with about 70 children. At 9:00 am I opened the nets in the garden, hoping to catch some birds to show the children. Fortunately, I find three young whitethroat recently flown from the nest, and Simon shows them to the children and explains about the ringing activity.
In addition to ringing, Simon explains to children about our moth trap. At night we place a white cloth with a particular light bulb to attract the moths, and at the bottom we place empty egg cartons, where the moths will then tend to take refuge during the first hours of light. With this system we can determine the interesting species present near the observatory.
Together with the children we find two interesting moth species:
• Poppelsværme - english name: poplar hawk-moth - latin name: Laothoe populi
• Aftenpåfugleøje - english name: eyed hawk-moth - latin name: Smerinthus ocellata
At about 11:30 I close the mist-nets, and I stay until lunchtime at the birder's club to study and answer some questions from the visitors. During the morning Igor and Johan leave, we say goodbye and thank them for their work and for their good company. I thank them again for the barbecue they organised last night. We spent a wonderful evening eating, laughing and talking about the cultural differences / similarities between the peoples of our different countries, very interesting.
In the afternoon, Peter works at a video presentation for the birder's club, while I maintain the ringing area, I take gardening tools and clean the tall grass and branches the mist-nets. After dinner we gather to plan the activity for the rest of the week.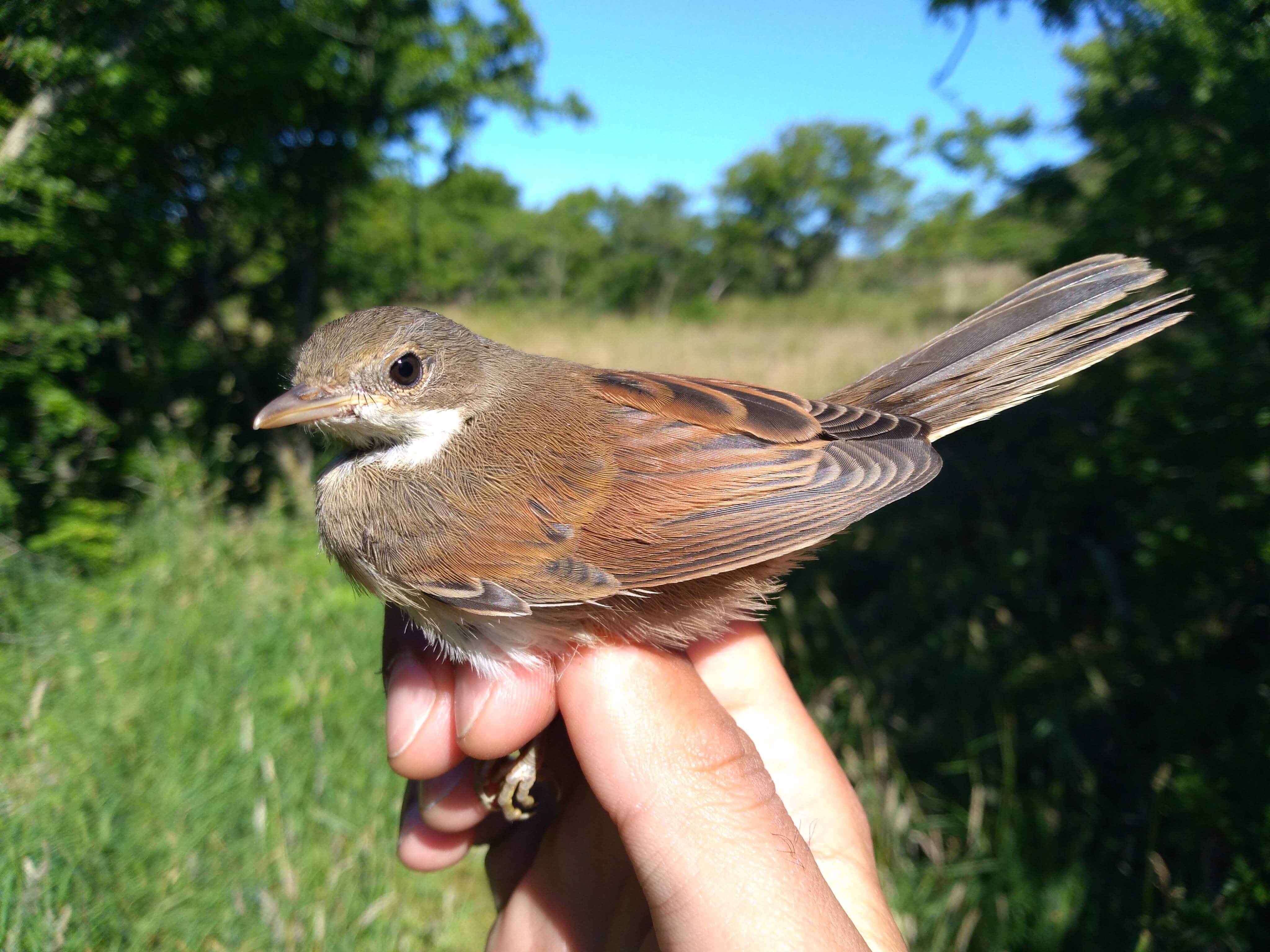 Common whitethroat fledgling.