Her på Skagen Fuglestations blog bringes korte nyheder i dagbogsformat om hændelser på fuglestationen.

Se indlæg fra år: 2019 (157)2018 (261)2017 (247)2016 (2)(se alle)


bide fra mejse
torsdag 13. september 2018
The alarm clock went off early today, because we went out to catch some passerines at Grenen. To get up early was worth it. We had very successful 5 1/2 Hours of catching birds. Totally we had 66 birds in our nets. Unfortunately for our fingers, we trapped many tits, especially coal tits (Sortmejse). I never would have guessed that it could be so painful to get bitten by such a little bird, but it is. Besides this we learned much about ringing birds. We spend a lot of time teaching each other to sex and age the different species. Sometimes two birds for good comparison. You can see one of these moments on our live video at Facebook.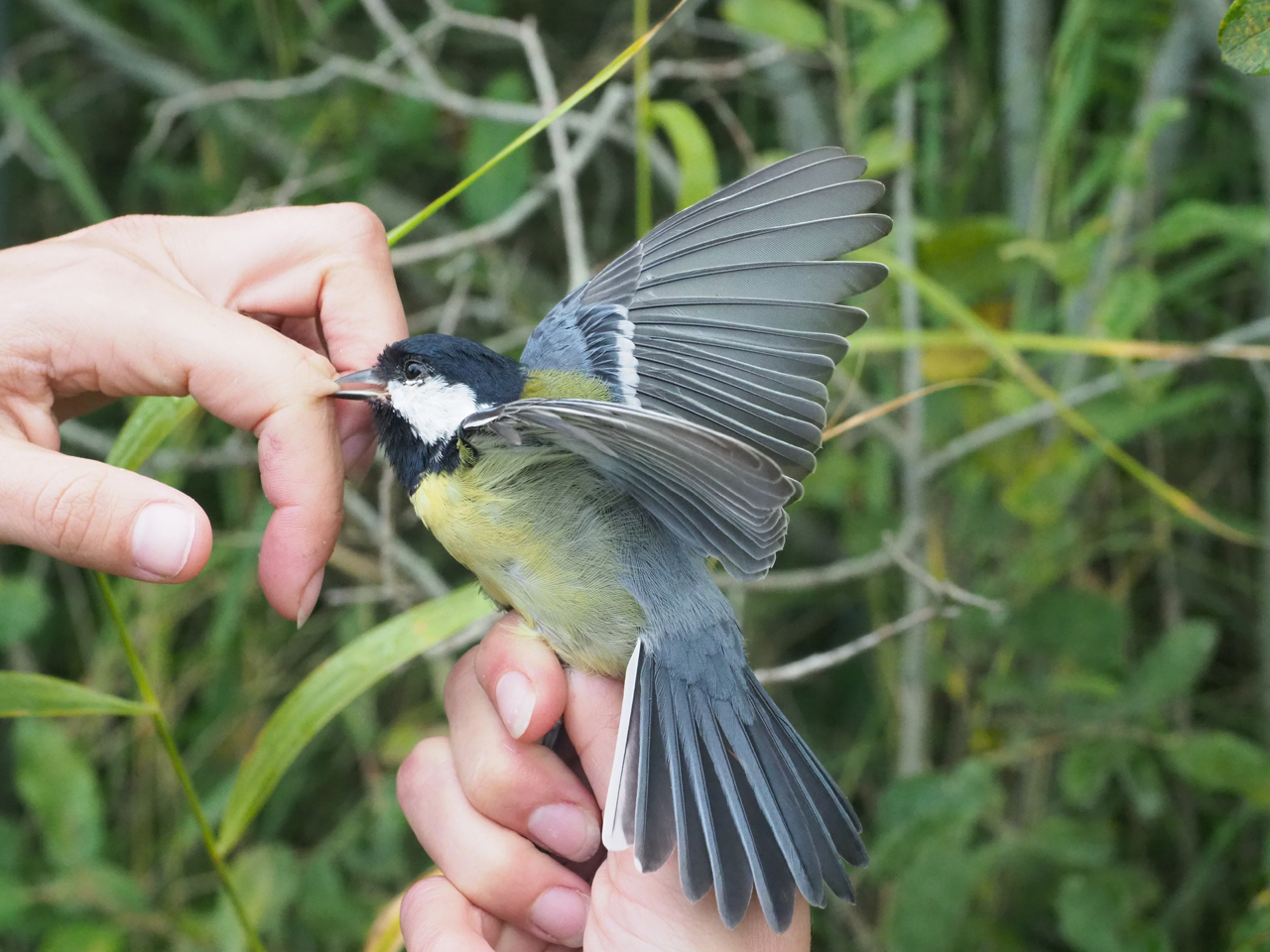 Picture: Great tit (Musvit)
In the evening when we were finished with ringing and digitizing the data, we had a great dinner by Sasha. She cooked Enchiladas for us and it was very delicious. Furthermore, Mark gave us some insights into the radar technologies. Here in Skagen we have a new radar system available for identifying migrating birds even at night. It was really interesting to see how it works and which opportunities it provides. It is planned, that visitors can get insights into this technology in the exhibition, too. Moreover, you should save the date of the 16th September when it is the Day of Gannets with a guided tour at 09:00 (meeting point: big parking lot at Grenen, Skagen).
Birds we ringed this morning: 1 Great tit (Musvit), 2 Yellowhammer (Gulspurv), 7 Dunnock (Jernspurv), 5 Robin (Rødhals), 3 Redstart (Rødstjert), 1 Reedwarbler (Rørsanger), 25 Coal tit (Sortmejse), 2 Blue tit (Blåmejse), 5 Blackcap (Munk), 1 Whitethroat (Tornsanger), 1 Whillow warbler (Løvsanger), Reedbunting (Rørspurv)
People: Lisa Vergin, Molly Brown, Sasha Munters, Morten Christansen, Daniel Bloche, Mark Desholm