Her på Skagen Fuglestations blog bringes korte nyheder i dagbogsformat om hændelser på fuglestationen.

Se indlæg fra år: 2021 (274)2020 (282)2019 (304)2018 (261)2017 (247)2016 (2)(se alle)


A great day for Ringmærking!
fredag 22. marts 2019
The weather was lovely this morning. Dante left early as always, over to Grenen where he joined Rolf for the morning. At 06:15 Gitte and I headed out to Northstrand. Her company was short lived as i received a text from Peter telling us that he had birds in the nets at Fyrhaven! Gitte had been very excited for the chance to watch some ringmærking and so she hurried over to join in and scribe for Peter! It was a really good morning for them, with 45 birds in the net!! Mainly being Grønsisken. Meanwhile, i was having a wonderful time out at Northstrand counting birds. Most excitingly for me, two groups of Halemejse!! I was also lucky to see a Porpoise and a great big bumble bee!!! LOVELY. Jens Peter who had been out for a walk, came to join me for a few hours which was great, and then we were both picked up by a very happy Gitte after the ringing was done. While we headed back to the obs, Peter went out to do a little observing too.
After some lunch, i headed out to the birders club to update the notice board, and Gitte and Jens Peter went out for a walk just as the weather turned a bit wild! Once Dante came back, he and i entered the ringing data from the morning, and did some Dofbasen. While we did this, Peter did a very long shift in the attic and finished fixing the last of the nets!!!! EPIC.
Gitte and Jens Peter had a good walk, they saw lots of Gråkrage, Skarv and Trane and also a hugorm!
We had quite a chilled evening after all of this. Jens Peter made an absolutly gorgeous dinner with crepes and all sorts of lovelieness!! yum. And so after a quick evening meeting we all went to bed.
Another briliant day!!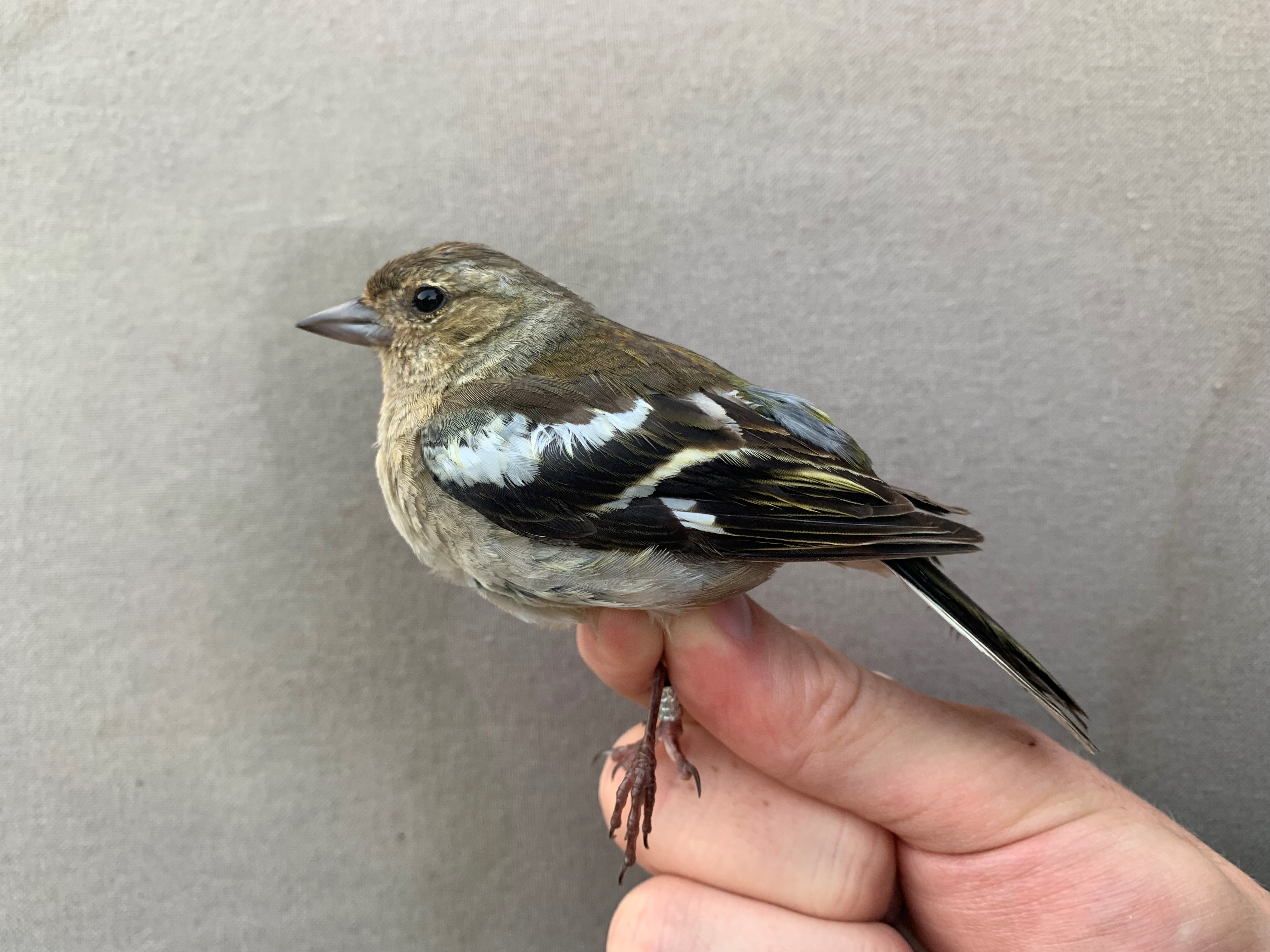 One of the Bogfinke
Finging at Fyrhaven:
Rødhals - 1
Musvit - 1
Jernspurv - 2
Bogfinke - 7
Gronsisken - 34