Her på Skagen Fuglestations blog bringes korte nyheder i dagbogsformat om hændelser på fuglestationen.

Se indlæg fra år: 2021 (202)2020 (282)2019 (304)2018 (261)2017 (247)2016 (2)(se alle)


Goodbye Skagen
fredag 28. juni 2019
The morning started even earlier than usual, because we went out for CES ringing at Jennes Sø. But this is the last time we have to open the nets at 03:15 am, from now on it will get later and later! When I decided to go to Scandinavia, I haven't really thought about the long days up here, but it's only dark for three hours every night! At least it is also much darker in the winter, so you can catch up with some sleep, which you're missing from the summer.
But anyway, although the mosquitoes were quite bad this morning, we still caught some nice birds – some young ones, who just started flying around and a Skovskade (Jay), such a beautiful bird. Our lovely guests, Anna and Jesper, also joined us shortly, but they got chased away from the mosquitoes. So instead they went to Nordstrand for a walk, a mosquito-free zone. And by the way, do you remember the Hvid vipstjert (White wagtail), who started breeding at Jennes Sø? She has five cute chicks now!
Back home we caught up with some computer work and Simon left us for the weekend. I enjoyed the rest of this amazing day at the beach. When I came here, two months ago, the sea was so incredible icy and after only a few seconds your whole body started to burn and only a really hot shower could warm you up again! But now you can swim in there for ages and it's not really cold and even sunbathing afterwards is possible. So while I was sunbathing, I watched the Splitterne (Sandwichterns) flying by from time to time and listened to the endless song of a Sanglærke (Skylark), wondering why it was singing so late in the day. Maybe it hasn't found a mate yet, so it is desperately searching for one?
Later in the day, we had an amazing BBQ at the beach. I'm pretty sure here is the best view for a BBQ you can get in whole Denmark. The Bysvale (House Martins) were flying over our heads and the gulls headed to the harbor of Skagen to spend the night there.
This is my last blogpost, as I'm leaving Skagen tomorrow. I can't really believe, that my time here is already over. It passed by so fast! I have met so many amazing, lovely people here and I've learned so much about birds! I'm very grateful for my time here and I'm definitely not ready to say goodbye yet... but I have to. So thank you Skagen for all those unforgettable memories and please let this only be a "see you later" and not a final goodbye!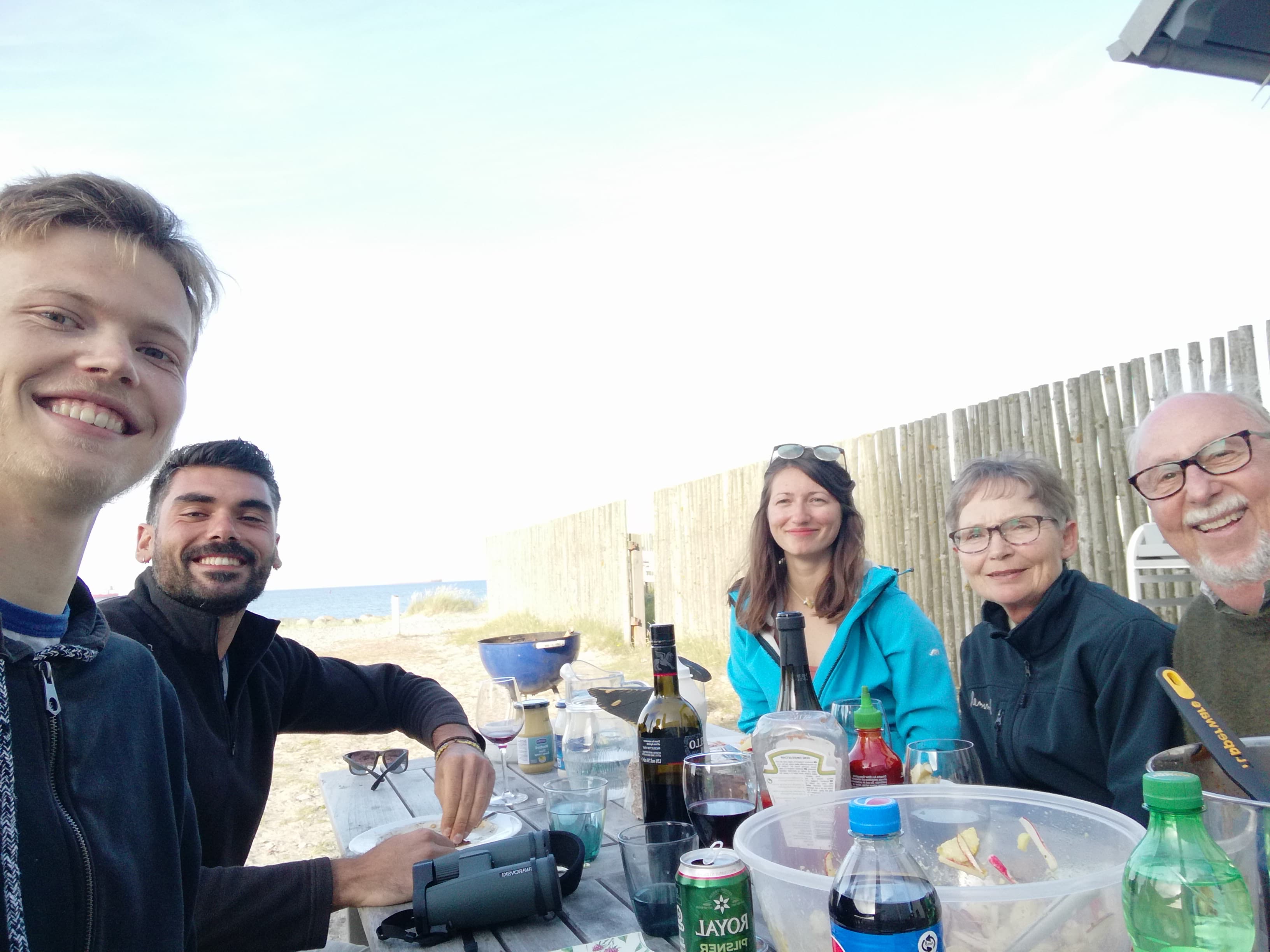 Ringing (Jennes Sø):
Solsort 1,
Rørsanger 1,
Gærdesanger 1,
Tornsanger 1,
Munk 2,
Gransanger 2,
Musvit 1,
Skovskade 1,
Bogfinke 1
Sum: 11
Folk: Marie Heuberger, Michele Pes, Joakim Matthiesen, Simon S Christiansen, Anne and Jesper Sandfeld