Her på Skagen Fuglestations blog bringes korte nyheder i dagbogsformat om hændelser på fuglestationen.

Se indlæg fra år: 2020 (1)2019 (305)2018 (261)2017 (247)2016 (2)(se alle)


An epic battle against the elements 'o'
tirsdag 6. august 2019
Due to wind and rain Simon and Anders got up at 06:00 to assess the situation. The weather was reasonably ok so the lights in our room were lit and several moments later Christina, Sander and I were up and having some breakfast. We split into two teams: Anders and Sander set off to observe & count migrating birds while Christina, Simon and I opened the nets at Grenen. During his time observing Anders recorded 120 golden plovers (hjejle) distributed in over 10 flocks as well as two two-barred crossbills (hvidvinget korsnæb) among the common species.
The whole ringing session was a fight against the weather with us trying to balance a plentiful catch with the safety of the birds. Overall, we caught 18 birds which was alright considering the weather. The session ended with a bang! The last bird caught and ringed was a young Jay (Skovskade). To me this is a bird that you can't really appreciate until you hold it in the hand. Its physiology is absolutely stunning. Its strength and size can need to be experienced first-hand. Speaking of hands the bite and claw marks on our hands after this encounter were a great way for us to remember the session.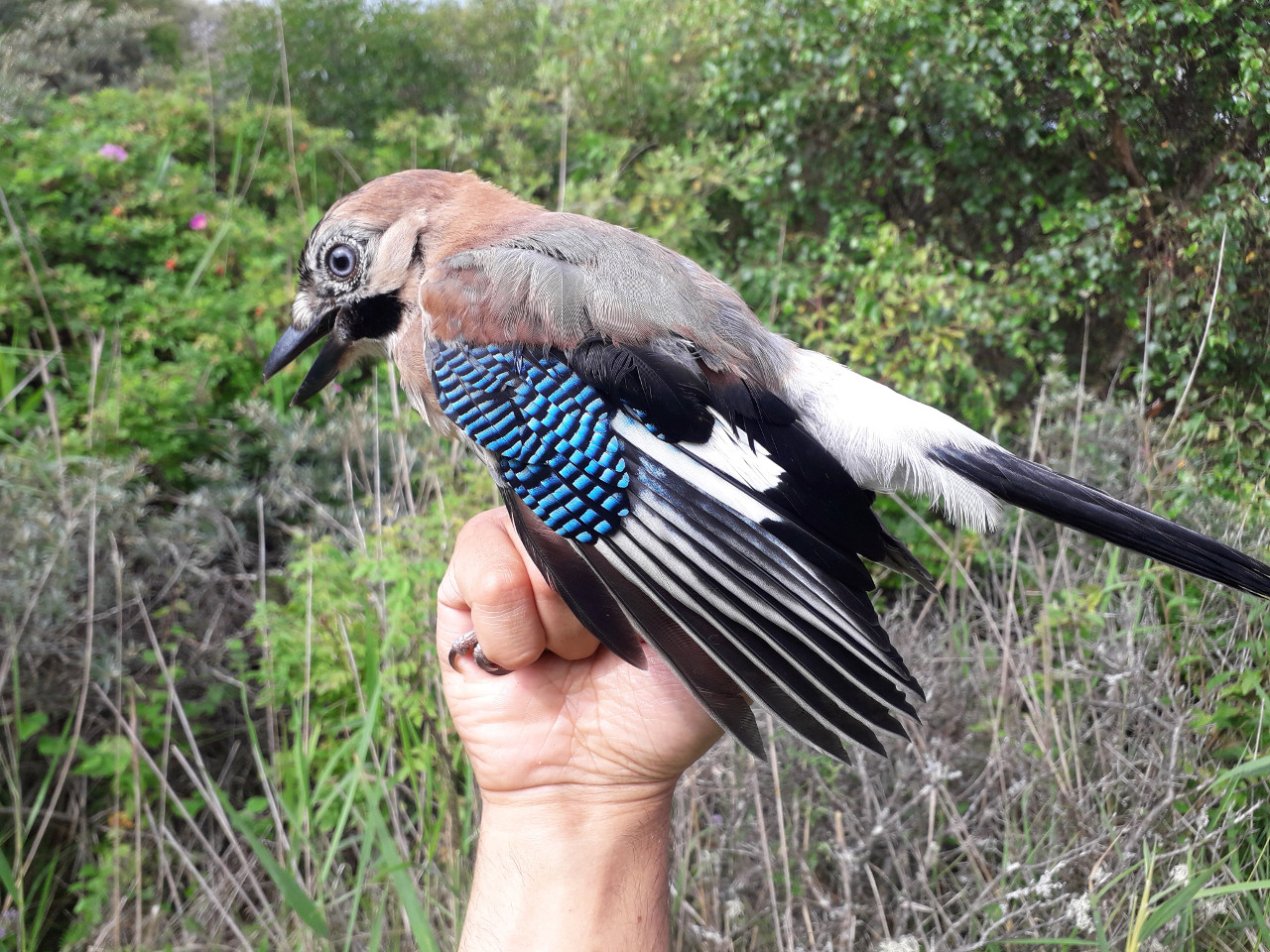 Upon returning to the station I had a quick bite while Anders was opening the nets in the garden in preparation for our free ringing tour funded by the LIFE project. Upon entering the courtyard, I saw 16 people eagerly listening to Andreas' introduction! Always great to see people devoting time from their holiday to nature and learning! Since it was 13:00, hot and windy our expectations were met when the nets remained empty. As usual I grabbed all the swoop nets and distributed them between the visitors. Throughout the tour Anders and I took turns discussing various topics and showing the visitors different flora and fauna from the region. We managed to catch quite a few dragonflies, damselflies and butterflies. I also took the opportunity to mention the difference between grasshoppers and bush-crickets as well as how to determine the sex of Orthoptera. After the tour was over some of the participants joined us in the lab in exploring the various birds that we have in our freezer !!!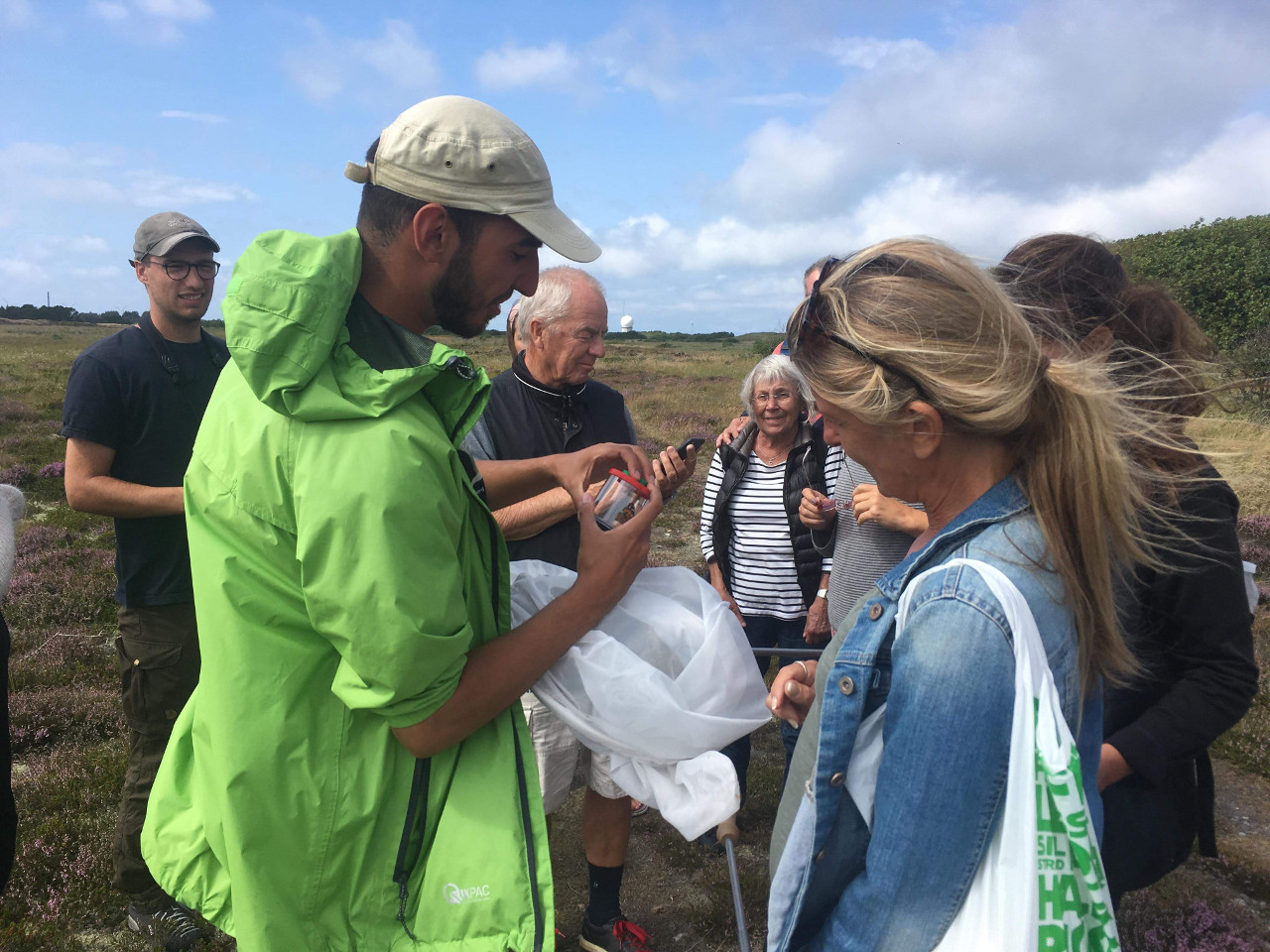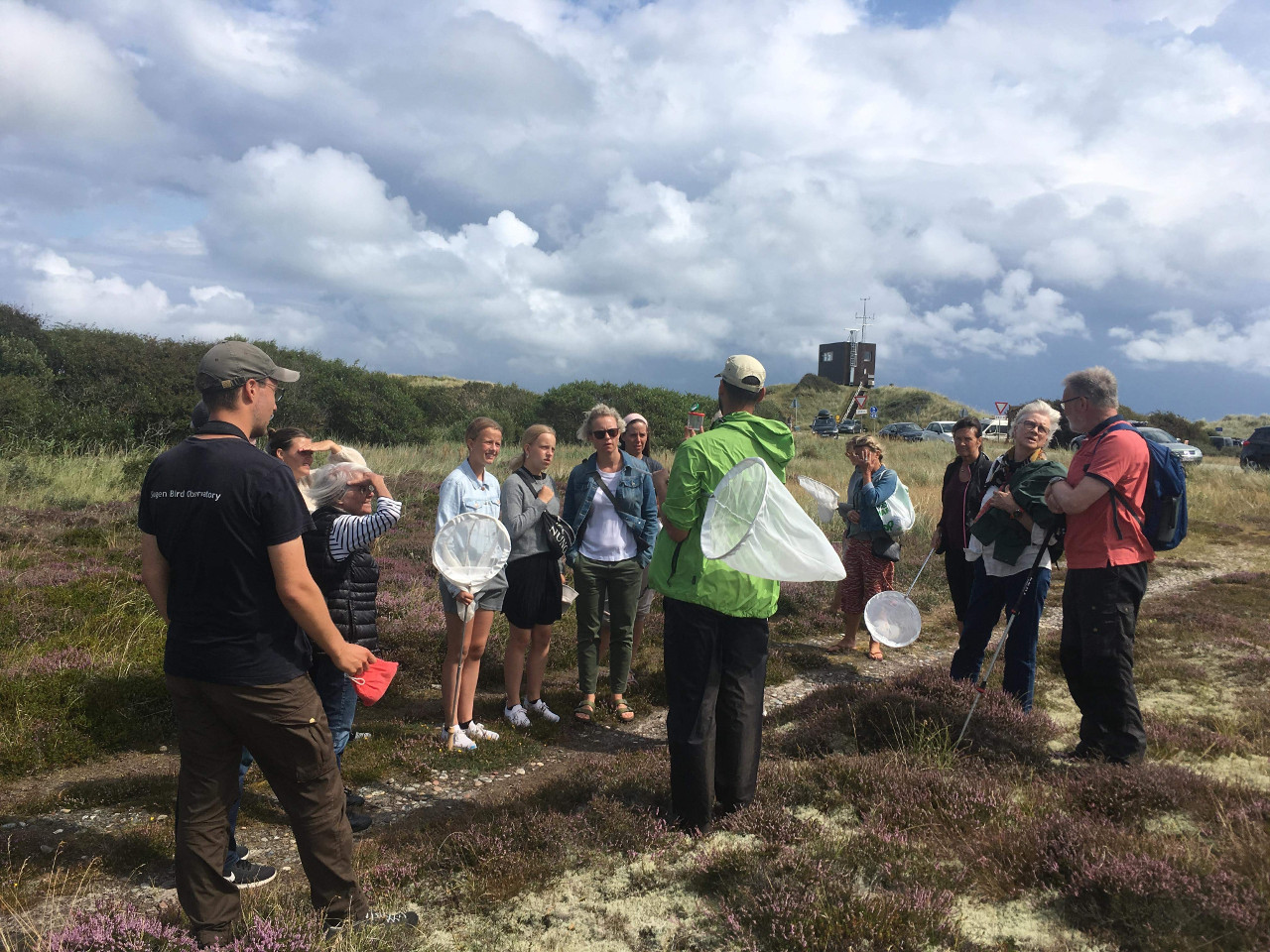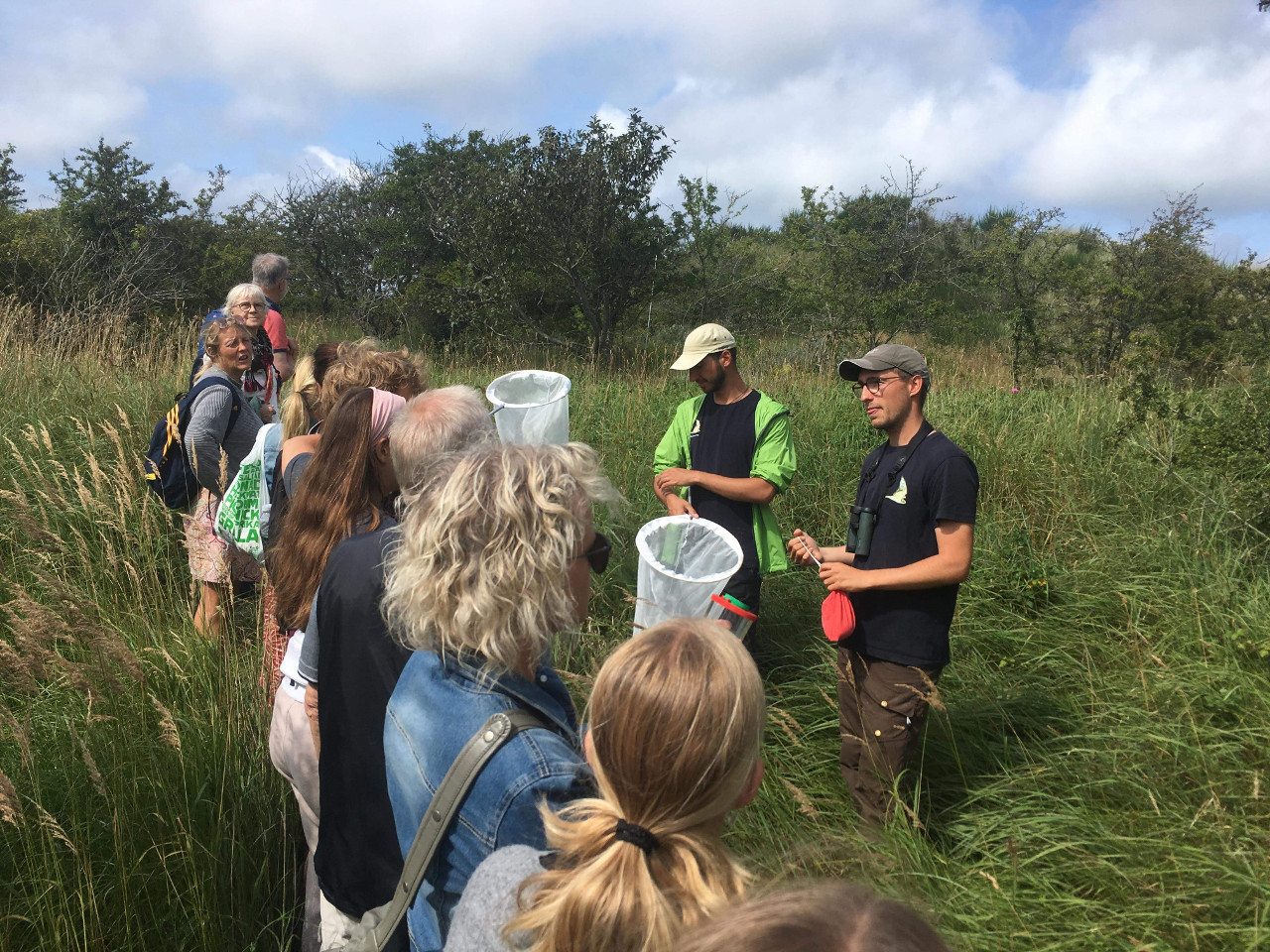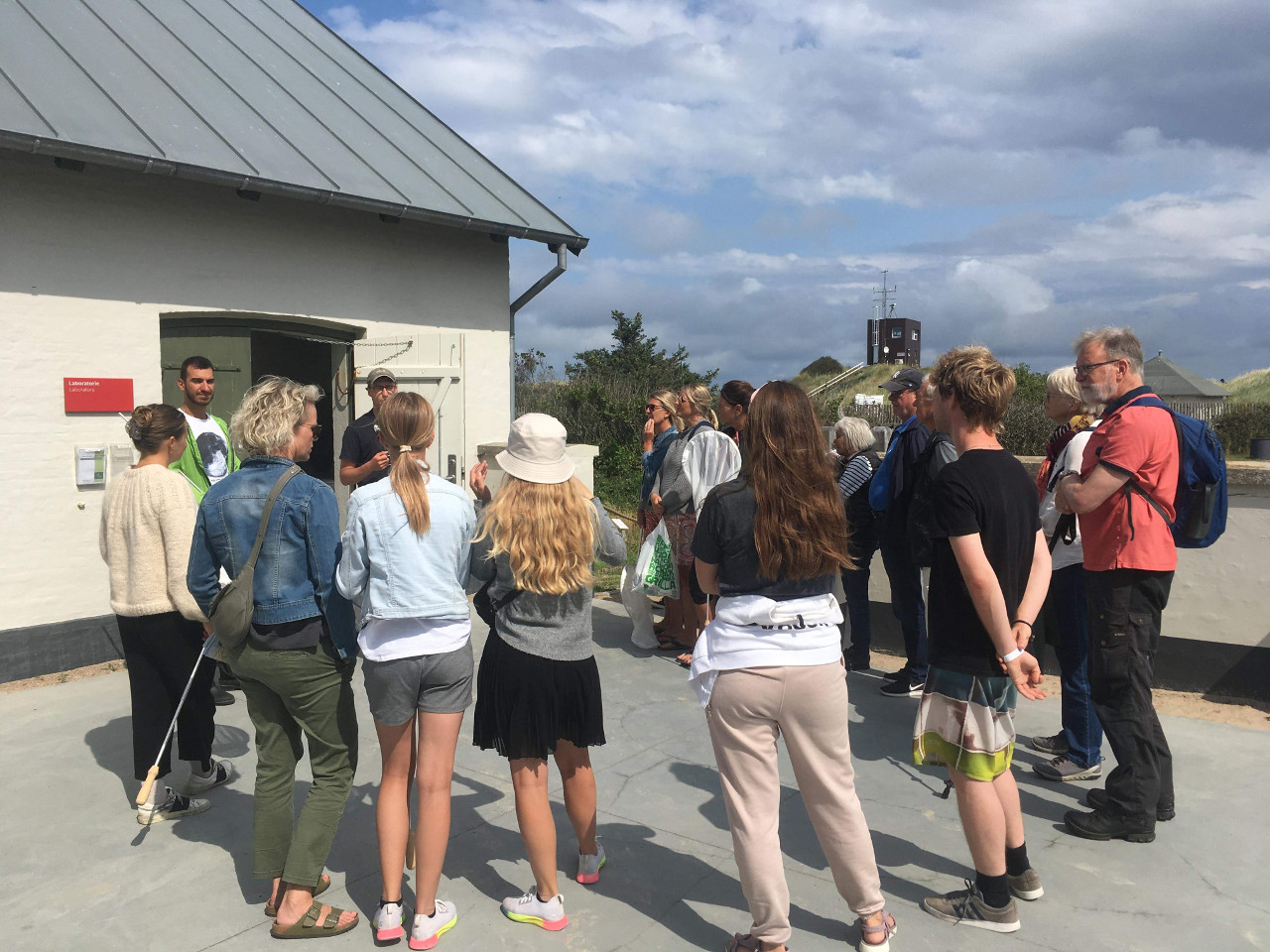 In the afternoon we used our last remaining energy to enter the data collected during the day in the online database and I had my daily swim in Kattegat. The water was lovely and it was my first day without a sting by a lion's mane jellyfish.
Ringing (Sardinkrattet):
Skovskade - Jay - 1
Tornsanger - Whitethroat - 6
Munk - Blackcap - 2
Gransanger - Chiff-chaff - 2
Musvit - Great tit - 1
Gærdesanger - Lesser whitethroat - 2
Total: 14
Folk: Simon S. Christiansen, Martin Y. Georgiev, Christina Ninou, Anders Odd Wulff Nielsen, Heidi Vibe Frederiksen, Niels Dentrup og Cathrine Finger.