Her på Skagen Fuglestations blog bringes korte nyheder i dagbogsformat om hændelser på fuglestationen.

Se indlæg fra år: 2020 (1)2019 (305)2018 (261)2017 (247)2016 (2)(se alle)


A texbook day at a bird observatory
onsdag 7. august 2019
A standard 04:00 start for the station's volunteers marked the start of our first August Wednesday. A division of labour was employed with Anders heading off to do migration counts from the observation site near the tip of Grenen while Christina and I headed straight for our ringing site. All the nets were open at 05:15 and at 05:45 we were joined by Simon for the first round. We only caught locally breeding birds with over 80% being common whitethroats (Tornsanger). In the meanwhile Anders saw mainly common species with the exception of four two-barred crossbills (Hvidvinget Korsnæb) and a parrot crossbill (Stor Korsnæb), hoping to catch them in our nets in the coming days if we're lucky.
While we where in the field Rita came to the Observatory to help cleaning the 1'st floor. Thank you so much Rita! Back in the station Christina and I did the usual tasks such as data entry and updating the station's social media.
At 13:00 it was time for an open freezer session! Unfortunately, at that time it was raining heavily however I was joined by a young family who were very keen to learn about the life of birds. We also collected some of the drawings you visitors have made during their visit to the station and they are now available in the birders club :)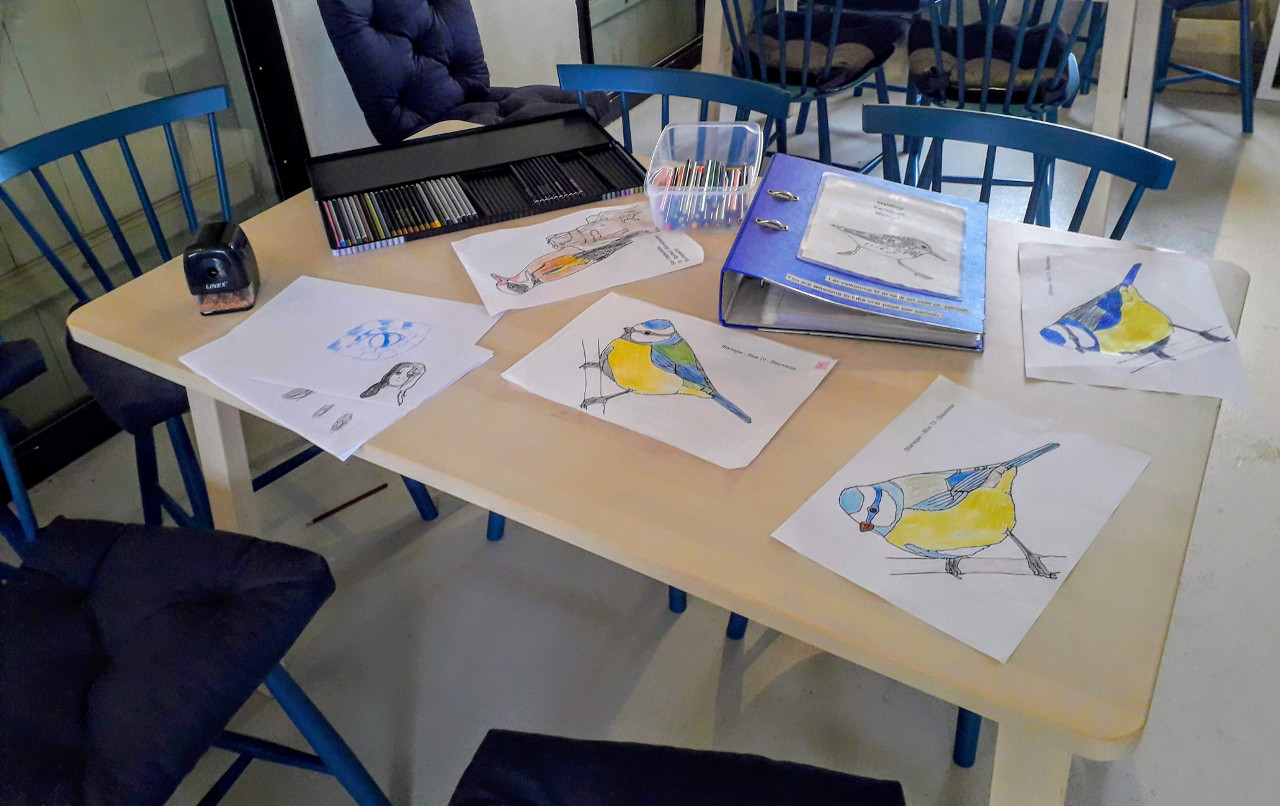 Ringing (Sardinkrattet):
Kærsanger - Marsh warbler – 1
Rørsanger – Reed warbler - 3
Tornsanger – Whitethroat - 18
Munk – Blackcap - 1
Gransanger – Chiff-chaff - 1
Løvsanger – Willow warbler - 2

Total: 26
Folk: Simon S. Christiansen, Martin Y. Georgiev, Christina Ninou, Anders Odd Wulff Nielsen, Heidi Vibe Frederiksen, Niels Dentrup, Cathrine Finger og Rita Pate.