Her på Skagen Fuglestations blog bringes korte nyheder i dagbogsformat om hændelser på fuglestationen.

Se indlæg fra år: 2020 (9)2019 (305)2018 (261)2017 (247)2016 (2)(se alle)


Snake Fangs & Buzzard Gizzards
mandag 2. september 2019
Entry written in Chrisperspective.
Yehonatan and I went out early to open the nets at Sardinkrattet for the ringing effort of today. Simon, Martin, Judith and Joost today had the lucky chance to sleep a little longer. By the time they arrived, I was already out at Verdens Ende and did morning observations. It was a beautiful morning with some little rain showers, beautiful rainbows (regnbue) but mostly dry observations.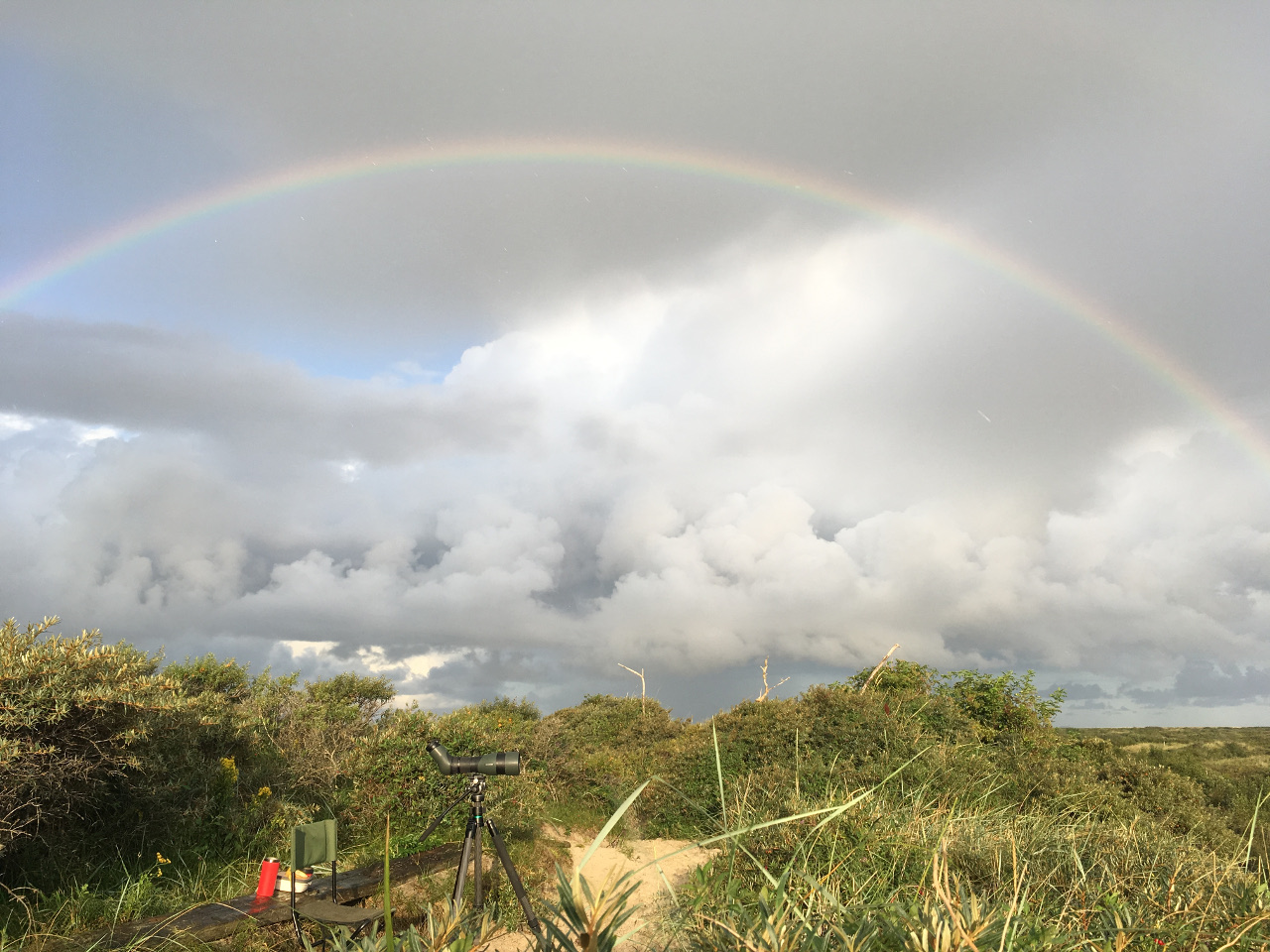 Rainbow at world's end.
Birdwise, the number of wheatears (stenpikker) was staggering. At some points, almost every pole in the dunes had a wheatear sitting on top of it. I observed also active migration of birds coming over the sea towards land. At one point, while scanning the landscape with my binoculars, I saw a brown bird landing in a thicket a couple of hundred meters away. The time for that observation was maybe one second, but I recognised white spots on the wings and on the tail. "Nightjar" (natravn) was the first thought appearing in my head. I later searched the area to try to find the bird again, but to no avail. The observation time was unfortunately so short, that I cannot comfortably say that it was indeed a nightjar I saw - sometimes birding is just like that. Anders was also out, doing a bird-observation-walk from Grenen to Nordstrand. His highlight, besides the many wheatears, were 3 stonechats (sortstrubet bynkefugl).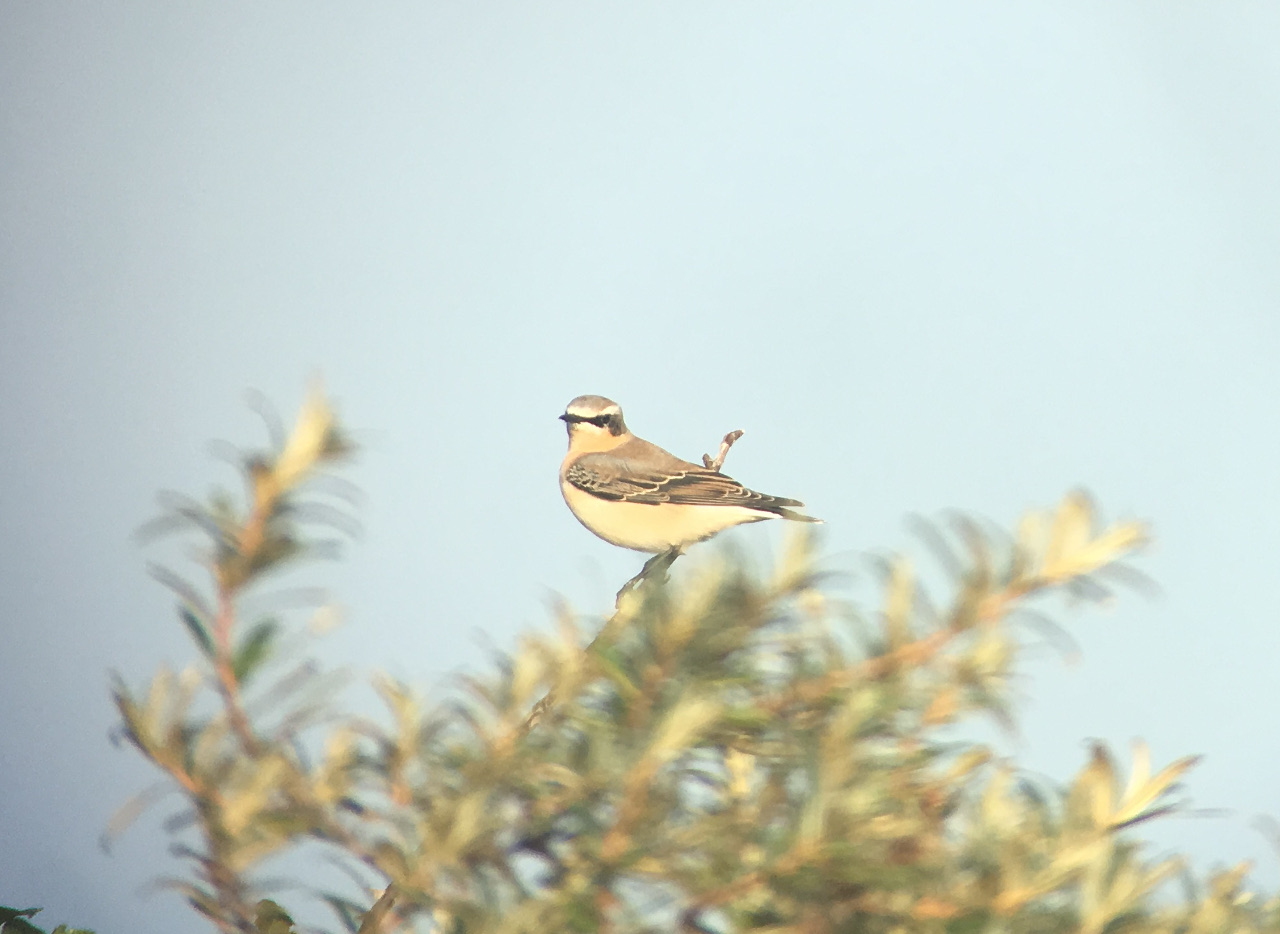 Northern wheatear (stenpikker)
In the meanwhile the abundance of wheatears was also noticed at the ringing site at Sardinkrattet. Despite catching only two individuals in the late morning the site many of the birds were seen flying over. In terms of ringing the day was very productive with a total of 33 birds being ringed between 12 different species. And the rainbows were noticed as well, when Martin left the lighthouse.

Upon returning from ringing Martin and I focused on the dissections and preparation of another European viper (hugorm) and a common buzzard (musvåge) who were both victims of car accidents. We have made videos about both specimens as well as a video on how to tan and preserve a snake hide. Both animals were in a pretty bad state after their encounters with the vehicles. The viper had multiple ruptures of its skin and quite a few scales missing. Not to mention that a considerable part of its digestive system was outside of the body by the time we made the first cut.
The buzzard was in a very similar situation, its right eye was completely popped out from the orbit, both mandibles of the bill were detached from each other and the skull. Also the intestines were outside of the body as well. You can find out more about both in the commentary videos.
In the afternoon Judith, Joost, Martin and me took the usual daily swim.
Mexican fajitas were on the menu for dinner who left everyone quite full ????. The food was prepared mainly by me and Martin helped out a little bit :D
While we were busy dissecting and cooking Judith spent a considerable amount of time sorting our ever-growing picture archive, thank you Judith! Anders in meanwhile went out for yet another birding trip and found some common shelducks (gravand), which are always a nice sight! Joost used the time to do some sound stuff. :-)
Ringing (Sardinkrattet):
Dunnock - Jernspurv - 1
Robin - Rødhals - 4
Redstart - Rødstjert - 4
Whinchat - Bynkefugl - 1
Wheatear - Stenpikker - 2
Reed warbler - Rørsanger - 3
Lesser whitethroat - Gærdesanger - 2
Common whitethroat - Tornsanger - 3
Garden warbler - Havesanger - 1
Willow warbler - Løvsanger (Song of Songs) - 9
Spotted flycatcher - Grå Fluesnapper - 1
Pied flycatcher - Broget Fluesnapper - 2
Total: 33
People: Simon S. Christiansen, Martin Yordanov Georgiev, Yehonatan Ben Aroia, Christian Stolz, Joost Van Duppen, Judith Kloibhofer, Anders Odd Wulff Nielsen.
Writing music: "The Trapeze Swinger" - Iron and Wine and "Thong song" - Sisqo