Her på Skagen Fuglestations blog bringes korte nyheder i dagbogsformat om hændelser på fuglestationen.

Se indlæg fra år: 2020 (1)2019 (305)2018 (261)2017 (247)2016 (2)(se alle)


First freezing morning!
mandag 7. oktober 2019
Today when Koen and I went out to open the nets almost all was covered by a thin layer of ice letting us know that winter is coming.
Christian and Simon joined us afterward and Judith went out for observations at Verdens Ende 1.

It was a quiet morning, not many birds in the nets but we had a fox visiting us. And due to the board meeting we needed to close the nets early.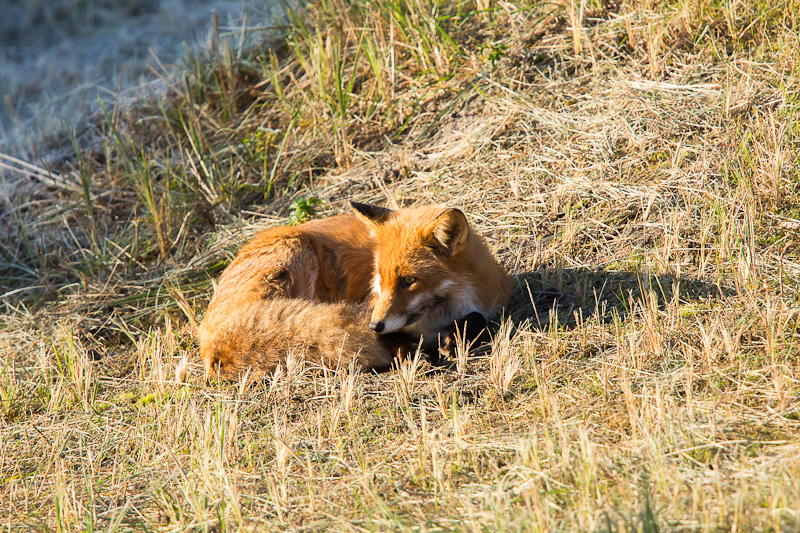 Picture by Laia Soler Iglesias

Some of today's observations were: Black Scoter (Amerikansk Sortand) that was seen again!, Slavonian Grebe (Nordisk Lappedykker), at least 12 Horned Larks (Bjerglœrke) and 2 Lapland Bunting (Lapvœrling).

After the ringing, we went back to the Bird Observatory and Simon told us that a Humpback Whale (Pukkelhval) was found dead in a local fishermen's net this morning. So, I went to the harbor to see it and to take some pictures in order to show it to the other volunteers that couldn't go. Meanwhile Christian met Judith at Verdens Ende 1 to join the observations and after that, they went to the ringing site to change some nets. But before I could find the whale, I drove my bike to all the harbor at least two times (such a labyrinth!) and after asking some kind people on my way to the western end of the harbor, I was able to find it! (thank you all for the indications!). Now I feel like I know how to move from one point to another in the harbor.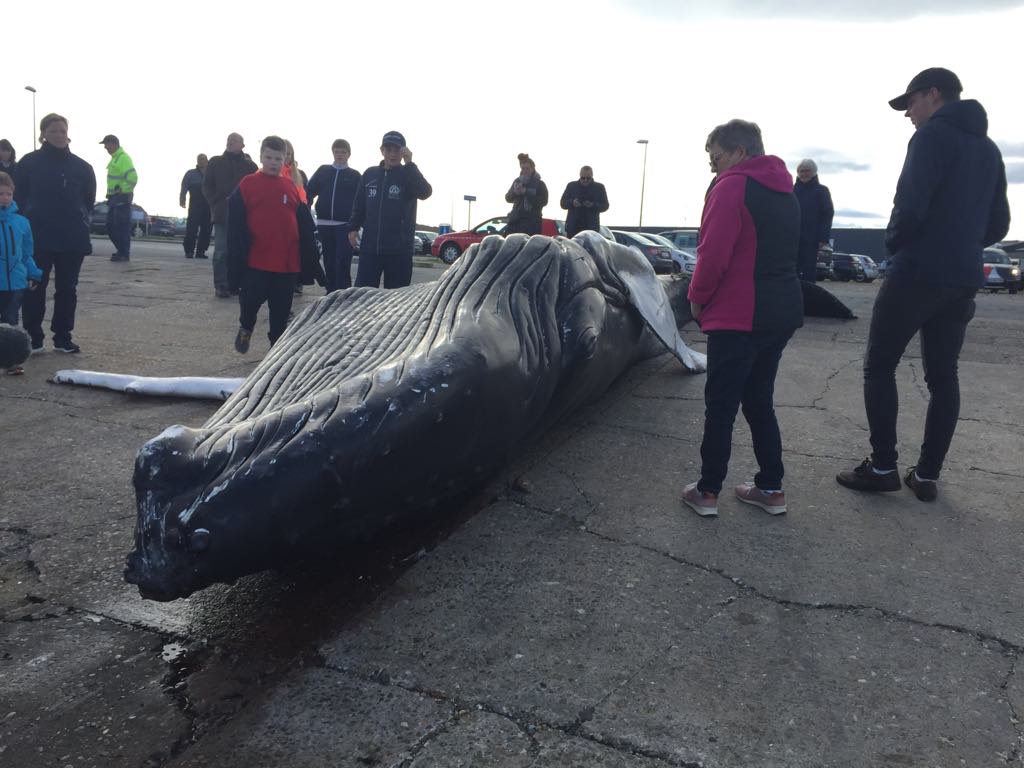 Picture by Laia Soler Iglesias

After that, as usual, Christian and Judith went for the daily swim while I was walking in the water (today the water and environmental temperature at midday was nice).

Then, Koen and I entered the data of the ringing and afterward Judith and Christian did the same for the observations' data.

We recovered the recorders that we left outside yesterday at night and today's morning. We are expecting to hear what they have recorded.

And after dinner, Koen and I went to do night catch. Tonight was mamals´ night... We saw otters (oddere), deers (hjorte) and Harbor Seals (Spættet sæl) but unfortunately we did not catch any bird.
Ringmærkning (Kabeltromlekrattet):
Rødhals 3
Rørspurv 1
Gransanger 2
Gœrdesmutte 4
Fuglekonge 9
Lille Dompap 1
Grønsisken 1
Total 21
People: Simon S. Christiansen, Christian Stolz, Judith Kloibhofer, Koen Stork, Laia Soler Iglesias, Jens and Gulmaj