Her på Skagen Fuglestations blog bringes korte nyheder i dagbogsformat om hændelser på fuglestationen.

Se indlæg fra år: 2020 (9)2019 (305)2018 (261)2017 (247)2016 (2)(se alle)


Unpredictable weather conditions
onsdag 9. oktober 2019
The first task in the morning was checking the weather radar: every radar showed something else. However, one showed a big rain cloud coming closer in the next hour. So, we decided to wait until this rain passed by and had 2 more hours in the morning. The reactions to this "freetime" were very different: Simon was happy to have some time for observations and we decided to use the time to get some more sleep/rest.
When we met at 8 o´clock at the ringing side Simon told us that it was not raining in the meantime (didn`t realize that in my dreams), so it would have been possible to open the nets earlier. But I think everybody was happy with having 2 hours off and so we started fresh and motivated the ringing. And it was really a very nice morning with many birds and a diverse species list. Next to some usual birds in this season as Wrens (Gærdesmutte), Robin (Rødhals) or Goldcrest (Fuglekonge) we also had some rarer birds for catching in the nets in the start of Autumn: a Bullfinch (Lille Dompap), a Meadow Pipit (Engpiber) and a Reed Warbler (Rørsanger). Especially the Reed Warbler was a highlight, as it is already very late in the season for this species - they are overwintering in Africa and most of them left Europe already. In Dofbasen we found out that it is the third-latest record of Reed warblers up here in Skagen in Autumn. It was maybe a hint greyer than most Reed Warblers in general, not really unusual though, but to be on the safe side we collected a feather if we one day would be sure to exclude the southeastern subspecies 'fuscus' on DNA.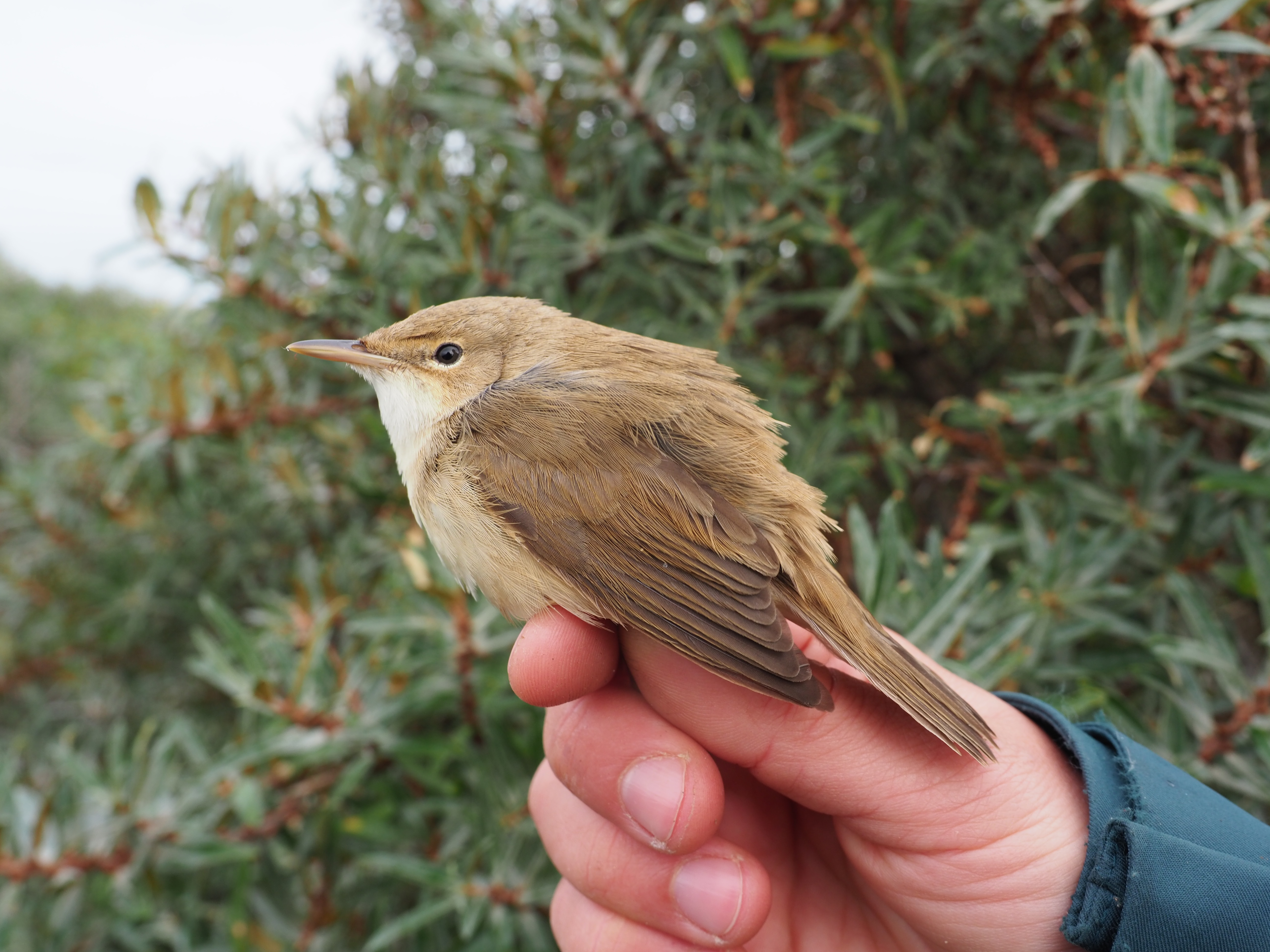 We also had some guests in the ringing today:
Jens from our apartment joined the ringing for a while and was very impressed to see all the different species so close and the handling of the birds. Then he went further to Worlds End 1 (Verdens Ende 1) and talked to all the birders there – it was very interesting for him to see many birders with so much knowledge and the endurance to do observations and countings all over the year.
And Flemming from the Grey Lighthouse visited us and enjoyed his free day after a very busy summer season – it was nice to see you out there!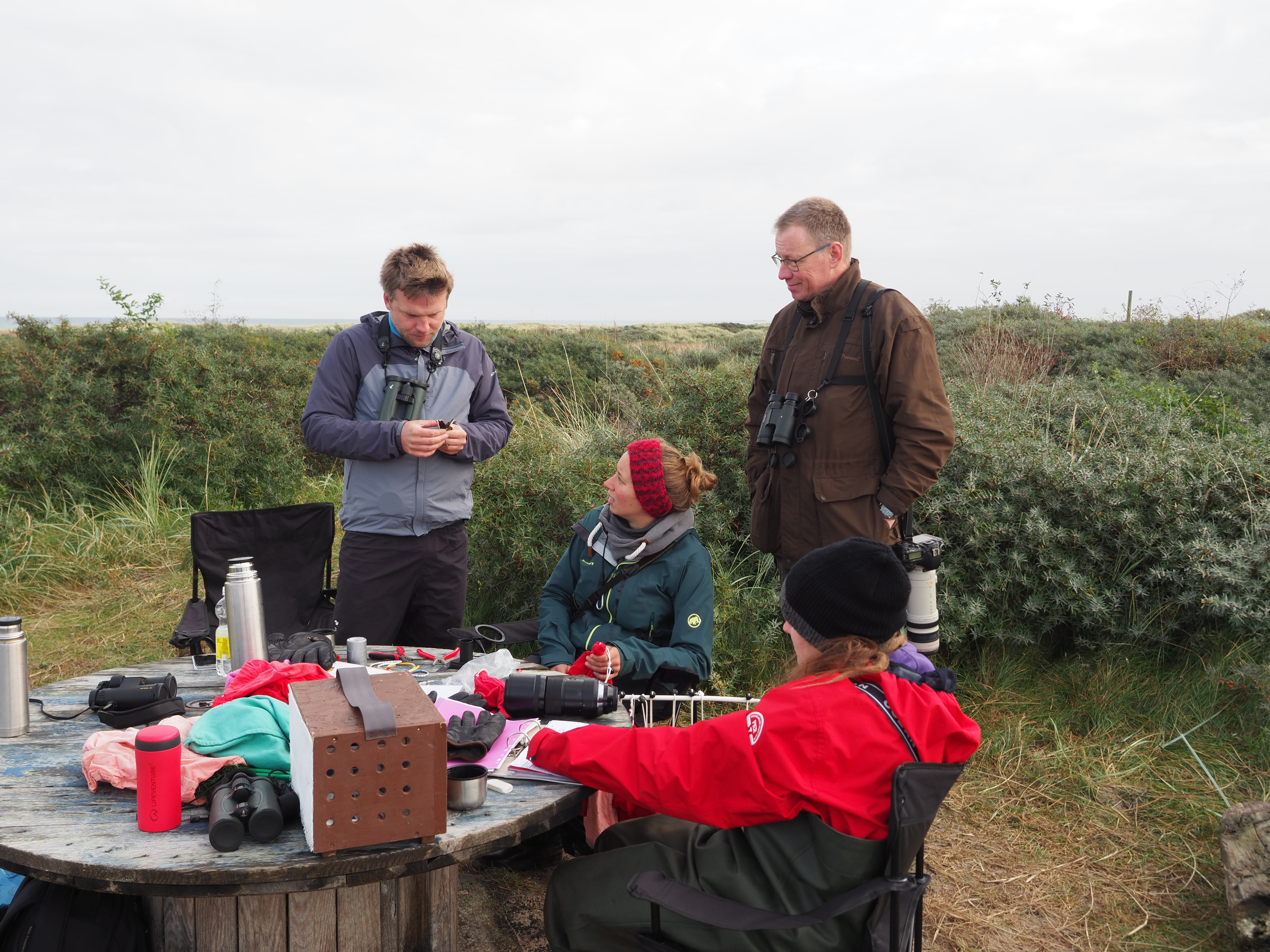 In the meantime, Koen and Knud did observations from Worlds End 3 (Verdensende 3). The highlights were roosting Lapland Buntings (Lapvœrling), Shorelarks (Bjerglærke) and Snow Buntings (Snespurv) on the beach. They used the opportunity to study them up that close, because it`s very rare to see them so close without flying further immediately! You can see a nice video of the Lapland Bunting on facebook (https://www.facebook.com/Skagenfuglestation/videos/1404351699715320/?eid=ARANMQK7vpKS4Bq2X0x_jxqE-Qh3IXgP4w99zczjwCWIGas-k-OH1KmMsZ3TFngJPRyuUKyLkQ1TKoTO). Other good observations were a Longtailed Duck (Havlit) and two Pale-bellied Brand Geese (Lysbuget knortegås). Also the Black Scoter (Amerikansk Sortand) is still in the area!
On the way back to the station we got very warm from the sun and decided to go swimming immediately – who know´s how long the sun will stay in this "Irish-weather". Even Laia decided to join the swimming in the sunshine and so Chris, Laia and me went into the water. While we were swimming back we saw already very dark clouds coming from the south and decided to go back quick. And five or ten minutes after we entered the apartment the rain started again – lucky us!
The rainy weather was perfect for doing the usual "Wednesday-cleaning". Now everything looks clean and shiny again.
In the evening we enjoyed a delicious food prepared from our guests in the apartment. A hokkaido-soup and then pizza was a very good reward for the long day!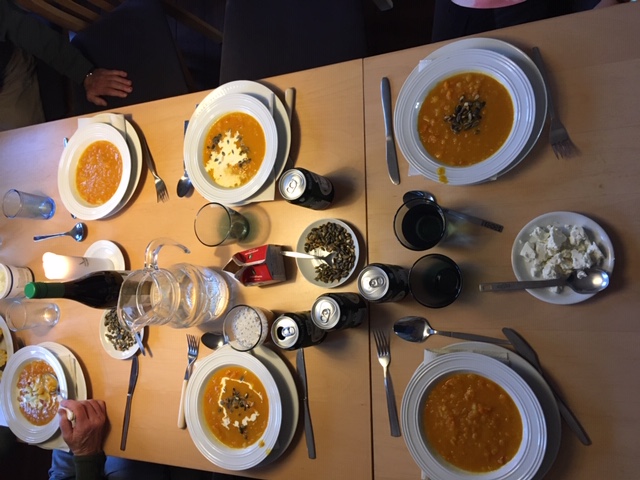 For Simon, Chris and Laia the work was not done yet. They did a nighttour with pupils from Skagen. While Chris and Laia try to catch a bird in the darkness Simon walked with the children to the beach searching for mammals. And they succeeded! They saw a fox, seals, deer and many Sanderlings (Sandløber). It was very exciting for the children!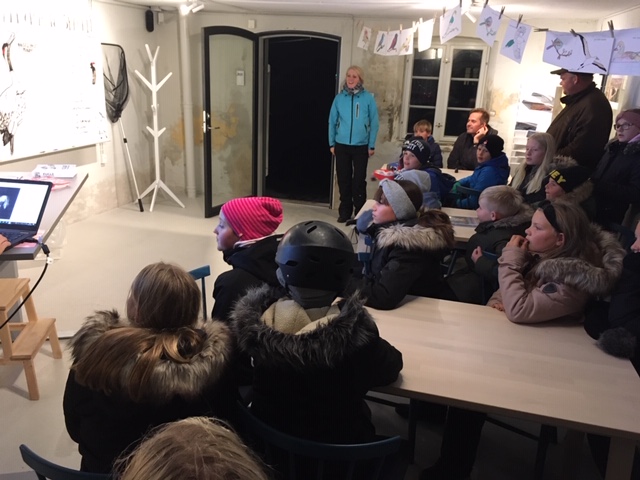 Ringing (Kabeltrommelkrattet):
Meadow Pipit – Engpiber – 1
Wren – Gærdesmutte – 1
Robin – Rødhals – 3
Blackbird – Solsort – 1
Reed Warbler – Rørsanger – 1
Blackcap – Munk – 1
Chiffchaff – Gransanger – 4
Goldcrest – Fuglekonge – 6
Blue Tit – Blåmejse – 8
Bullfinch - Lille Dompap – 1
Reed Bunting – Rørspurv – 12
Total: 39
People: Simon S. Christiansen, Yehonatan Ben Aroia, Christian Stolz, Judith Kloibhofer, Laia Soler Iglesias, Koen Stork, Knud Pedersen, Flemming Quist Jens & Gulmaj, Nullermand, Lynvig-banden.