Her på Skagen Fuglestations blog bringes korte nyheder i dagbogsformat om hændelser på fuglestationen.

Se indlæg fra år: 2023 (218)2022 (292)2021 (279)2020 (282)2019 (304)2018 (261)2017 (247)2016 (2)(se alle)


The Calm Before The Storm
fredag 8. september 2023
In the morning a thick fog obscured the ocean creating a very autumnal atmosphere, however, this made the morning migration count a little difficult for Gustav as birds were not able to be identified very clearly due to it being so foggy. Although, some bird species were able to be counted for such as Velvet Scoter (Fløjlsand) and Great black-backed Gulls (Svartbag).
Whilst Gustav was out doing the migration count with the guest Ole, the rest of us had a longer lie in bed before getting up to help Michael Ancher (local ringer), set up nets at Jennes sø. It was nice to be in a different area near a large wetland and woodland. Hopefully we will be able to bird ring with Michael at Jennes Sø sometime soon, as we would all love to catch and ring some Bearded Tits (Skægmejse).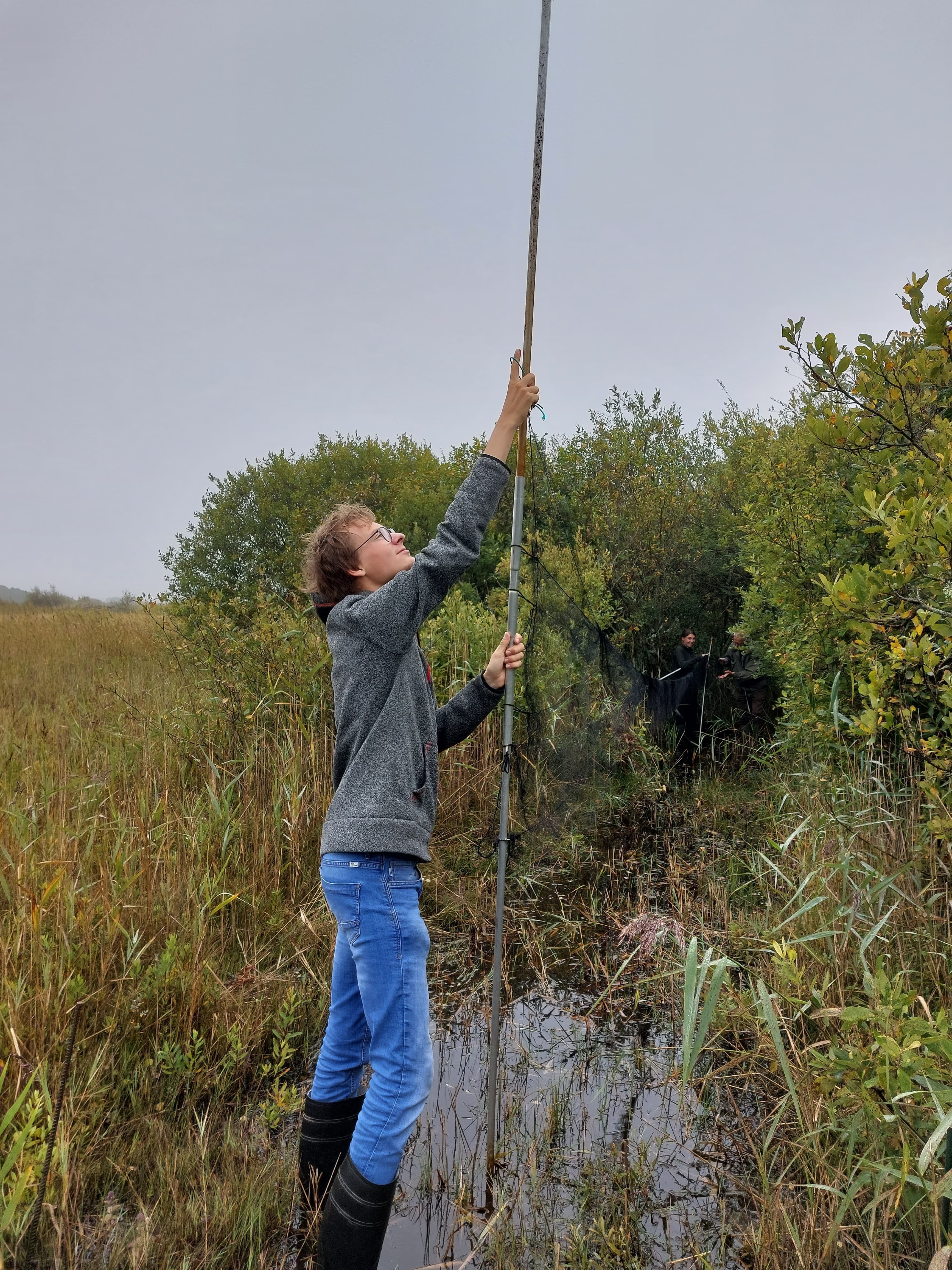 Later in the morning after the migration count and setting up of nets, we all had some strawberry cake for breakfast that the guests kindly bought for us. Then Simon Jr. and Antonia went to the harbor to do the Cormorant (Skarv) count. There was nothing unusual to report from during the Cormorant count, however, apparently the fishermen have started shooting some Cormorants, so the counts throughout the next week will be very important. Afterwards, they both went to the shop to buy ingredients for tonight's dinner. Meanwhile; myself, Hayley and Gustav cleaned the kitchen and bathroom in the afternoon, then we all went on our own separate walks to search for interesting birds.
In the early evening, we had the daily meeting to plan out the next days ahead, which will involve ringing with different ringers as Simon is away for a week. We will go out ringing tomorrow morning at the Cormorant Lake (Skarvsøen), so we are all excited about catching some interesting birds at this CES site for the last time as we will take the nets down tomorrow after ringing.
Antonia and Simon Jr. cooked us a lovely meal: veggie chili
People: Hayley Land, Gustav Nyberg, Simon Kiesé, Rebecca Cheape, Antonia Greil, Simon S. Christiansen, Magnus Mygind, Ole and Birgitte.
A Link to Today's Observations From Volunteers and Local Observer's