Her på Skagen Fuglestations blog bringes korte nyheder i dagbogsformat om hændelser på fuglestationen.

Se indlæg fra år: 2021 (154)2020 (282)2019 (304)2018 (261)2017 (247)2016 (2)(se alle)
Se indlæg fra måned: mar. (31)apr. (30)maj (31)juni (30)juli (31)aug. (1)


Sløruglemærkning og min sidste dag
søndag 27. juni 2021
Ja d'herrer og de damer. Så kom dagen.
Mit første blogindlæg var den første marts og det var også dagen efter jeg ankom. Da jeg kom havde jeg udsigt til 4 måneder med mange fugle. Og det var lige netop det jeg fik. Det har været et fantastisk forår, måske det største nogensinde???
Der var langt mellem de gode perioder, men da de slog til var det ketchup effekt så det vil noget, hold kæft nogle dage, og hold kæft nogle fugle.
Det er vel meget passende med en lille opsummering af månederne. Michaela har allerede lavet et resume af foråret. men jeg vil da glædeligt byde ind med mit eget.
Marts var en overraskende måned for mig. Jeg havde overhovedet ikke forventet det havfugletræk som var i vente. Ekstremt mange tal og nogle stressende dage hvor kliktællerne gløede. Trækket bestod mest af alkefugle, suler og sortænder. Af rariteter kan nævnes de mange fine topskarver, bla. rekordflokken på 20 styks, den største i Danmark nogensinde. Udover det, de to hvide måger, henholdsvis gråmåge og hvidvinget måge. Selvfølgelig kongeørn, islom og en sjat lunder, en art jeg selv var særligt glad for.

(Foto: Knud Pedersen)
April var igen en stor måned med mange tal, der var dage med træk som jeg aldrig nogensinde har oplevet før og som jeg bestemt håber på at opleve igen. Det største var klar de mange finker der trak lige i midten af april, jeg var overhovedet ikke klar over opgaven som jeg fik da jeg skulle tælle dem alle. Hold da kæft!!!
Udover det var der jo nogle spækhuggere som fyldte en hel del, det var godt nok en oplevelse. Arterne der fyldte mest var, Høgeørn, (Steppevåge), hvidnæbbet lom, steppehøg og på en eller anden måde fyldte den sortbrynede albatros som Alex Sand Frich fandt. Jeg så jo ikke selv fuglen, men den fugl er noget af det mest legendarisk jeg kunne forestille mig, og at vide at den har været så nær mig var også stort.

I Maj kunne jeg fornemme at antallet af fugle fald, men antallet af rariteter steg kraftigt. Jeg nød måneden med mange fuglekigger og mange sjældne fugle. Der er her mange arter at nævne men den største var selvfølgelig den gulnæbbede glente som Michaela fandt og fotograferede og som jeg efterfølgende bestemte ud fra billeder. Det er (hvis godkendt(please SU)) ny art for landet, og den sjældneste fugl jeg nogensinde har set i Danmark. Udover det var der en fantastisk oplevelse da den længe ventede prærietrane trak ud over grenen med retning mod Norge, disse øjeblikke glemmer jeg aldrig nogensinde.


(Foto: Jørgen Kabel)
Efter en maj måned hvor jeg tror alle havde forventet lidt mere kom Juni, og denne juni var det vildeste jeg nogensinde havde oplevet. Jeg havde overvejet at forlade Skagen omkring den 15 men det var godt jeg ikke gjorde dette.
Der var nogle vilde store dage. Bla den første juni da jeg lavede Skagens 40 fund af Citronvipstjert, en pisseflot han. Den anden juni stod den på østlig rødrygget svale, førstefund for landet samt spækhugger, (formentlig korttået lærke) pomeransfugl og meget mere. Vi bliver ved og den tredje står den på Bjergløvsanger som vi efter den ummidelbare feltobs fanger og ringmærker. Den fjerde står den på adskillige buskrørsangere og en masse aftenfalke, samt begyndelsen på rosenstære-invasionen.
Den femte var dagen, en dag så stor at den forevigt vil stå i historiebøgerne. Vi starter stærkt ud med Silkehejre, rosenstær, aftenfalke, citronvipstjert, lunde, biæder, pirol, kongeørn, buskrørsanger, sort glente. Og da man troede morgenen var fin blev bomberne smidt. Høgeørn, Lille skrigeørn(3?!?!), Gåsegrib!?!??! og sort f*****g stork. hvad sker der lige. Det bliver ikke glemt, nogensinde.


(Foto: Erik Christophersen)
og udover det var juni jo spækket med andre sjældne fugle og store oplevelser som bonapartemåge, atlantisk skråpe, kejserørn og sidst men ikke mindst en rosenterne.


(Foto: Oluf Lou)
Ulven udeblev... men den må jeg se en anden dag, måske når jeg kommer tilbage til skagen??
Nå! Nu er det tid til dagens strabadser og jeg efterlader fortiden som den var.
Idag sov nogle af os længe og andre knap så længe. Michaela og jeg fik gjort lidt klar med nogle af de sidste hængepartier.
De andre stod op lidt efter, Michaela pakkede og bookede en flybillet så hun kan komme hjem til la france. Jeg skrev de sidste SU-rapporter, så venter vi jo spændt på at SU godkender dem:)
Jesper og Anne tog afsted, i har været mega fede at have på besøg, tak for jeres energi!!
om eftermiddagen gik vi alle en tur, men med 4 forskellige destinationer jeg kørte til buttervej og her skulle jeg nok have haft Frank med da jeg havde nogle fede rødryggede tornskader som han ikke har set ufatteligt mange af
Han så tilgengæld en duehøg og vil forsøge sig med tornskaderne imorgen.
Michaela gik på stranden og fotograferede nogle bette præstekraver, her mødte hun også vores tidligere gæster Anders og Dorte, og ja det er selvfølgelig Ander som havde os med på oceanariummet, tak for det!
Simon var også kommet tilbage fra København, han ville gerne se rosenterne, men de var uden succes. tilgengæld vandt vi i fodbold og det var han glad for, og han havde haft en fin tur i københavn
Til eftermiddag kom dagens højdepunkt, vi skulle ringmærke slørugleunger på en gård syd for Skagen og det var fandme fantastisk. Lars Bo kom og hentede os og Knud og andre stod klar nede ved gården
Det blev til to unger, et forholdsvist lille kuld, men det giver god mening efter et koldt forår.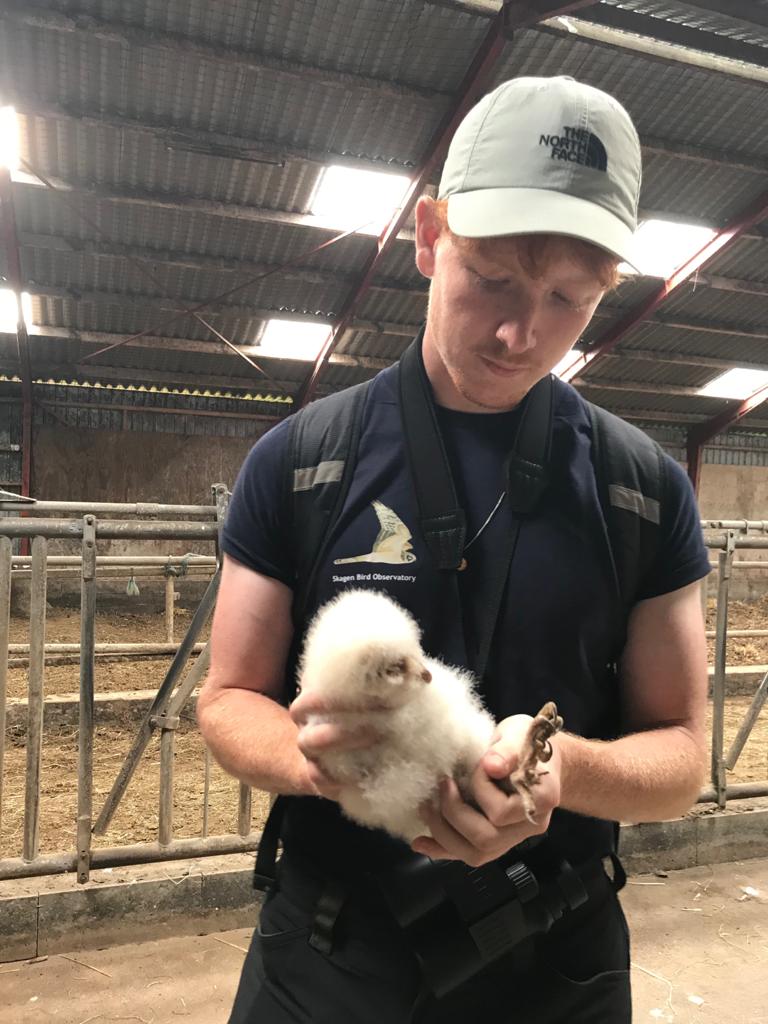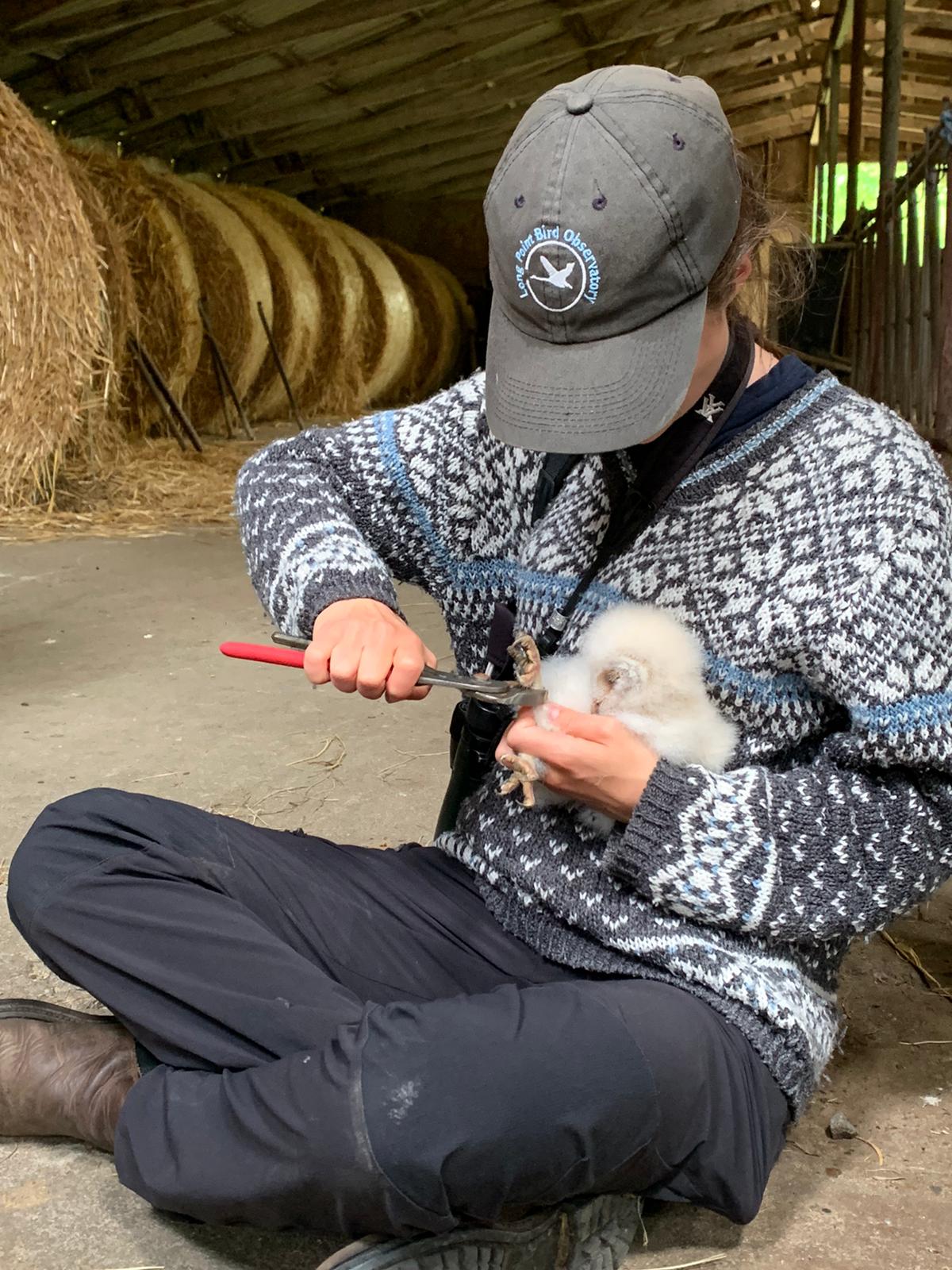 Vores nye gæster Bent og Lisbeth kom også med til ringmærkningen efter en 6 timers lang køretur.
Til aften stod den på carbonara a la Taima og det var bare godt. Så tog vi også en tur i fyrtårnet og fik lidt at drikke på Blink.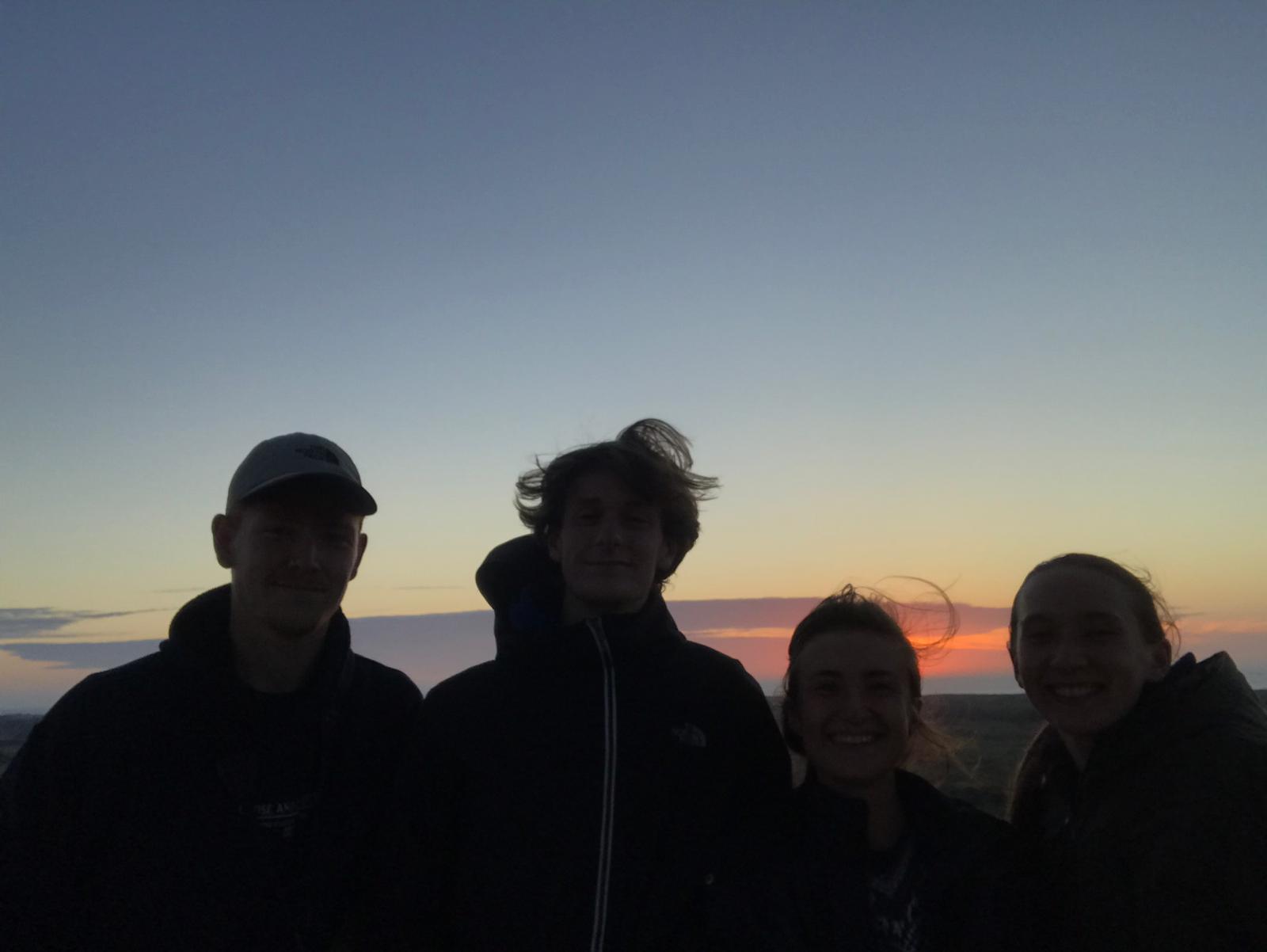 Nu vil jeg sige farvel, det er selvfølgelig trist og jeg ved at i kommer til at savne mig så ufatteligt meget....... Men frygt ej! Jeg kunne naturligvis ikke finde på at forlade jer.
Så! her i efteråret kan i snildt følge med i Blåvand fuglestations blog(Det gør i vel allerede ikke?:)) for der vil jeg tilbring mit efterår.
Tak til alle de gode mennesker der har været her i løbet af foråret, i ved hvem i er!!
Ka i ha det!
vi ses
Jonas
Klik her for at se dagens observationer fra Dofbasen af fugle i Skagen.
Klik her for at se opsummeret observationer af rovfugle i Skagen
Folk: Simon S Christiansen, Knud Pedersen, Michaëla Berdougo, Taïma Lorentzen, Frank Osterberg, Lars Bo Lisbeth og Bent og Jonas Pedersen .