Her på Skagen Fuglestations blog bringes korte nyheder i dagbogsformat om hændelser på fuglestationen.

Se indlæg fra år: 2021 (229)2020 (282)2019 (304)2018 (261)2017 (247)2016 (2)(se alle)
Se indlæg fra måned: jan. (7)feb. (16)mar. (30)apr. (28)maj (30)juni (28)juli (31)aug. (31)sept. (30)okt. (32)nov. (30)dec. (11)


Pine Grosbeaks (Krognæb) arrived in Skagen!
søndag 27. oktober 2019
Sunrise today: 07:20 – due to the time change one hour earlier than the last days. However, it doesn't really make a difference for us as our daily schedule is based on sunrise and not on the clock. So, Chris and Laia's body clock was still working well and they woke up without an alarm. That's definitely not working for me, so I woke up when my alarm was ringing. Unfortunately I didn't feel so well and decided to stay in bed to nurse the cold. Chris and Laia opened the nets for the ringing in Kabeltrommelkrattet and Asger headed out to Verdensende 1 to do the migrating countings.
The highlights in the ringing were four Lesser Redpolls (Lille Gråsisken). Out in Kabeltrommekrattet they are not very common in the nets. So it was very interesting to see them and to train ourselves with ageing a not every-day species. Furthermore a Blackcap (Munk) made some difficulties with finding out the age. The feathergroups showed for sure different generations, so it should be a juvenile as the adults are doing a complete moult in summer. However, this individuum forgot that "rule" and left some old feathers back. That's why the moult contrast is so obvious – the forgotten feathers are older than one year!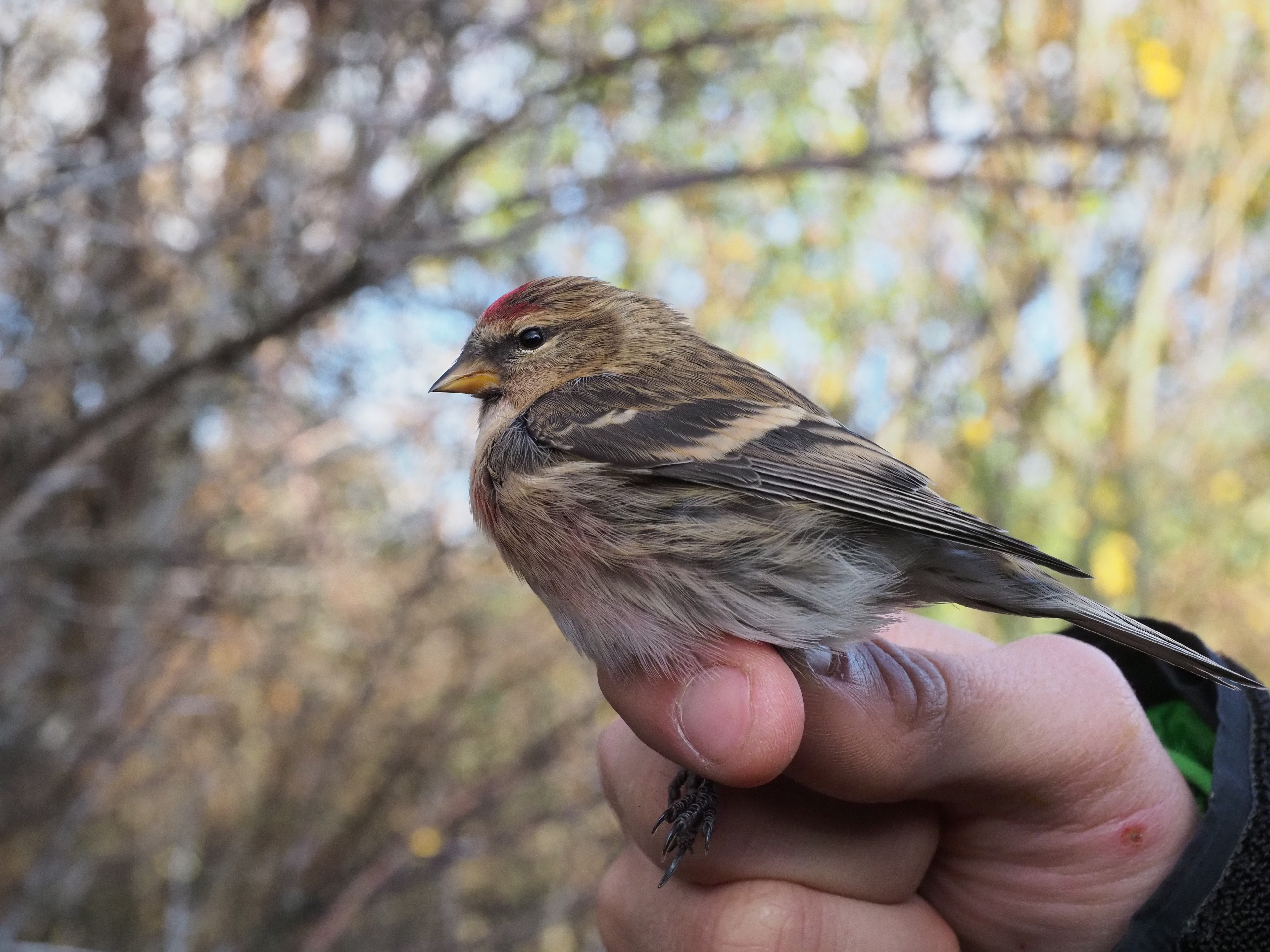 Lesser Redpoll (Lille Gråsisken)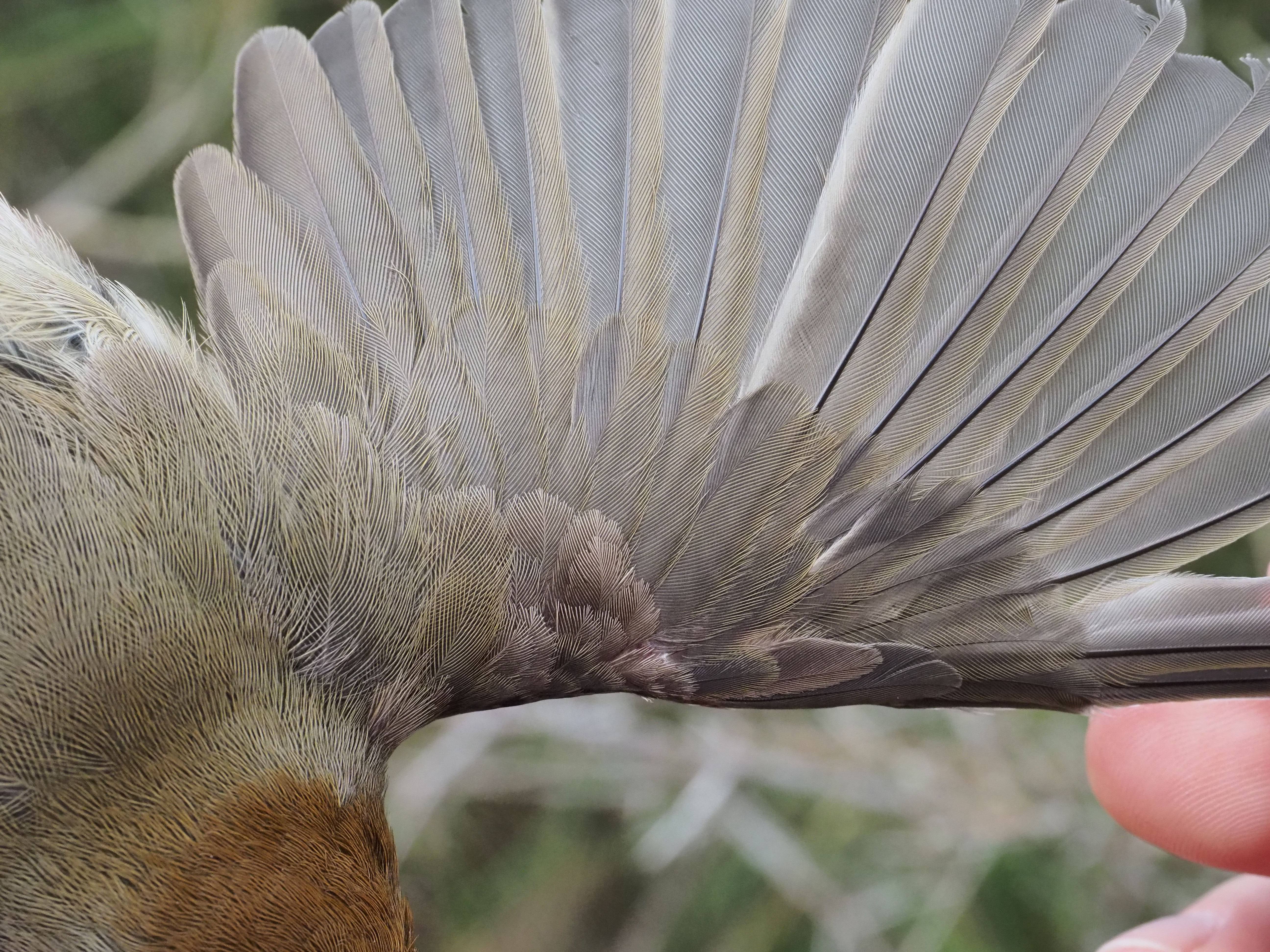 Blackcap (Munk) - second Alula and outermost medium and lesser coverts more than one year old
From Verdensende 1 many thrushes, e.g. Redwing (Vindrossel), Fieldfare (Sjagger) and one Ring Ouzel (Ringdrossel) were seen. Also many finches, Woodlarks (Hedelærke), some Waxwings (Bombycilla) and Water Pipits (Bjergpiber) were around. The migration of geese is also getting more and more in the last days. But all these observations were topped by one other species – the Pine Grosbeak (Krognæb) finally arrived Skagen. First two of them were seen by Erik coming from Sønderstrand to Batteriskogen in the morning. Later, Alex and Asger went to Ellekrattet to search for them. After they just arrived there they could already hear the melodious call of the Pine Grosbeaks and 4 individuum just landed approximately 5 meters away from them, jumping around in the trees and eating some berries. Congratulations to Asger for finding a new species for him! This highlight will make him happy for the next weeks. Hopefully there will be more around the next days that we also get the opportunity to see them.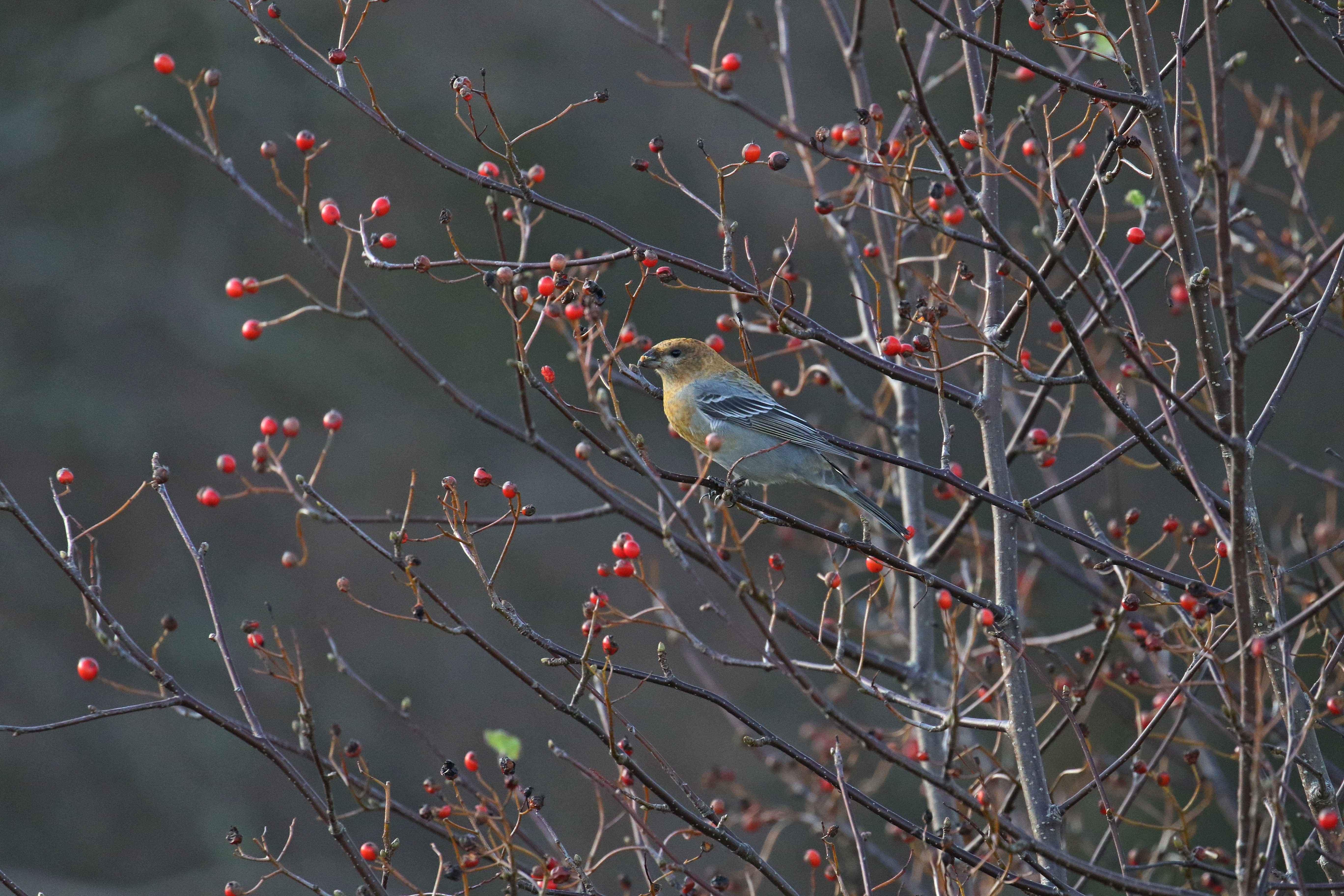 Pine Grosbeak (Krognæb), Picture by Alex Sand Frich

Also my stay back at the Grey Lighthouse (Det Grå Fyr) was not boring. After Oluf found the Bottlenose Dolphins (Øresvin) from yesterday again at Sønderstrand I headed out with the telescope to find them. Some tourists, Flemming and me were searching for them but couldn't find them in the beginning. But then Lene arrived and saw them immediately! They were still next to Sønderstrand and were swimming north in our direction. And exactly at the moment when they passed the Lighthouse they came really close, maybe 5 or 10 meters away from the rocks – it was amazing to see them! And one of the small ones was even jumping completely out of the water as you only know it from movies. Then they continued to swim north and the people doing observations from Verdensende also had the opportunity to see them again.
The afternoon was filled with some office work and Asger went shopping with the bicycle to get all the ingredients he needed to prepare a delicious pumpkin-soup. After dinner a new volunteer, Esben, arrived and he will stay with us for at least one week. Welcome to Skagen Bird Observatory Esben!
In the night Laia and Esben went out for nightcatching, hoping to find an owl and some berries. The berries will be placed at Kabeltrommekrattet next to the nets to be ready for the Pine Grosbeak-invasion. Would be amazing to catch one of them!
Ringing:
Dunnock – Jernspurv – 1
Robin – Rødhals - 1
Blackbird – Solsort – 1
Blackcap – Munk – 3
Chiffchaff – Gransanger – 1
Goldcrest – Fuglekonge – 3
Blue Tit – Blåmejse – 1
Lesser Redpoll – Lille Gråsisken - 4
Bullfinch – Dompap – 2
Bullfinch ssp. europaea – Lille Dompap – 2
Total: 19
People: Simon S. Christiansen, Christian Stolz, Judith Kloibhofer, Laia Soler Iglesias, Asger Lykkegaard Møldrup, Esben Hansen, Rolf Christensen, Alex Sand Frich, Anders Bojesen, Eric Christophersen, Knud Pedersen, Jørgen & Agnete Kabel & Igor, Lars Paaby & Conny Jensen, Lars Grøn