Her på Skagen Fuglestations blog bringes korte nyheder i dagbogsformat om hændelser på fuglestationen.

Se indlæg fra år: 2021 (229)2020 (282)2019 (304)2018 (261)2017 (247)2016 (2)(se alle)
Se indlæg fra måned: jan. (7)feb. (16)mar. (30)apr. (28)maj (30)juni (28)juli (31)aug. (31)sept. (30)okt. (32)nov. (30)dec. (11)


115 ringed birds in one morning
søndag 29. september 2019
We are many people at the station at the moment, so we can split up again. Yehonatan, Koen and I went to Jennes Sø to join Michael Ancher in ringing. Simon, Chris, Laia and Henning went to Kabeltromlekrattet to do the ringing there.
In Jennes Sø the ringing went very well. We had 66 birds, the most dominant species was Lesser Redpoll (Lille Gråsisken) with 44 individuals. Yehonatan was very happy about ringing his first Crested Tit (Topmejse). The observations between the rounds were also very good – we saw the Kingfisher (Isfugl) again, one Marsh Harrier (Rørhøg), some Goldfinches (Stillits), a flock of 60 Crossbill (Lille Korsnæb) crossing by and a Wood Mouse (Skovmus) trying to find some food in our backpacks. For Koen it was very interesting to study all the individuals of the redpolls as they show a big variety in the colouration.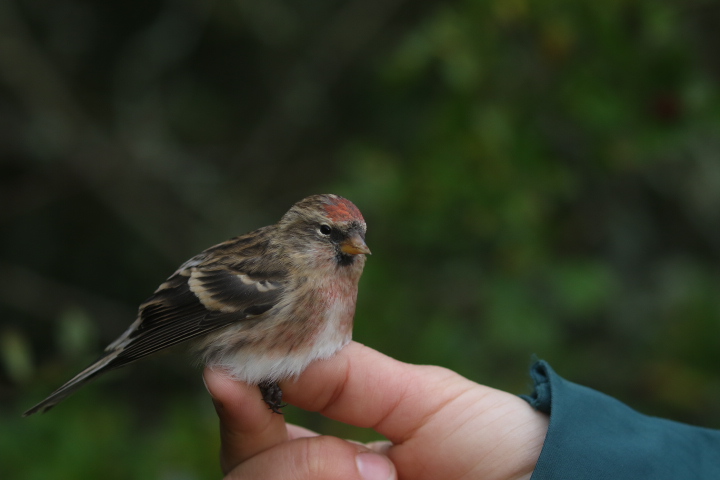 Redpoll (Lille Gråsisken) - Picture by Yehonatan Ben Aroia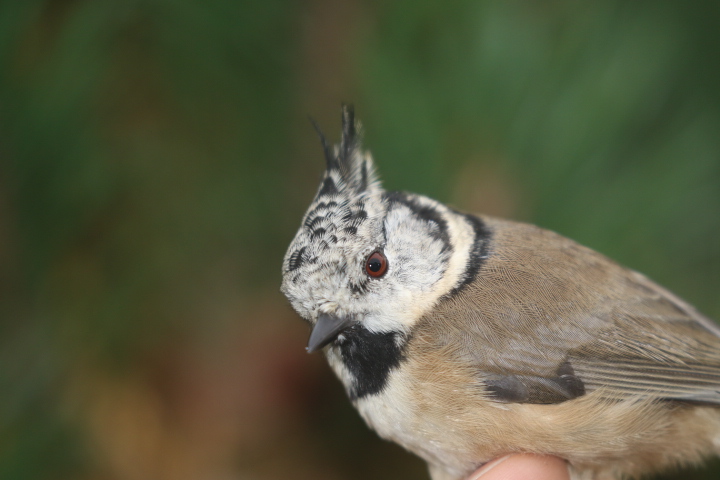 Crested Tit (Topmejse) - Picture by Yehonatan Ben Aroia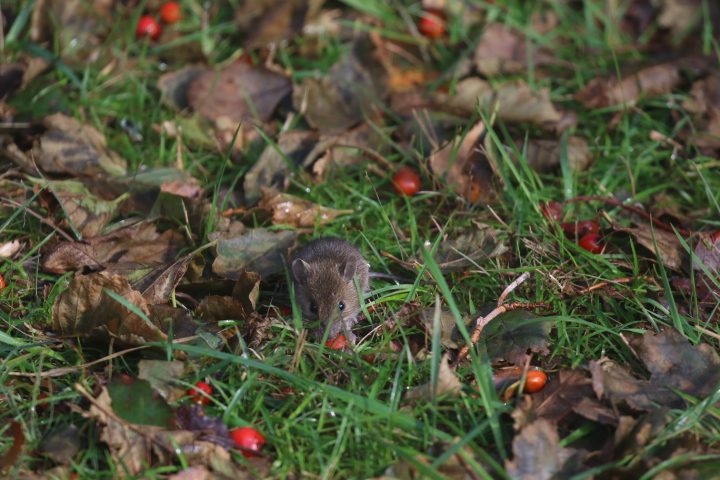 Wood Mouse (Skovmus) - Picture by Yehonatan Ben Aroia
The ringing group in Kabeltromlekrattet was joined by a 11-year old boy, Sander, from town. It was very exciting for him to see the ringing. After they catched a Barred Warbler (Høgesanger), more people came to the ringing side to watch the highlight. They were also very close to catch a Water rail (Vandriske) with the new trammelnets. So it seems like it is on the right place we just need some more luck. In total they caught 49 birds, which is a good number for Kabeltromlekrattet and the dominating species were Robins (Rødhals) and Blue Tits (Blåmejse).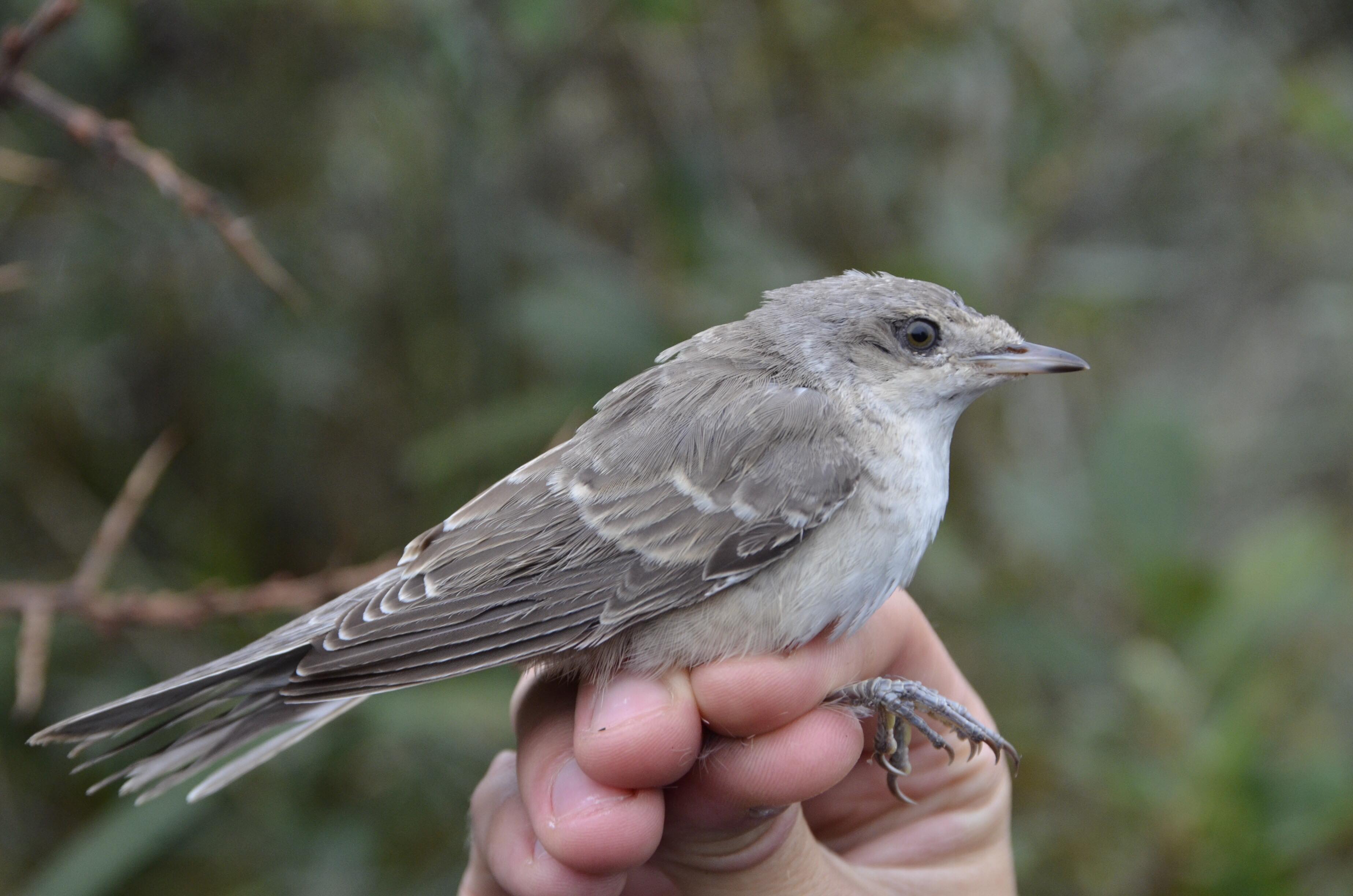 Barred Warbler (Høgesanger) - Picture taken by Henning Ettrup
Back at the station Yehonatan found a nice card from Rita on the table. She gave him regards for the New Year`s Eve that is in Israel today – Thanks Rita! We will celebrate it in the evening with some traditional apples with honey and wine ;).
In the afternoon Chris hold a presentation with the title "The birds of Svalbard". There we got a nice insight in the most common and interesting bird species in the high arctic. Some of the species we can also see down here in Grenen in Autumn, like the Pink-footed Goose (Kortnæbbet Gås), the Arctic Terns (Havterne) and the Fulmars (Mallemuk). Another mentioned species was the Snow Bunting (Snespurv), which is kind of the "House Sparrow" of Svalbard. If you would like to here more about that species, you are welcome to join his next talk on the 25th of October at 19 o'clock.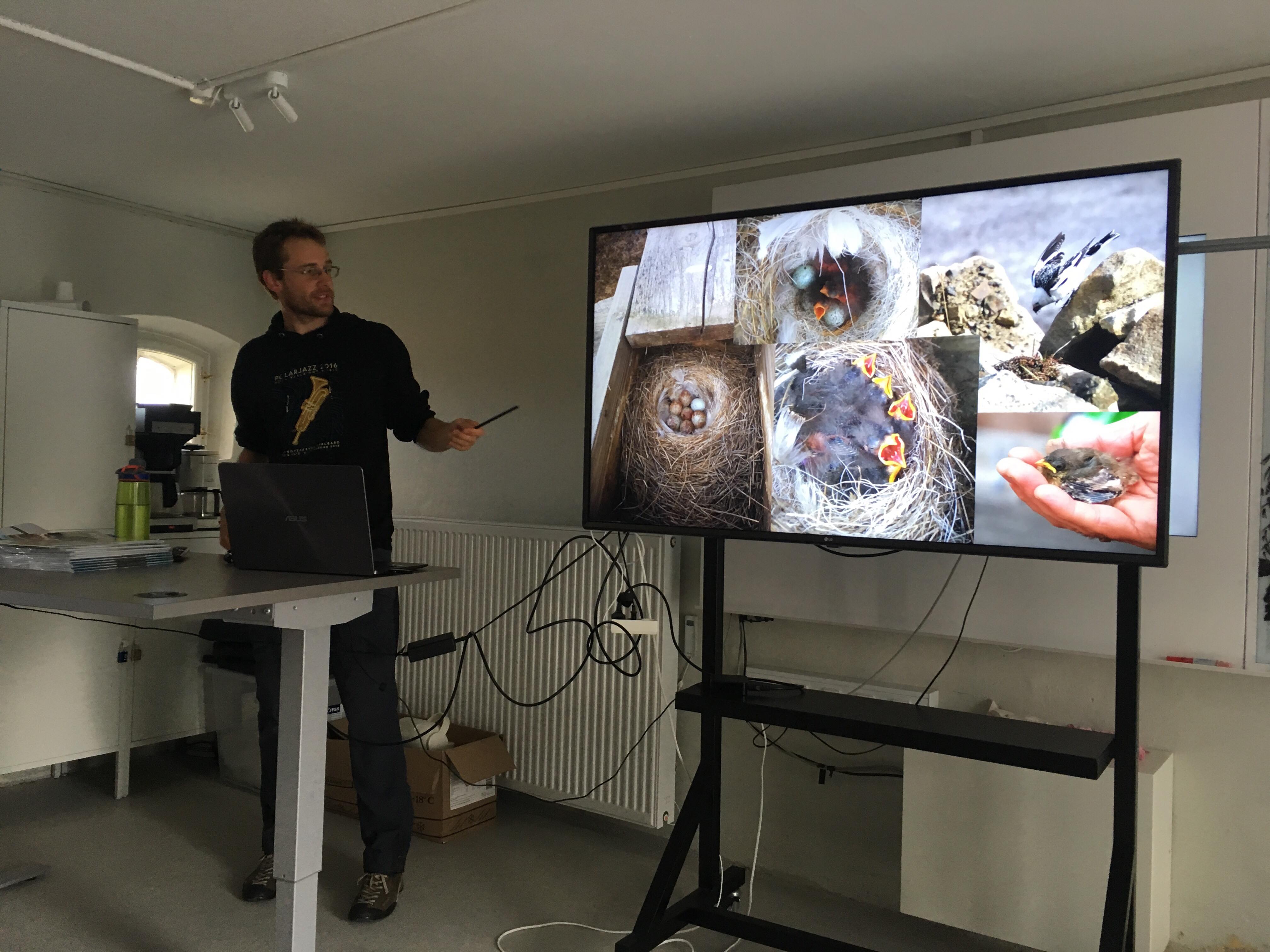 Snow Bunting (Snespurv) nests - Picture taken by Simon S. Christiansen
And now it is time for dinner, it already smells good out of the kitchen :). And afterwards we will have a nice evening together with some games and celebrating the Israeli New Year's Eve.
Ringing (Jennes Sø & Kabeltromlekrattet):
Wren - Gærdesmutte – 1
Dunnock – Jernspurv – 2
Robin – Rødhals – 16
Song Trush – Sangdrossel – 2
Barred Warbler – Høgesanger – 1
Blackcap – Munk – 3
Chiffchaff – Gransanger – 8
Willow warbler – Løvsanger – 2
Blue Tit – Blåmejse – 20
Redpoll - Lille Gråsisken – 45
Reed Bunting – Rørspurv – 5
Reed warbler – Rørsanger – 1
Goldcrest – Fuglekonge – 5
Crested Tit – Topmejse – 1
Great Tit – Musvit – 3
Total: 115
People: Simon S. Christiansen, Yehonatan Ben Aroia, Christian Stolz, Judith Kloibhofer, Koen Stork, Laia Soler Iglesias, Henning Ettrup, Sander, Erik Christophersen, Jørgen Kabel, Poul Blicher Andersen, Alex Sand Frich, Yvonne Feldskov, Anders Jørgen Jensen & Ulla Popp