Her på Skagen Fuglestations blog bringes korte nyheder i dagbogsformat om hændelser på fuglestationen.

Se indlæg fra år: 2021 (274)2020 (282)2019 (304)2018 (261)2017 (247)2016 (2)(se alle)
Se indlæg fra måned: jan. (7)feb. (16)mar. (30)apr. (28)maj (30)juni (28)juli (31)aug. (31)sept. (30)okt. (32)nov. (30)dec. (11)


The calm after the . . bit of strong wind.
søndag 10. marts 2019
After the bad weather of the last couple of days the forecast looked good enough for Dante to head up to Grenen and me to head into the garden and try some ringing. Dante saw a lot including a couple of twite (perhaps the same birds from last year.) I, however, did not catch any birds, but I managed to get some observations in, including my first red kites of the year, a couple of hundred jackdaws and a a couple of buzzards.
So inspired was I by this that I headed to the harbour to look for the glaucous gull. A croissant and a pizza roll later I had the best views and photos I've ever had of the species. I also counted 300 eider in the harbour too.
When I returned, Simon was back from Aalborg and had picked up our new guests for the week, Heidi, Mette and Eva. After this he ran through with us our plans for the rest of the day and then went home for the evening. Dante and I headed out for more obs as the weather was very good. I headed to Grenen Dante headed to North Strand and walked around the coast. I didn't see much of interest but there were a lot more birds moving than before the storm, so that bodes well for the next few days. Dante had more luck and he found a flock of ten long tailed tits on the walk from the Cormorant lake back to the Observatory. The ladies had settled in and were cooking their own dinner this evening, though they intend to join us later in the week.
After dinner, Dante and I went out for some flashlighting, and whilst we didn't even see any birds, we did see a mustelid species, probably a polecat though I couldn't be sure it wasn't a marten. It was a beautiful clear night and not for the first time I curse the fact that the iPhone can't take pictures of the night sky. Dante is planning to head up to Grenen in the morning, I'm planning to ring and the ladies are planning to watch the sun rise over Grenen, so it was early . . ish . .to bed tonight.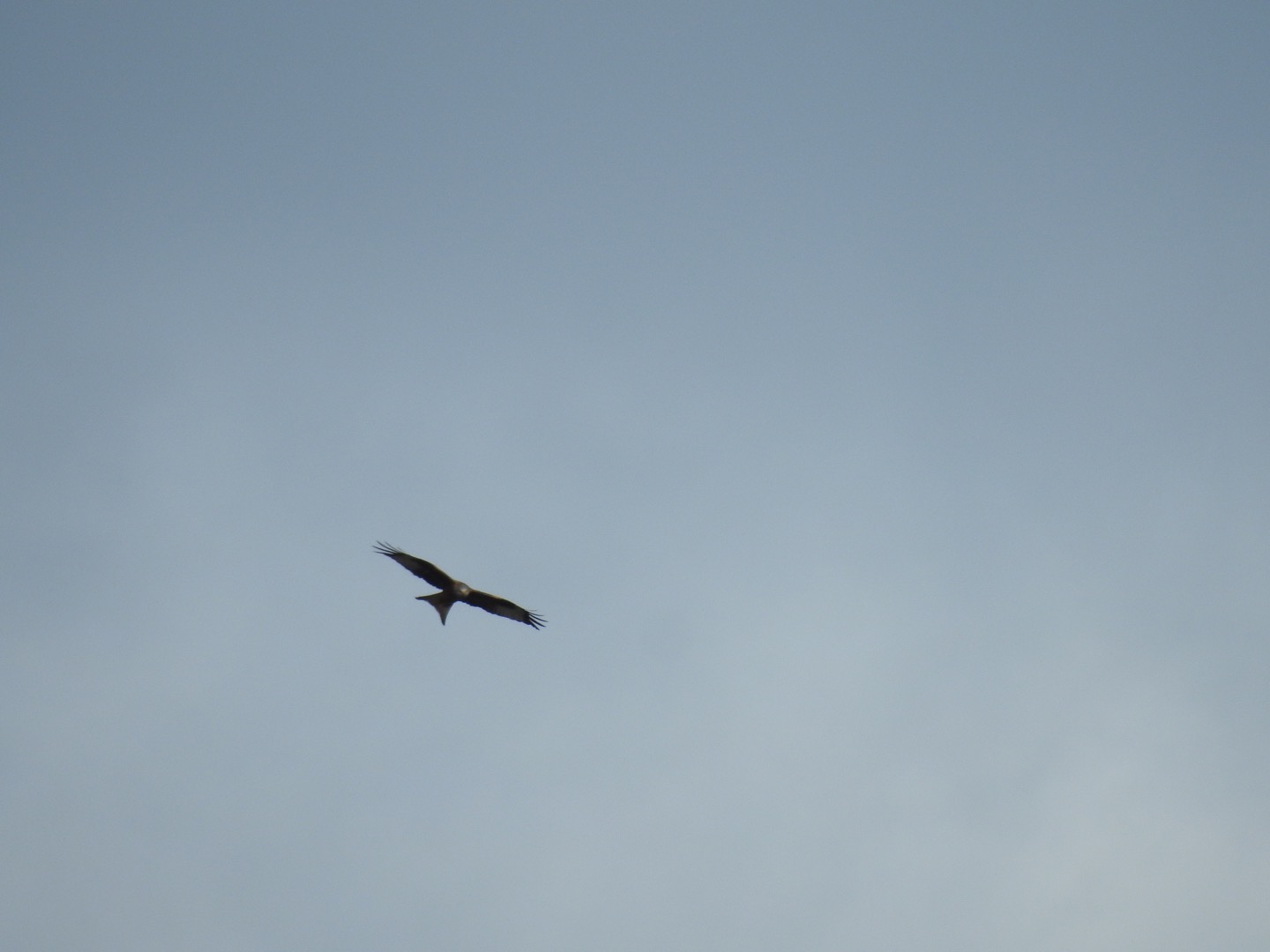 Rød glente past the Observatory this morning
The gråmåge was showing ridiculously well in the harbour.