Her på Skagen Fuglestations blog bringes korte nyheder i dagbogsformat om hændelser på fuglestationen.

Se indlæg fra år: 2021 (202)2020 (282)2019 (304)2018 (261)2017 (247)2016 (2)(se alle)
Se indlæg fra måned: jan. (7)feb. (16)mar. (30)apr. (28)maj (30)juni (28)juli (31)aug. (31)sept. (30)okt. (32)nov. (30)dec. (11)


Goodbye to Joakim
søndag 21. juli 2019
The day started with our main activity apart from ringing at this time of year, observations. Again we had the usual sightings a great skua (Stercorarius skua) and a red throated loon (Gavia stellata), however the highlight was a small fishing vessel which had attracted over 200 gulls and at least 3 great skua. The sight was epic and the feeding frenzy was of immense proportion.
At lucnh time we had to say goodbye to our dear friend and expert birder Joakim who returned to civilization after four productive, unforgetable, fun-filled months. Thank you for teaching us how to find our ways in the endless labyrinths that we call our ringing sites at Grenen and all the awesome dishes you cooked using your vast knowledge in the field of gastronomy. Never stop clowning!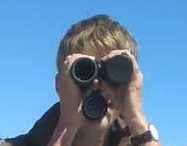 Since we were already in the mood for goodbyes we also said farewell to Irene and Hugh after their week-long stay with us. We hope you enjoyed learning new things and geting a hands-on experience at the station. You managed to get involved in quite a few of our activities including several ringing sessions, both at Grenen and our CES site and the help with all the twigs and sticks in our nets will never be forgotten. You also managed to take a glimpse into the mysterious & wonderous life of the european nightjar which is truly a treat. Take care and hope to see you again at Skagen bird observatory.
Throughout the day I managed to dedicate some time to researching the available literature on the costs of migration for Passerines drawing inspiration for my own undergraduta project. This was followed by another observation session at the tip of Grenen.Around lunchtime we greeted our new visitor Kirsten who will be joining our team for a week, she picked a good day to arrive since great weather is expected from Tuesday onward, welcome!In the evening after a lovely dinner and a productive meeting (usually sundays tend to be the most fun ones) we called it an early night in preparation for tomorrow¨s observation session.
People: Joakim Matthiesen, Simon S Christiansen, Martin Y Georgiev, Christina Ninou, Anders Odd Nielsen, Hugh Mayo, Irene Mayo and Kirsten.