Her på Skagen Fuglestations blog bringes korte nyheder i dagbogsformat om hændelser på fuglestationen.

Se indlæg fra år: 2021 (229)2020 (282)2019 (304)2018 (261)2017 (247)2016 (2)(se alle)
Se indlæg fra måned: jan. (1)mar. (31)apr. (23)maj (22)juni (30)juli (31)aug. (29)sept. (28)okt. (30)nov. (20)dec. (16)


A good day for divers
søndag 30. september 2018
Today was mine and Sarah's first day out in the field, and we couldn't have asked for a better way to start our month here! The wind was too strong for ringing, so the whole team joined Rolf for early morning observation from the "End of the World".
Photo: Observations from the beach
Early action was focused on the sea, where eagle-eyed Rolf quickly picked up a large diver in flight. After a quick dash across the dunes the diver was relocated on the sea and confirmed to be a Great Northern (Islom)...but to our amazement we realised it had landed alongside last week's Pacific Diver (Stillehavslom), giving us a great opportunity for comparisons! With large numbers of Red-throated Divers (Rødstrubet Lom) on the sea and a couple of Black-throated Divers (Sortstrubet Lom) also seen in flight, it was definitely a good day for divers.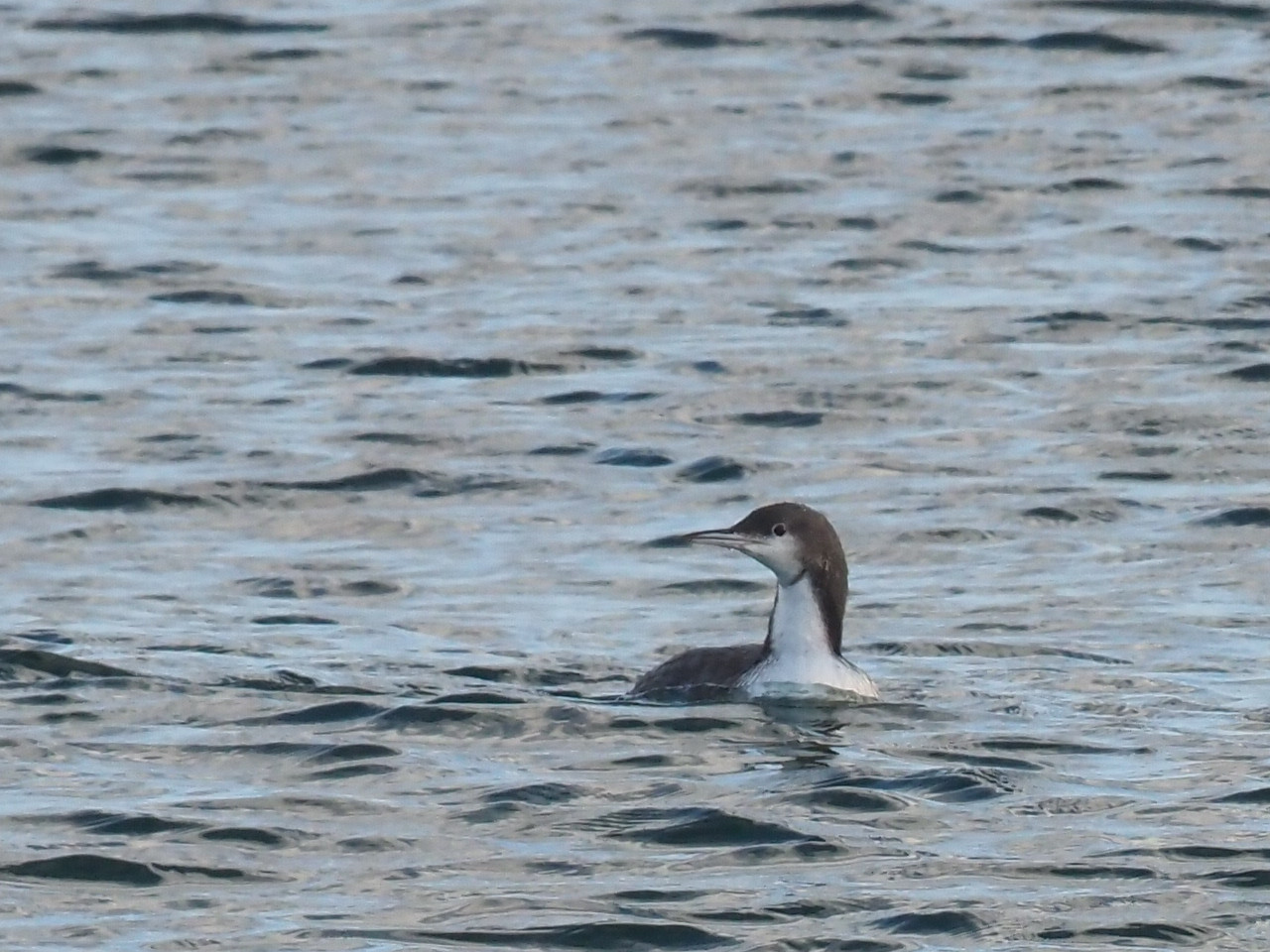 Photo: Pacific Diver (Stillehavslom) showing its distinctive "chin strap" on the Kattegat
Passerine highlight was a single Parrot Crossbill (Stor Korsnæb) calling overhead, while 3 Great White Egrets (Sølvhejre) seen in flight and landing in the direction of the nature reserve were an unexpected bonus. A quick check of some resting large gulls on the beach revealed a smart adult Caspian Gull (Kaspisk måge), giving Asger a chance to give us a Caspian masterclass.
After successfully dazzling and ringing two dunlin (Almindelig ryle) the night before, hopes were high for a repeat performance tonight. However the skies cleared in the evening and this time the birds definitely saw us coming, and were up in the air before we could even get close. A delicious Italian-English fusion meal of lasagne followed by apple crumble ended a great first full day at Skagen...we can't wait for the rest of the month to come!
People: James Butcher, Sarah Bedford, Molly Brown, Daniel Bloche, Lisa Vergin, Asger Lykkegaard Møldrupand and Simon S. Christiansen