Her på Skagen Fuglestations blog bringes korte nyheder i dagbogsformat om hændelser på fuglestationen.

Se indlæg fra år: 2019 (245)2018 (261)2017 (247)2016 (2)(se alle)
Se indlæg fra måned: jan. (1)mar. (31)apr. (23)maj (22)juni (30)juli (31)aug. (29)sept. (28)okt. (30)nov. (20)dec. (16)


The Viking Game
tirsdag 25. september 2018
We started off the morning opening the nets at 0630 at Grenen accompanied by the lovely Lars, the first couple of rounds we caught surprising numbers of birds, in particular Blue Tits (Blåmejse). It appears that most observatories have also experienced this in Scandinavia and there's currently quite a large fall of them. We also had 5 Wrens (Gædesmutte) in the first round- great extraction practice for Lisa and Daniel! Jørgen and Igor also joined in the morning however both Lars and Jørgen had left when we caught the Great Spotted Woodpecker, always a nice but painful bird to catch!
After shutting the nets at 12:45 we met Jørgen at Grenen carpark and went on a search for a Glaucous Gull (Gråmåge)- a bird that usually makes an appearance every winter here in Skagen but something Daniel, Lisa and I haven't seen. However, we were unsuccessful although we did get to see how big the harbour is here in Skagen- I never realised!
When we arrived back at the Station hungry and tired we came across Fleming above the ringing lab with a Treecreeper (Traeløber) that had flown in through the door, we caught and rung it successfully! Then we did a quick blitz clean of the apartment for the Real Dania who own the buildings here and came to look round the station. After their visit we all went and slept, recently I've got into the bad habit of sleeping through the alarm. So I was woken at 1700 by Simon telling me to get changed we're going swimming. So I very grumpily joined everyone for a quick dip in the Baltic Sea- it was absolutely freezing and woke me up very quickly!!! We also attempted to catch a pink footed goose that landed surprisingly close to us when we were swimming, although we didn't succeed!
I was then introduced to the Viking Game- Kubb, which we learned quickly Simon is very good at! It seems to be a running theme here that the only games we play Simon is always skilled at!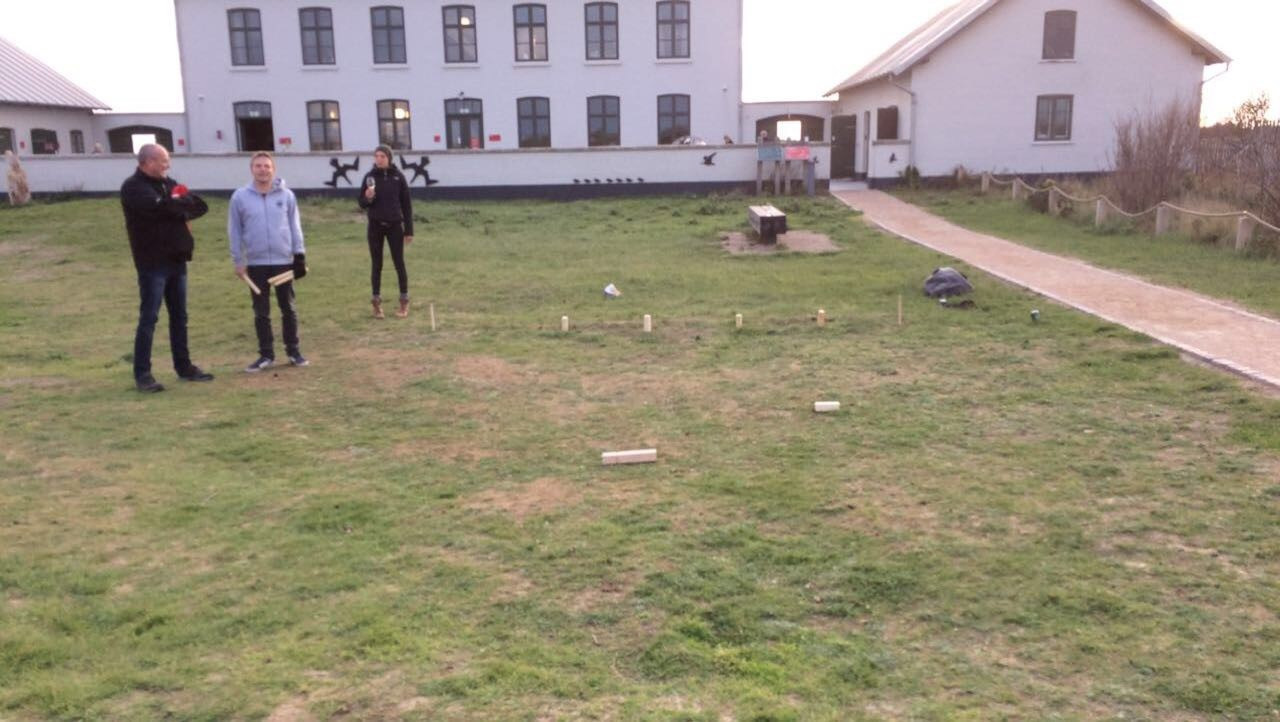 There was a book signing in the evening for Jocob Hyttel releasing De Brændemærkede and we met Oluf Lou who bought us beer as a thank you for catching the Red Flanked Blue Tail and is a fellow ringer!
We then finished off the evening with a delicious meal cooked by Daniel and Shuffle ball- surprise surprise Simon won!
People: Lars Mortensen, Jørgen Kabel (and Igor), Daniel Bloche, Lisa Vergin, Simon S. Christiansen, Molly Brown and Oluf Lou
Birds caught: 1 Redwing (Vindrossel), 1 Great Spotted Woodpecker (Stor Flagspaette), 1 Blackbird (Solsort), 1 Song Thrush (Sangdrossel), 4 Great Tits (Musvit), 1 Yellow Hammer (Gulspurv), 2 Dunnocks (Jernspurv), 25 Blue Tits (Blåmejse), 5 Robins (Rødhals), 4 Goldcrests (Fuglekonge), 5 Wrens (Gædesmutte), 1 Coal Tit (Sortmejse), 3 Blackcaps (Munk), 1 Reed Bunting (Rørspurv), 6 Chiffchaffs (Gransanger) and 1 Treecreeper (Traeløver).