Her på Skagen Fuglestations blog bringes korte nyheder i dagbogsformat om hændelser på fuglestationen.

Se indlæg fra år: 2019 (245)2018 (261)2017 (247)2016 (2)(se alle)
Se indlæg fra måned: jan. (1)mar. (31)apr. (23)maj (22)juni (30)juli (31)aug. (29)sept. (28)okt. (30)nov. (20)dec. (16)


Data and cake
søndag 21. oktober 2018
With no ringers on site today, James and I agreed to meet Knud at World's End 3 to do some sea observations. It was a day of Gannets (Sule) and Razorbills (Alk) with large numbers of both. We observed more than 300 Gannets (Sule) resting and feeding where the waters meet in the Kattegat and more than 600 Razorbills (Alk) migrating south-east. Good numbers of Great Skua (Storkjove) , and divers (Løm) were seen and Knud also spotted a first year Caspian gull (Kaspisk Måge).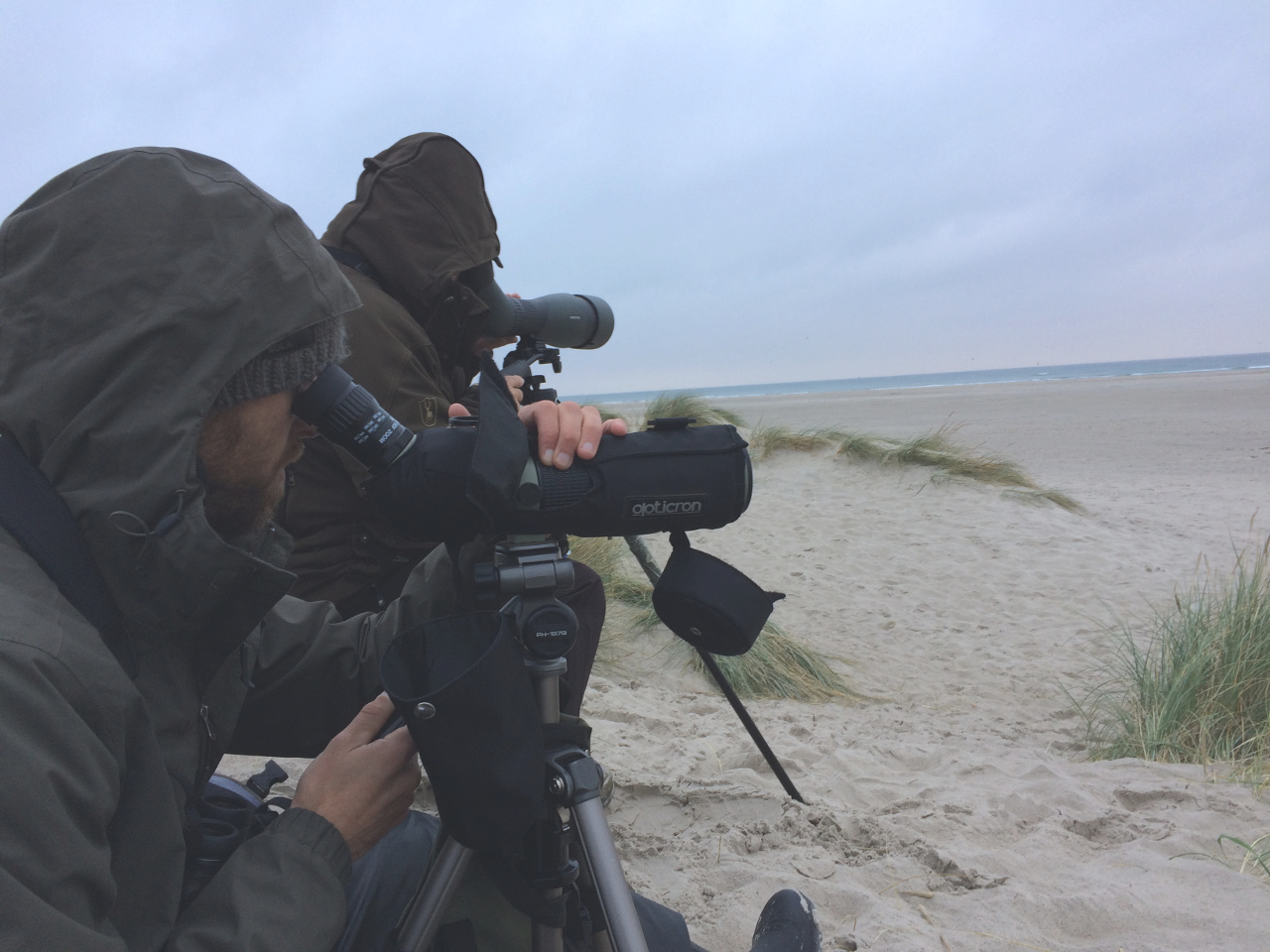 Part way through the morning we had the lovely sight of 7 Whooper Swans (Sangsvane) flying magestically towards us from the ocean. I love these swans and they are the first to arrive here at Skagen this autumn. A real treat to see. We saw four more on the way back to the lighthouse and others reported seeing larger groups this morning too. At the end of the morning, as the tourists started arriving at the tip, we spotted a man walking a Ferret (Ilder) on a lead across the beach! It's strange what you see through your binoculars sometimes!
After lunch, Knud came to the observatory to help us a little with data entry in DOF Basen and as with all things administrative, everything ran much more smoothly when we added in coffee and cake! It's important that we get the data entry part of our observations right and we are grateful to Knud for patiently showing us the correct way to put the work we have done into the database.
There were a few comings and goings today – Jesper left, having seen the Pacific Diver (Stille Havslom) he came for, and also adding a Yellow-Browed Warbler (Hvidbrynet Løvsanger) to his list too! Simon returned from Aalborg, with Gustav, a one-night visitor who is keen on birds and wants to learn more about ringing. He went straight out in the last of the daylight looking for Bearded Tits (Skægmejse) and Long Tailed Tits (Halemejse) – no luck today, but there's always tomorrow. Helga and Kristian also arrived, they will be staying in the apartment for a week and enjoying all the autumn migration action that Grenen has to offer.
After dinner, James, Gustav, Helga and I went out to the beach in the hope of a successful night catch. The conditions were good for picking up birds with plenty of wind and rain but alas, the birds were smarter and faster than we were. The night-time adventure did provide some comedy for Helga and Gustav though, as James and I fruitlessly sprinted up and down the beach after a group of Sanderlings (Sandløber) we had seen earlier in the day! Perhaps we would have been a bit quicker if we hadn't eaten all of that cake…
People: Sarah Bedford, James Butcher, Knud Pederson, Gustav Urth, Jesper Madsen, Simon Christiansen and Helga & Kristian Rudolf