Her på Skagen Fuglestations blog bringes korte nyheder i dagbogsformat om hændelser på fuglestationen.

Se indlæg fra år: 2021 (274)2020 (282)2019 (304)2018 (261)2017 (247)2016 (2)(se alle)
Se indlæg fra måned: jan. (1)mar. (31)apr. (23)maj (22)juni (30)juli (31)aug. (29)sept. (28)okt. (30)nov. (20)dec. (16)


A ringing day
onsdag 11. juli 2018

Today the weather is perfect for ringing.
At 5:00 am I, Mats, Joakim and Preben go to Grenen to open the mistnets. Peter remained at the observatory to undertake his Census experiment.It's a very interesting morning, we catch a good number of birds of different species, including two swallows and many young birds born this year. The boys have the opportunity to see different species of different age classes, they are very happy with the morning. At 10:00 am it is very hot, and the number of catches drops considerably. Satisfied, at 10:30 am we decide to close the nets and return to the lighthouse. As soon as we get back to the observatory, Simon, Peter and I make an accurate check on the ringing database, of all the data of recaptures carried out in 2018.
Immediately after lunch we are all busy with the weekly cleaning of the observatory. After cleaning, I get back to work to upload the new ringing data to the database, from the morning in Grenen.
Tonight we are planning to go to ringing the nightjars, so we take the opportunity to sleep a few hours in the afternoon. Later our friends Lars Mortensen and Anders Bojesen arrive, they will come with us to help with ringing the nightjars. While we wait for the night we prepare all the equipment, and watch the semi-final of the World Cup Croatia-England.Immediately after the game we move towards the place for the nightjar, about a half hour drive from the observatory.
As soon as we arrive we erect two mist-nets, we start the tape lure and wait. After more than an hour of waiting, we finally catch and ring a nightjar! It is a beautiful male individual. This species is always very fascinating! After this we take a brief trip around the back lanes listening for quail and corncrake, while we here plenty of the former, we don't hear a sound from the latter. At 4am we all wearily climb into bed after a job well done.
Ringing birds Recaptures
9 Whitethroat. 1 whitethroat
2 Reed bunting. 1 Blackcap
1 Great tit. 2 lesser whitethroat
1 Blackcap
1 Chaffinch
2 Barn swallow
1 Reed warbler
2 Crested tit
4 Lesser whitethroat
1 Chiffchaff
1 Willow warbler
1 Nightjar
1 Whitethroat
1 Blackcap
2 Lesser whitethroat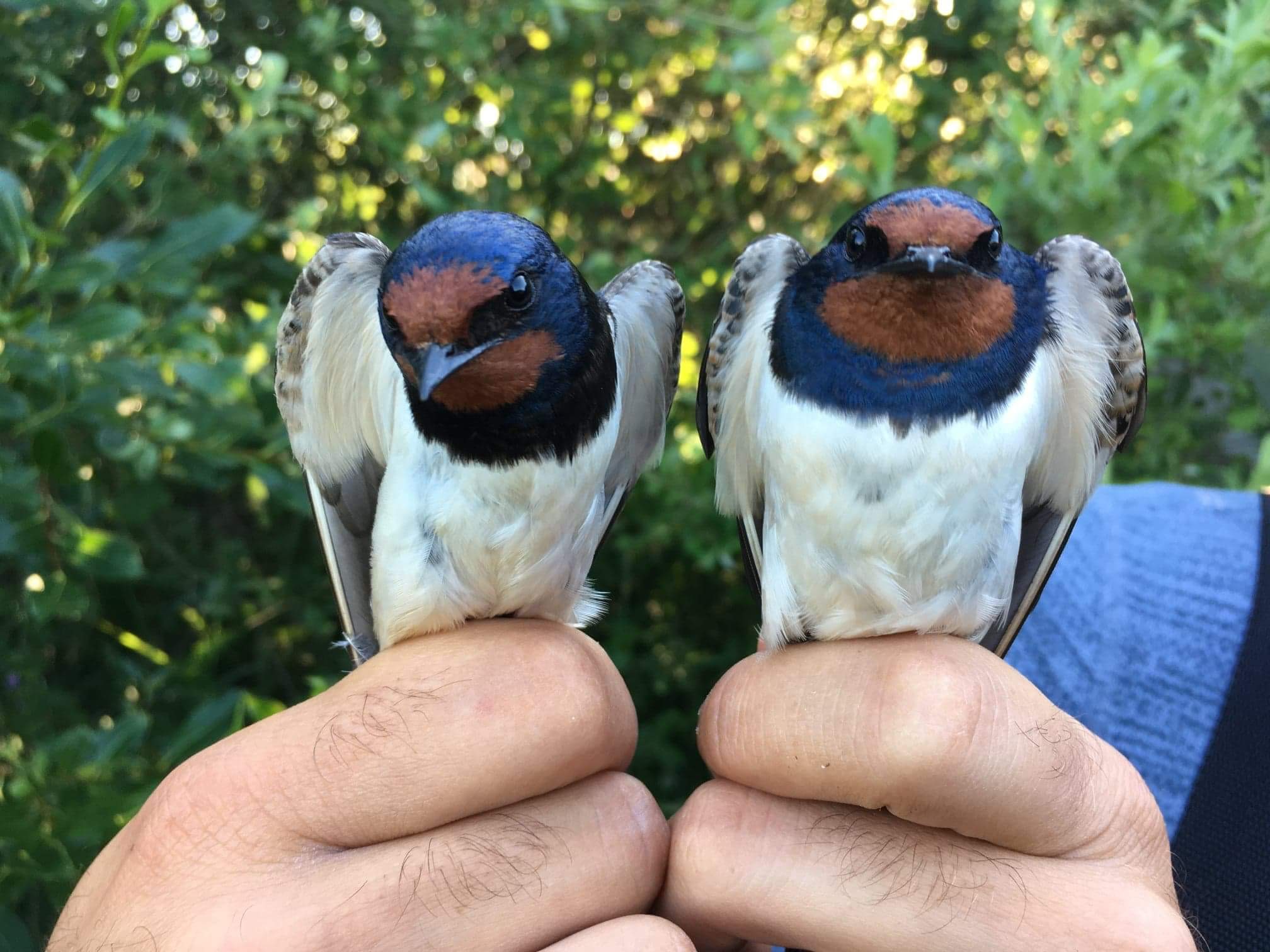 Two barn swallows.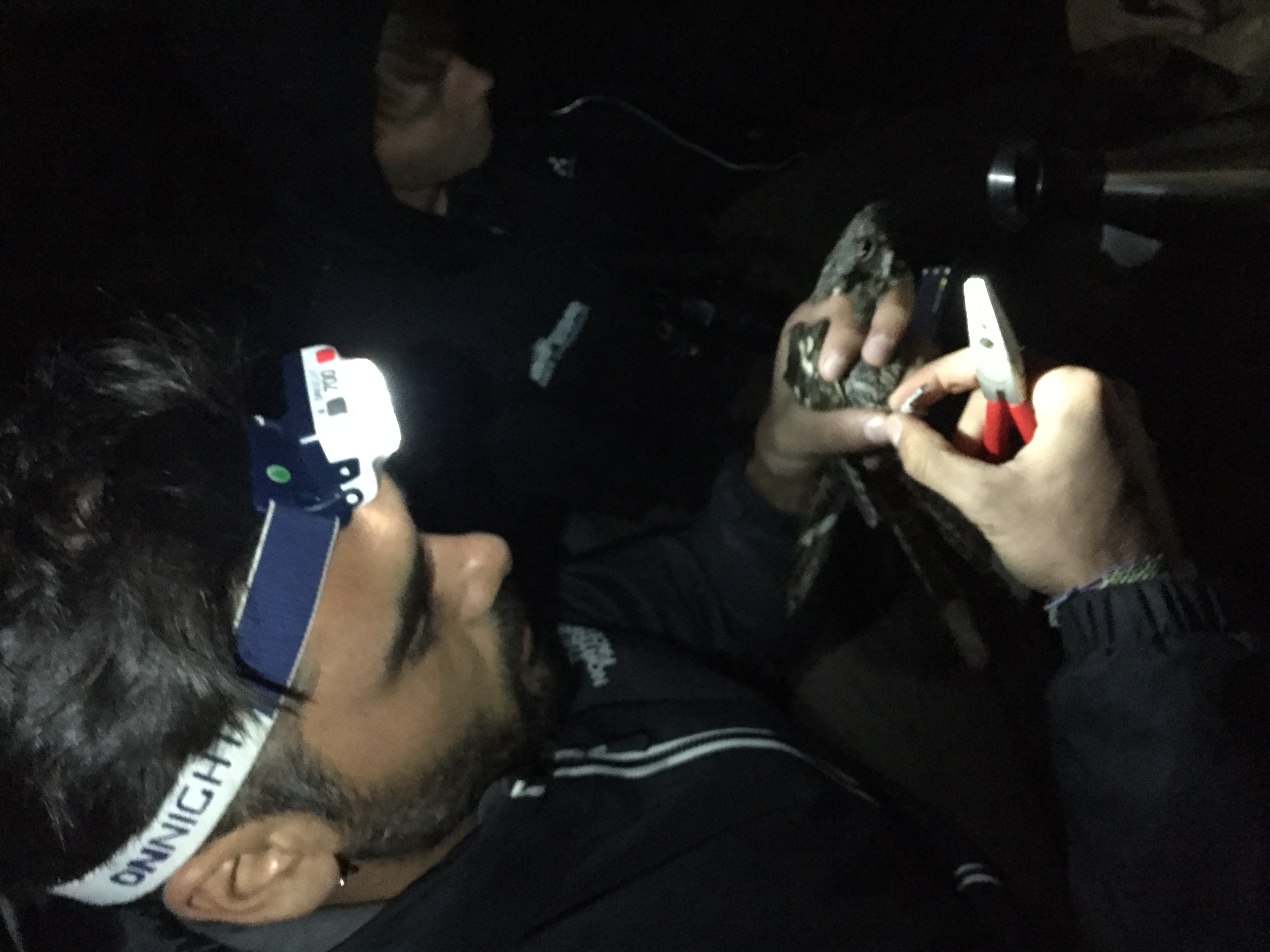 Michele ringing the male nightjar